Somewhere amid the standard supercar fare on lust lists for teenage boys growing up in the 1980s was the Hummer H1. The military machine, designed to sure-footedly bounce along the tracks of a tank, was never as coveted as, say, a Lamborghini Countach or a Ferrari F40, but AM General's boxy beast was still alluring enough to land it a spot. Unlike mid-engined Italian sports cars, the first-generation H1, released to the masses in 1992, was relatively mechanically reliable, though a loud, rough ride combined with few creature comforts meant driving was a masochistic endeavor. Enter Mil-Spec Automotive, a Michigan-based firm that restomods ancient H1s into the modern, drivable utility vehicle of your dreams.
"The original H1 was rushed to production because of the demand," Ian Broekman, Mil-Spec's chief innovation officer, says as we wait at a traffic light in North Miami in his company's fourth creation, 004, a comely sand-on-black specced unit. "It never got to evolve like other civilian vehicles, and we wondered what if it had?" The light turns green, and I mash the accelerator to the floor. The 6.6-liter Duramax turbocharged diesel V-8 roars and 7,500-pound behemoth surges at alarming speed. This must be what it's like to pilot a stampeding elephant.
Mil-Spec's Humvee—the closest phonetic pronunciation of HMMWV (High Mobility Multipurpose Wheeled Vehicle)—requires a clean-titled original H1, built from 1992 through 2006. Broekman, founder Adam Mitchell, and partner Chris Van Scyoc would pour "large glasses of whiskey" and scour Craigslist for the perfect donor chassis. The purchased H1 would be stripped to the frame rails in the trio's Auburn Hills, Michigan, facility where it gets reconditioned and reassembled with brand-new hardware. When the chassis is sorted, the engine is affixed. Early H1s originally had a Detroit Diesel V-8 engine. "It was heavier than a boat anchor and had about as much power," chuckles Broekman. The last H1s, however, received the Duramax. "They were headed in the right direction."
That prodigious diesel mill is rebuilt from the block up, also by Mil-Spec, giving it an overbore and fitting it with better intake manifolds and a new exhaust. The resulting 500 ponies and 1,000 lb.-ft of yank is more than ample for Mil-Spec's application here. A six-speed automatic transmission gets the power down smoothly, and the oomph feels linear, as though it'll keep pulling for as long as your foot's in it. Bear in mind that stopping a speeding locomotive requires distance, so hit the brakes early. The adequate disc brakes, mounted inboard for improved off-road performance, as was true in the original H1, lack ABS so I'm careful to avoid hard slams, locking everything up.
The H1 is already big as hell. Mil-Spec's lifted it and perched it on 40-inch Nitto mud grapplers, which affords you the ability to look down on some regular pickup trucks—and a few lifted ones. It's as wide as Miami Beach itself, and I initially wince when we pass tractor trailers, fearful of kissing mirrors. We squeeze through with what feels like centimeters to spare, early pangs of fear heightened due to the company's owner sitting beside me. With more wheel time, the more comfortable I feel. My abating panic is replaced by abject complacency, a sense that in this vehicle, I rule the road. I start to wonder what I could run over—or through—and realize it's everything I dwarf in the surrounding lanes.
The transmission and powertrain are so large, the transmission tunnel takes up the bulk of the wide interior. Despite the wingspan accompanying my 6'2" frame, I struggle to reach Broekman, sitting miles away in the passenger seat. The spartan interior feels purposeful yet luxurious. Handsome bespoke dials adorn the dash, while a premium sound system pumps bass into the space. You can opt for marine-grade leather seats that are heated and ventilated, and even boast massagers. "We can custom fabricate interiors from any materials. We've done distressed bison leather in this blue hue that looked really cool," Broekman says, noting unethical animal hides are where Mil-Spec draws the line. While this cabin is more opulent than the H1 ever was, the durability of the materials invites you to use it in the wild. Nothing's so fancy you'd feel bad about splattering it with mud.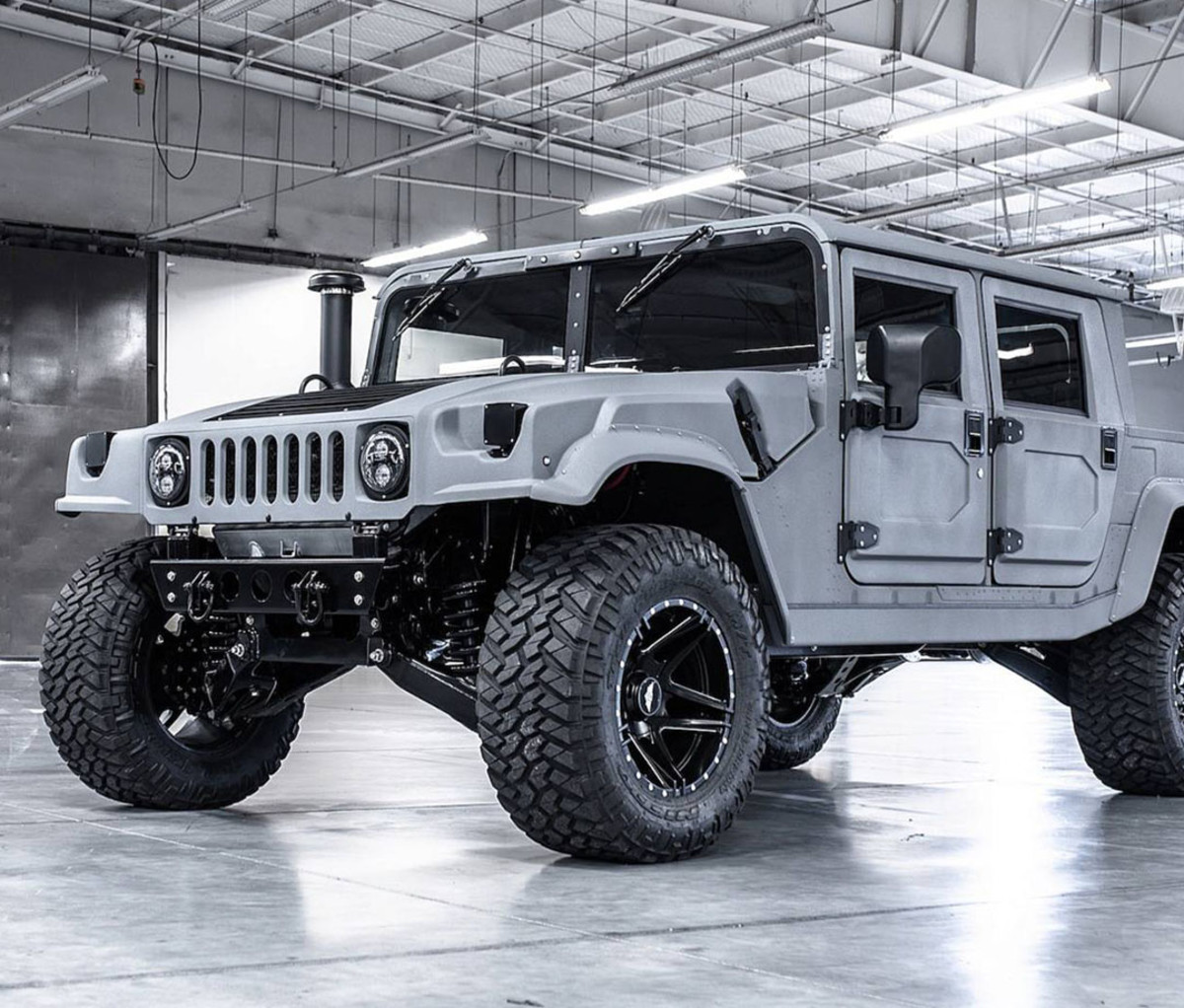 Thanks to a custom suspension set-up, tweaked to perfection over years by Broekman and crew, the Mil-Spec H1 hummer handles like a defensive lineman; surprisingly agile despite the largess. You'd have to hammer over a solid curb to feel anything, but it's not so soft that the cabin floats around. The original H1 came standard with all-wheel-drive, but Mil-Spec believes that a selectable transfer case should've been the norm, so it installed one. With 2H, 2L, and 4H, you'll be able to power over any terrain, and I'm rueing the fact that we won't have a chance to dip a beadlock rubber toe off the asphalt to test the system out.
The exterior finish of our 004 tester is clad in something called Scorpion Coating, a bed liner material that you can customize to any pigment you'd like. It'll prevent accidental pinstriping should you barrel down a narrow off-road trail. It's the ideal finish for the H1, and I want to coat all my possessions in this material.
As you'd expect, all of this craftsmanship doesn't come cheap. The price of a Mil-Spec H1 begins at $218,500, which includes the donor truck. The options go up from there, with most customers opting for winches, brush guards, snorkels, lightbars, and interior tweaks. "No one's done an overland theme yet, though we'd love to see that," shares Broekman. "We have one client who wanted to use this as a rally support vehicle, so he's getting forward-looking InfraRed cameras and other crazy electronics."
Yes, that's a steep price tag, though you're getting a truck that delivers on every level. Perhaps the most intangible value the Mil-Spec H1 provides is livability. Unlike the original H1, this isn't something that will induce a cold sweat every time you park at the supermarket. Its road manners match its off-road capabilities, a hard balance to strike for a once-slapdash humvee from three decades ago. It won't be for everyone, but for the select few, this'll be worth every penny.
For access to exclusive gear videos, celebrity interviews, and more, subscribe on YouTube!