Most press conferences at the Consumer Electronics Show in Las Vegas are at least a little bit excruciating. Corporate executives step onto the stage and promptly fall on their high-salaried swords, either droning through last year's financials in a pained monotone, or trying, and failing, to summon a Steve Jobs-ian sense of wonder. And the jokes — oh the jokes — that bomb so hard even crickets can't survive the shockwaves of weaponized awkwardness. Then there's Monster's annual event, which is the press conference equivalent of a Sharknado movie. It's small, at least for CES, raucous by any standards, and, without fail, a train wreck. Not the gruesome, tragic kind. Like a really fun head-on collision, where a train full of garbage piles into another train, full of hotter, more rancid garbage.
When the Head Monster — Monster's term for its CEO and founder — Noel Lee wheeled onto the stage this past Tuesday on his trademark Segway, it was time to settle in for the strangest, and most patently inappropriate one-man show at CES. This year, he came out growling into his mic, and demanding growls from the rest of us in the ballroom at the Mandalay Bay Convention Center. We weren't loud enough. We do it again. Is that all you've got, asks Lee? Apparently it was.
No matter. Lee has enough enthusiasm for the room. He yells about Monster 2.0, a meta-branding situation involving (it would seem) a comeback for the company from an unspecified setback, and lots of personnel turnover. To celebrate the dawn of Monster 2.0, Lee invites a handful of people on stage, and bellows at us to applaud for his new lifestyle marketing team. These people look either bored or mortified, or possibly both. Lee is blowing out his mic with his excitement about these hires. It's 10 minutes in, and this press conference is already perfect.
MORE CES 2016: Live from The World's Biggest Tech Show

One of the best things about these events is the absolute glut of product announcements. While other companies tend to highlight a curated selection of products, or even one product on its own, Lee hits virtually all of Monster's offerings. And they are legion, from headphones whose only distinctive traits are their bold colors and unfortunate names (such as DiamondZ, because they're shiny) to power strips that have been on the market for a year. Lee also leaves no partnership unaddressed, and those are also legion. The company is hooking up with Adidas, Christina Milian, Shaquille O'Neal, fashion designers, and some guy named Disco Donnie (a big deal in the EDM event promotion scene, according to the internet). Monster has too many partners to even give said partners the time to extol the virtues of those relationships. When Lee mentions working with AllHipHop.com, the head of that site wandered onstage and picked up the mic. Lee seemed confused by this development. Someone else was talking about Monster? The guy took the hint, replaced the mic, and retreated.
Which is as it should be, since these events are all about watching a CEO of a major electronics company speak without pause or filter. Here are some of Lee's highlights:
About the SuperStar Hotshot, a small, relatively unassuming Bluetooth speaker:
"This thing kicks ass!"
About soccer star Cristiano Ronaldo, a new-ish partner:
"This guy is a magnet." (Lee nods, knowingly.) "A chick magnet."
About a particular headphone color choice:
"And jade." (Lee pauses.) "For all my friendly Asians out there." (Lee, it should be noted, is of Asian descent.)
About those shiny DiamondZ headphones:
"Ladies in the audience, I've got something for you."
About the company's desire to promote the use of consumer technology to help the world:
"We are a very rich, technology-oriented company. And what I have said in the press, in the past, is that if you can put a fingerprint reader on an iPhone, why can't you put that on a gun?" (Someone in the audience lets out a 'Wooooo!') "Let's give it up, please." (Applause) "We don't want our kids accidentally shooting … each other."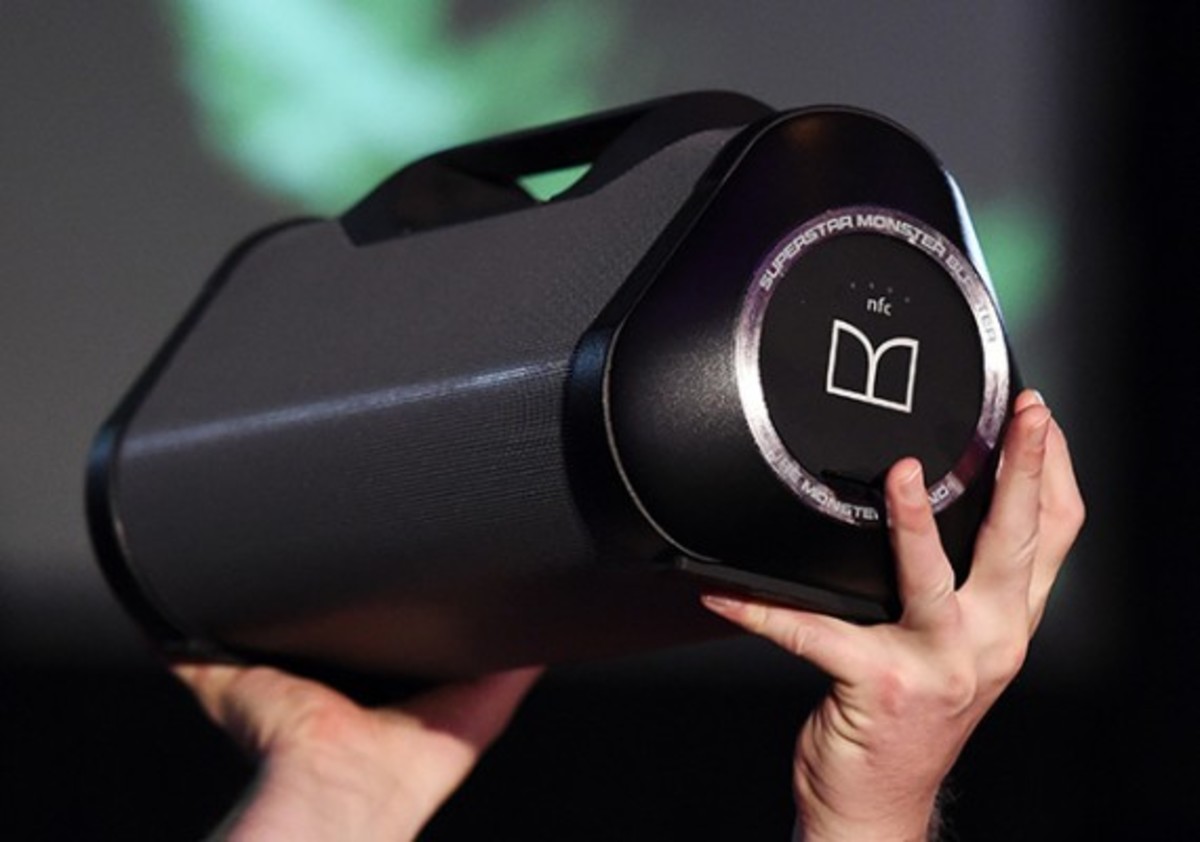 (The press conference showcased Lee's personality, mostly, but also new products, like the SuperStar Monster Blaster. Photograph by Ethan Miller/Getty Images)
Lee at least seemed to know enough to stop there, and simply rolls into a pitch of a product that came out about 11 months before CES.
And since most press conferences at the show include at least one video presentation of a new product, Monster announced its new Fata1ity gaming headset (partnering with a former professional gamer of the same name) with an expressionistic jumble of images, including shirtless people with Yakuza-style tattoos swinging around katanas, and a guy in a hood walking around an illustrated city, looking a whole lot like he means to do violence to random people. 
But this is why it's impossible to hate Monster, or their unhinged press events, or even his Segway. According to Lee, the company's reason for releasing a new gaming headset is that the last time they tried it, it was too expensive, and "didn't have the features that gamers wanted."
CEOs don't talk like that. But Noel Lee isn't a CEO, he's the Head Monster. Later that day, Sony managed to spend the first 25 minutes of its own CES press conference without mentioning a single new device, and one of its execs burned precious presentation time recounting a meeting he had with a bunch of execs from other companies, where everyone agreed that a given audio protocol should really be prioritized.
Lee, meanwhile, is rattling through products at a breakneck pace, yelling at his employees to hold up the thing he just announced and pass it around the audience, shouting "give it up" or "let's hear it" at the audience after every single reference to a product or major partnership. And all the way through the event, people are clapping and hooting. When Lee finally scoots off stage, two different songs come on at the same time. A Monster conference, in all its glory.
For access to exclusive gear videos, celebrity interviews, and more, subscribe on YouTube!