The Fast and the Dirtiest
A New Breed of UTVs Attacks Hair-Raising Terrain With Ease—and Breakneck Fury
Our mud-spattered mini-convoy—a trio of aggressive, high-powered sport UTVs—has been tearing through these dense backwoods since first light. Behind the wheel of a machine that boasts more horsepower than the car that brought me to the Appalachian Mountains of West Virginia, I'm hustling to keep sight of our local trail sherpa as he blazes across narrow ridgelines and around an endless succession of gritty switchbacks. So I'm somewhat relieved when he eases off the accelerator on a rare level stretch. As he suddenly swerves, though, it becomes apparent that he was simply pausing to locate the gap of a narrow side trail. Unlike the mapped, sprawling Hatfield-McCoy Trails system we've been navigating, this new path isn't marked, and zags up a rise at a neck-popping angle—steeper than anything we've so far tackled.
"If you're not already in low gear, I highly recommend it," a voice crackles from the walkie currently ricocheting around my floorboard.
Even if my harness would allow me to lean over far enough to retrieve the walkie, my reply would be drowned out by engine roar as he guns up the rutty, rocky incline. Okay then, this is it. Enter the Outlaw Trails.
A brief primer: These ain't ATVs, the off-road four-wheelers ridden like motorcycles. UTVs (Utility Terrain Vehicles) have steering wheels and place a passenger next to the driver in a rollbar-protected cockpit. (Hence why they're also called side-by-sides.) And don't mistake them for their boxier, landscaper-toting cousins. Sport UTVs branched off in 2007 when Polaris introduced the RZR, a brawny, nimble model with racing-inspired looks. Ever since, rival manufacturers have pushed to outdo each other in power, suspension, and design. Along the way, sales have exploded to a demographic akin to boat owners.
If the craze has a flagship, it's the top-selling Polaris RZR XP 1000, which wraps 110 horsepower in a chassis styled like it's charging forward even when parked. But in a UTV culture obsessed with performance, there's always somebody bigger, badder, and faster than you. So for our multi-vehicle assault on the Hatfield-McCoy Trails (HMT), neither Polaris nor Can-Am (basically the Ford vs. Chevy of UTVs) risks delivering the menos macho machine. That's why we arrive at WV ATV Resort, our base atop Cherokee Mountain in Rock, WV, to find owner Rick Bailey happily minding the keys to a Can-Am Maverick X3 DS Turbo R (172 horsepower) and a Polaris RZR Pro XP Ultimate (181 horsepower). Model variations are endless—this alphabet salad basically spells out that we've got a pair of king-of-the-hill skullfuckers at our disposal. Since our third guy balks at riding shotgun, we also rent a Maverick Sport and hope its relatively paltry 79 horses can hang.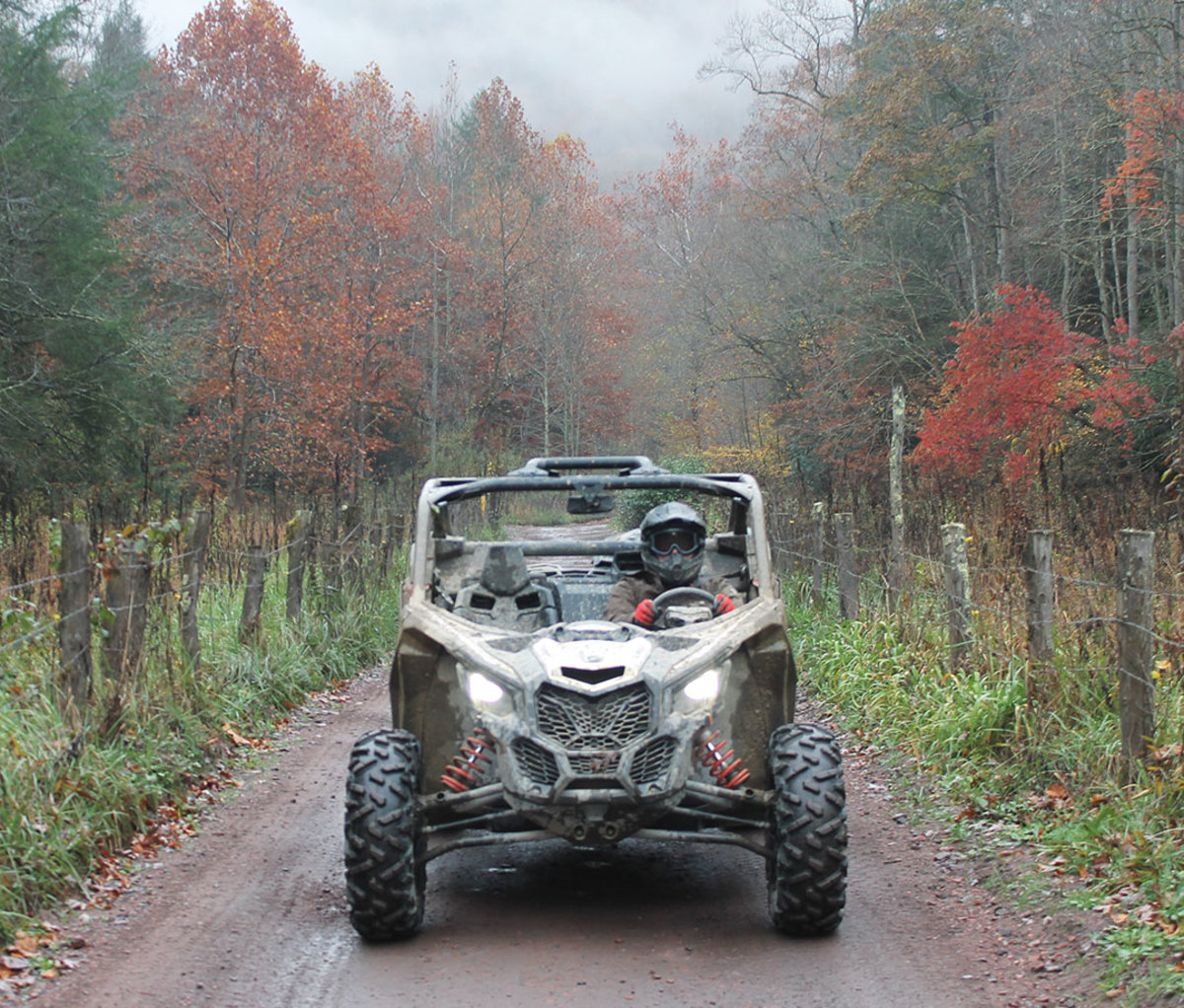 Itching for action, we race for the trailhead, where we're immediately swallowed by swaths of oak, maple, and hickory. Maps show this is a green section of trail, the "easiest" rating, but it's pretty damn technical—every flat stretch soon leads to loose-rock uphill, mud-slick downhill, or whippy switchback. Passing junctures marked by black-diamond icons, I ponder the wisdom of attempting those most-hazardous trails. I also notice gaps marked NO ENTRY, and recall overhearing rider-talk about "outlaw trails," non-approved routes that surround and intersect the official map.
After some seat swapping, the consensus is that both of our loaners are beasts. The RZR's suspension absorbs a silly amount of uneven terrain at full gallop, while the X3 shudders a bit over rocky ascents. The trade-off ? The X3 provides more driver feedback and handles steadier. (To be fair, both have adjustable suspensions; we're just too giddy to bother fiddling with them.) Notably, while the Sport doesn't attack with the same breakneck fury, it never surrenders, and its narrower width is a plus in tight turns.
Rival UTV manufacturers have pushed to outdo each other in power, suspension, and design.
Named for the infamous feuding clans that bloodied these environs in the 1800s, the HMT was created 20 years ago to prop up the declining fortunes of coal country. It was a whopping success. By this spring, the system will comprise 10 distinct trails, some connected, snaking nearly 900 miles across seven rural counties—the country's largest such system.
To handle 60,000 riders a year, an entire local economy, and infrastructure, has been born. Dozens of UTV-centric "resorts" border the trails, offering shelter ranging from crew-friendly bunkhouses to well-appointed cabins. And local laws have been bent to let UTVs drive into small towns eager to supply gas, burgers, and beer.
So after we cut from the Indian Ridge section over to Pinnacle Creek, a sprawling trail that winds up an exposed ridgeline and down along a sycamore-dappled trout stream, we cruise into Pineville, population 668. Plenty of UTVs are buzzing the main drag, and we seize lunchtime parking at Pinnacle Drive-In. Luckily, our carhop doesn't blink at serving mucky recreational vehicles. We wolf down chili dogs and onion rings while fellow riders take note of our big-budget rides. Until, that is, the collective gaze swivels to a passing Kawasaki Teryx KRX 1000 Trail Edition, a jacked-up mountain-chewer styled like Mad Max's weekend ride and tricked out with a blaring sound system and twin LED whip lights. Because in a UTV culture obsessed with mods and accessories, there is always somebody bigger, badder, and peacockier than you.
For the return trip, we stay on the accelerators, making the machines skim over the tops of jagged patches. We're in the zone, blurring peaks into valleys, hyper-focused—then I round a switchback to witness a dirt bike headed straight at me. Fast. I grind to a halt and brace as the biker locks up and slides. He stops about four inches from my grill. We regard each other through dirty goggles until Rural Knievel shrugs and blasts off, rooster-tailing me with dirt.
Back at WV ATV Resort, we powerwash our machines and ask Rick about the so-called Outlaw Trails. "Oh sure, my friends and I ride them practically all the way to Kentucky," he replies casually. "I'll take you out on them tomorrow."
Before the HMT, local off-roaders utilized an existing labyrinth of routes hacked out of the forests for mining, logging, and gas pipelines. The HMT absorbed some of those, improved accessibility, and widened trails when UTVs eclipsed ATVs as the weapon of choice. But hundreds of miles of non-marked trails still coil through these parts, irresistibly luring a certain sort of UTV enthusiast. Apparently, that certain sort is us.
We left the rental behind this morning, but Rick himself drives a Maverick Sport, albeit a model with upgraded horsepower, shocks, and tires. When he disappears over the gnarly rise marking the border with outlaw territory, I realize that the gauntlet has been thrown down to me and my RZR. Swallowing hard, I mash the accelerator and hold on tight. I can feel one wheel spinning while the others valiantly maintain traction, churning inexorably upward. At the crest my left front tire caroms off a beachball-size boulder and I kick out toward a sheer drop-off on the right, but somehow clamber past. Good boy, RZR, good boy! And the X3 is right behind.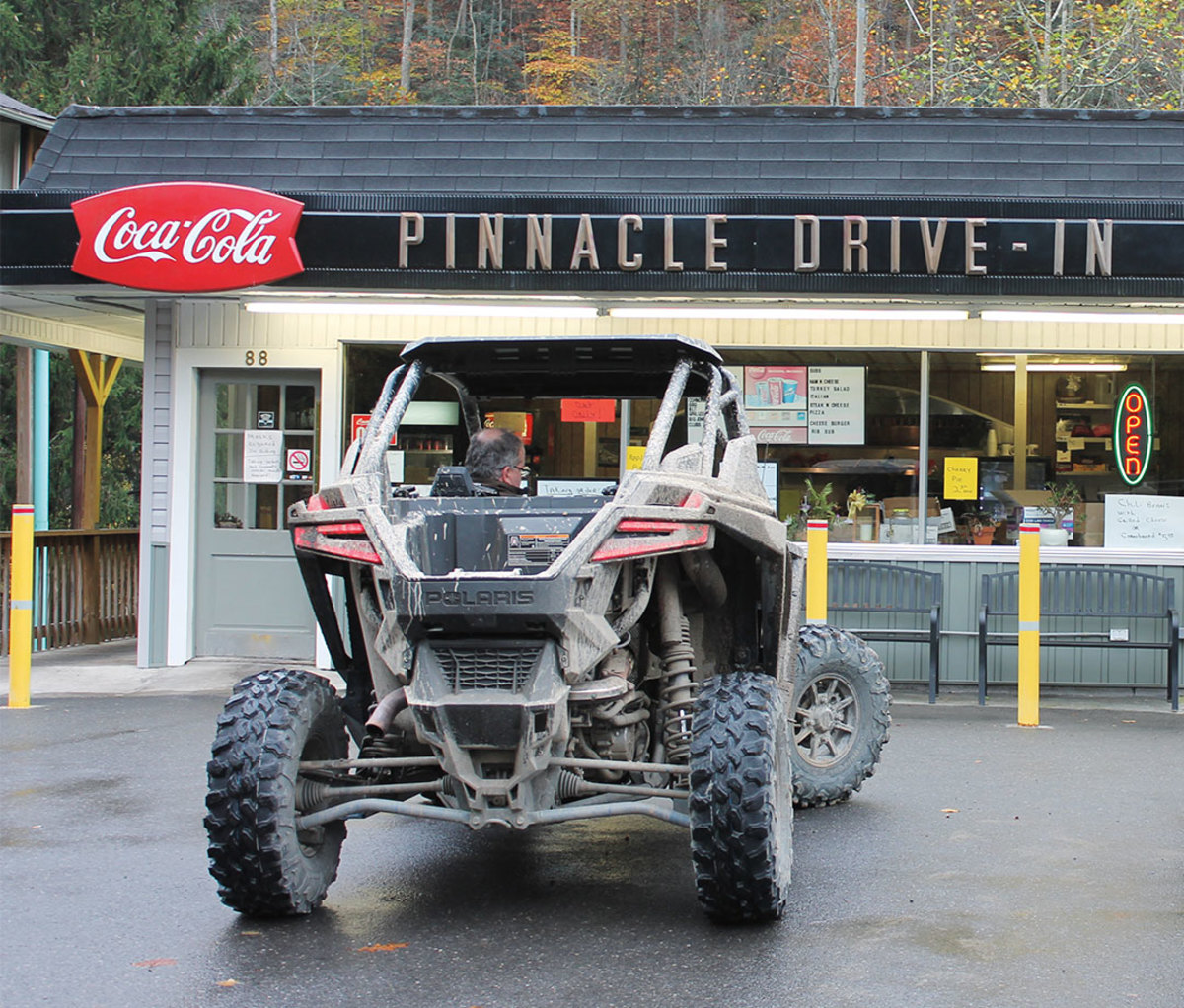 We jostle along a rocky trail slanted at a disconcerting angle, then burst onto a graded coal-company road in an area more open than anything we've encountered. After climbing to a bald lookout, I grasp why. We're gazing over a coal operation actively scraping the peak off a neighboring mountain, just as it removed the former summit of this one.
None of the trails out here are marked, and without Rick, who confirms that we've been conquering some black-diamond terrain, we'd be hilariously lost. Still, people figure it out. Cutting through a skinny hollow, a sign identifies a motley collection of cabins and trailers as Rider's Paradise. All is quiet now, but this Outlaw Trails outpost may be the capital of UTV Nation on big weekends, when hundreds of raucous riders flock to its rustic bar and grill.
WE STAY ON THE ACCELERATORS, MAKING THE MACHINES SKIM OVER THE TOPS OF JAGGED PATCHES.
Soon we're precariously straddling yard-deep ruts. While a sport UTV's yo-yo-like wheel travel performs wonders, every so often a weird angle dips you and—KAPANG!—you give thanks for the undercarriage skid plate. Especially when you hear anecdotes of downed tree limbs spearing through non-shielded floorboards. Speaking of which, HMT infrastructure includes local fire departments that deploy their own rescue-equipped UTVs. But have a mishap in outlaw territory and word is that you're on your own.
Around a bend is the wettest trail yet. Drive a UTV for a while and you develop a second sense for whether a puddle is shallow enough to challenge full-throttle. But sometimes your second sense is complete shit and a huge wave cascades back onto you. Whatever, you didn't sign on for this to stay clean and dry, prissy pants.
That said, as the sun dips, it feels good to circle back onto legit trails. Though outlaw territory offers intriguing challenges, I admit that I prefer the more-curated HMT, which despite being plenty wild and woolly, seems designed to usher me into that ideal driving state in which I'm always slightly scared and always having fun.
At home base, tired and wired, we pass the bourbon and download off-road exploits around a blazing fire ring. Even hours later, though, I swear I can hear the telltale growls of UTVs echoing through hills and hollows all around—out there in the pitch dark. "Not supposed to ride at night, but people do it," acknowledges Rick. "Especially on the Outlaw Trails."
Because when it comes to a UTV culture obsessed with the next thrill, there's always somebody bigger, badder, and flat-out crazier than you.