Rafting the Colorado River through the towering stone walls of the Grand Canyon is a unique experience, and one of those once-in-a-lifetime adventures for most.
Prepping for a nine-night, 180-mile trip down a fierce river through the bottom of the Earth with full exposure to the summer heat and sun, incorporating a variety of recreational activities, and accounting for protection from desert climate, creatures, plants and landscapes proved logistically challenging while gear planning with a minimalist mindset.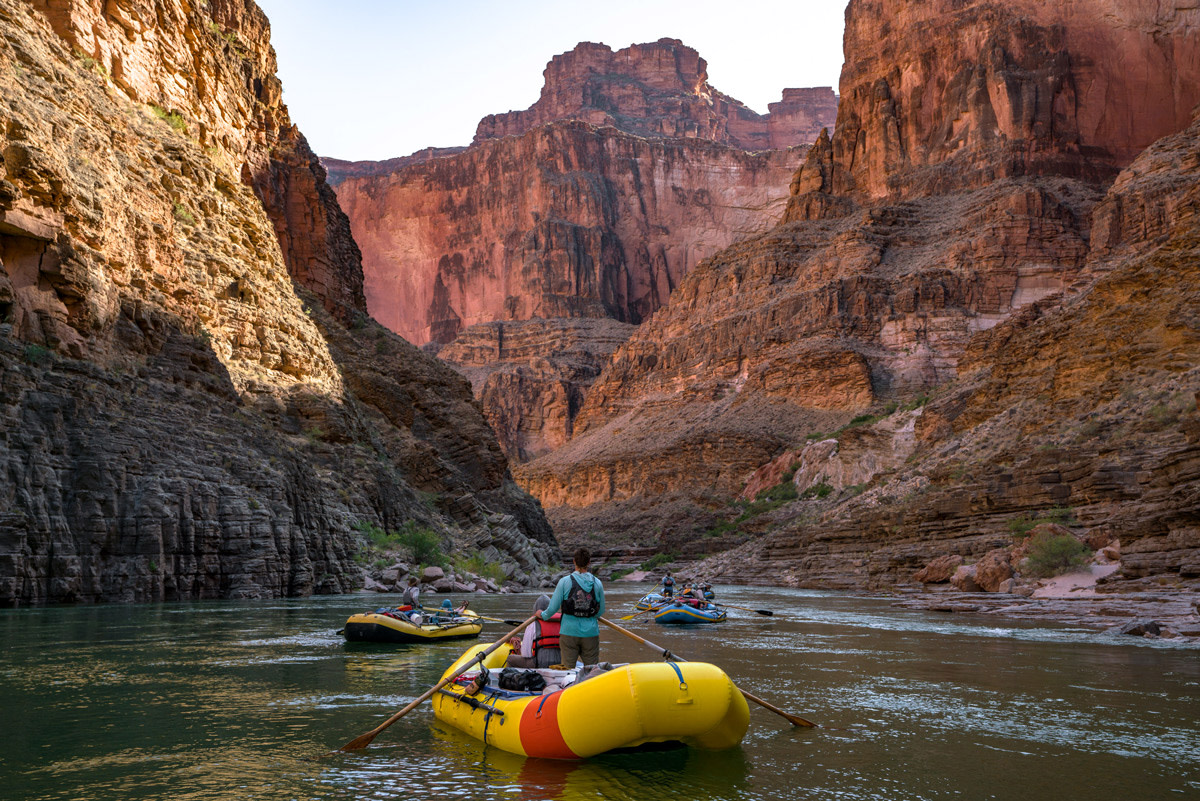 The way to succeed in this packing feat is to find versatile gear without sacrificing performance, so you can own less and do more. Quality items were not only researched for this specific adventure, but truly put to a variety of tests by someone who is very rough on their gear. I expect to get what I pay for – and use gear to its limits.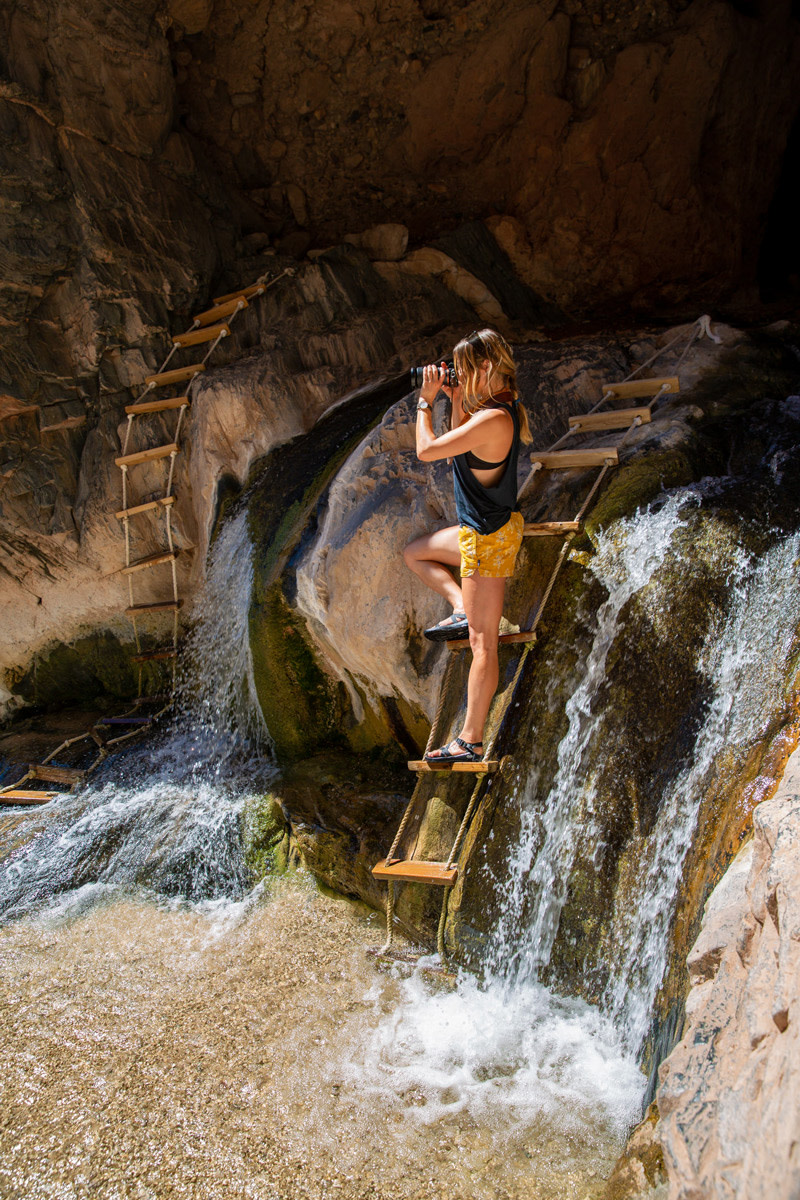 A wet bum is inevitable on a nine day rafting trip spanning 290 miles and 40 class 2-9 rapids. Having soggy bottoms the entire way is highly undesirable and the good news is, partially avoidable.
Cue the Patagonia Baggies line offered to men, women and children. I tried three different styles of shorts beginning my trip and the Baggies substituted the others as my daily wear. The primary reason is because when your boat goes through rapids, your butt gets soaked. Wet shorts with liners chafe your bum. Various short materials stay soaked for an uncomfortable duration. Baggies let the air in and dry very quickly. They're aesthetically pleasing, with 16 print choices (solids and patterns) you can tailor to your style.
Baggies are super lightweight and movable- great for hiking, camp lounging, swimming; all activity, really. It's rad to have a piece of wardrobe gear that can transition into daily life, because it creates more value for the money spent. Now that I'm back home, they're cute enough to wear around town, kicking it at the house, or out on hikes.
Baggies are made of 100% nylon (92% recycled) with a DWR (durable water repellent) finish. They're made from a Bluesign certified fabric. Bluesign technologies, based in Switzerland, works at each step in the textile supply chain to approve chemicals, processes, materials, and products that are safe for the environment, safe for workers, and safe for the end customers.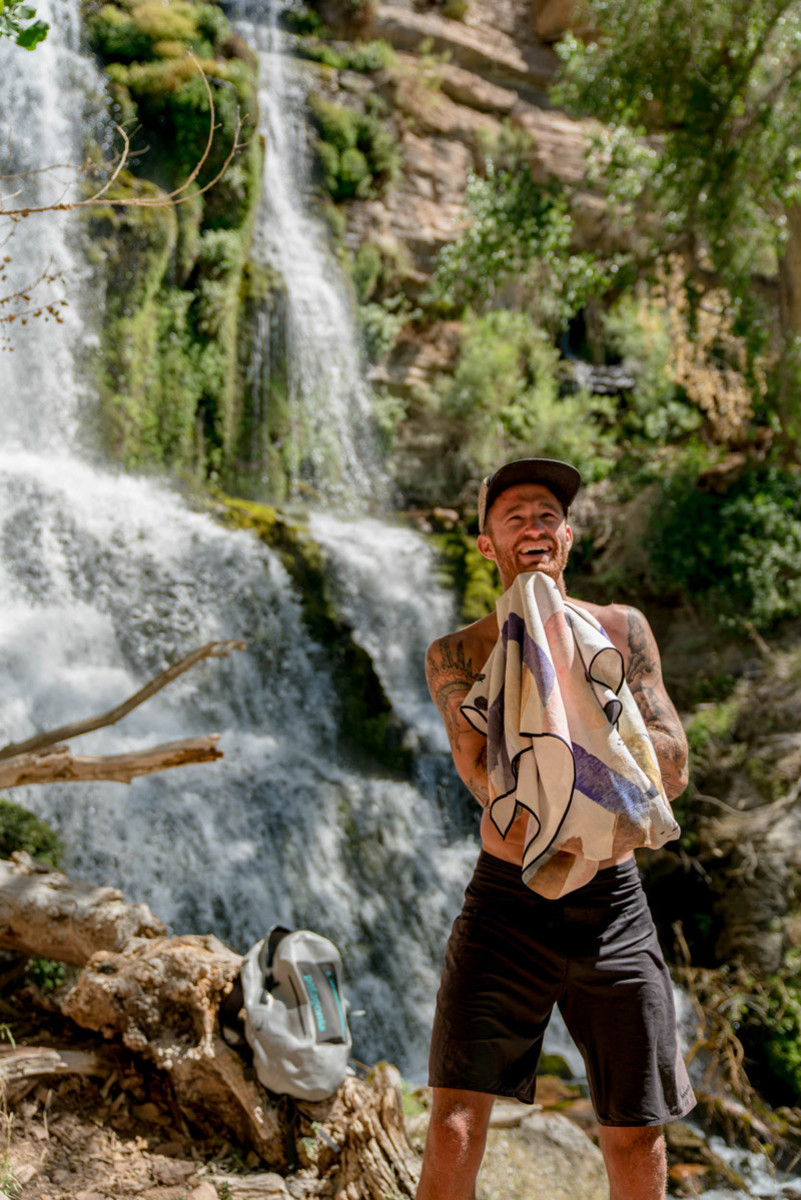 One of the smartest choices I made to maintain a minimal packlist for this filthy, wet, long adventure in the most remote of locations was the choice of towel.
For an outdoor adventure of this duration, a conventional towel is impermissible. It takes up a ton of room, doesn't dry as quickly as it gets dirty, and can weigh as much as a full-Groover when wet.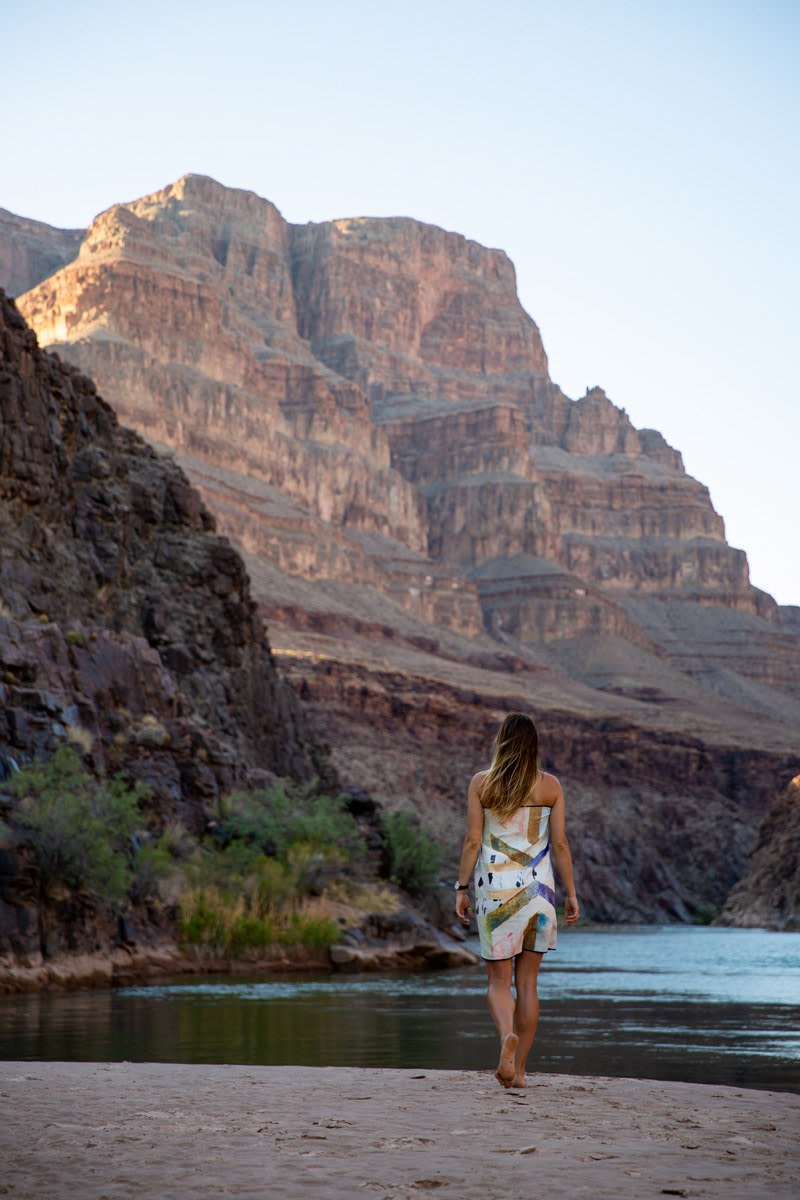 The women at Wylder Goods designed this gorgeous limited-edition towel featuring original art with Nomadix. It's quick-drying, durable, soft, super absorbent, lightweight, anti-microbial, and packs small. I could go on … The best part? It's made of recycled plastic water bottles.
I used this towel constantly for nine-days. I dried off after my nightly river-baths and hikes to waterfall showers. I used it to comfortably sit on a hot surfaces like the sandy beach or the boat baking in the sun. And style points for the sarong it became while protecting my legs from the sun while rowing down the river.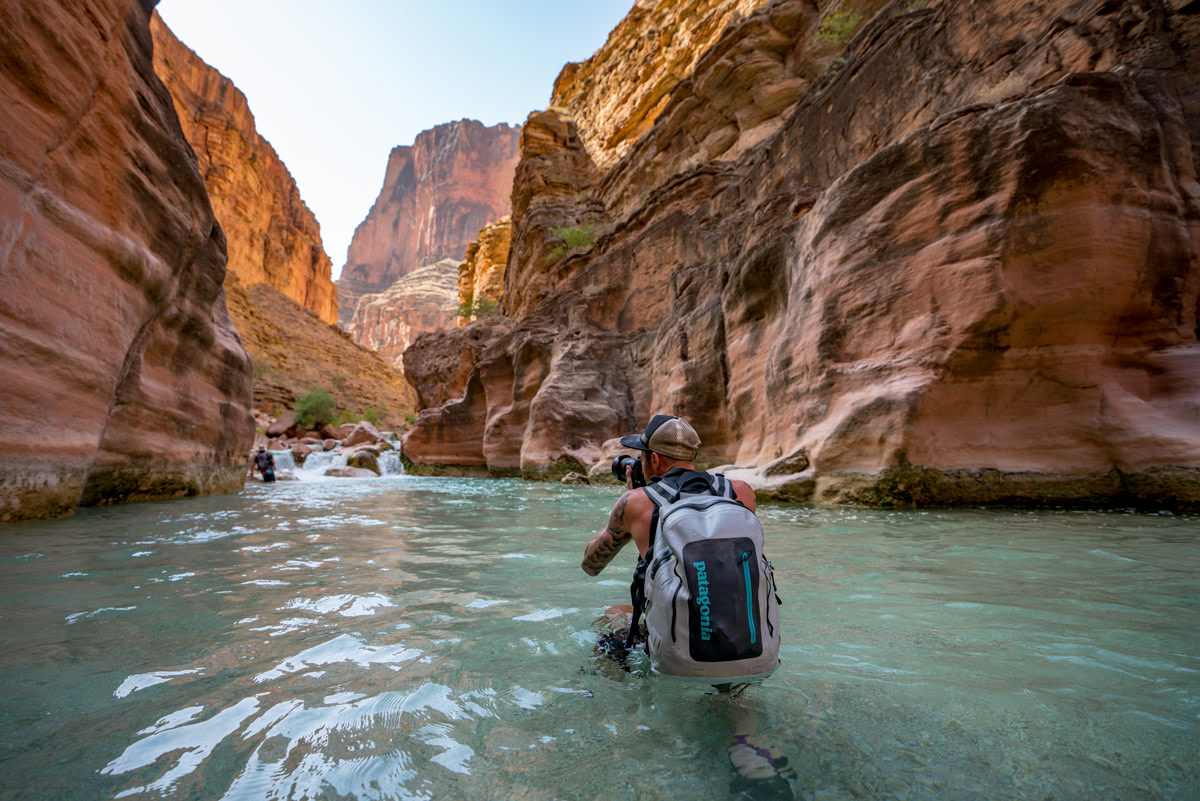 This bag proved the most clutch piece of gear on the trip. It is 100% waterproof, and features welded construction plus a burly TIZIP® closure. It was great for day hikes through slot canyons, or for easy-access to always-dry camera gear, phone and sunscreen while carabinered to the front of the raft.
It wasn't too large for slim-packed day hike supplies, yet 30 liters provided more than enough room for excess water, board games, two DSLR cameras with extra lenses, towels, and snacks.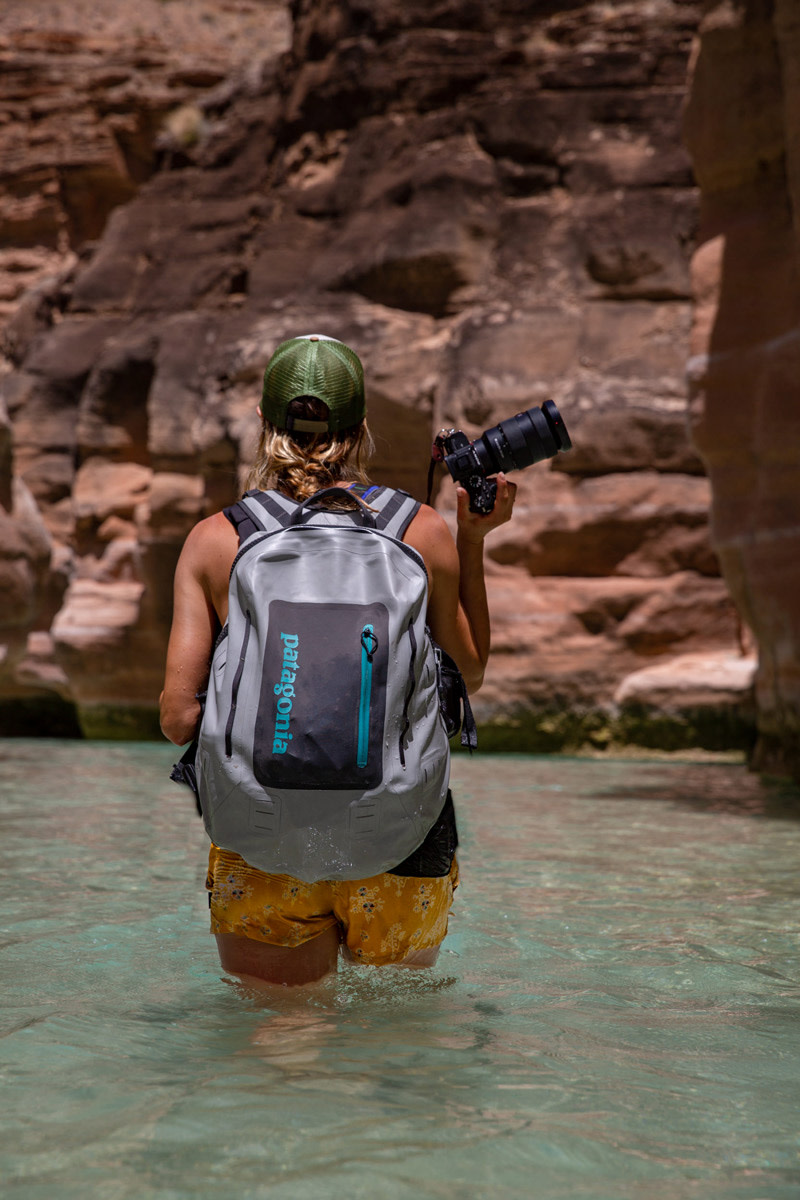 I loved the ergonomic design of the pack. The adjustable chest and waist straps kept the pack snug. It's important not to wrestle a pack during fast paced, tricky movements hiking miles in, and thousands of feet up to waterfalls and other roadside attractions in 100-120 degree temps.
After extensive and varied water tests (class 7 rapids, swimming through high water in slot canyons, and several day hikes), this pack comes highly recommended. Whether or not you adventure in or around water with $20,000 of camera gear inside, it is a solid piece of lifelong gear that Patagonia vows to patch if ever necessary. High price tag, but lifelong high quality creates high value. It's my new go-to camera pack for any surf, paddle board, rafting, fly-fishing adventure in the future.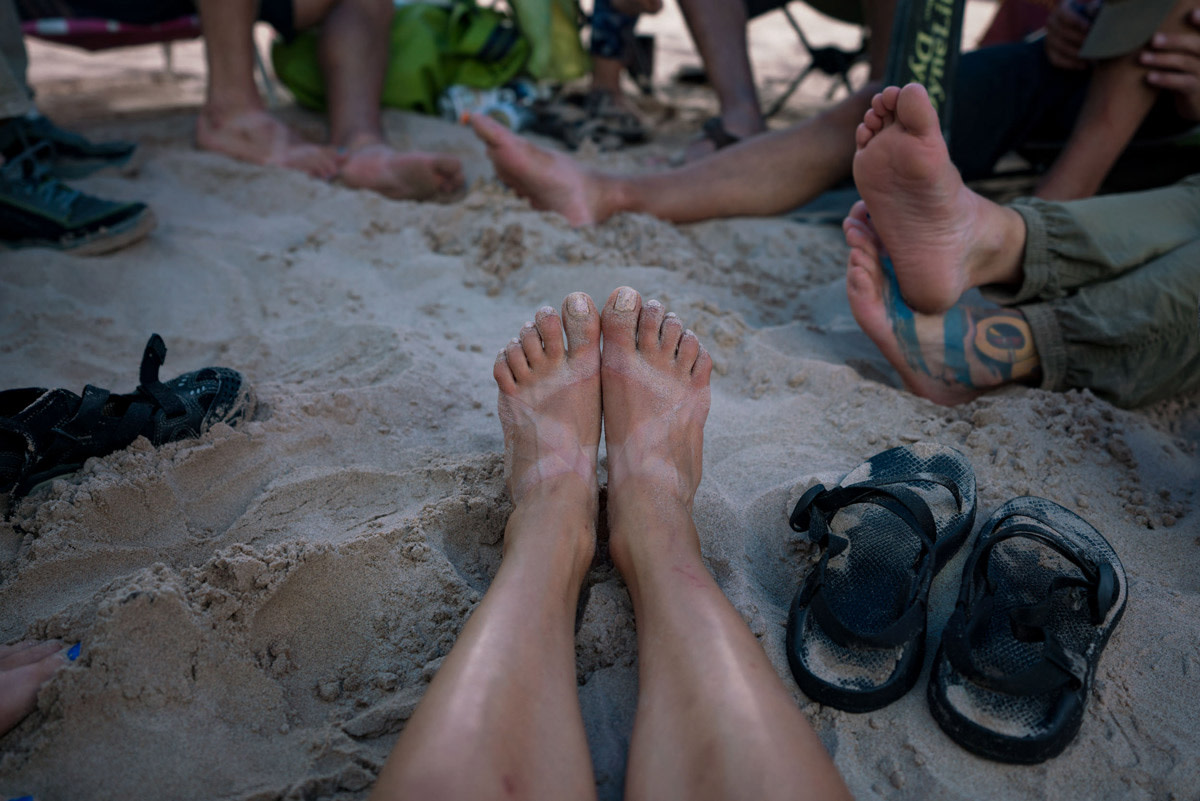 Sure, sure- we've all heard of Chacos. Maybe you even own a pair. I never wore Chacos, and was pretty sure I never would. However, these sandals rival the Stormfront pack as the most clutch piece of gear on the trip.
The classic design of an open sandal allows water to wash above and below your foot as you're digging head first into a 20-foot wave through the meat of a rapid. There is no room for the water to be trapped, so they dry over and over again.
Chaco sandals are by no means flip-flops. They feature polyester jacquard webbing that wraps around the foot and through the midsole for a customized fit. There is an injection-molded ladder lock buckle that keeps the fitted webbing from slipping while you are hiking over pebbles and rocks through gushing river beds, swimming, or being thrown side to side on the watercraft through turbulent waters.
They are comfortable and durable enough to wear on side hikes without swapping for another pair of footwear … hello, minimalism! You could wear in your Chacos prior to adventure, but mine were straight from the box and I wore them constantly. I left the Grand without a blister.
You do get a heck of tan. The classic "Chaco tan" serves as a badge of honor noticed by river goers and outdoor enthusiasts anywhere you're barefoot. Made in the USA, they come in men, women's, and children in an endless color and pattern schemes.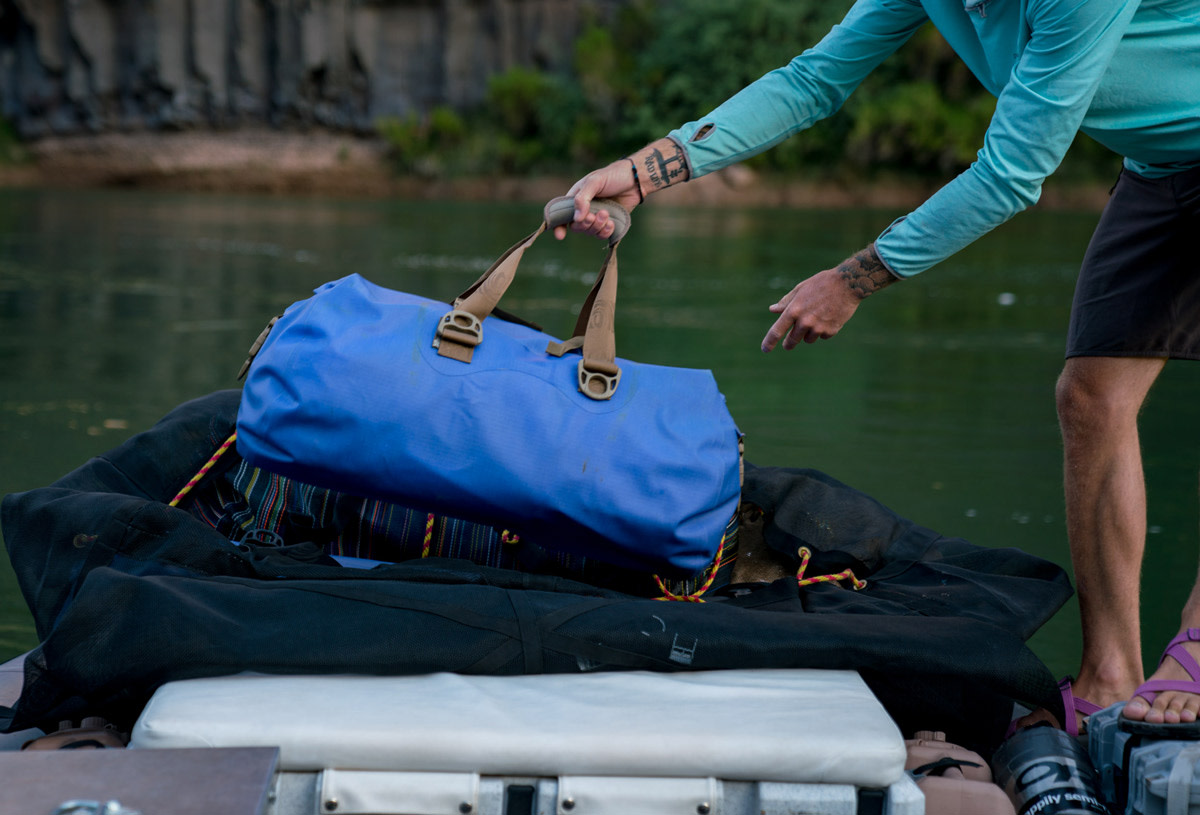 As an official member of the Grand "Swim Team", I can vouch that these dry bags work. Our raft flipped my second day on the river, shortly after losing the power struggle with a 35-foot wall of wave on a rapid named Hermit.
Our raft stayed overturned for 15 minutes in a turbulent Eddy, while we rallied the crew and rigged the boat to flip upright. All of our gear was completely submersed and being pulled by the current. Luckily our bags were strapped tightly to the raft's frame and we closed them properly before taking off that morning.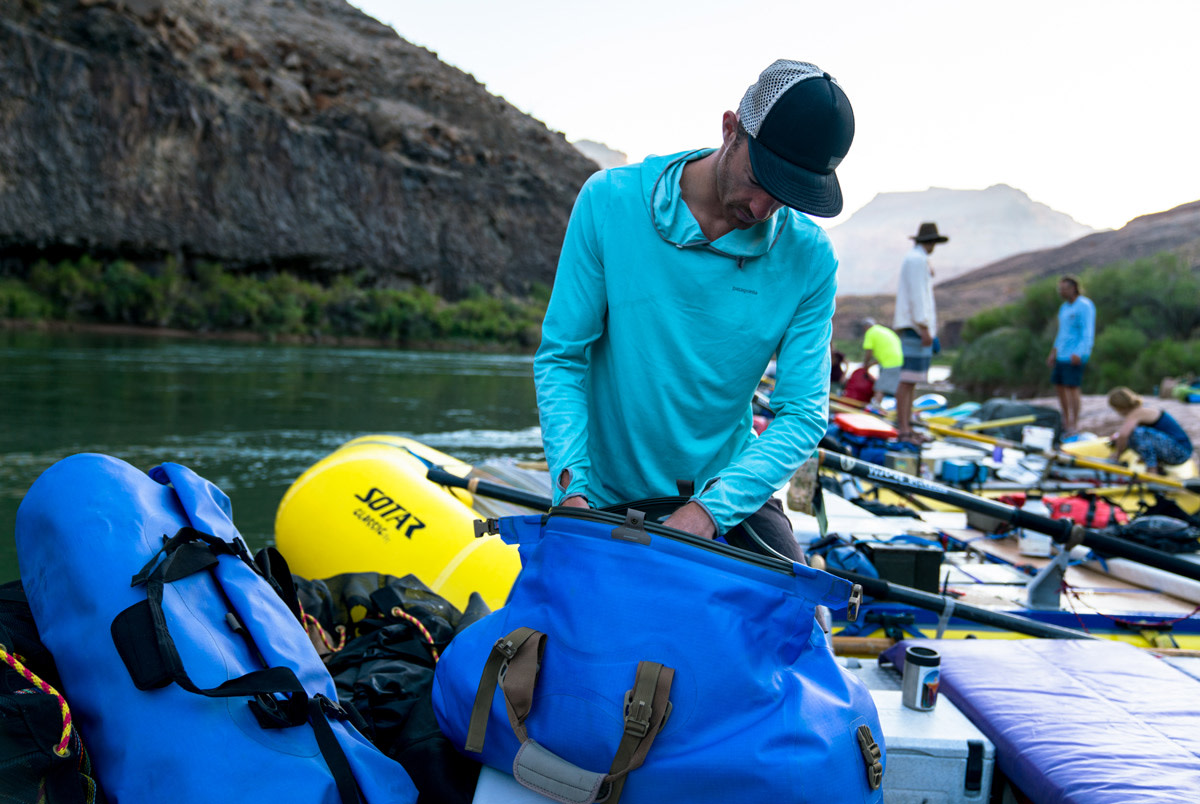 According to Watershed, "The Watershed bag closure system has been tested by the US Navy to 100 meters submersion without any leakage whatsoever. Watershed bags are low maintenance, rugged, and extremely waterproof. They're built for everything from social outings to survival situations." Oh, and Watershed dry bags are made and tested in the USA.
I love this bag. The 70 Liter pack is a sleek and durable design. It is easy to get in and out of while at camp, and it stored 9 days worth of clothing and toiletries.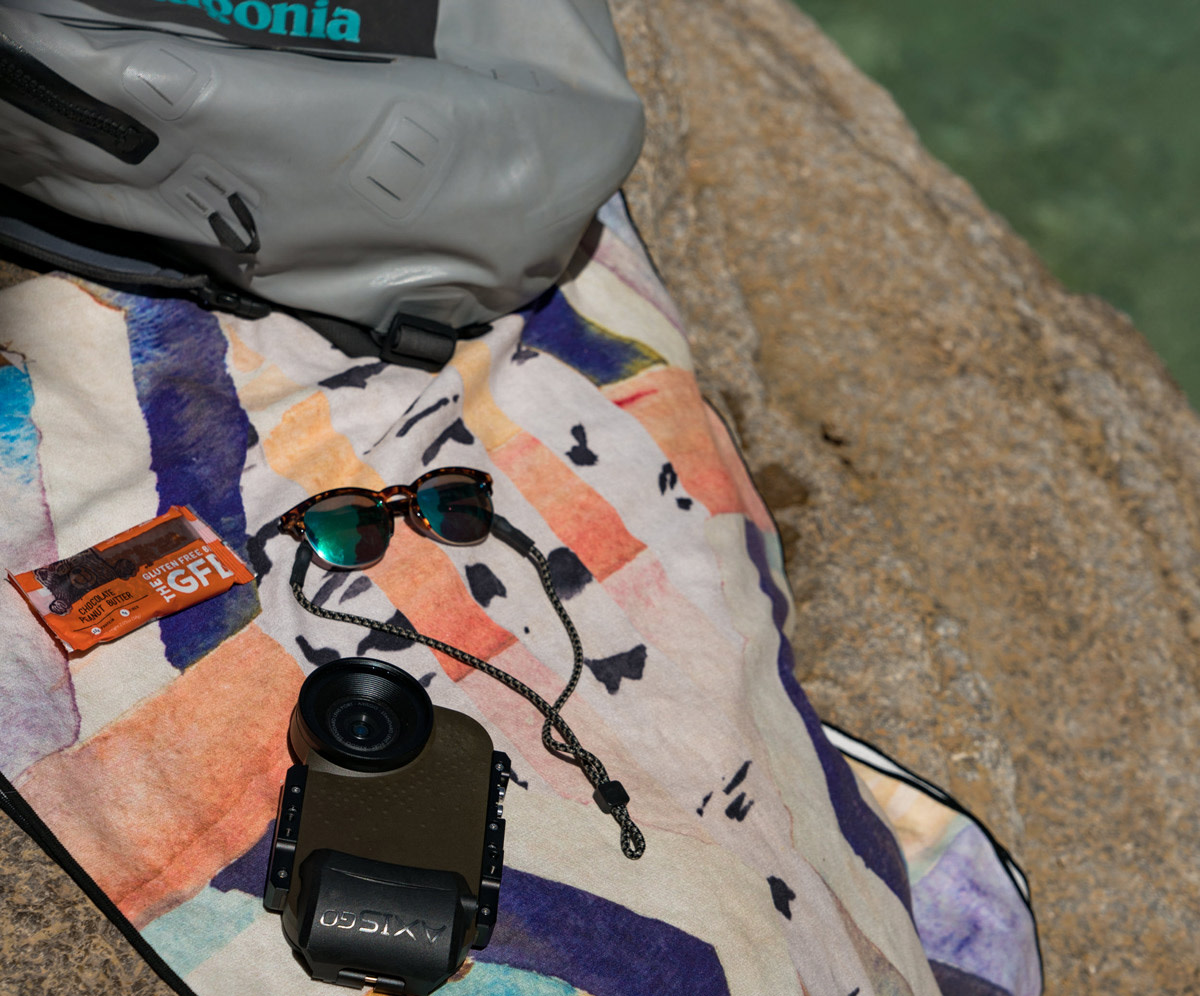 Sunski sunglasses are affordable and stylish, lightweight, and the biggest take-away for me is that I wasn't going to be heartbroken and financially weakened if a rapid snatched them. I took two pairs, just in case I suffered a loss.
A river must-have is a Chums "eyewear retainer". I grew up calling them nerd-ropes, but they are incredibly functional for river trips. At $8, they're a good investment to keep your shades around. Chums has a large variety of looks of material and design, including an artist series and floatable materials.
Bonus for buying these products: Chums states that every cotton and rope retainer is home-grown in Hurricane, Utah, manufactured in the USA and they are a member of the Outdoor Industry Association.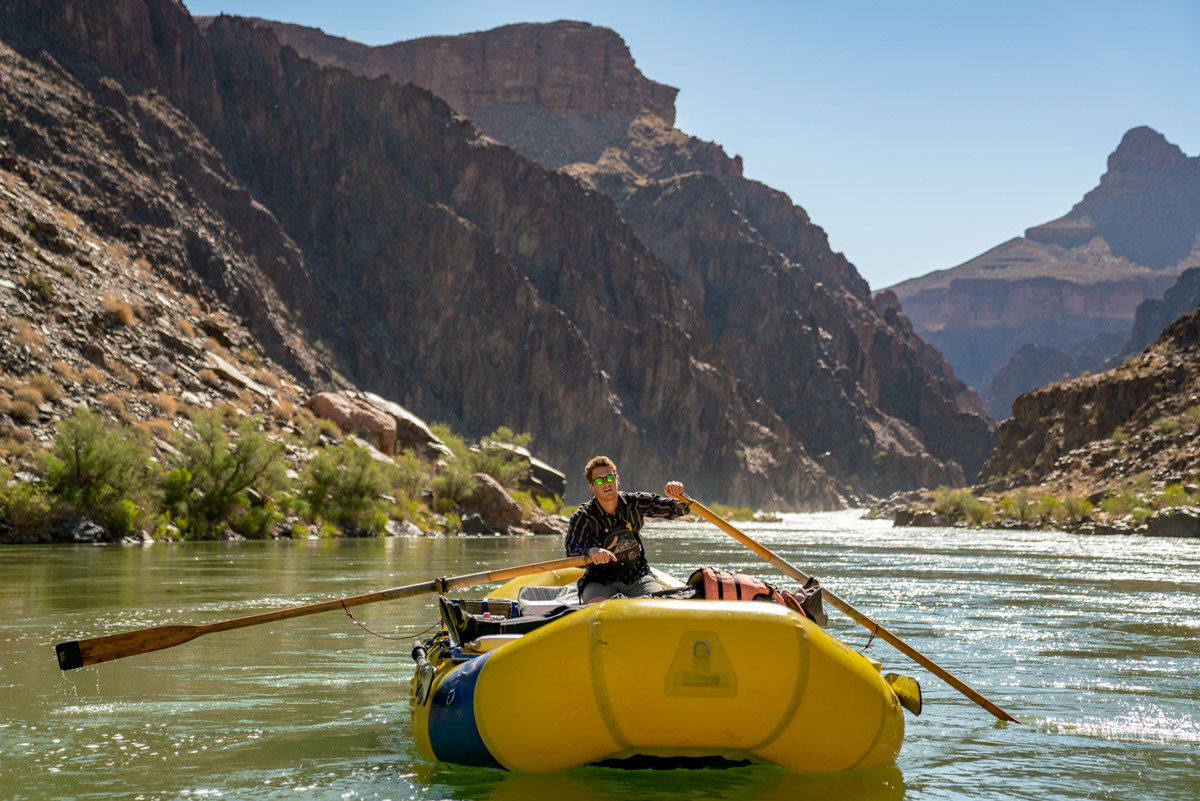 Sunski learned to turn their scrap plastic into frames instead of sending it to landfills. Sunskis are under warranty for as long as you own them. If you break them under normal use, they'll fix them or replace them for you. This warranty doesn't cover lost shades, but Sunski states that if you "drop us a line, maybe we can get you a deal". Sunski is a member of 1% For the Planet and donates a percentage of its revenue to environmental nonprofit organizations.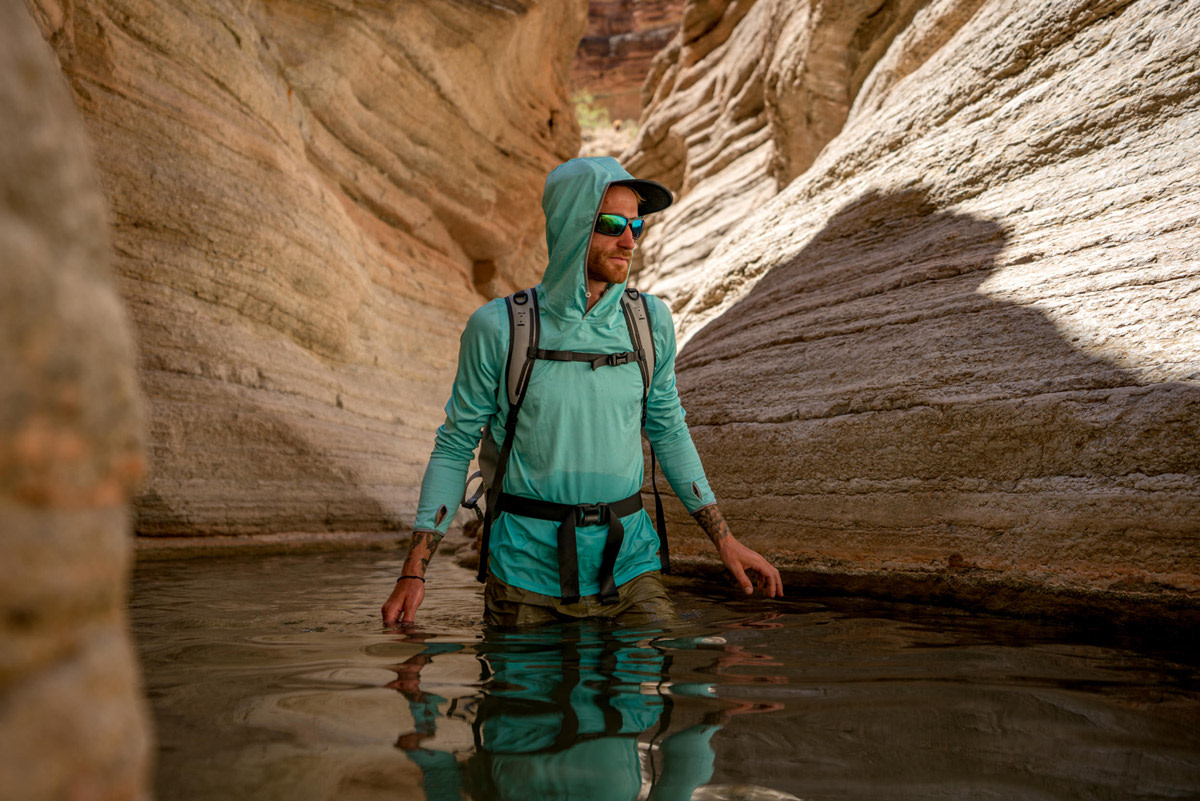 The Patagonia Tropic Comfort Hoody seemed like the Grand Canyon uniform amongst my seasoned crew. As advised, I bought one as well. Great advice, because I wore it most of every day. Don't worry, it has permanent odor control built in.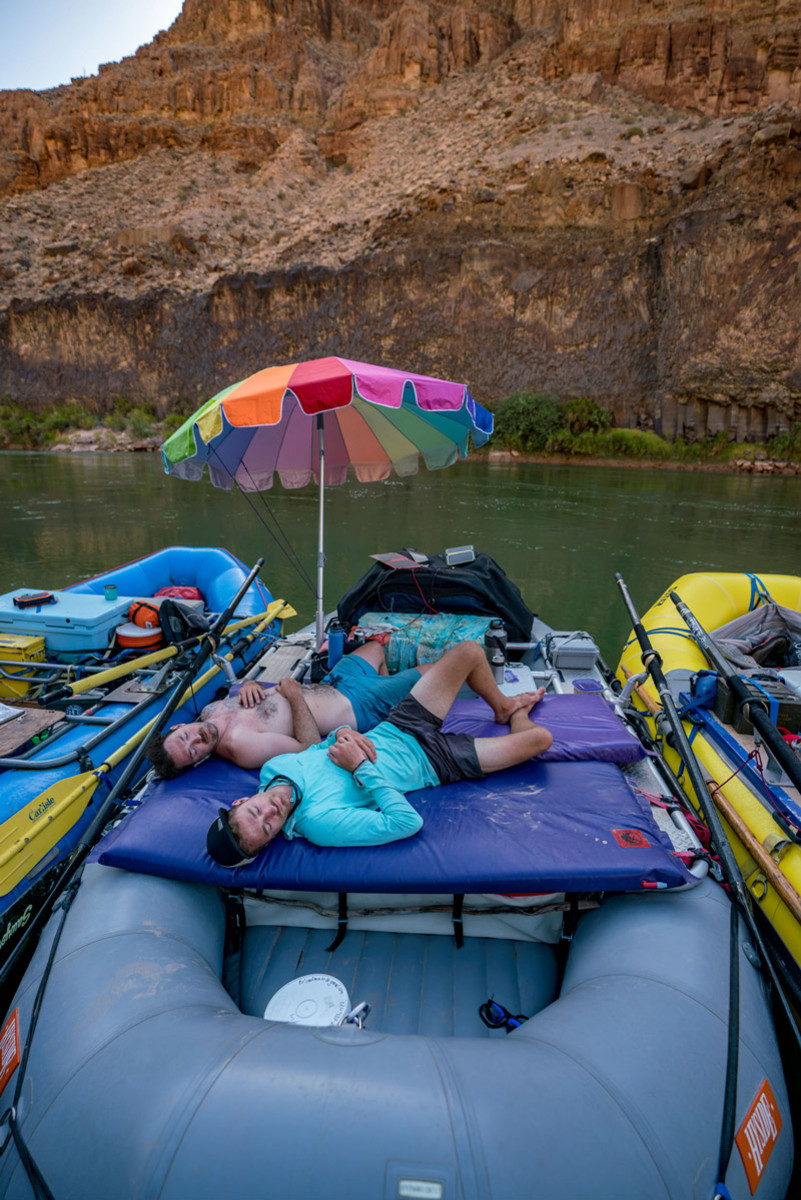 The sun is unrelenting on the Grand and the Sun Hoody completely protects you with its 50+ UPF sun protection fabric. It has thumb holes so the backs of your hands can be sheltered from UV as well. The hood easily fit over my baseball hat, keeping the sun of my neck and the sides of my face.
Getting sweaty and wet in the hoody isn't an issue with its quick-drying 94% polyester/6% spandex makeup that wicks moisture. It's comfortable enough to sleep in, for sure.
Patagonia makes a women's sun hoody – but from my experience, the men's fabric is a bit softer, more flexible, and I preferred the features of the men's cut. Ladies, just size down. I wear small and bought extra-small. I'll definitely be wearing this on other sun-heavy outdoor adventures.
More Packlists from ASN
Packlist: The Most Useful Items For Climbing British Columbia's Skaha Bluffs
Packlist: What We Packed for a Full Day Out on the Lake
For access to exclusive gear videos, celebrity interviews, and more, subscribe on YouTube!