Arizona is notorious for its flattening summertime heat, but longtime desert dwellers know there is respite if you're willing to walk for it.
Havasupai Falls, located on the Havasupai tribal lands just outside the South Rim of Grand Canyon National Park, isn't just one magnificent aqua cascade, either; your 10-mile hike to the campground is rewarded with access to several falls, from the namesake Havasu to New Navajo, Mooney, Beaver and more.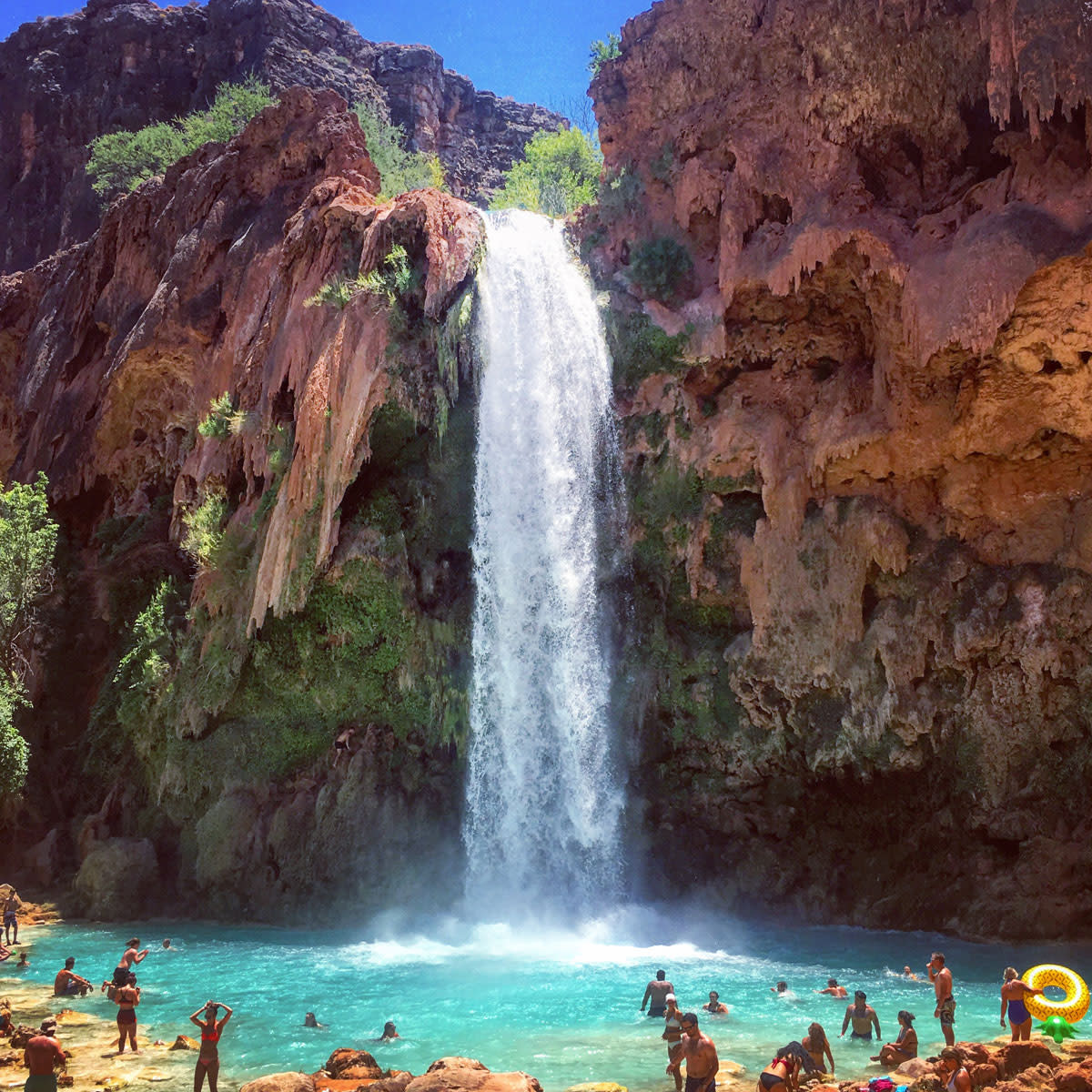 We recently covered 35 miles in three days out there, smack-dab in the middle of typical triple-digit June temperatures, on surfaces ranging from soft sand to rocky washes, water crossings, ladder scrambles and cliff traverses.
In addition to the standard backpacking kit you'd take anywhere, these seven items were the key to a weekend we'll remember for the intensely gorgeous scenery and not for heatstroke and damaged feet.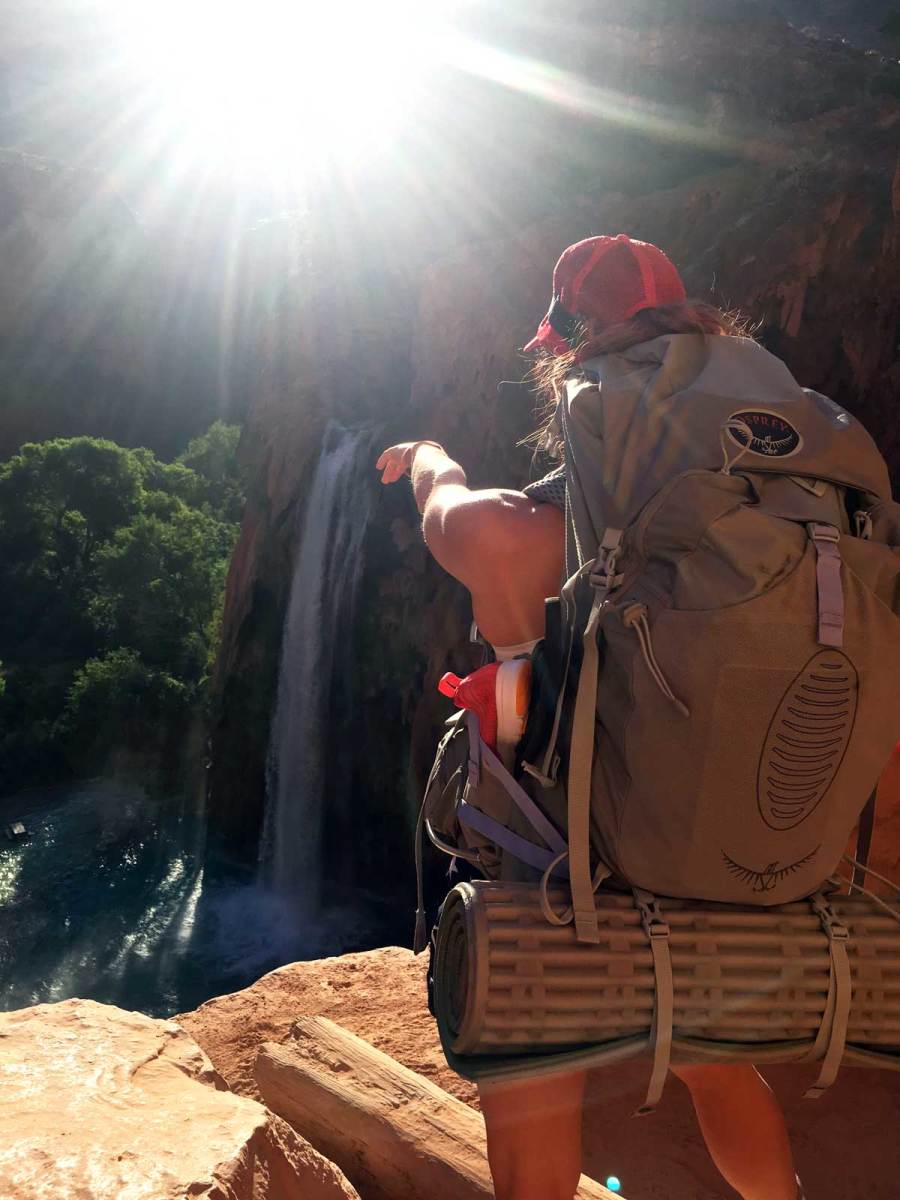 Three things you really don't need to be dealing with on a long trek at 4 a.m.: pack rash, a clammy back and sore hips. The Aura AG 65's Anti-Gravity™ suspension system removes those concerns immediately: Once
you've got the proper size
, you can further micro-adjust the harness and hip belt, and the whole thing contours to your shape.
The all-lightweight-mesh back panel keeps swampiness at bay, and the multiple compartments (main, front, side, hip belt — even one for your sleeping bag) help you properly distribute your gear for both accessibility and load balance.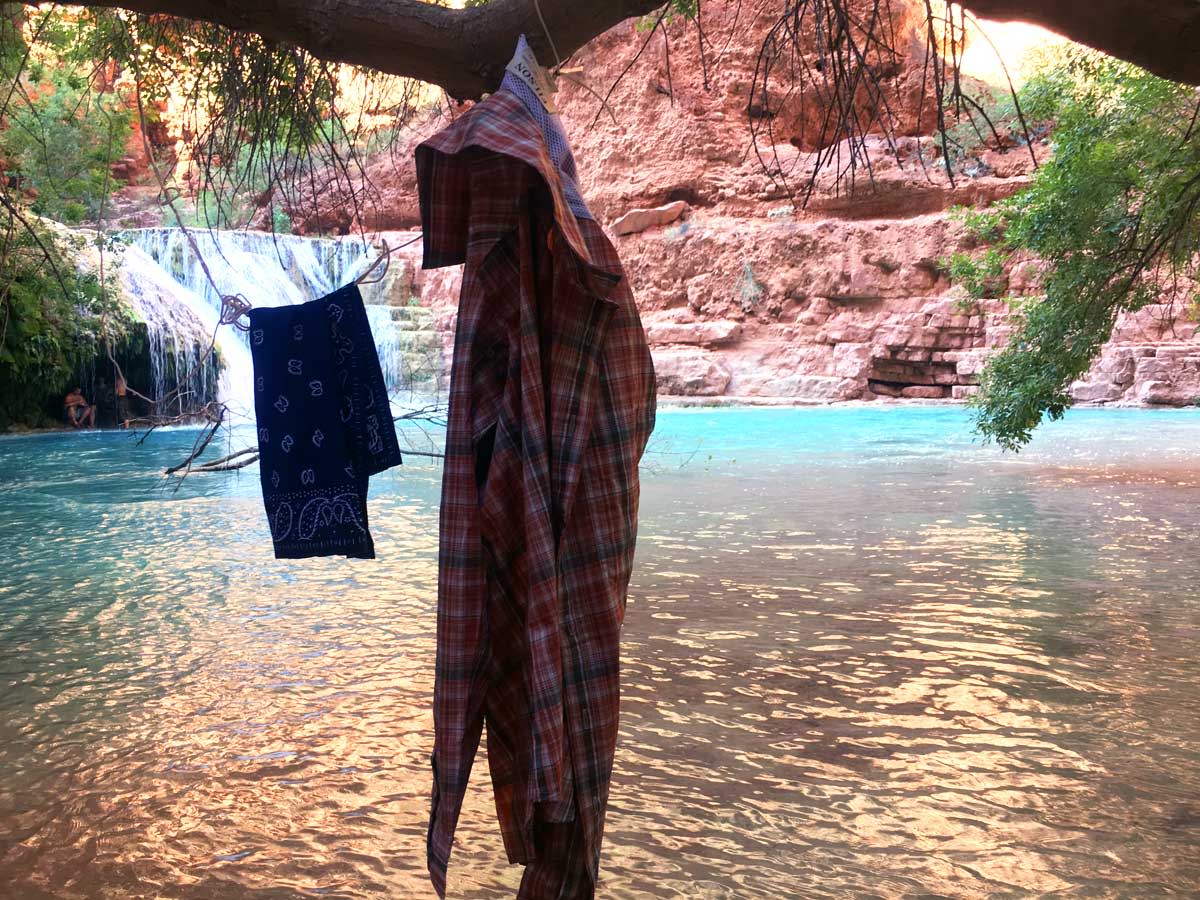 You'll still be all about a brimmed hat and sunscreen, but when you're hiking and sweating and swimming and lounging for days, tossing on a thin, quick-drying layer to keep the Southwest rays off your delicate skin can be the deciding factor when it comes to a burn. The Buff can be worn as many ways as you can twist and fold it, blocks up to 95 percent of UV rays, has Coolmax tech built right in and is an absolute treat when soaked in cold cascade pools and then wrapped around your overheating head.
A long-sleeve shirt might sound counter-intuitive in these conditions, but you'll hardly notice this one is even on you.
It's stretchy, has a super flattering slim silhouette and dries at just the speed you'd want it to: sopping wet at the falls, totally evaporated by the time you hit the campground. The 30-plus UPF rating is gravy.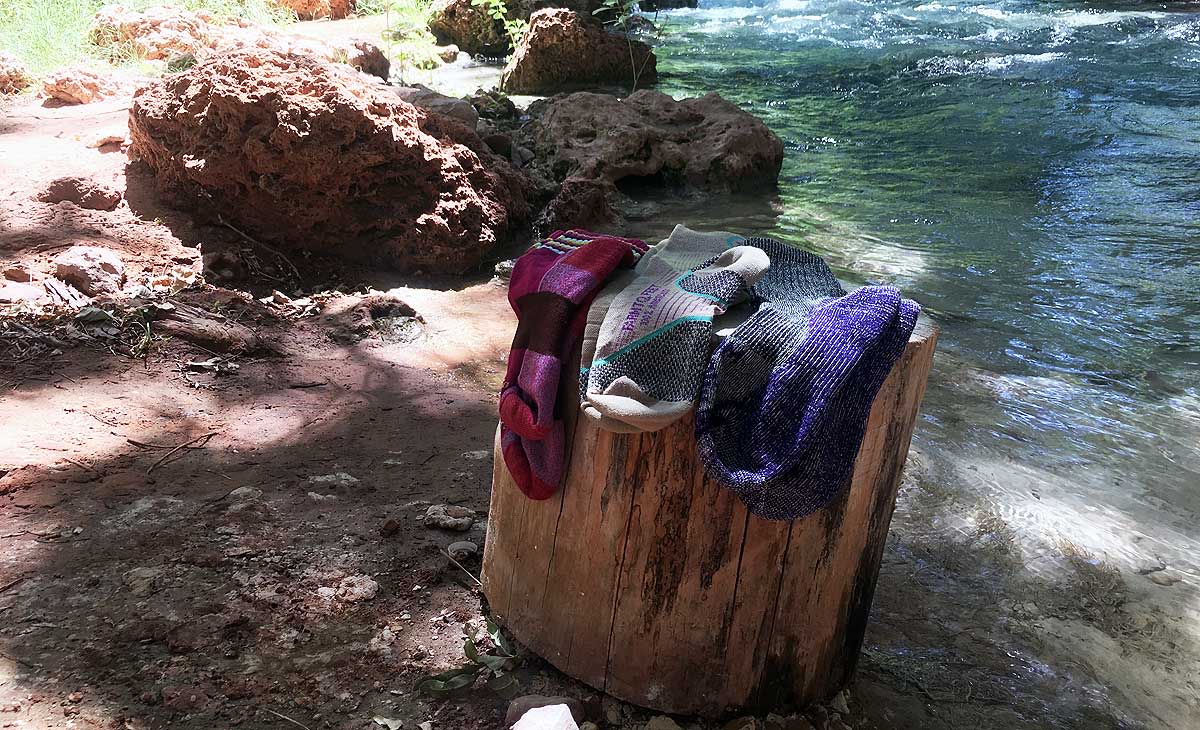 You might have great boots, but if you're wearing sub-par socks for four hot hours at a clip, expect blisters. We brought several pairs: Farm to Feet's
Boulder Crew
and
Elkin Valley Lightweight Technical Crew
for their targeted cushioning and anti-stink merino wool fabric, as well as Darn Tough's
Coolmax Stripes Micro Crew Cushion
for no-slip fit and a little extra help in the cooling department.
Not much beats throwing clean socks on just-dipped feet in the backcountry.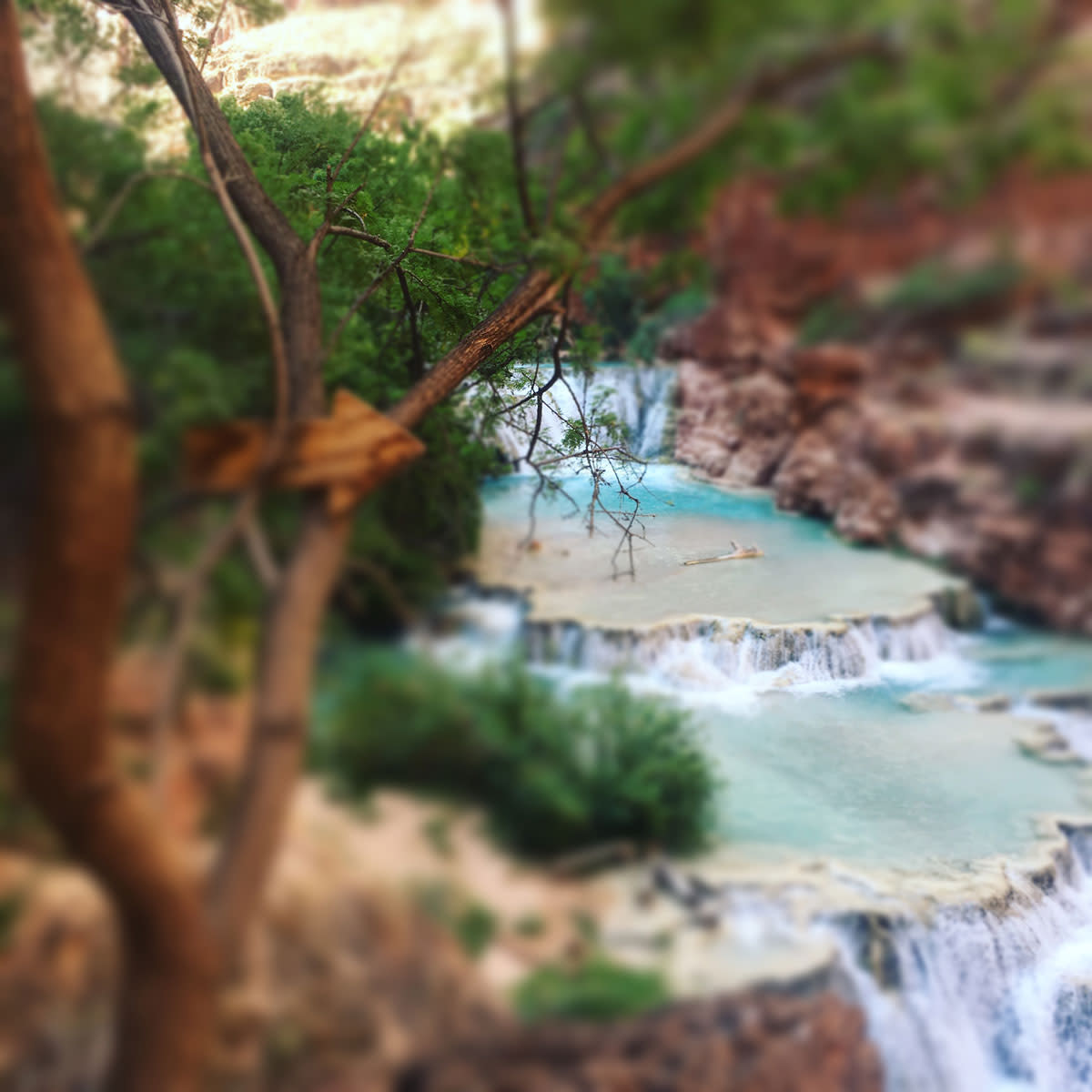 All images in this story, including the above, were shot on an iPhone 6 reliably snuggled into this bombproof, waterproof case.
It can withstand being dunked (accidentally or otherwise) in the middle of a travertine pool, handle money shots at misty Mooney Falls and easily grab a Boomerang of your friend ripping a backflip off a ledge. The design is slim (every ounce counts out there) and the screen-less construction leaves your usual touch navigation intact.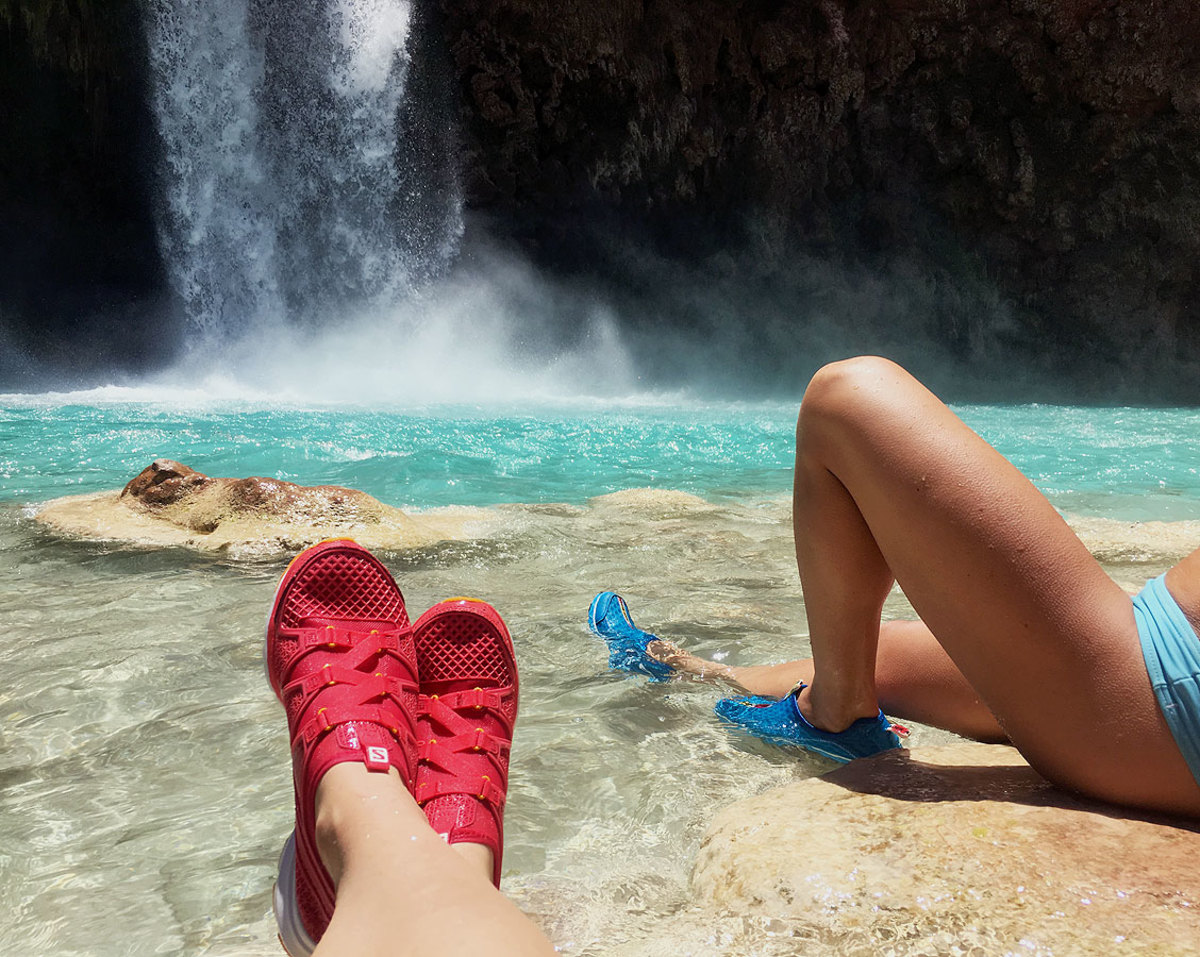 If there's one gear item you cannot compromise on for a trip to Havasupai, it's a decent pair of water shoes. Hiking out to the more remote falls means multiple water crossings that also involve logs, erratically spaced wooden bridges and worn-smooth ladders. Once you get there, the security of a shoe with traction
and
drainage will allow you to safely navigate sharp underwater rocks that are also sometimes slick with moss, shifty pool bottoms and hot rocks you will eventually want to leap off of.
We'd recommend a pair like these Salomons, which encase the entire foot (keeping tiny, irritating pebbles out) and are purpose-built for this sort of thing, over an action sandal or, worse, cheap aqua socks.
Honorable mentions

Maybe the greatest thing about the Havasupai Falls campground is the abundance of closely spaced trees. Tents work — though, due to scorpions, we wouldn't recommend sleeping on the ground unprotected — but this is true hammock-camping country. String up and be lulled to sleep by the continuous low-grade rushing of the aquamarine Havasu Creek that feeds Mooney Falls below, or just take it with on a day hike and catch a snooze in the sun, like this person above, who was not on this trip but is clearly wiser than we were.
Willing to carry a little extra weight? Grab a GSI 5-gallon collapsible water cube ($9.95). While it can be awkward to carry when full, topping it off at the fresh campground spring just once will last you the whole time you're at camp, saving you multiple trips across creek bridges and through other people's free-for-all camp setups.
Plus, the spigot means you can easily wash your hands or dishes and cleanly fill portable bladders and bottles.
Read more Packlists from ASN
For access to exclusive gear videos, celebrity interviews, and more, subscribe on YouTube!