There is an audience gathered against the chain-link fence of the temporary Qatar Airways Race Track in the Brooklyn neighborhood of Red Hook. Today it will host the final race of the season for Formula E, the new all-electric movement hoping to bring extreme racing into a more sustainable era. Before the competition begins though, a lucky individual is flying down the track solo in the sleek-looking Jaguar I-Type 2, opening it up along the straightaways. The lucky man behind the wheel: Patrick Dempsey.
"I can't wait to get back behind the wheel of one again," Dempsey told Mens Journal, smiling after his run. The actor-turned-wheelman was brought in as part of his ambassador duties for Tag Heuer—the Swiss watch brand has deep ties to racing—and that included a joyride in an electric spaceship capable of hitting 60 mph in less than three seconds. Not a bad gig.
Motorsports has become far more than a hobby for Dempsey, having competitively raced in some of the world's most prestigious events, including four appearances at the 24 Hours of Le Mans. His introduction to Tag Heuer came when they jumped onboard as a sponsor of his own Dempsey Racing Team. Even his film projects reflect this passion, like the adaptation of Garth Stein's The Art Of Racing In The Rain and a documentary on endurance driver Hurley Haywood.
Of course, Dempsey is not the first actor to go down this path. The names Steve McQueen, Paul Newman, and James Garner all come to mind. It is good company to be in, and Dempsey knows it. Men's Journal spoke with him about what driving has taught him, the future of the sport, and why a car he bought over 30 years ago is still his favorite ride.
What draws you to racing?
There is nothing like being on a track, like the one I was just on. There is a mental discipline that comes into the equation that I have really come to enjoy. You really have to be tough in your mind, on a whole other level. There is this transcendent feeling that you get behind the wheel. Motorsport has taught me what I look for from now on; I want that same feeling about the people I spend time with, the projects that I go after, and the experiences that I invest in. Once you have that feeling, it becomes emotional memory and that is what you look for.
Where does your mind go when you are behind the wheel?
You don't think while you are in that seat. It is cleansing in that way. You empty the mind. There is so much stimulation and you are operating so much on muscle memory, that you almost feel complete harmony in there. You feel present, in the moment, which is the challenge for us all, and how I want to spend my days.
What is the top speed that you have gone?
I have done over 200 miles an hour. That was in a prototype car that was just insanely powerful. Traveling at that speed there is just so much down force that you are pinned down, it doesn't feel like you are actually going that fast.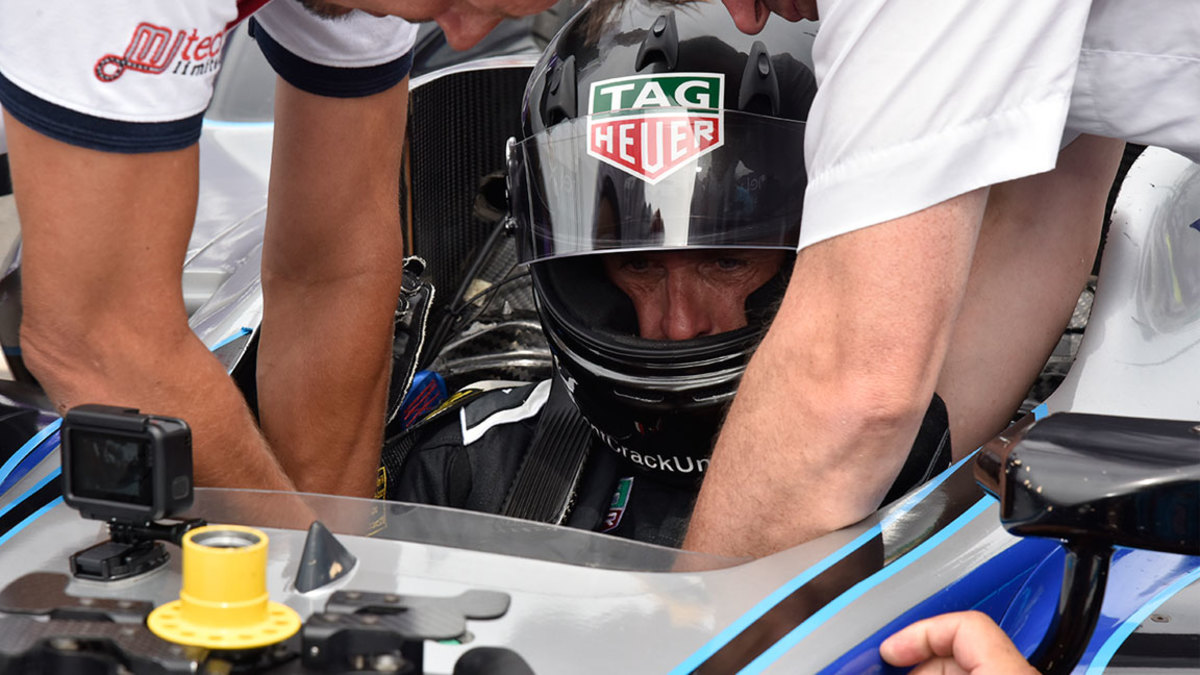 Do you enjoy pushing yourself when it comes to times?
Certainly when it comes to the sport, time becomes critical. You are checking it constantly. I think it is also fascinating to think on how time doesn't truly exist, humankind created it, yet we let it control us too much maybe. I think that is the challenge: not letting time control you, but making sure that you control your time.
How do you feel about the future of racing, now with the introduction of Formula E?
It is like a total happening everywhere you go around here. There is a lot similar to the previous races, but also something incredibly different. It feels like we are all here at this part together. I feel like it is very good for the sport. It exposes racing to people who normally wouldn't be here, and it exposes them in this great new way. The locations that they pick around the world are all really cool. It forces people to dive into the environment and to deal with it. They have been talking about doing a race here for years, and that they have actually done it, and proven their concept is a real triumph.
You have collected a few Porches. Which one is the favorite?
I have a 1963 Porsche 356 that gives me an emotional experience every single time. I bought it over 30 years ago, after I did Can't Buy Me Love. I was drawn to the silhouette. It was one of those dream cars that I always wanted. It is one of those rare classic cars that you can drive. That is a very special car to me, because at the time, it stood for what I had achieved, but also where I wanted to go as far as driving. I am getting there. Not to mention it is just such a pleasure to drive, it is so easy to ride in, and reliable. It's iconic and it makes people feel good when they see it. I found through my experience that the Porsche brand just brings people together.
For access to exclusive gear videos, celebrity interviews, and more, subscribe on YouTube!