Product Review: Hobie "Mirage Tandem Island" Sailing Kayak
After months of ogling over them online and imagining the possibilities of surf travel, yesterday I finally had the opportunity to sail a Hobie Mirage Tandem Island" sailing kayak.
After meeting up with Ron Lane and family from Fast Lane Sailing And Kayaking in Mission Bay (one of two big bays in San Diego), we rigged up two of the 18-foot kayaks and set sail for San Diego Bay—but not before loading up all of our toys.
The kayaks are just over 18-feet long and can carry a bunch of gear. Anticipating a fun surf session somewhere along boat-access only Sunset Cliffs, we loaded up a SUP, two longboards, an alaia, one shortboard, a couple of handguns for bodysurfing, water, and a couple sandwiches into the 'yakkers. Despite the load, the kayaks steered well and weren't bogging or taking on water.
A cool feature of the Tandem Island is that you can sail or use the "Mirage Drive" foot pedals that act like penguin flippers and propel you through slack winds. We had no issues with slack winds yesterday, in fact, at times I thought we were going to snap the mast as gusts up to 25mph were coming out of the north.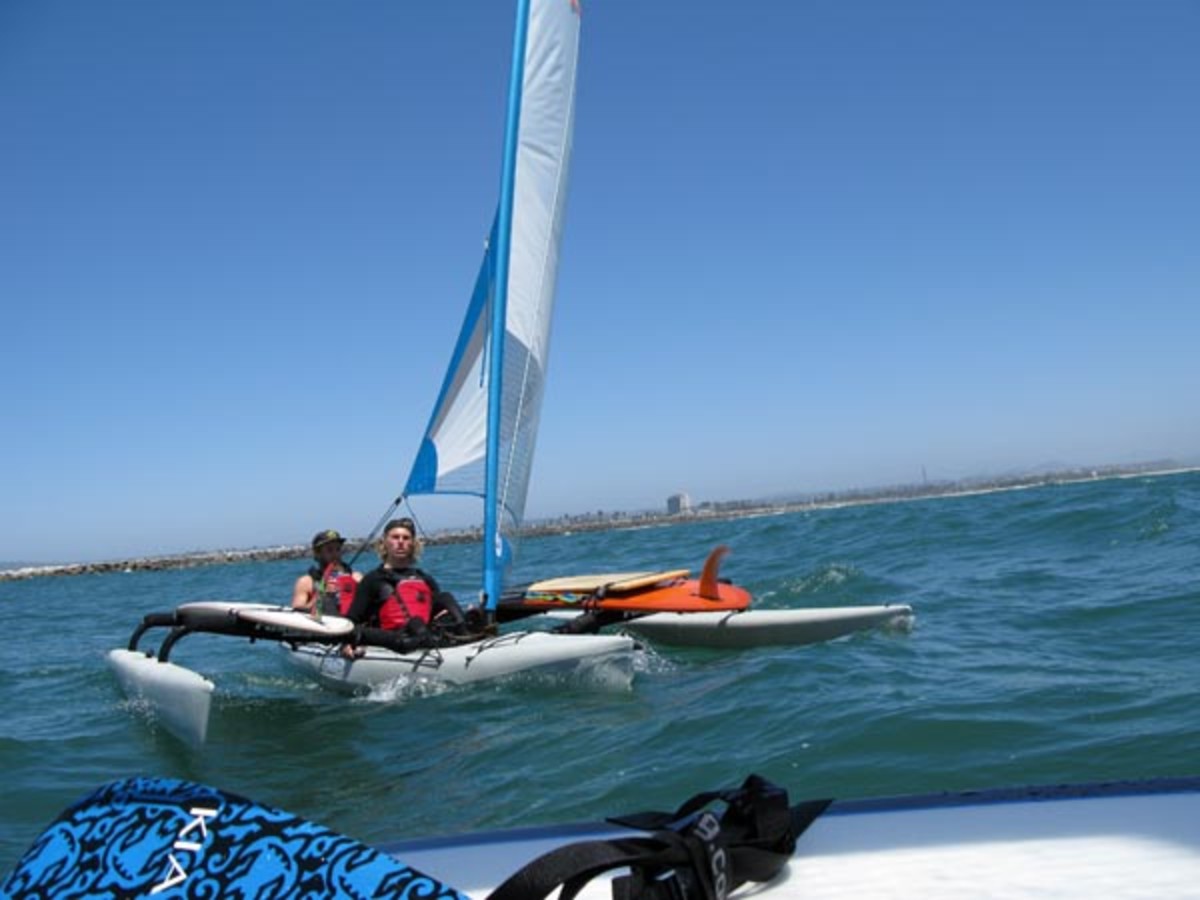 With the strong wind and head high NW windswell running, we were able to cover about 20 miles in just over three hours, so we were averaging about 6 knots (7mph for you landlubbers). While we had intentions to surf, we ended up blowing right past spot after spot—the sailing conditions were much better than the surf.
Rounding Point Loma and heading into San Diego Bay I felt like Juan Cabrillo circa 1542 but the feeling quickly dissipated as a 110-foot cannon-laden Coast Guard vessel passed by us.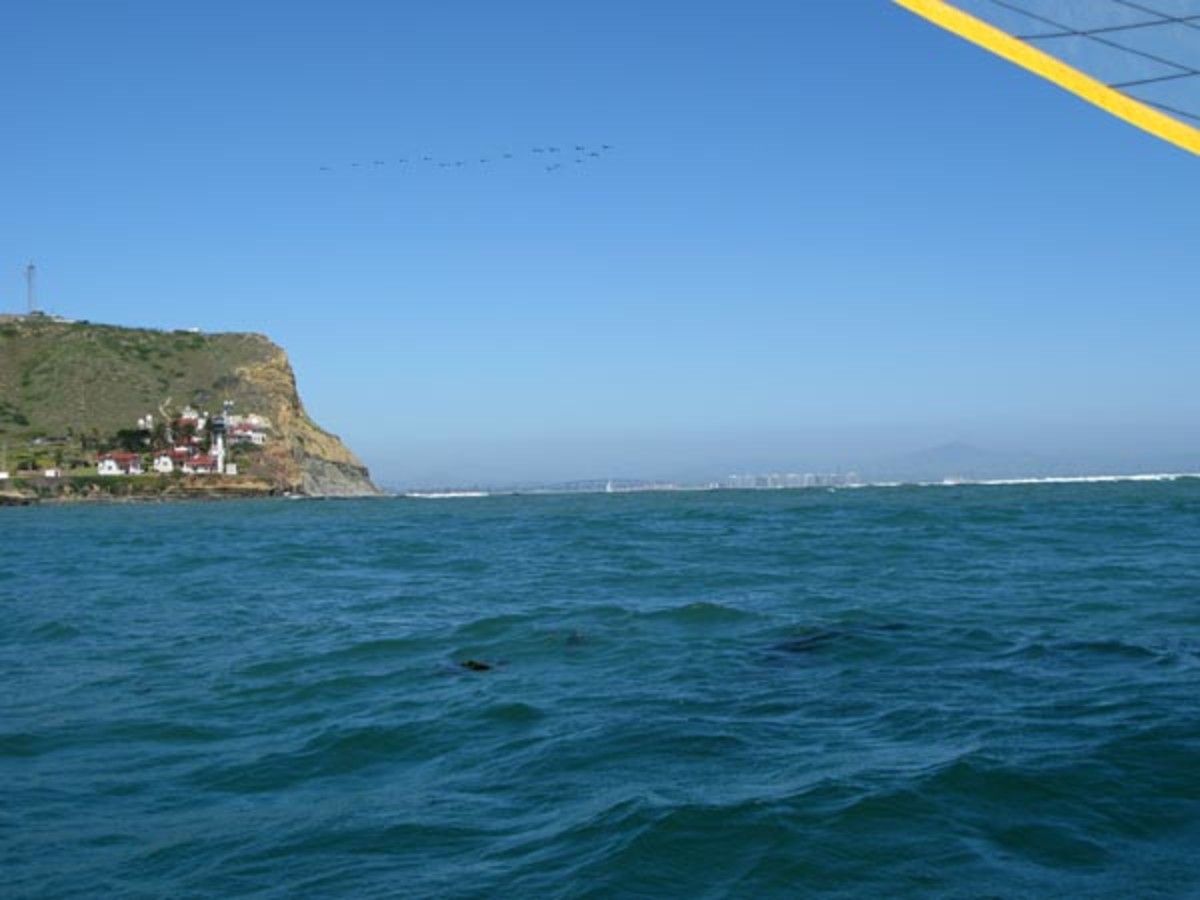 While the price tag of $5,000 understandably scares off a few potential sailor/surfers, consider that gas prices are hovering around $5 per gallon while wind is free. The kayaks will last over ten years with proper maintenance so if you get enough kayak-to-surf missions under your belt, the thing will eventually pay for itself. Other uses of the Hobie Mirage Tandem Island include fishing or diving as they make no noise so you can really sneak up on the fish.
[youtube]1BHAzDPW5So[/youtube]
Above: Check out this video Ron's son Jared and friends made that documents a trip to Catalina where they camped out for three days after sailing over from San Pedro on the Mirage Tandem Island kayaks. These are the same vessels Dave Rastovich and Chris Del Moro plan to sail from Santa Barbara to San Diego on their upcoming (October 2011 we're told) Transparent Sea ocean awareness voyage.
Hobie Mirage Tandem Island Sailing Kayak Specs:
-Length: 18′ 6″ / 5.64 m
-Ama Length: 13′ 4″ / 3.96 m
-Width w/ Amas Out: 10′ / 3.05 m
-Width w/ Amas In: 4′ / 1.22 m
-Width: 30″ / .76 m
-Mast Height: 18′ / 5.49 m
-Sail Area: 90 sq ft / 8.4 sq m
-Hull Weight: 89 lbs / 40.4 kg_
-Ama Weight: 22 lbs / 10 kg
-Rigged Weight: 192 lbs / 87.1 kg
-Capacity: 600 lbs / 272 kg
-Crew: 1-2
-Hull Construction: Rotomolded Polyethylene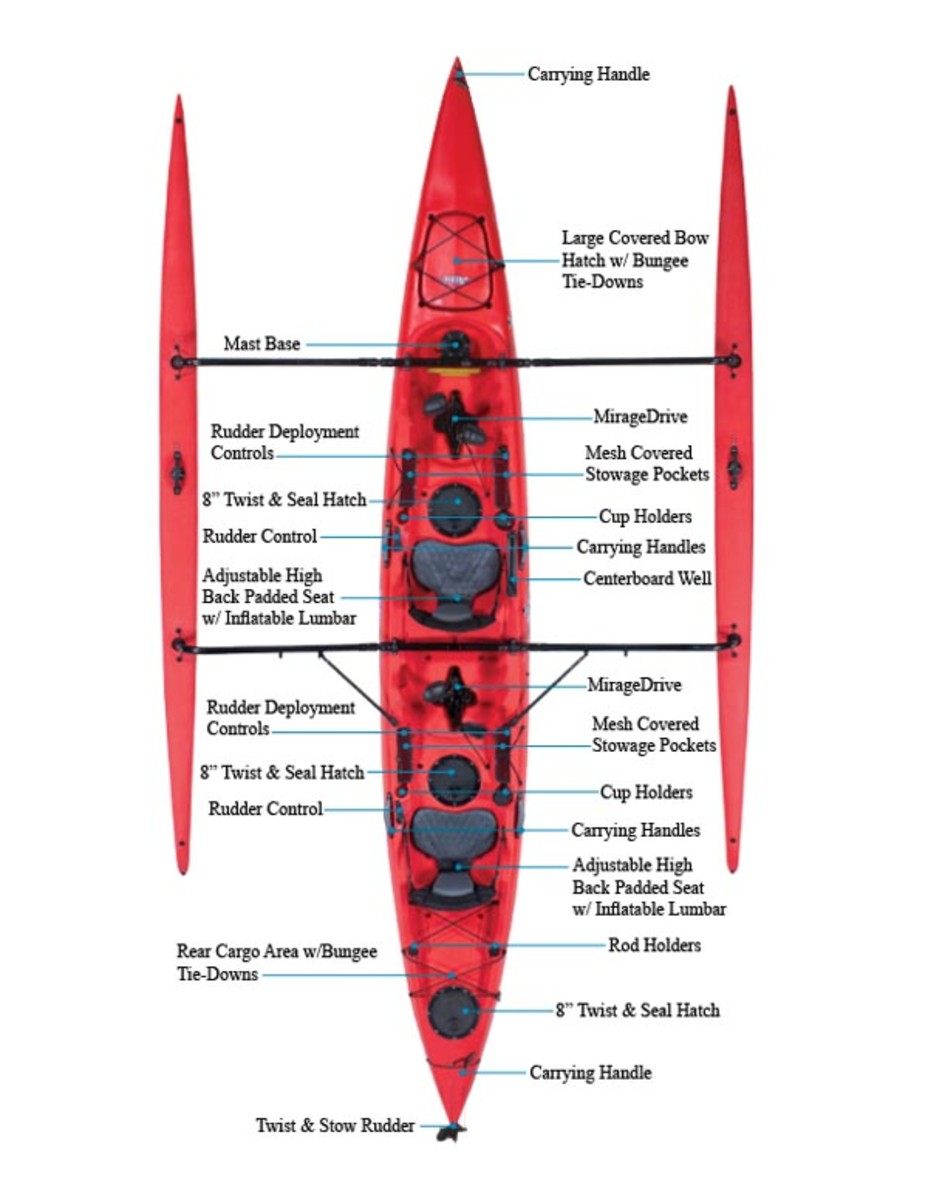 For more information go to hobiecat.com/tandem-island
For access to exclusive gear videos, celebrity interviews, and more, subscribe on YouTube!