Even if you've tried rock climbing indoors, nothing compares to the real deal: scaling crags and slabs outdoors, says world-class climber Steve Bechtel, C.S.C.S. "When you're out on the trails and rocks, you start to lose the 'work' part of workout," he says. For the most "pure" form of climbing, try bouldering. You don't have to mess with ropes or safety gear—it's all movement—and it's a great prep for climbing. Or catch serious air while paragliding. You'll need to take classes certified by the U.S. Hang Gliding and Paragliding Association, but few thrills beat running off a mountain to catch a pocket of hot air with your fabric wing, soaring high for hours on end.
1. Scarpa Instinct VS
A high-performance shoe that's surprisingly comfortable, its Bi-tension rand system and all- lorica construction allows it to dynamically adjust to all kinds of climbing, and the vibram Xs edge rubber sole provides added grip and durability. ($169; scarpa.com)
2. Wild Country Petit Chalk Bag
The chalk will help keep your fingers dry and improve their contact with the rock. ($19; wildcountry.com)
3. Petzl GriGri 2 Belay Device
Safely anchor with your climbing partner. "The GriGri 2 is by far the safest because it has an auto-locking feature," Bechtel says. ($100; petzl.com)
Next: More Gear and Exercise Moves to Prep You for Climbing >>>
4. Petzl Sama Climbing Harness
"Companies can't put out harnesses these days without getting approved by a massive number of agencies, so almost all of them are safe," Bechtel says. "Look for an 'all-around' harness. They're durable and comfortable, and don't weigh that much more than the thinner harnesses." ($70; petzl.com)
5. Ropes
"Look for a single rope between 9 and 10mm in diameter," Bechtel advises. "If you live in a rainy environment, like the Pacific Northwest or Northeast, opt for ropes with dry coating." ($70–300; backcountry.com)
6. Mission Crash Pad
A necessity for bouldering, this crash pad is made of upholstery-grade foam for a safer, longer-lasting landing area. ($275; revolutionclimbing.com)
Next: Get Fit for Climbing >>>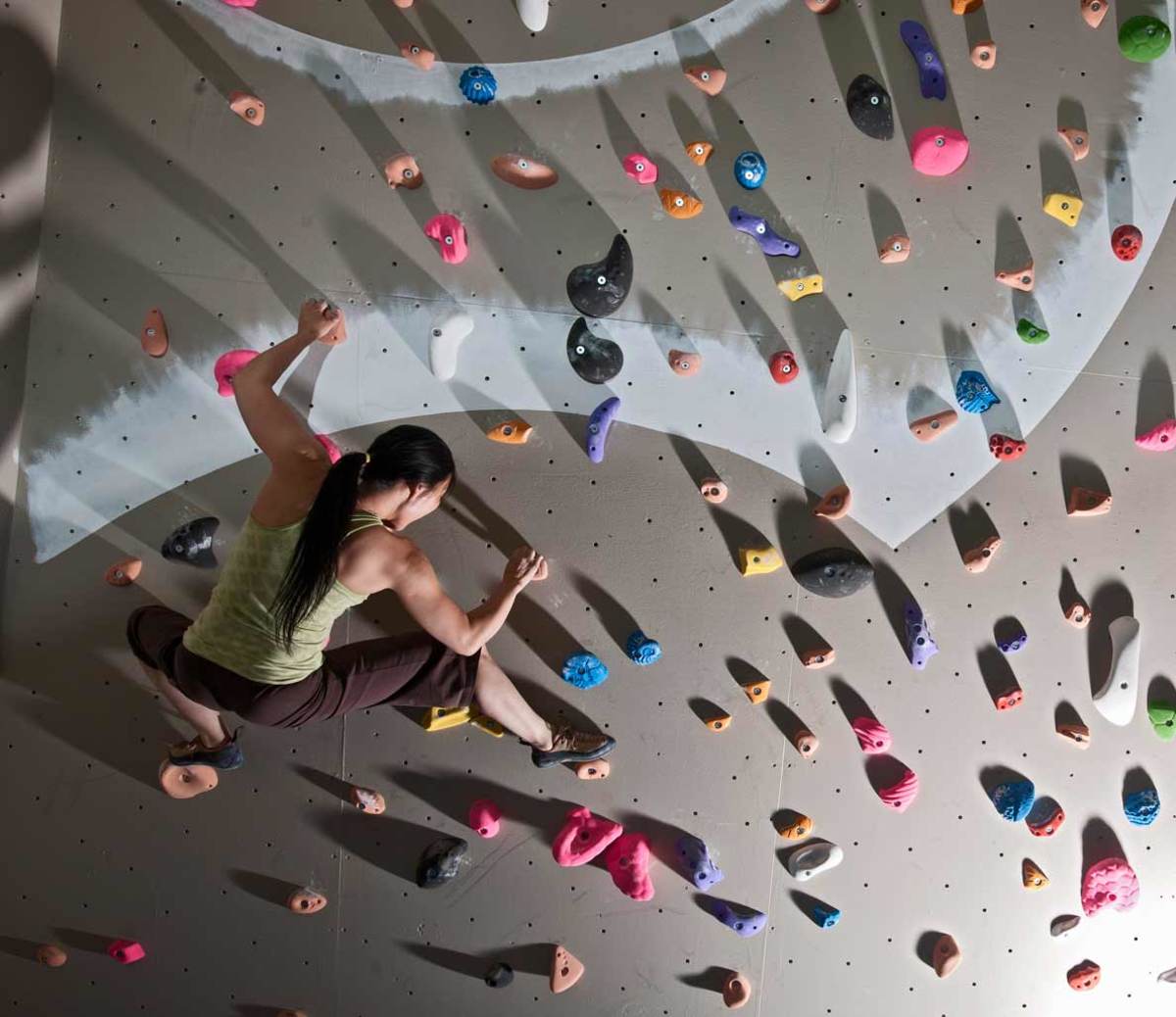 If you think pullups are the best exercise for rock climbing, think again. "Climbing is great for developing upper-body strength, but if you rely on it, it's going to destroy you," Bechtel says. Instead, your goal is to get your legs strong in the single-leg stance, while upper-body exercises will help you develop your core.
Lower Body: Step up onto a bench or plyo box (around 20–24 inches high): 3–4 sets, 5–8 reps on each side; Pistol Squat: 3–4 sets, 5 reps on each side (hold onto a TRX strap to lessen the load,
or hold a 10- to 15-pound dumbbell in each hand for added resistance)
Upper Body: Knees-to- Elbow: 2–3 sets, 10 reps; inverted Row, either on a bar that's attached to a power rack or with the TRX.
For access to exclusive gear videos, celebrity interviews, and more, subscribe on YouTube!