Gear
2023 Nissan Z Is the Hottest Sports Car of the Year
The nearly new 2023 Nissan Z, as well as Toyota's just-announced 2023 Toyota Corolla GR, signal a last-gasp of internal combustion sports cars…probably. EV sports cars will come, but just like nearly every EV that's hit the market recently, they'll be expensive at first because they'll demand overcoming a 130-year battle in the automotive space: To create a sports car that's fun to drive, you have to make it fast. But in the EV world, fast, with decent range, only comes by adding more batteries, and those suckers are porky. That also requires building a beefier suspension, which packs on the pounds, too. To make a lightweight and fast EV you must ignite tens of thousands of dollars in the form of ultra-lightweight materials like carbon fiber.
EV sports cars exist already, sure, but have you priced a Porsche Taycan?
If you don't want to charge customers $82,700, there's another approach: Keep using gas, and build by harnessing all your internal combustion know-how, which is exactly the recipe with the new 2023 Nissan Z. They're using an existing 400hp twin-turbocharged V-6 that has already been proven by sister brand Infiniti, and they're harnessing suspension and other mechanical tricks honed in-house, with their amazing GT-R.
But don't think that's damning in the slightest. On the track, the 2023 Nissan Z is as bracing as a shot of Red Bull. Maybe the fact we tested the car at the Las Vegas Motor Speedway has something to do with that analogy, but in hot corners and rocketing straights the Z proved you hardly need to start from scratch to make an astonishingly quick, but also exceedingly well balanced rear-wheel drive sports car. Here are three reasons why we love it.
All the Controls Crush
Nissan's core Z market is right here in the U.S., but the outgoing 370Z only comfortably fit 69 percent of American men. The new Z, they believe, fits 95 percent of body types, and at least in our tests, we think they nailed that. The driving position allows shorter or taller drivers to get well-positioned, with manual controls to lower or raise the seat height, and individually adjust thigh support, which can also change your leg position to the pedals, depending on how you're built.
A telescoping steering unit allows further refinement, and Nissan sharpened the shift feel of its six-speed manual gearbox. We dug the relatively weighty throws of the prior transmission, but here, especially for downshifts, there's a precision that was missing with the old car. That carries over to a redesigned steering wheel, that's a riff on a hoop from the supercar GT-R, with a thicker shape and meatier definition to the detents, so you gain more grip.
Mechanically, Nissan also sweated how the steering feels, with a new rack that's stiffer; the steering system itself can be tuned more easily, and that's manifested with how easily you can place the car exactly where you want to on the road, both during slow-speed and high-speed cornering.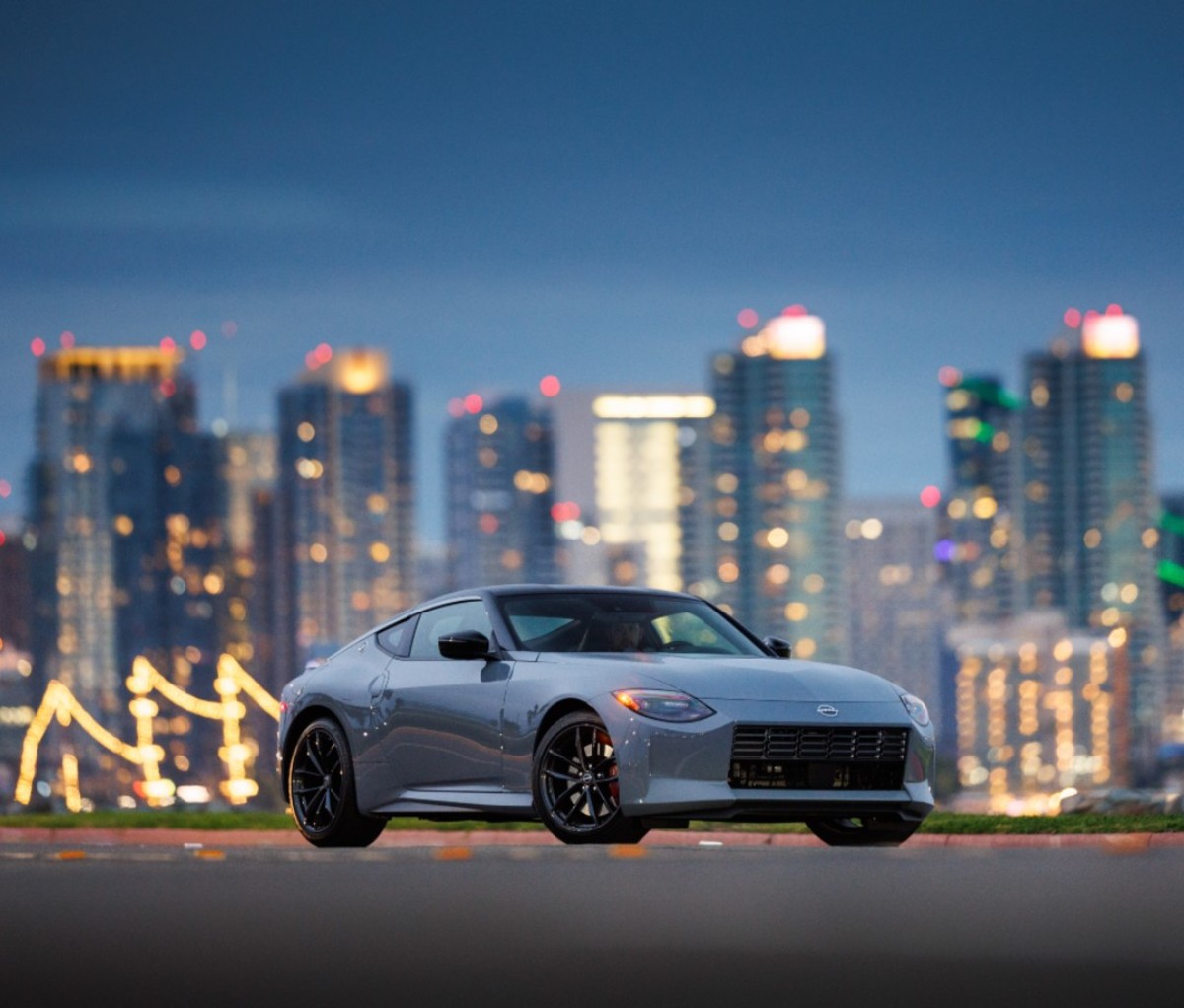 It Got Heavier but Feels Lighter
Even though the new car has gained about 100 pounds (depending on manual or automatic transmission), the new Z drives "lighter." Cruising on winding roads outside Vegas, heading into the mountains, the suspension felt easier on our bones, with less jolting over cracks and bumps. This comes down to both Nissan's use of larger, single-tube shock absorbers and an increase in the angle between the upper ball joint and lower steering arm (basically making a tighter triangle), which allows for both the aforementioned steering precision, but also a somewhat softer ride.
The short version: The new Z is super sporty, but it also gallops comfortably, mile upon mile, so it's an enjoyable car you could easily commute in.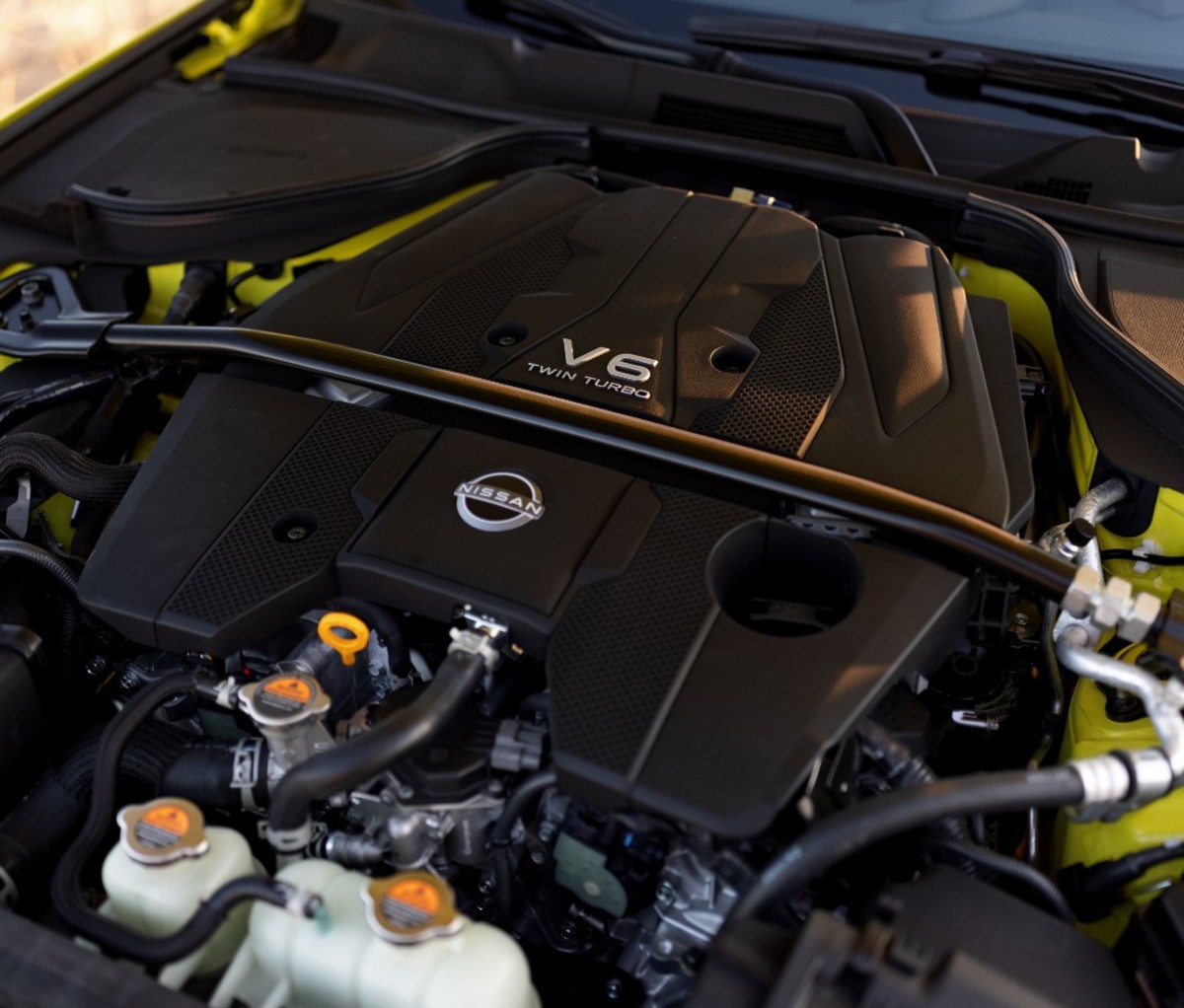 The Engine ROCKS!
While Nissan hasn't made claims about a specific 0-60 mph time, the new Z feels plenty quick. The twin-turbocharged V-6 boots out 400hp, whereas the outgoing 370Z managed a decent (but not incredible) 332hp. Nissan says you'll see 15 percent better 0-60 times, but the better test is that it responds very quickly to throttle inputs, so when we wanted to pass, uphill, those turbos spooled up instantly, and you didn't have to wind the car hard to feel the engine deliver.
Okay, but how to get yours?
We really dug the new nine-speed automatic with paddle shifting, and if you bought any of three versions of the car with an automatic, it comes with launch control. You have to spring for the $49,990 Performance Edition with a manual gearbox to also get launch control in a Z you'd shift yourself.
But do you need launch control?
The genuine value to this car is that it's entertaining without piling on frills, and in an automotive landscape that's increasingly going all digital, the base model is the most "vinyl" and to our way of thinking, most authentic Z.
For $39,990, it's a darned appealing option.
Get it
For access to exclusive gear videos, celebrity interviews, and more, subscribe on YouTube!