These days, everyone seems to be getting out of the gym for their workouts. Whether you're hitting the park, racing through an obstacle course, or even hitting the beach, getting in a sweat session just seems to feel better when you can enjoy fresh air instead of, y'know, the guy on the treadmill next to yours.
But when it comes to footwear, the outdoor-minded athlete is often faced with a choice between trail-happy trainers (an odd fit in Average Joe's Gym) or a more traditional training shoe (which may not always handle well on muddy streambeds or dirt roads).
That's why I like the ABR Trainer by 5.11 Tactical, the military-inspired brand that has gained traction among the CrossFit and rucking crowds. The ABR is a hybrid of hybrids: With a rugged, sawtoothed outsole and cushioned midsole, it's more outdoor-friendly than a "CrossFit shoe" like the Nike Metcon 3 or the Reebok Nano 7. But with its light, stretch-mesh-wrapped construction, it's more gym-focused than a dedicated trail runner.
In my tests—all-terrain runs around my neighborhood, plus workouts of sled pushes, hammer slams, and upper-body lifting—the ABR was snug but not overly constricting, as some shoes can be on my Lego-brick feet. I wear a 10.5 wide, and the ABR felt true to size—fairly roomy in the forefoot, but not clunky. Each shoe weighs in at 11oz, which is about the same as the Metcon 3 and the Nano 7.
The ABR also looks like more of an outdoorsy shoe. It only comes in two colorways: black and "gecko," a blinding chartreuse that could probably illuminate the dark side of the moon. Unlike its more domesticated competitors, the ABR has a chunky, serrated outsole, which easily bit into astroturf during my heavy sled pushes and runs through the park. I also liked its 2mm Ortholite sockliner, which provides a springy, cloudlike cushioning—like a running shoe, basically.
And it was on the trail that this shoe seemed to perform at its best. The ABR is probably the first general-purpose trainer I'd be comfortable wearing for a road run, a trail run, and a regular old workout (as long as I wasn't too worried about the neon green colorway). While CrossFitters will insist they can go for runs in standard cross-training shoes, kicks like Metcons and Nanos are typically too solid for anyone but the biomechanically ultra-efficient.
In contrast, the ABR Trainer's thick sole and taped mesh upper—plus its "Rope Ready" instep and reinforced heel—make for a running-ready shoe that isn't afraid of getting dirty. If I were an OCR guy or an adventure-racing junkie, the ABR would probably be one of my first choices for a primary training shoe.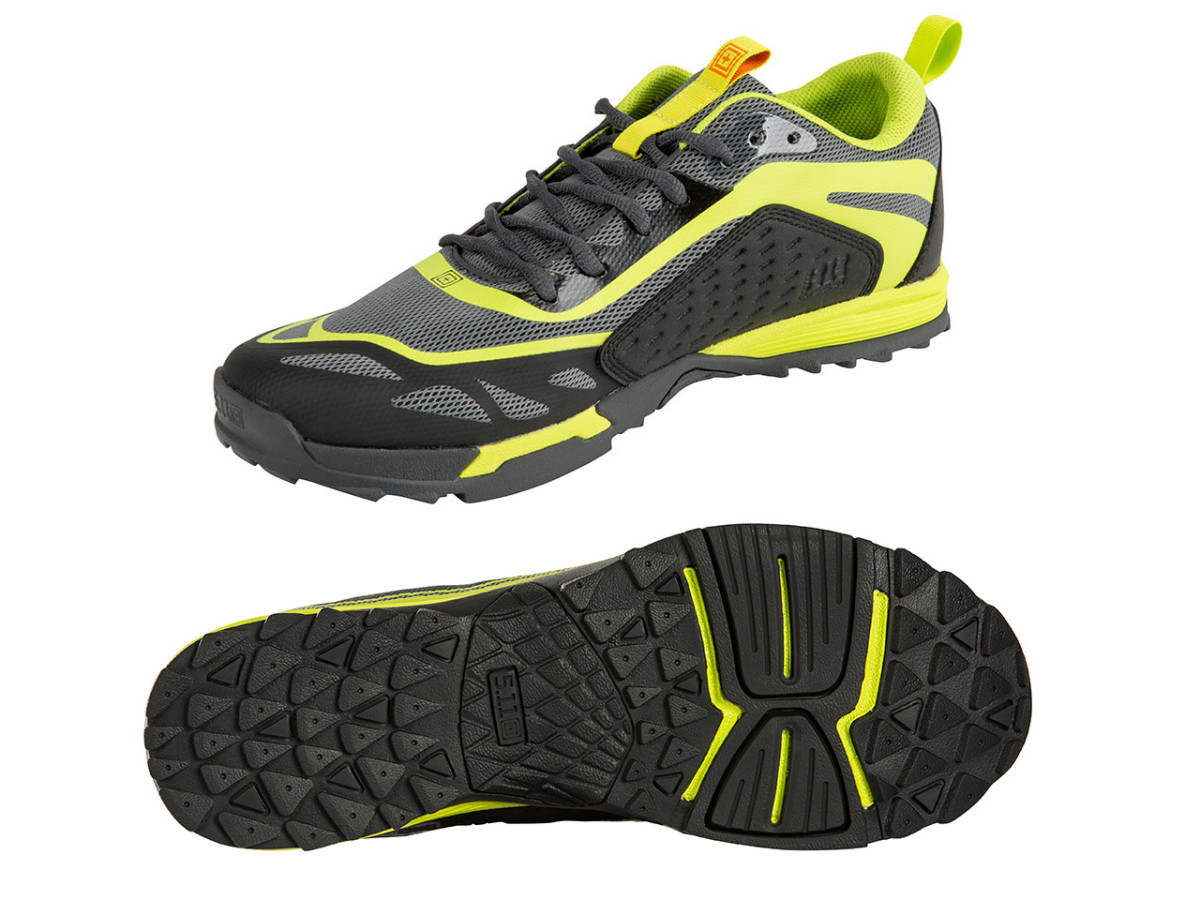 Courtesy Image
On the other hand (erm, foot), I'd hesitate to wear the ABR during a workout focused on powerlifting or Olympic weightlifting. Even though 5.11 says the ABR is designed for "any heavy workout," its cushioned sole and 8mm heel-to-toe drop were simply too pillowy to feel stable under heavy-duty deadlifts or squats.
That's understandable, of course—no shoe is perfect for everything. And if you're dedicating a significant chunk of your training time to deadlifts or cleans, you're probably wearing specialty shoes for those lifts already. But I would seriously hesitate before recommending them as a primary shoe anyone who does a lot of stability-intensive lifts.
Bottom line: While not ideal for ultra-heavy squats, deadlifts, or Olympic lifts, 5.11 Tactical's ABR Trainer is an excellent cross-trainer for running, general-purpose gym work, or outdoor training. If you're training on gravel and grass as often as pavement or gym floors, then you'll enjoy its cushioned feel, durable construction, and grippy outsole.
The 5.11 Tactical ABR Trainer lists for $109.99, and is available at 511tactical.com.
For access to exclusive gear videos, celebrity interviews, and more, subscribe on YouTube!