At long last, Apple's highly anticipated smart speaker is available, joining the likes of Amazon, Google, and Sonos. Other reviews you might read will copy-and-paste the company's tech specs, praising the speaker's "high-excursion woofer," "A8 chip," and "beamforming," but we want to know what it's like to actually live with and use the damn thing. So, here's what we found during the first three days with HomePod.
Day 1: If you've set up anything made by Apple recently, you know the process can't be made any easier. You simply hold your iPhone near HomePod and a prompt appears on-screen to seamlessly connect your account and transfer personalized settings to the speaker—which meant I didn't have to key in the string of 20 random characters that make up my WiFi password. It allowed us to go from box to booming in about a minute.
And what, exactly, was the first song we heard? My 5-year-old daughter kicked things off asking, "Hey, Siri, play Pink." The speaker obliged, but apparently wasn't quite a mind reader—yet—playing the wrong song, apparently. But, kids being fast learners, she quickly followed up with "Hey, Siri, play 'What About Us' by Pink" to get the right song. Honestly, Alexa has given us more trouble.
To take advantage of the voice control (and easy setup),  you need to be in the Apple ecosystem: both an iPhone and an Apple Music subscription are required. But, you'll be happy to know you can use HomePod as a Bluetooth speaker. Just open up your Spotify app and click the "available devices" icon below the play/pause button (it looks like a microscopic Bluetooth logo on my iPhone X). You'll see HomePod listed as an option.
Winding down our kitchen dance party, my wife, who has suffered through far too many tests of these kinds of devices, says, "that has really great sound." And I'll admit that sitting on the table in my small apartment, the speaker delivered decent sound with a prominent bottom end for a speaker its size. But my kitchen is tiny and the speaker was just a few feet from our ears. We'd get a better assessment later when I moved the speaker to a different room and another house altogether.
My wife was less impressed, however, with its ability to tell us the weather. With a ski trip in view, the weather looked to be bordering on snow and rain. Asking the forecast for Gore Mountain Ski Center in upstate New York, Siri gave us results for Gore, OK. Whoops. Getting our local conditions, though, which is what most users will do, delivers the expected results.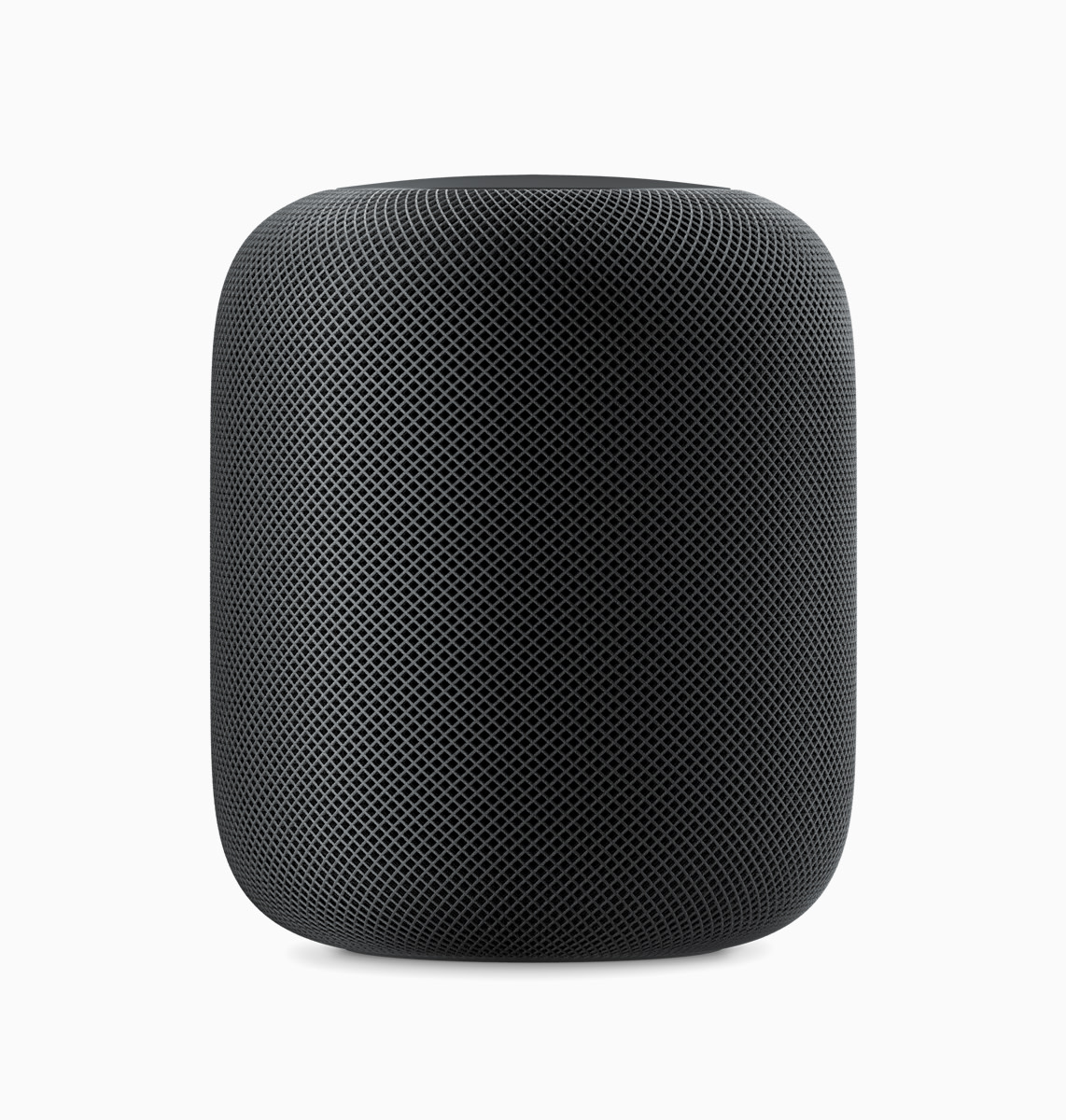 Day 2: I like to start my mornings with coffee and NPR. That's usually played softly in the kitchen via my Sonos Play:5 while the family sleeps late. This morning, I asked Siri for NPR, but got the morning briefing update instead of a live broadcast. So I asked for the station WNYC specifically, which Siri delivered. Soon, however, I was dealing with a sick kid who had to stay home from school, plus the BBC World News Hour. So, I asked for WFUV—my local independent station that's heavy on singer-songwriters, folkies, and the like. Siri couldn't pull up the station no matter what combination of requests I made. Back to Sonos for a while, in that case.
Later in the day, I moved the speaker to our bedroom while I packed for a weekend trip. With the speaker on the bedside shelf alongside a single Sonos Play:1, I was able to discern how the two comparably-sized units fared. The HomePod, in this case, was noticeably muddier through the midrange but had deeper bass, while the Play:1 sparkled more, especially on vocals and guitar. To be fair, the Play:1 had been tweaked using the Trueplay feature, which optimizes sound to fit the room and speaker's placement, plus I goosed the sliders for both bass and treble to the right.
As for HomePod, there's no way to adjust the audio to suit your taste in a similar way. In this case, you kind of have to trust that Apple is going to tune the sound for the best listening experience. Apple says the speaker is "equipped with spatial awareness," meaning it'll also recognize its position in a room and automatically adjust the sound to be optimal. But what if that's not the sound signature I want? Hint: it's not.
Bouncing back and forth between packing, the sick kid, and checking emails, I realized that controlling the speaker can be a little clunky. In a nutshell, if you start music using your voice, that's the only way you can control things (unless you physically touch the top of the speaker to change volume and skip songs). I'm used to Sonos using the Alexa skill (clunky in its own right, to be sure), which allows me to start music and then also control playback using the Sonos smartphone app. If you want to do the same with HomePod—for example, to see what's up next—you'll need to start playback on your phone. Doing so causes some misfires, though, as you occasionally get dead air and have to hit play/pause a couple times to get a song to start. A small glitch, but worth noting in any case.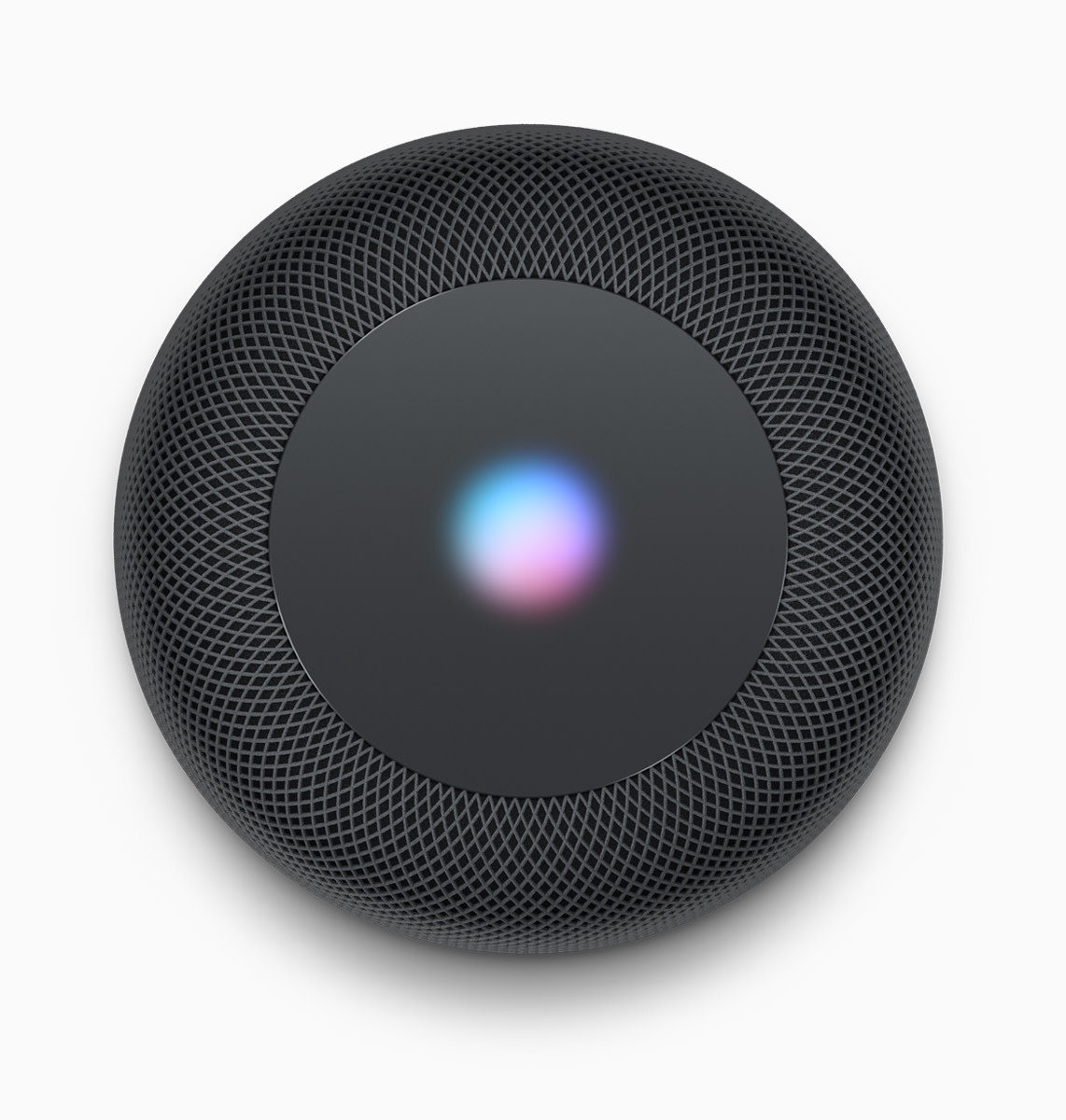 Day 3: I packed the family and HomePod into the car and headed for my in-laws' house in upstate New York. We positioned the speaker in their kitchen (roughly 20 feet by 30 feet), and it filled the room even on low power as background music during a meal. Sitting on the wooden sill of a bay window, the speaker churned out a thumpy bottom end that had even my father-in-law remarking on its bass. It's not overwhelming, but it's noticeable and, frankly, surprising for such a small speaker.
But HomePod can do more than play music. My mother-in-law asked me to look up if the "US women won the hockey game last night." With my phone across the room, I delegated the task to Siri. The family, which is generally skeptical of all this new technology I'm constantly subjecting them to, gave me a collective smirk when she said "The United States did not play yesterday." But they were quickly wowed when she continued, "Today, the United States beat Finland 3 to 1." Seems Siri is actually smarter than us, because the puck dropped at 2:40 am EST, which technically was today.
The day continued with raucous fun as everybody hung out while I labored over a homemade chicken pot pie and HomePod spit out tunes. We started with "Charlie Brown Christmas" which led to arguments about why we were listening to holiday music in February—and attempts to hijack the playlist by spitting out requests. Eventually, we changed to "music like Vince Guaraldi." Bingo. We had some jazz we all could agree on.
Meanwhile, my father-in-law whipped up a batch of Irish coffees. Joking to the tech-phobic crowd, I said "These look delicious. Instagram that shit!" Siri, apparently, took offense and interrupted to say "Hey, there's no need for that language!" In all the commotion, I can't recall anybody saying anything like "serious" or another phrase similar to trigger the speaker's wake word. But it stopped all of us dead in our tracks and made us wonder if the speaker isn't just monitoring our every word.
We unplugged the speaker.
[$349; apple.com]
For access to exclusive gear videos, celebrity interviews, and more, subscribe on YouTube!