Whether you live in the backcountry or the heart of the city, you probably know how even the most mundane trip can become a surprise journey on the Oregon Trail.
Like your buddy's dirt-lot tailgater last fall: Epic, until a sudden squall turned the ground (and your socks) into a slopfest. Or the morning dog walk: Mostly dry, unless Rocket decides to take a shoe-soaking excursion across wet grass. Or even your a.m. commute: Better hope it hasn't snowed, or it's gonna be another game of dodge-the-slush-pile.
The Best CrossFit Shoes of 2016 >>>
And while you could lace up your biggest, beefiest shitkickers for those moments, it can feel a little ridiculous to show up at the office looking like you're ready to summit Kilimanjaro. No, an everyday adventurer like you needs a shoe that performs just as well in an office as it does on a casual day hike.
That's the premise behind the Trail, the flagship sneakerboot—yes, sneakerboots are a thing—from newcomer American footwear company Forsake, which launched its first model in 2013. Waterproof, sturdy, and even rakish, the Trail is a jack-of-all-trades, with the bold styling of a city-slicker sneaker and the rugged capability of a lightweight hiking boot.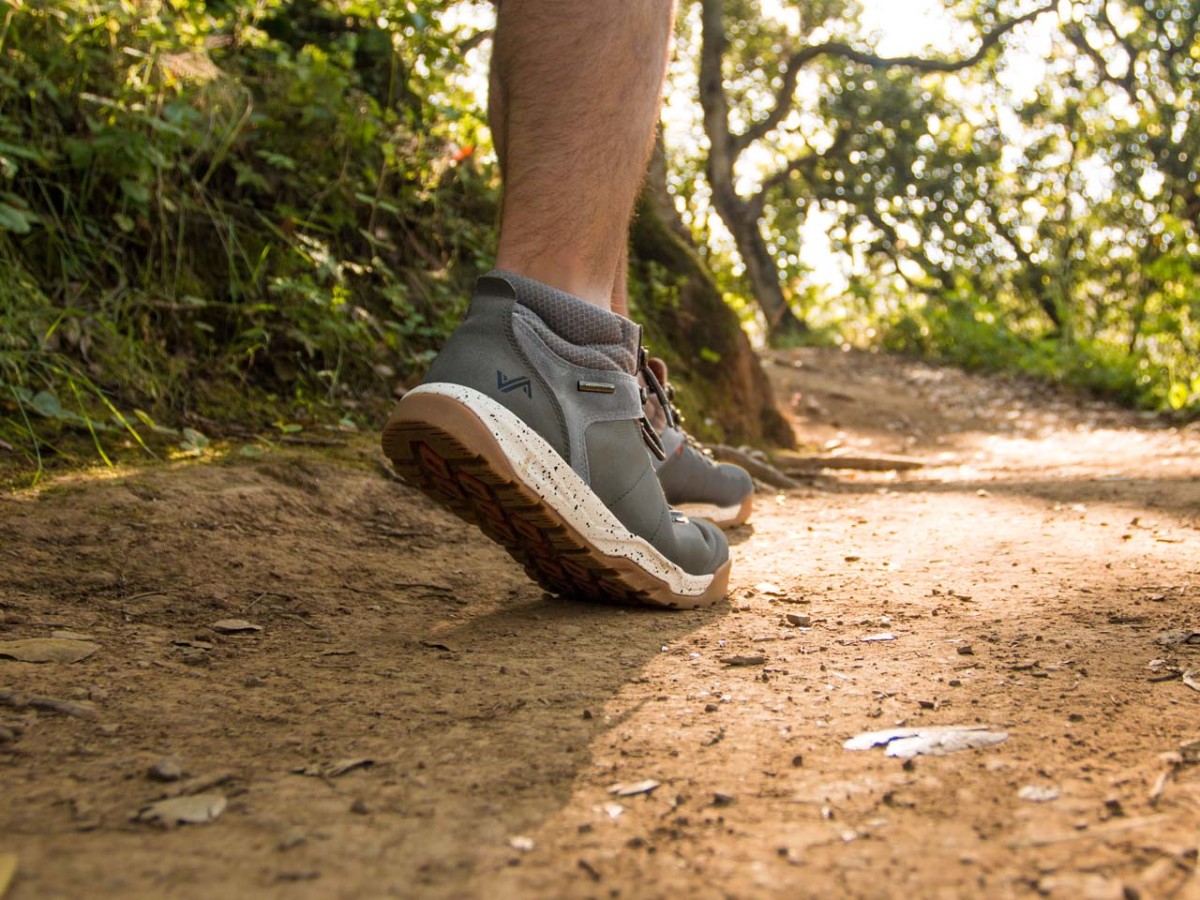 The Trail comes in two earthy colorways: "stone" (above) and tan. Photo courtesy of Forsake.
I put the Trail through its paces on two demanding hikes in New York's Hudson Valley: Storm King Mountain and the aptly named Breakneck Ridge. In both cases, it held steady on rocky terrain, shrugged off mud and water, and still looked sharp enough when I got back to the bar. 
The Best Cross-Training Shoes of 2016 >>>
Like a traditional boot, the Trail has a thick sole, metal lace hooks and eyelets, leather construction (the tongue is suede), and plenty of cushioning. But it's also plenty lightweight, and with its cleverly designed two-toned sole—streetscape design on the outer edge, mudhopper lugs in the middle—it's the kind of shoe you could comfortably wear around all day without feeling like you're stuck in clodhoppers.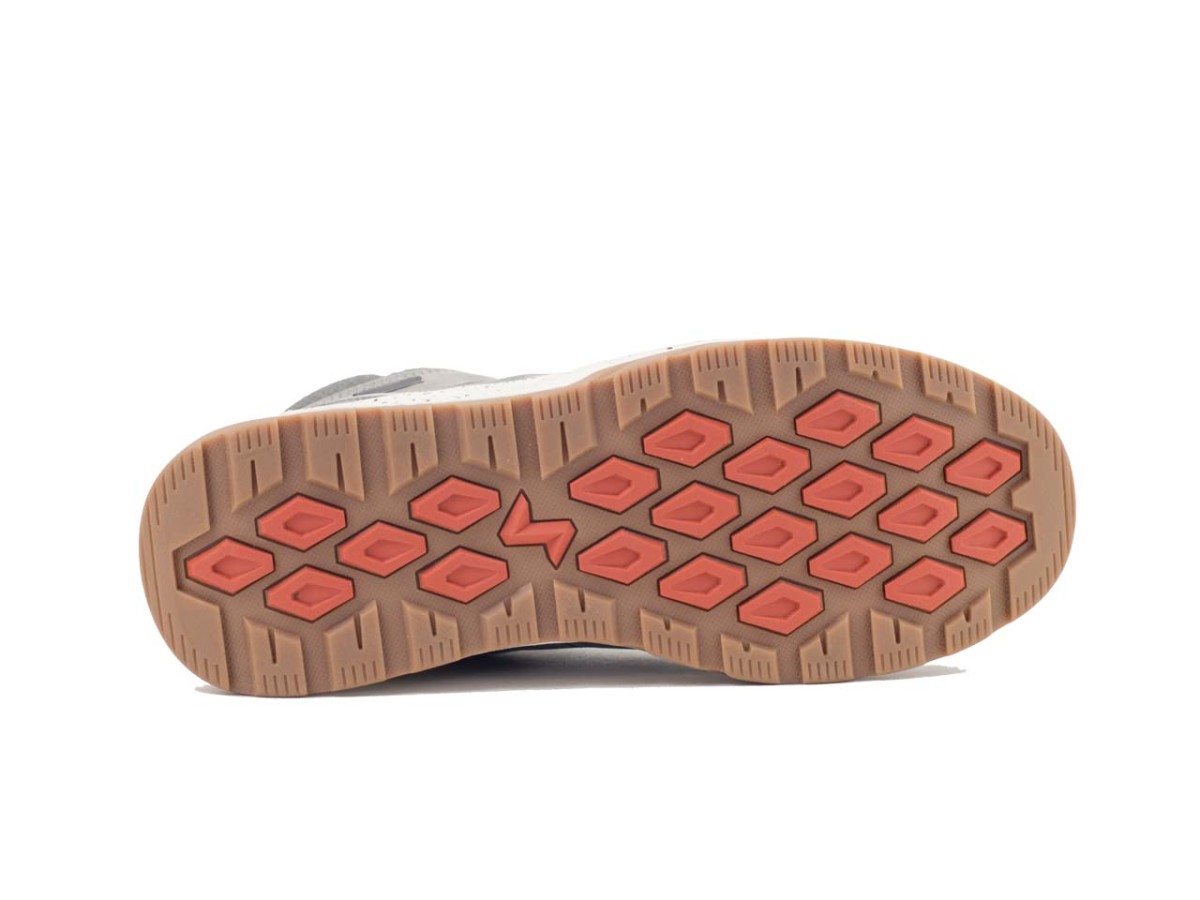 Above: The Trail's flat, wide outer lugs are designed for city sidewalks, while its orange inner lugs grab hold of soft terrain like mud or snow. Photo courtesy of Forsake.
The Best New Shoes for Weightlifting and Powerlifting >>>
To be fair: Plenty of big-name shoe companies have jumped on the sneakerboot trend, but without as much lumberjack DNA. Often marketed as trail sneakers or winterized trainers, they're typically treated to be "weather-resistant" or "water-resistant" rather than built to be fully waterproof. They're more sneaker than boot, in other words, and that makes them vulnerable to getting soaked through.
The waterproof Trail, though, is built with a breathable HydroGuard internal membrane that keeps out muddy stream water while still letting fresh air reach your feet. (The company says they put each Trail through the assembly line twice: first to seal the membrane around the interior lining and foam footbed, and once again to build the rest of the shoe around that interior. It's labor-intensive, but the end result is a shoe-within-a-shoe that reliably blocks out the elements.) It also has a gusseted tongue, which keeps water from sneaking through lace eyelets or between the tongue and the upper.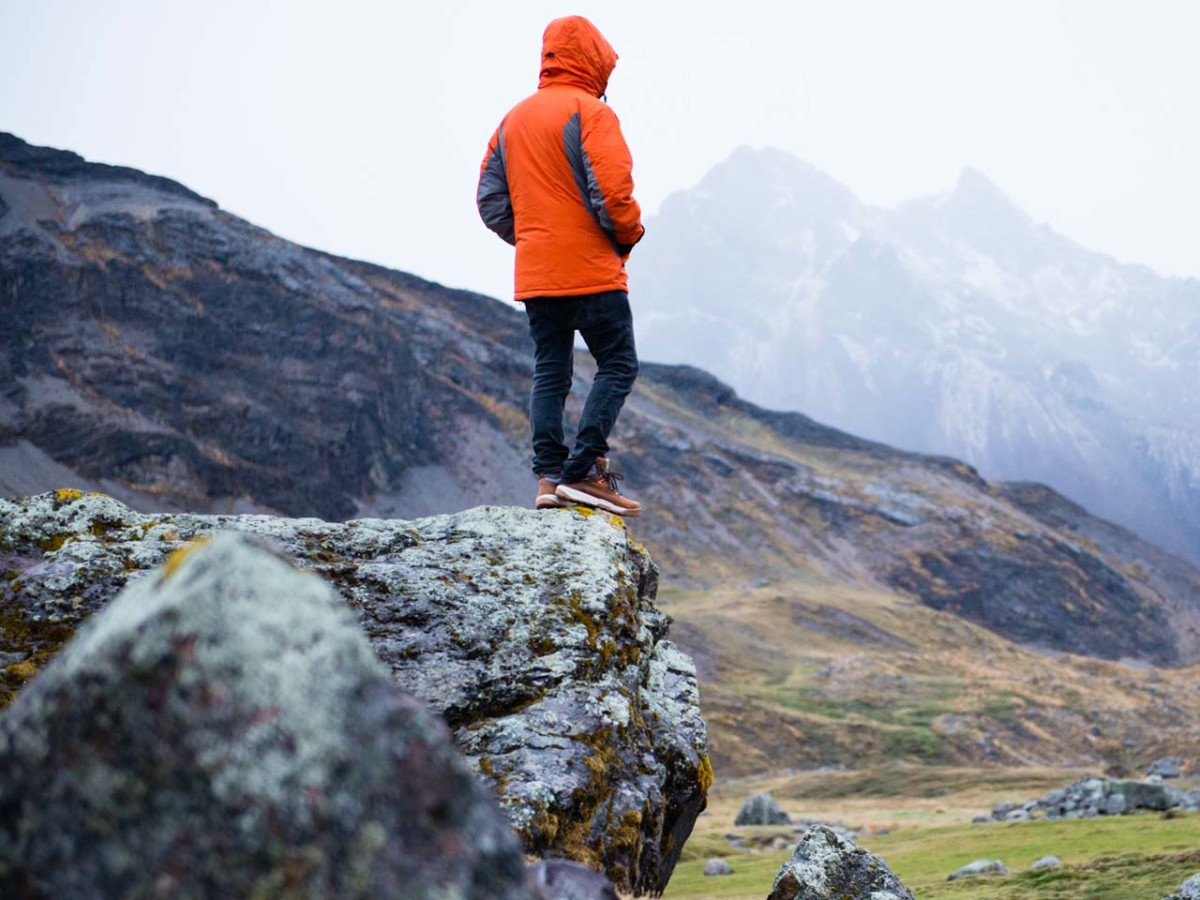 This is not the author. This is in Peru. Photo courtesy of Forsake.
The Best Water Bottles for Running, Working Out, Commuting, and More >>>
That said, I wouldn't thru-hike the Appalachian Trail in these things. The ankle is cut a little too low to be a true brawler boot—hardcore hikers usually demand a higher ankle to guard against hell (twisted ankles) and high water. And while the tan full-grain leather is gorgeous out of the box, a few days of scrambling up boulders left the toes and heels visibly scuffed. That's to be expected from any workaday boot, of course, but it's something to keep in mind.
It's not a true cross-training shoe, either. So, don't expect to wear it as a trail runner or a cross-trainer. 
The Trail looks like a sneaker from the side, without the big heel notch of typical boots. The speckled patterning also hides dirt pretty well. Photo courtesy of Forsake.
Bottom line: The Trail isn't ideal for trooping through mud every day, nor is it something you could wear for pickup basketball. But its rare versatility makes it a worthy addition to your wardrobe—whether you're hauling your ass across a slushy parking lot, mountain switchback or, you know, Storm King. 
Forsake Trail ($149.95, forsake.com)
Related: The Men's Fitness Hiking and Camping Gear Guide >>>
For access to exclusive gear videos, celebrity interviews, and more, subscribe on YouTube!