History lesson: This is the original baller super-coupe. When VW Group bought Bentley, it debuted the Continental GT in 2003 and since then, over 70,000 have sold. Bentley showed that ultra-luxe didn't have to mean uncomfortable, loud, and twitchy. It could be fast as hell, beautiful, and comfortable enough that a linebacker could drive one. But a lot has happened since 2003, with many rivals stealing the Bentley's thunder. This new, $214,600 2019 model grows a bit roomier, with even better handling, and our take is it's more than ready to race back to the fore.
It Has Launch Control
The mighty six-liter, 12-cylinder engine has been thoroughly reworked. Horsepower (626hp) for a car that weighs nearly 5,000 pounds matters far less than torque (664 lb-ft), and the latter not only increases a massive 25 percent over the outgoing GT, you get all of it at only 1,350 RPM. That means the moment you floor it, you're in launch mode. The fact that there's an actual, technical, launch mode really doesn't matter. Because AWD (power is split dynamically, responding to traction, which wasn't the case with the prior Continental GT) and 22-inch rubber assures that there's zero lag between input and flight. You'll hit 60mph in a mere 3.6 seconds.
But what's important isn't just sheer speed, it's that hours of touring in the Continental GT was supremely easy. Active anti-roll bars prevented overt lean, even when we were pushing the big Bentley deep into alpine apexes during our Austrian test drive, and an air suspension never allowed the wheels to punch through their travel suddenly. Steering, too, was ultra precise. Bentley's new chassis has to be credited here, with an aerospace-cast front section that's far stiffer, so both suspension and steering reaction is far crisper. Every movement is controlled, muted. It's a very Bentley formula: Amazing speed, telepathic response, but nothing to make the driver break a sweat.
Bentley's fitted the Continental GT with its most massive brakes in the brand's history: Absurd ten-piston calipers grabbing 16.5-inch rotors at the nose, and 15-inches clamped by four-piston binders at the rear. Those are brakes that are bigger than many wheel dimensions on other cars, but they're important; you simply cannot slow a car this heavy without these greatly oversized stoppers.
Nine Cows' Worth of Leather
Despite the slight increase in wheelbase, most of the extra room isn't preserved for knees in the second row. It's far smarter to think of this as a big two-seater. And a gorgeous one to drive. In fact, the interior is one of the most carefully curated rooms you may ever sit in. It takes hundreds of hours of craftwork to assemble, from hand stitching nine bulls' worth of leather, to cutting and meticulously piecing together what starts out as 12-square meters of wood veneer, to fitting custom-polished and edged aluminum trim pieces to the center console (a process borrowed from Swiss watchmaking). Even the leather hides are sanded to an ultra-thin 1mm, so that all the patterning can be applied consistently, and none of the diamond quilting comes out pinched.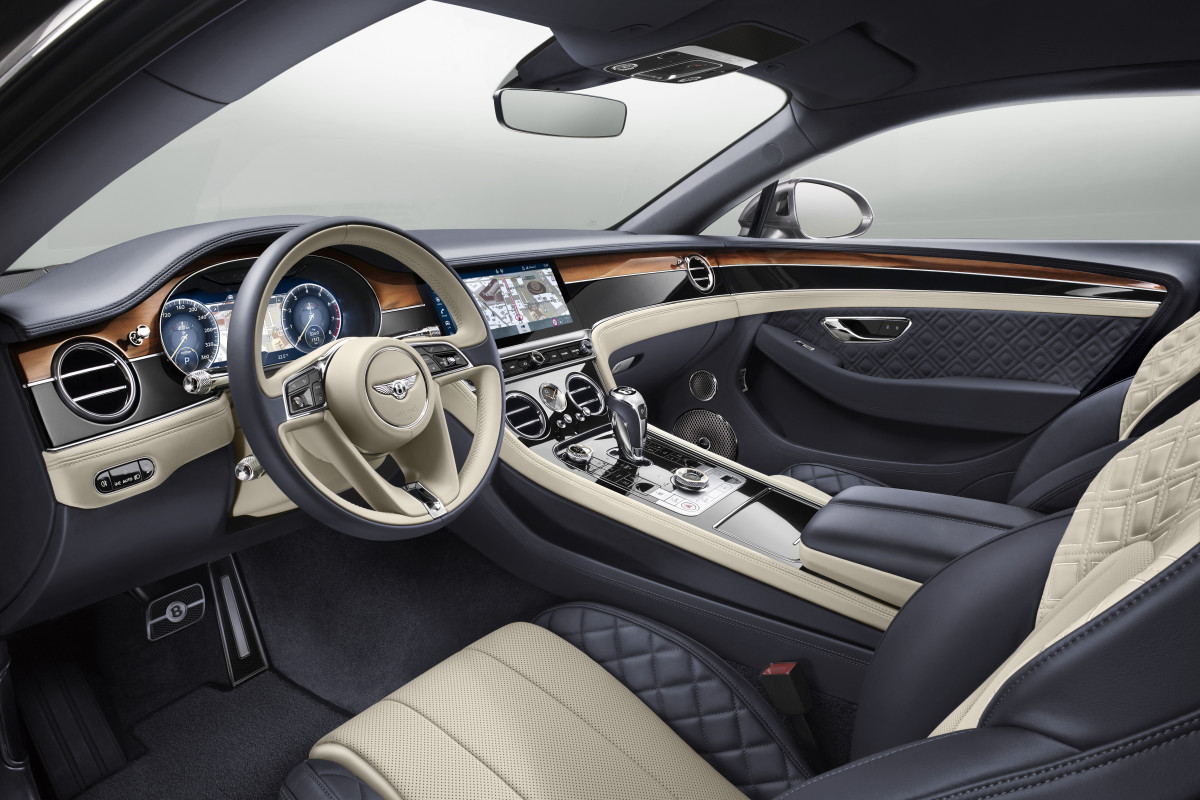 Naturally you can order yours stock, with 12-way adjustable driver's seat, or you can get your driver's seat with up to 20-way adjustability. You should definitely get the crazy-cool $6,270 rotating display. This is a Bentley-esque take on tech, a three-sided unit mounted in the heart of the dash, that can rotate to reveal or conceal a 12.3-inch touchscreen display.
This unit is sourced from VW-cousin Porsche, and works great, letting you pinch and swipe on a map or change audio inputs. It also disappears when you kill the ignition, rotating so that you see either a trio of analogue gauges (chronograph, outside temperature, and a compass), or if you prefer, you can tap a button beside the display again to flip the unit to only see a field of gorgeously laminated wood. Fortunately or unfortunately, the gauge cluster in front of the driver is purely digital, very much looking like an Audi-sourced active cluster that morphs to let you see a redundant nav screen and performance gauge clusters.
About the Tech
The optional 2,200-watt, 18-speaker Naim audio system is exceptional, at times making it sound like the singer's in the car with you. Our one quibble is with the driver assistance system. It worked great for smart cruise functionality when it slowed the Bentley to a near dead stop in a sudden highway jam. But the lane-keeping wasn't as precise as we've experienced in a Mercedes-Benz S-Class, nor quite as obvious to engage and disengage.
These systems are creeping into every marque. Either they work well enough to augment the driving experience and help prevent an accident, or they can engender too much trust. With the Bentley we found it sometimes keeping within lane lines, then quickly allowing straying, leading to minding the system rather than the road ahead, which is less than ideal.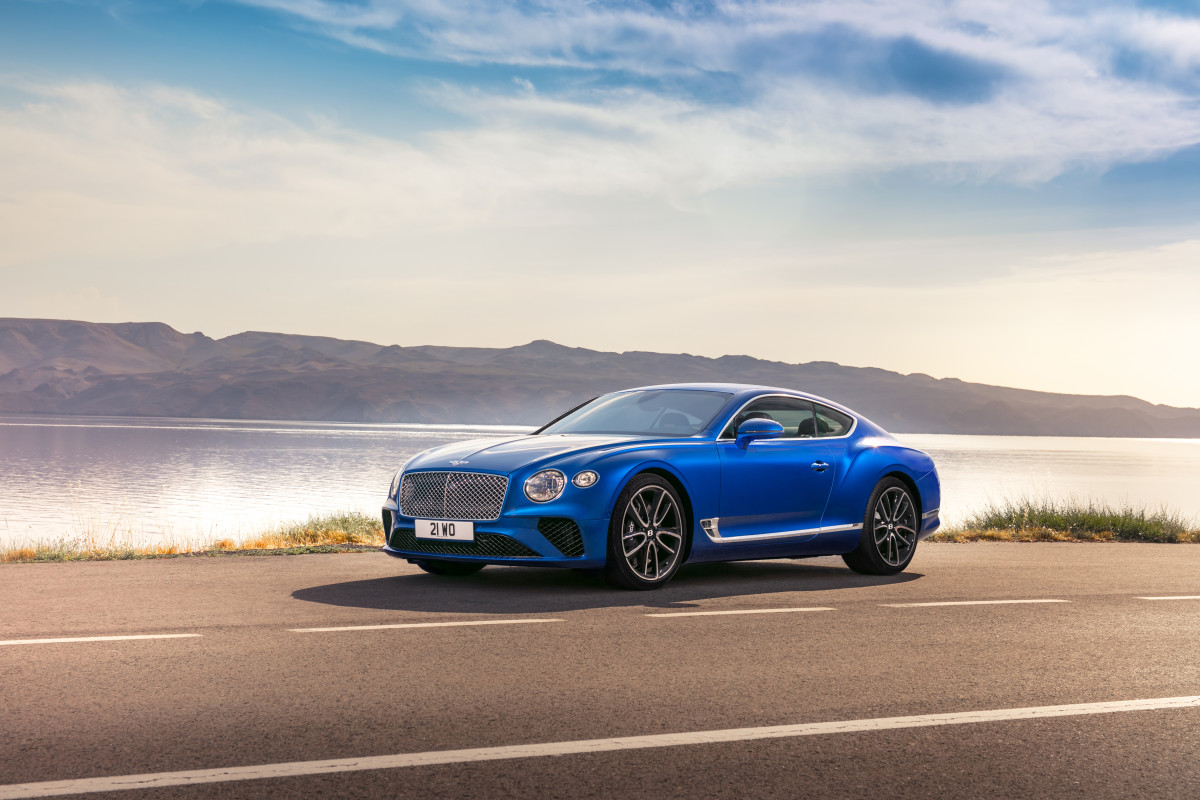 A Major Leap Forward on Design
The side view of the New Continental GT, especially when compared with the prior car, says everything about Bentley's achievement. The nose is longer and less blunted, and swoops into the cabin cage more fluidly. The rear haunch also looks less tacked on. Now the sweep of the entire car, front to rear, is completely liquid, the arc of the roofline flowing crisply from the eyebrow of the front windshield all the way to the lip on the tail of the trunk.
Bentley was smart to taper in the tail of the car. It doesn't "begin" until the butt's partly wrapping around the vehicle, so you get the visual cue that it's smaller than it actually is. It takes some of the visual heft off of what's still quite a large vehicle. Simple, lizard-eye oval tail lamps are echoed by the same, slightly smaller shape of the twin exhaust exits, a chrome bar wrapping around at mid-license plate. The whole presentation is not heart-racing exciting. It shouldn't be. This is a Bentley. It's handsome, timeless, and the latest Continental GT is more so than ever.