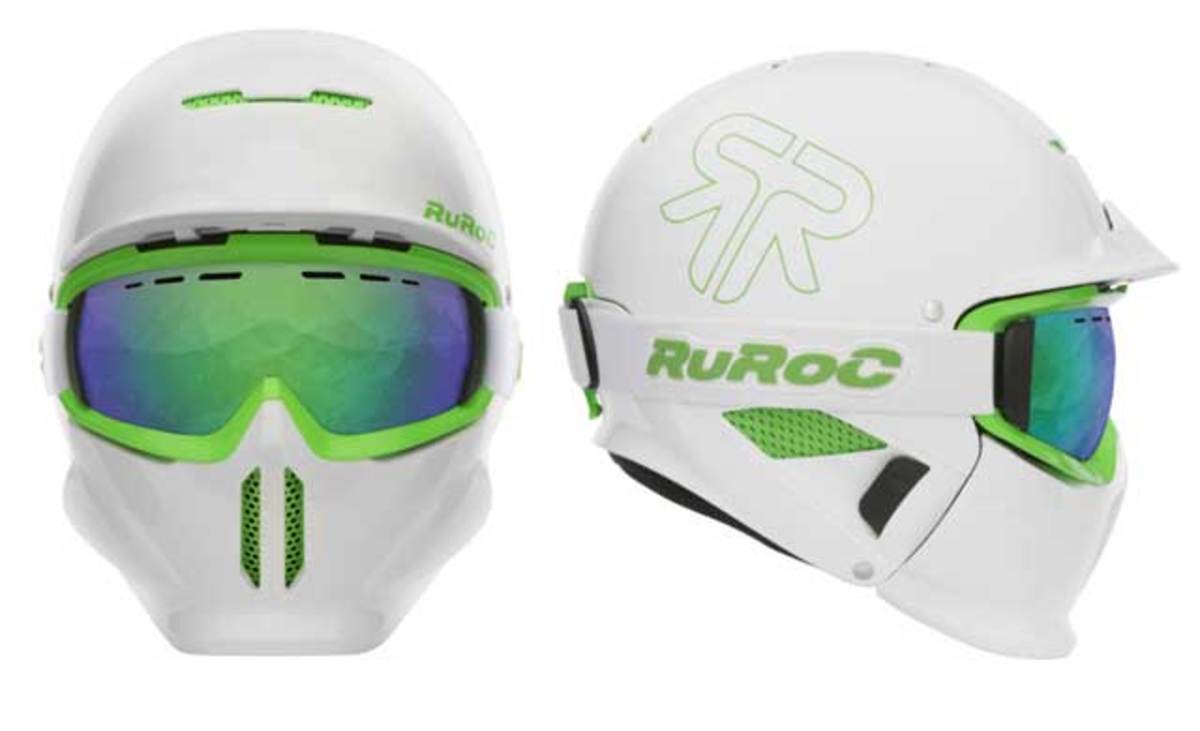 Ruroc claims that "the RG1-X ski and snowboard helmet offers unparalleled levels of protection on the slopes." Have they factored into account the sudden urge to ride faster than you ever have before?
Maybe not, but still, the good people at Ruroc have created a superb bit of gear for your favorite cold-weather pastime.
The kit includes a polished, high-impact ABS helmet with EPS liner, accompanying face shield and MagLoc Goggles fitted with a color-matched iridescent MagLens, visor and action-camera mount — all of which you'd expect from a kit with a $380 price tag.
The RG1-X (M/L) fit my 7-1/4-inch dome on the snug side, particularly in the jaw area, yet I found the surprisingly lightweight setup to be comfortable all day long.
One thing worth noting is how little this gear set weighs. I expected something much heftier from the pictures. When I first picked up the package, it was like when you go to grab a carton of milk from the fridge expecting it to be full and you slam it into the top of the fridge because your big sister already used it all for her Rice Krispies and put the empty carton back.
Goggles, though, have always been a problem for me. The geometry of my face often leaves me to decide whether it's more important for me to see or to breathe out of my nose.
Not the case here. These goggles are amazing — wide field of view, very little (if any) fogging and no breathing issues. The dual-paned iridescent lenses are probably the best I have ever had the opportunity to rock on a mountain — partly because they just plain rock, and partly because of how well they integrate with the helmet.
Once your goggles are on, just slide in the chin guard and a click on both sides indicates that your helmet is ready for battle. Getting them to click, however, is a battle in and of itself.
Also, the bridge of the goggles are made to perfectly align with the crest of the chin guard — a task I found easier with the help of a mirror. Be prepared to go through a few reps before hitting the slopes or prepare for some frustration.
Once fully assembled, though, the helmet performs well. It's warm but well ventilated and very comfortable.
The GoPro mount for the visor is very clever and gets a special tip of the cap. Not that it's hard to stick a GoPro mount on a helmet, but why not just include it in the design in the first place?
Simply detach your visor and boom, mount your camera. The setup does make it a bit difficult to socialize on the chairlift, and I found the chin guard to be a bit of a pain to continuously take on and off, but I suppose that's the price you pay for more protection.
The RGX-1 is a great snowboard helmet— and, for a 36 year old man, a mask I can confidently wear after Halloween. On the internetz, Stormtrooper references abound — I have the white version — but Stormtroopers are inept and easily blasted out of their boots.
Nay, I am Master Chief and I am here to shred.
More from GrindTV
4 easy tips for getting out of an ocean rip current
No reservation needed at these California campsites
5 of surfing's most fiercely protected local breaks
For access to exclusive gear videos, celebrity interviews, and more, subscribe on YouTube!