Gear
First Drive: Rivian R1S Is the Most Lustworthy SUV Debut of the Last Decade
There was a time not too long ago when gasoline wasn't quite so precious. In that prior era, carmakers who'd grown bored of merely making SUVs (a.k.a. station wagons on stilts) started to scratch their heads. If SUVs were in fact replacing sports sedans, why not actually make them sporty? What followed was an arms race: The M division of BMW began making X5 and X6s that were as fast as their much lighter and lower sports coupes. Porsche came out with the Cayenne, then the Macan. Jaguar chased after them with the F-Pace. Eventually, we got the $240,000 Lamborghini Urus, a supercar in everything but shape that could gun down 60 mph in 3.1 seconds and race to 190 mph top speed. Of course, its 12/17 mpg city/highway fuel economy is atrocious—though if you have that kind of money, who cares, right? Maybe you still do—especially when, for $90,000 you can have a Rivian R1S.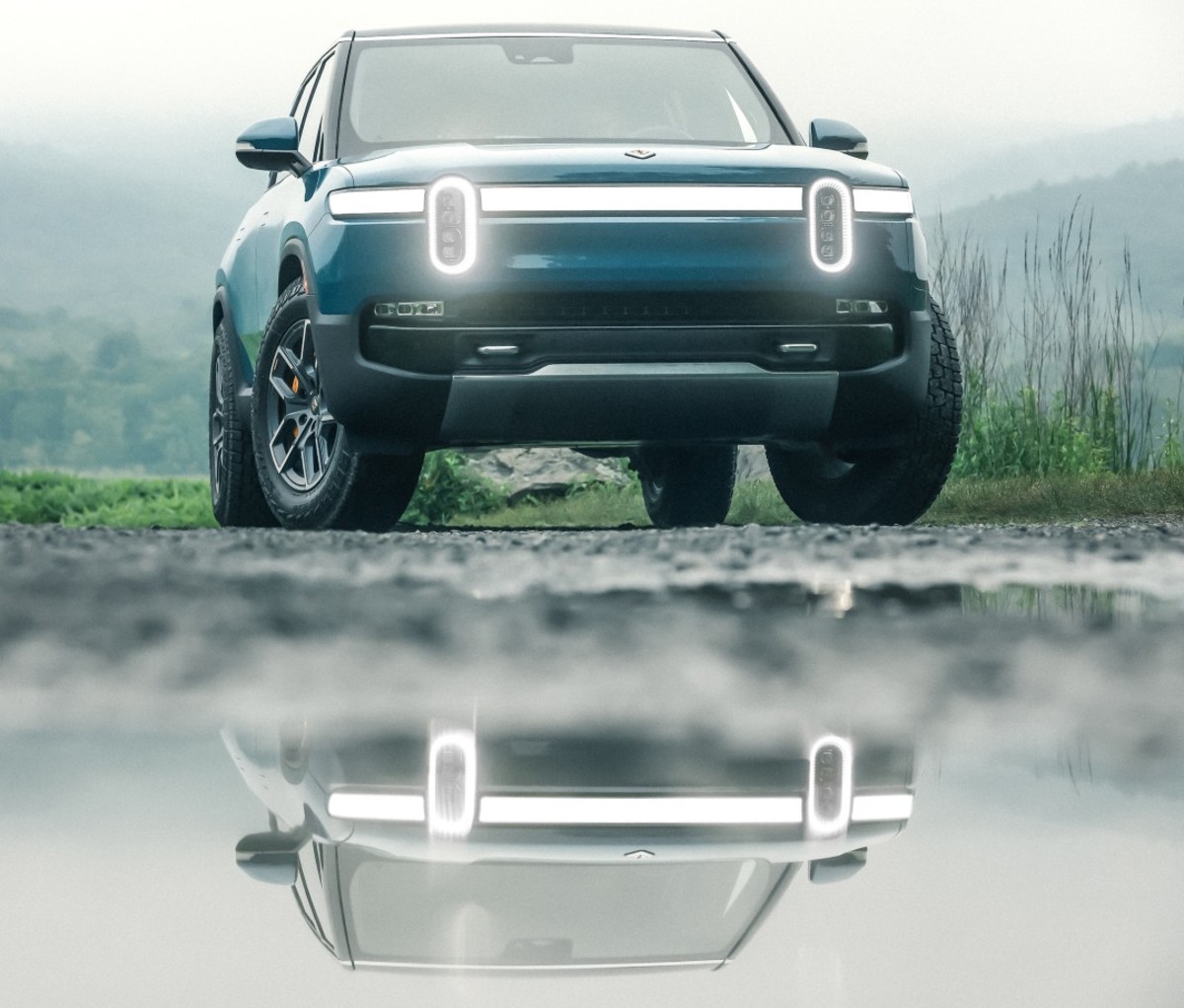 The breakthrough, three-row SUV can raise itself to 15.1 inches off the ground to climb over boulders, ford a stream up to three feet deep, and carry five kids in car seats who'll all launch their cookies when their cozy ride races to 60 mph in three seconds flat. And unlike that Lambo, Rivian R1S runs on electricity, with 316 miles of range per charge.
After a few days of testing the Rivian R1S on and off pavement, here are three revelations about why it's the most lustworthy SUV in a decade. And, why even if Americans are addicted to the SUV format, that no longer means they have to be addicted to oil.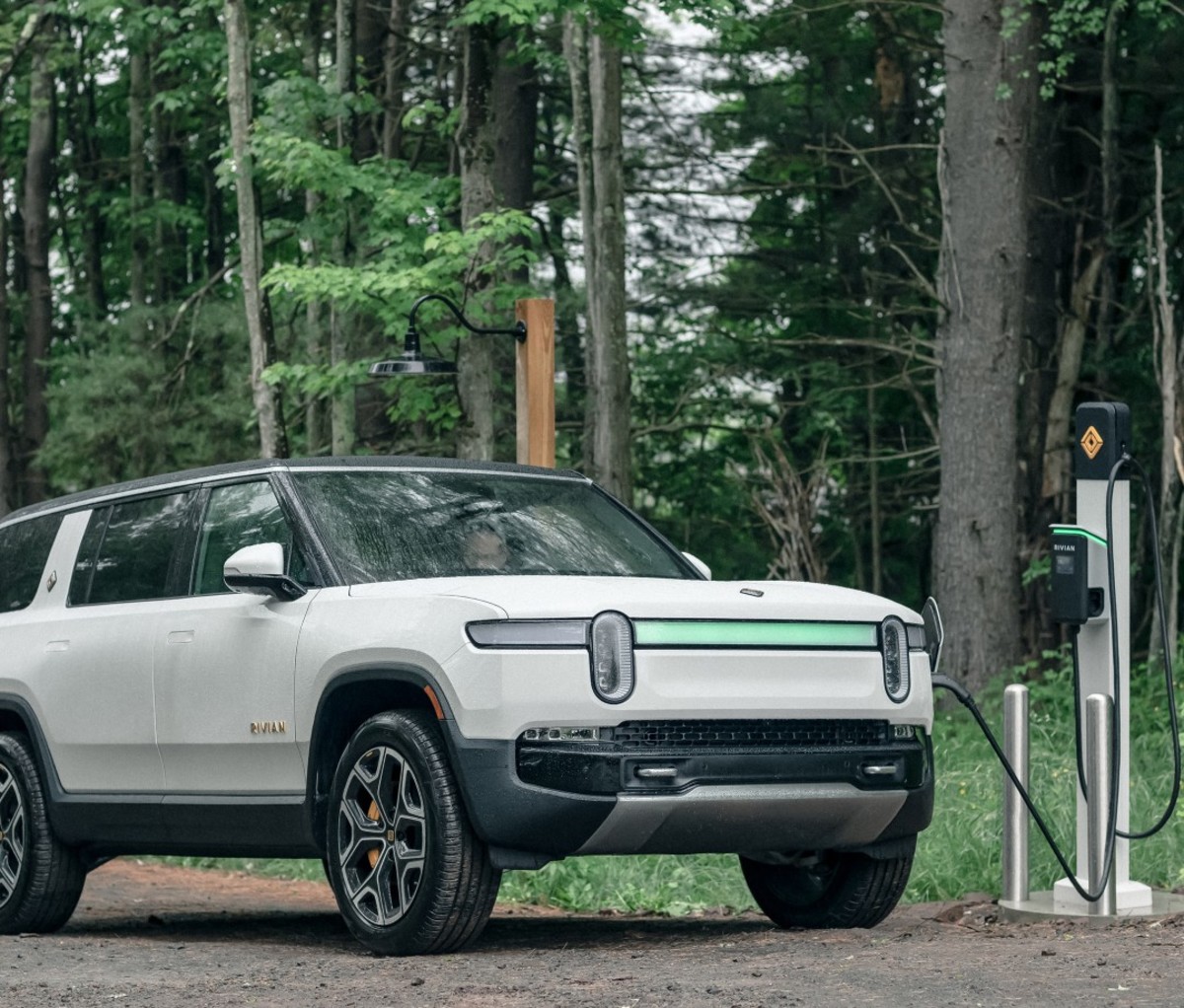 Rivian R1s Goes Anywhere You Dare Take It
We had epic rain for our morning of off-roading. Not to worry. The R1S—lifted to its tallest ride height and wheels shod in fairly quiet Pirelli Scorpion rubber—traversed logs and boulders with ease, bombing up and over 30-degree slopes that would've been black diamond runs had they been covered in snow rather than mud. With the aid of around-view cameras, it monstered through a soaked forest like we were driving on asphalt to the local mall.
One reason it's so capable is that, like all EVs, it delivers instantaneous torque to its motors. In the case of the Rivian R1S with the Adventure Package, that means motors at each corner. Rivian will also sell a two-motor R1S eventually.
Either way, there'll be zero lag to power application. That's one reason it's easier to drive the 7,000-pound vehicle more precisely than an equivalent sized, three-row gasoline SUV, where you're waiting for the muscle to get from the lump under the hood to the wheels. With the R1S you can be oh-so-gentle and still clamber over obstacles with aplomb.
Oh, and that torque number (908 lb-ft) makes even a Lamborghini's 627 lb-ft look shabby. That should also tell you it's every bit as quick as the numbers suggest. This is a rubber-burning beast without any of the atmosphere-cooking bombast of its "muscle truck" peers.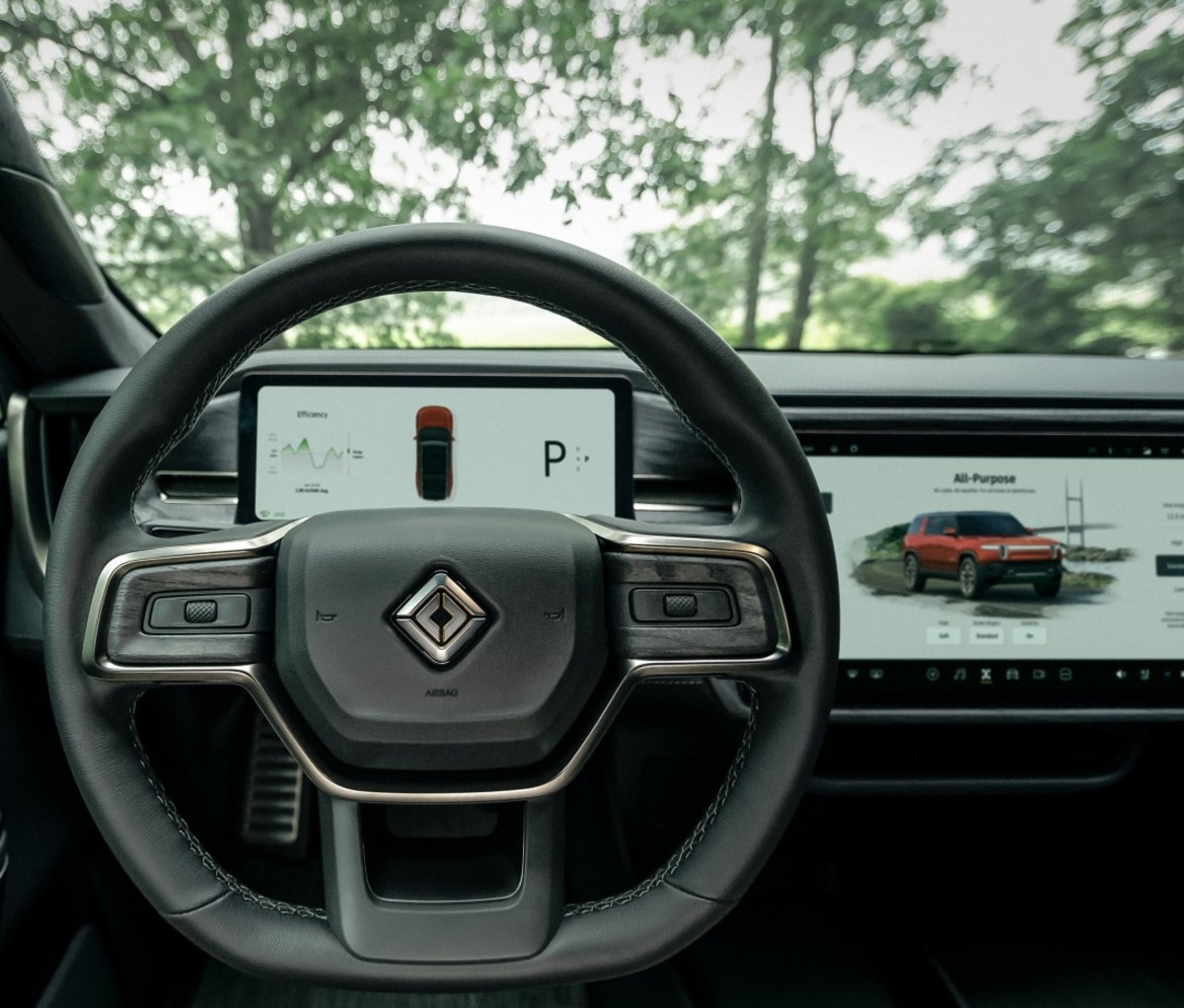 An Interior Balance That Works
There's a hidden battle going on between carmakers and big tech. Car brands have grudgingly accepted that we all understand the native navigation of the phone and want the same Android/Apple OS screen operation in our cars. So, you get touchscreens instead of buttons, and miles-deep menus that leave you hunting and pecking when all you want to do is switch satellite radio stations.
Rivian's approach beats Tesla's idea of burying everything in one hideous, oversized screen. In the R1S, you get two screens, both highly versatile, and both nested in a gorgeous, three-dimensional wooden sculpture that forms the dash. The screen in front of the driver displays what you expect, but is also easily reconfigured. Plus, the driver has scroll wheels on the steering wheel for quick changes in, say, song choice and volume (wheel functions depend on what sub-menu you're in). On the center screen, large, simple icons make it clear to the driver and front passenger whether you're in the music section or the navigation screen, how to adjust climate, etc.
There's a great deal going on, but the top-level sift buries functions you'll use less often and that makes the setup less mesmerizing. The fact it took a startup to solve this org chart tells you something about how mainstream carmakers have too many cooks in the kitchen.
The rest of the cabin telegraphs functionality over decoration. It's restrained.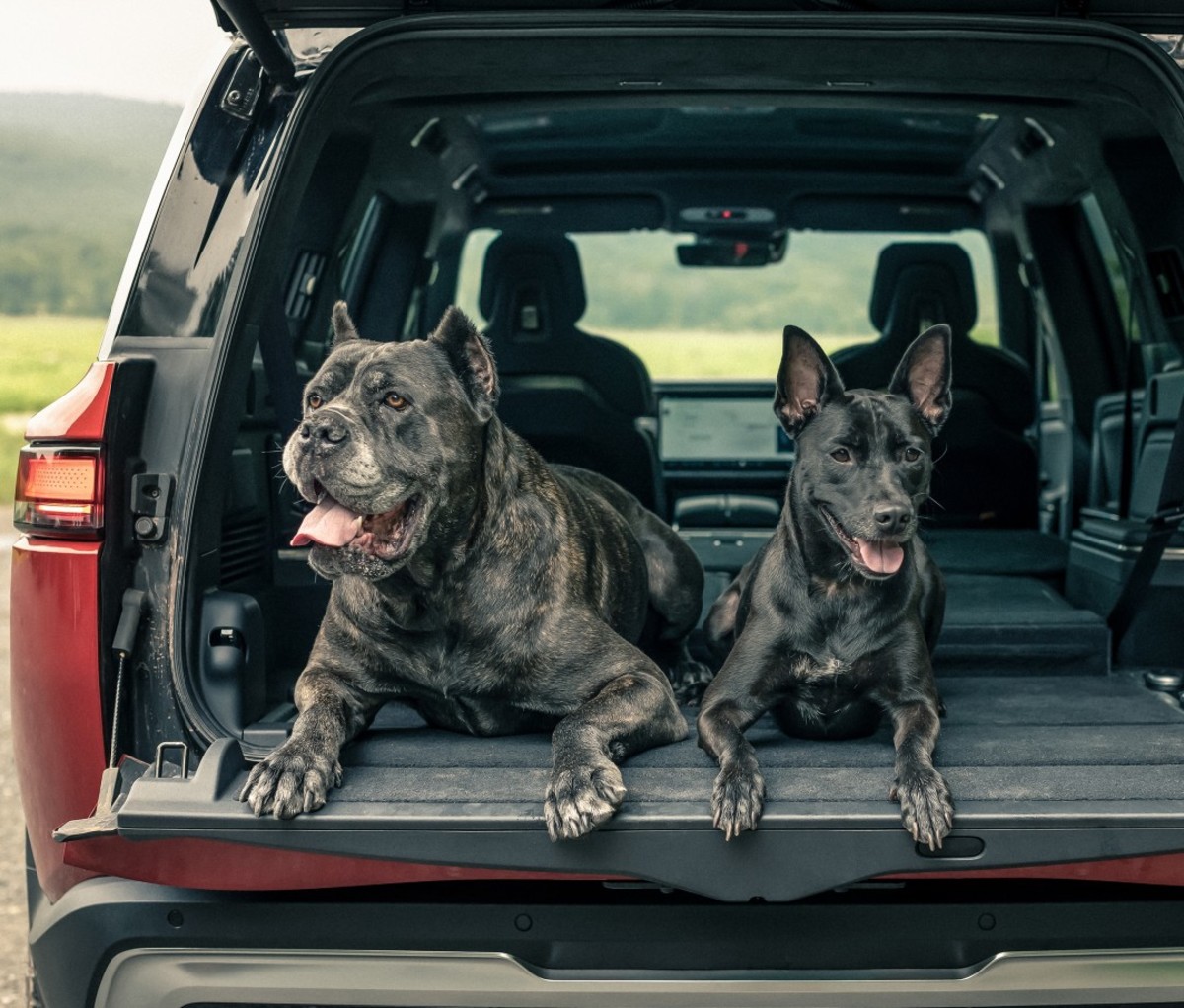 A Gear Geek's Dream Ride
You've probably already seen photos of the "gear tunnel" on the Rivian R1T. It's a brilliant use of what's otherwise dead space. If you haven't, the basic gist is that Rivian inserts a drawer behind the butts of the second row passengers that slides out sideways from the vehicle, just ahead of the junction with the truck bed. That wouldn't work in the SUV, but you've still got smart design at play. Rivian made sure to give the owner a split tailgate, so you get a bench to sit on and kick off your muddy boots after a weekend hike, and the entire load floor folds completely flat, so it's easier to stuff in a kayak.
Moreover, Rivian worked with rack maker Yakima on uniquely designed crossbars and other toys like a rooftop tent to anchor larger pieces of gear to the roof. These are ultra-low-profile and extremely aero, plus they plug into the vehicle's rails with a simple snap, and detach just as quickly, so you can remove them painlessly when not in use. Rivian's offering its own bike, SUP/surfboard, and ski rack integration through Yakima for all of this.
The obvious expectation is that they'll do more like that—especially since Rivian showed a recovery version of its R1T with onboard jack and compressor, and a power tools dock with recharge station for a handyman's garage worth of shop tools. Why not? You have enough rolling electricity to run your own backyard big screen movie night. (Which, in fact, Rivian set up, just to show it was possible, complete with Sonos speakers for audio.)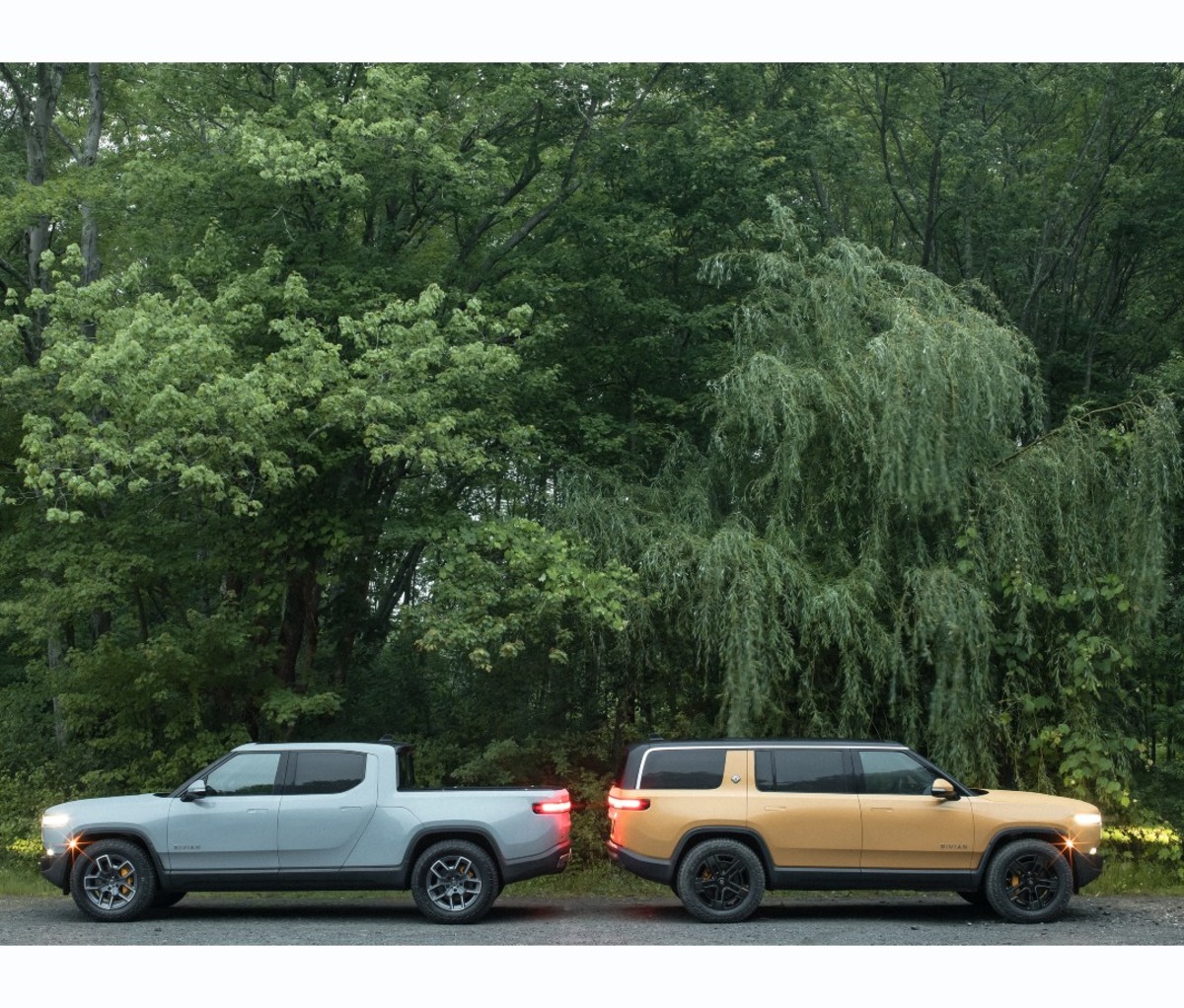 A Bump in the Road?
If Rivian has one fine tune to make, it might be in on-highway ride quality. Even in the "softest" setting, the default cushioning is a bit bony. That's probably fine for California drivers who don't endure frost heaves, but in the Northeast where we were testing, it would likely jar out the baby teeth of tykes in the second and third rows.
Cue the OTA update (yes, of course it's all controllable with software) they'll no doubt drop in due time—which we hope you have, because Rivian can't keep up with demand, even at a $90,000 door to entry.
For access to exclusive gear videos, celebrity interviews, and more, subscribe on YouTube!