I am sitting at a stoplight in New York City, during a torrential downpour that is positively biblical, when a guy comes running up and raps on the driver's side window. Thinking "WTF?" I crack the top open a smidge. "Beautiful car man! Who makes it?" he asks.
"Kia."
Yeah, the two air vents on the hood are fake and the quad chrome-tipped exhausts aren't attached to the mufflers, but nearly everything else about the 2019 Kia Stinger GT2 is the real deal. A 3.3L Twin Turbo GDI engine with 365 horsepower rips from a dead stop to 60 mph in 4.7 seconds, better numbers than in a $90,000 Porsche Panamera—for roughly $40,000 less. To get these stats to line up with the car's decidedly performance-oriented sleek ceramic silver exterior, Kia poached the engineer behind BMW's M class, Albert Biermann.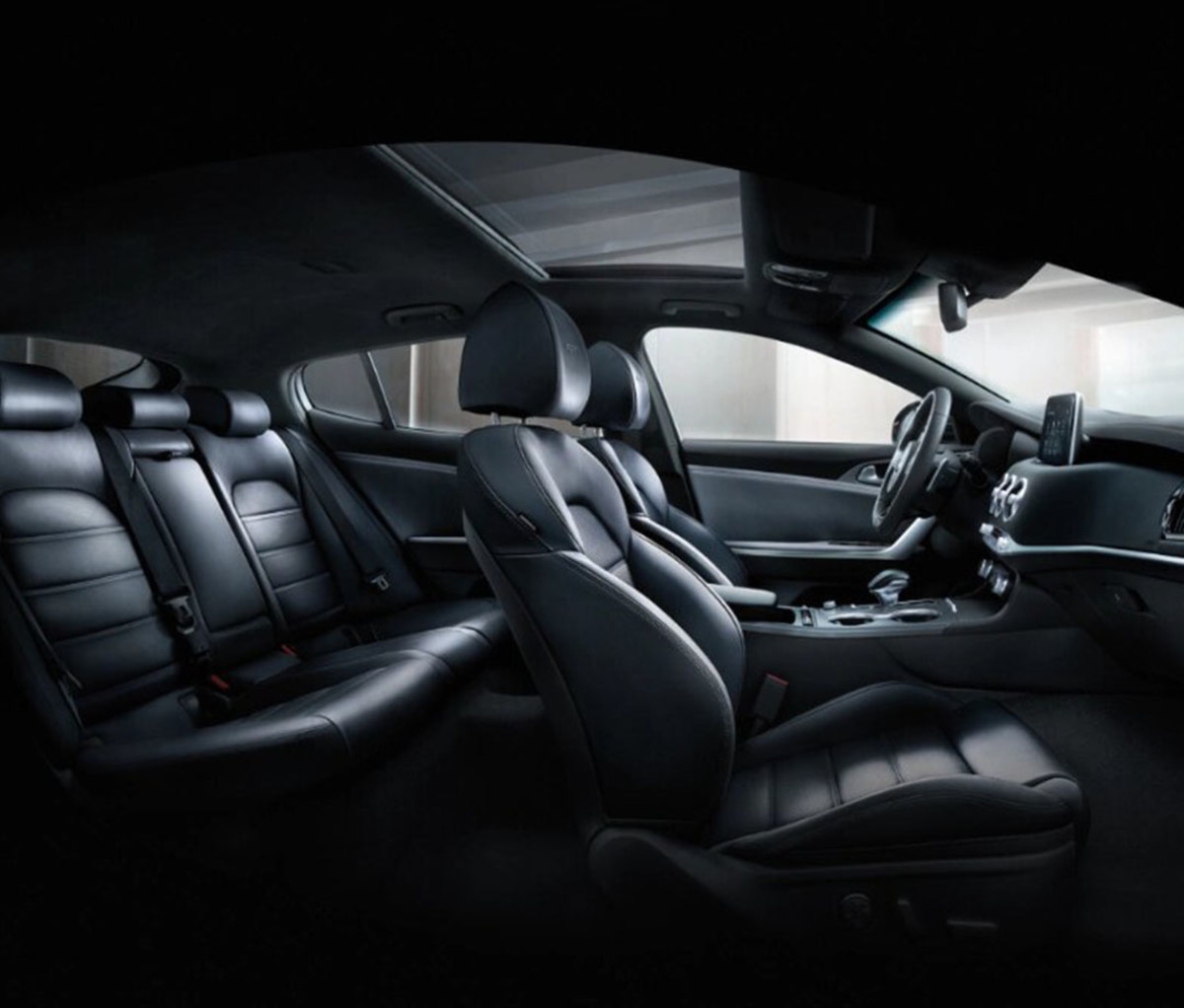 Cruising in a wintery mix of freezing rain and snow, I felt supremely confident with the AWD at all times, and the red Brembo brakes stopped the 3,800-pound beast with aplomb. When the sun finally came out, paddle shifters were fun way to rip through the 8-speed transmission as I tried to push the dashboard's G Force meter ever higher. I never quite reached NASA levels, but I tried.
Inside, luxury abounds, from the red leather Nappa-trimmed seats (heated and cooled) to the roomy rear ones (also heated!), with soft-touch materials and real metal chrome accents everywhere. The 15-speaker, 720-watt Harman Kardon audio system is stellar and like in many performance cars, subtly enhances the engine roar inside the nearly sound-proof cabin via the subwoofers. What's the point of redlining if you can't hear it too, right?
For drivers concerned about impressing neighbors and bosses with what's on the outside, they can go ahead and spend the extra dough for a BMW 6 Series, Audi A7 or even the aforementioned Porsche. But if you're someone who is more focused on what's inside a car (and your wallet), then the Kia Stinger is made for you.
2019 Kia Stinger GT2 AWD MSRP $50,300
For access to exclusive gear videos, celebrity interviews, and more, subscribe on YouTube!