Most cyclists — especially professional cyclists — put too much air in their tires. That's what Josh Poertner, former technical director for Zipp, maker of carbon-fiber wheelsets favored by many pro cyclists, discovered during a round of wheel testing in 2009. 
RELATED: The Best 2015 Mountain Bikes to Buy Now
Part of the problem is tradition. Many mechanics just follow the mechanics before them in a cycle of over-inflated tires. But that comes from the second part, a misconception among pro and elite riders that a firmer tire is a faster tire, something that Poertner found isn't true. To make matters worse, Poertner realized the floor pumps mechanics (and the rest of us) were using to inflate their tires are terribly inaccurate. Even if they wanted to run their tires at lower pressures, they couldn't be sure that the pressures they were running were in fact what they thought they were.
So Claudio Sacchi, owner of the storied Italian bike pump manufacturer SILCA, called Poertner in 2013 and told him that after holding the company for nearly 100 years, his family was selling the company. Poertner, who purchased his first SILCA pump as a junior racer back in 1990, left Zipp and jumped at the chance to keep the legendary brand alive. After moving the company's headquarters and manufacturing to Indianapolis in 2014, Poertner got to work. His goal was to create the world's finest floor pump. But why the obsession with bike pumps? There's no tool a cyclist uses — or should use — more than a floor pump. Even the best tire loses a little air pressure overnight, so you should be reaching for a floor pump before every ride. If we don't, we're significantly altering the experience of the ride.
"You can make a $15,000 bike ride badly and a $1,200 bike ride like a dream simply by making good tire choices and then optimizing your air pressure to your weight and the terrain under you," says Poertner. "A couple of psi can lead to faster times, greater comfort, higher cornering speeds, better tire longevity, and fewer flats. However, you have to work at it and learn by trying out different pressures and evaluating the results." The SILCA SuperPista Ultimate is designed with all of this in mind.
RELATED: How to Buy a Mountain Bike for Less Than $1,000
Given the chance to try one, the first thing we noticed was the SuperPist Ultimate's heft. Designed to be solid and broad, with an 800-gram base, it's stable and won't easily tip over like many pumps. Poertner also realized that most of us inflate our tires just before we ride, so he also made sure the base is one of the thinnest on the market, so no stability is lost when using it with cleated cycling shoes. On the bottom of the base, elastomer feet provide grip on any surface and won't scratch your floor.
The dial of the SuperPista Ultimate is a high precision piece of CNC-machined aluminum that floats above the base of the pump. Designing the pump in this fashion keeps its more sensitive pieces off the ground while allowing Poertner's design team to use a more accurate and precise gauge. They've also included a powerful magnet to hold the aircraft-grade stainless steel chuck at the end of the air hose when it's not in use. It's a simple idea, but one that works so effectively you have to wonder why no one else thought of it sooner.
Because it only takes a pound or two of air pressure to change the way a bike feels, Poertner knew he needed a gauge that is accurate, precise, and consistent. He constructed the SuperPista Ultimate's gauge out of metal instead of plastic and used laboratory-grade internal components to stabilize the gauge's mechanism and needle. The result is an incredibly durable gauge that is accurate to within 1 percent of a tire's true pressure (each pump is thoroughly tested for accuracy and leaks before it leaves the factory), compared to the 5-percent accuracy offered by cheaper pumps. This accuracy is what allows you to fine-tune your tire pressure much more than you could before. We found ourselves taking an extra few minutes before each ride to think about how much air we were putting in our tires. We experimented with different pressures from ride to ride to see what impact it had on the experience — which is exactly what Poertner wants all of us to do. "With the SuperPista Ultimate," he says, "we wanted to build a tool that makes you enjoy paying attention to the things that really matter about your bike."
RELATED: The 2015 Road Bike Buyer's Guide
For the SuperPista Ultimate's hose, Poertner's team sourced one that they first saw in the pits of the Indianapolis Motor Speedway. The hose doesn't twist and is built to withstand pressures up to 12,000psi. That's far more than you'll ever inflate your tires too, but that's not why they used it. Cheaper hoses expand under lower pressures, which is another source of the inaccuracy of pumps manufactured with less expensive materials.
Needless to say, all of the time and effort that went into the philosophy, design, materials, and manufacturing of the SuperPista Ultimate comes at a price that's about 10 times more expensive than that of your standard floor pumps, something that's been difficult for some people to understand. "We get tons of hate mail," he says. "We didn't set out to make it this expensive. We just believe in finding the best way to do stuff." If there's one tool you should be using every single time you ride, and that tool has the power to impact the way your bike feels more than just about anything else you can do to it, wouldn't you want that tool to be thoughtfully-designed, expertly-manufactured, and scientifically-accurate? Of course you do.
"When I see my 8 and 9-year-old kids use the perfectly functional SILCA that I bought 25 years ago as a kid, I realize that these are items capable of being passed down to the next generation," Poertner says. "I like to joke that if all goes well, you'll pass your passion for cycling and your SILCA to the next generation, so our charge is to design and build products worthy of heirloom status."
[$450; silca.cc]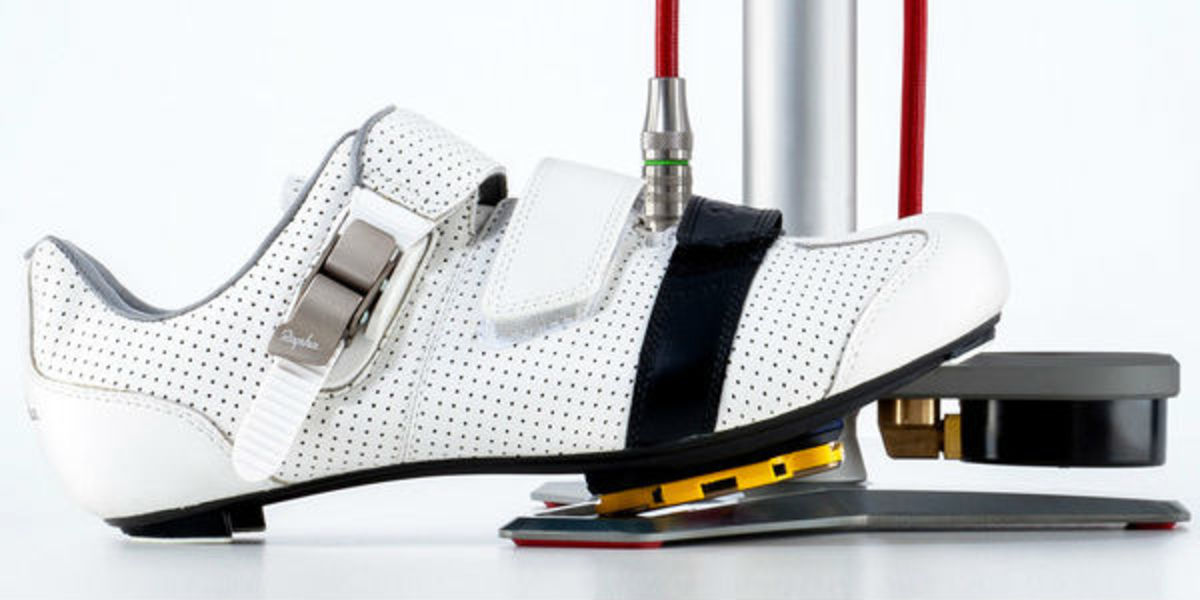 For access to exclusive gear videos, celebrity interviews, and more, subscribe on YouTube!