As an active water woman, you need gear that can keep up with you. Nothing spoils an epic session like a swimsuit malfunction. If you spend a good amount of time on the water, you've likely had your fair share of them.
Rather than spending hours searching for the perfect suit, we thought: Who better to ask than female athletes themselves? We checked in with professional water women from multiple disciplines to share their worst bikini malfunction to date, and their stay-put swimsuit of choice. Because when you're on the water, the last thing you should have to worry about is your suit.
Bianca Valenti, Big-Wave Surfer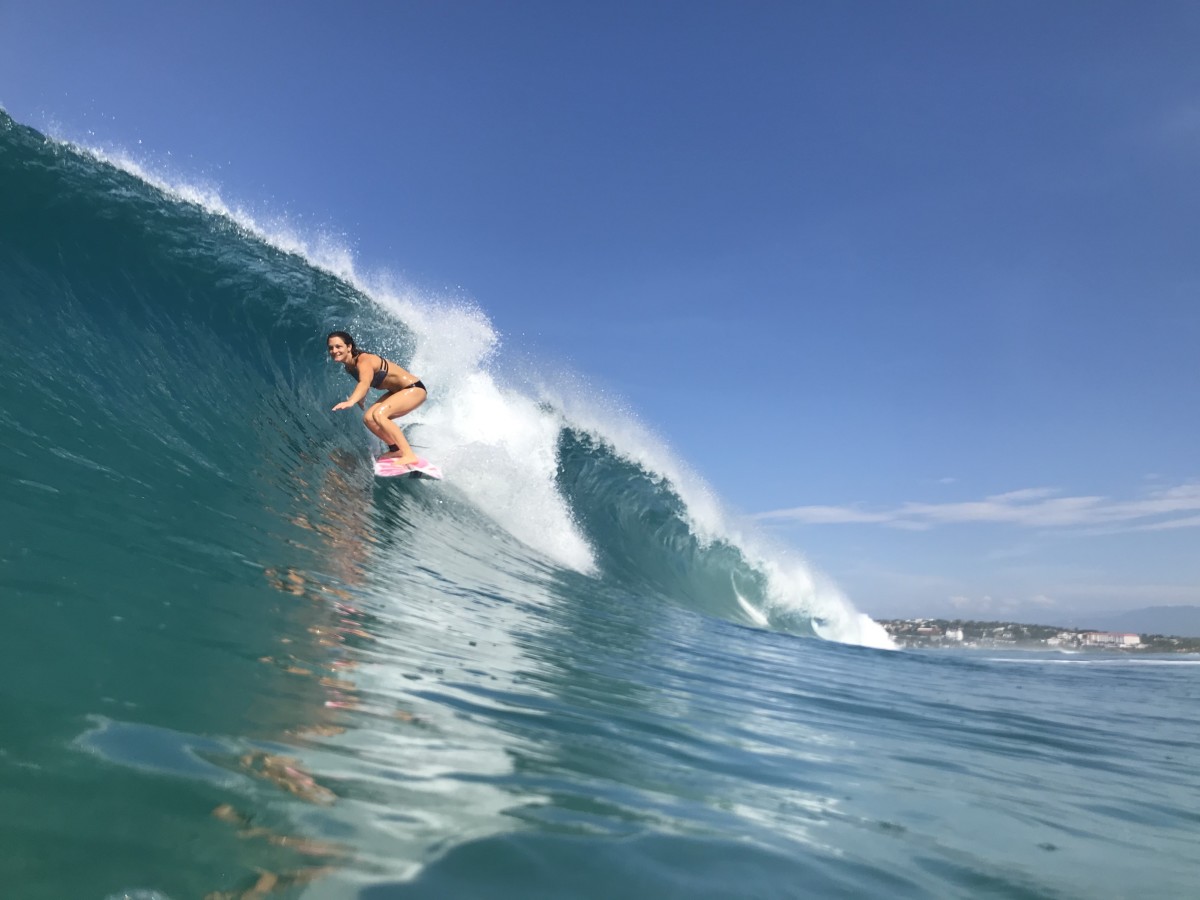 Patagonia Women's Nanogrip Nireta Bikini Top and Bottoms are my favorite because they feel like the right cut for me – flattering on my body type, which makes me feel super! And they stay on and are comfortable, therefore very high performance.
About 10 years ago, in the no-leash days at Puerto Escondido, I lost my board then tried to 'body surf.' It was more like a kamikaze free-fall, and my bottoms went straight out into the ocean. It was the middle of the day, and nobody was on the beach except for dudes in speedos. I begged them in my best Spanish to borrow a towel to go retrieve my board 200 yards away. After ten minutes of hardcore lecturing and being told to be more careful, they loaned me a towel.
Sensi Graves, Kiteboarder, Surfer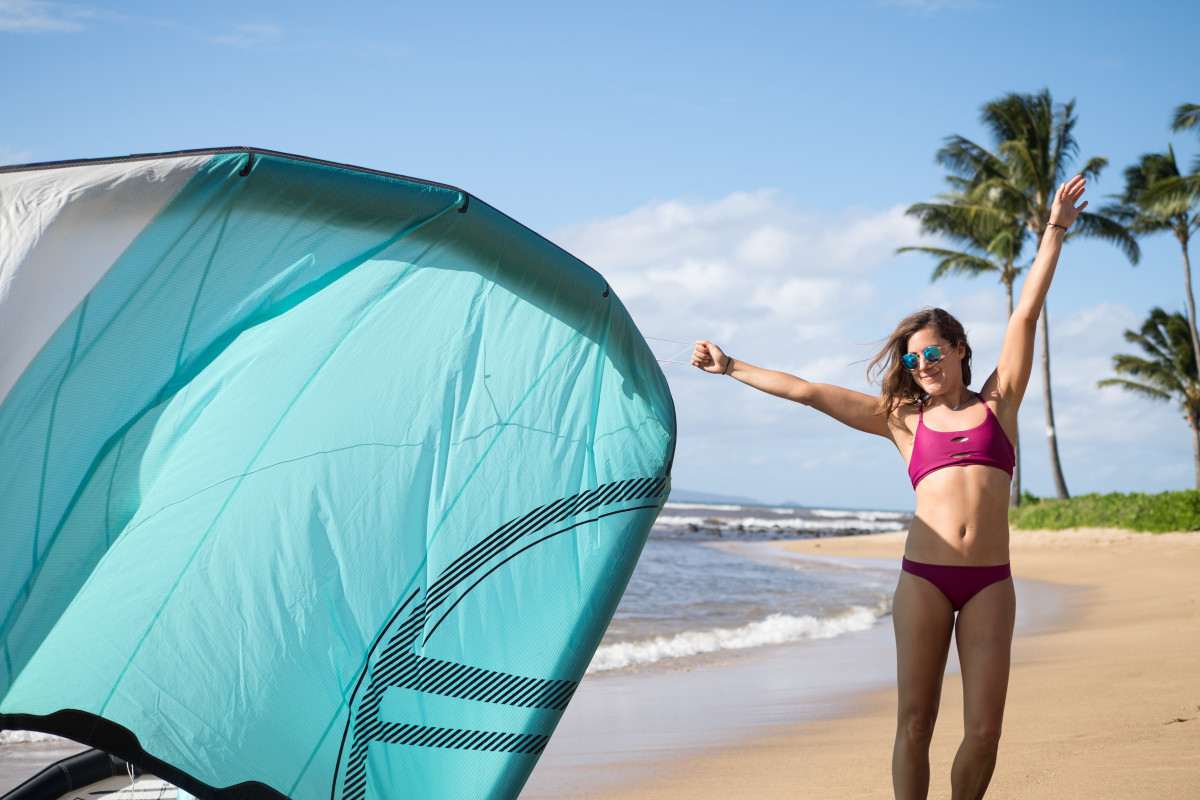 My favorite swimsuit brand is my own, Sensi Graves Bikinis. No surprise there, but I developed this line specifically for active women and athletes. We don't compromise on fabrics or style and I believe we offer the perfect mix of function and fashion.
Currently, my favorite pieces from the line are the Alexa top (super stay-put power, adjustable, and really comfortable – you'll never have a malfunction in this top) and the Tori bottom (seamless, reversible, and a good mix of cheekiness and coverage).
Before I started my swimwear line, I had swimwear malfunctions all the time! I was constantly adjusting my suit and fidgeting with the ties. I remember countless times where I'd be out surfing, fall on a wave, and be underwater trying to re-tie my swimsuit top before popping back up. It was chaos!
Carter Graves, Prone Paddler, Standup Paddler, Surfer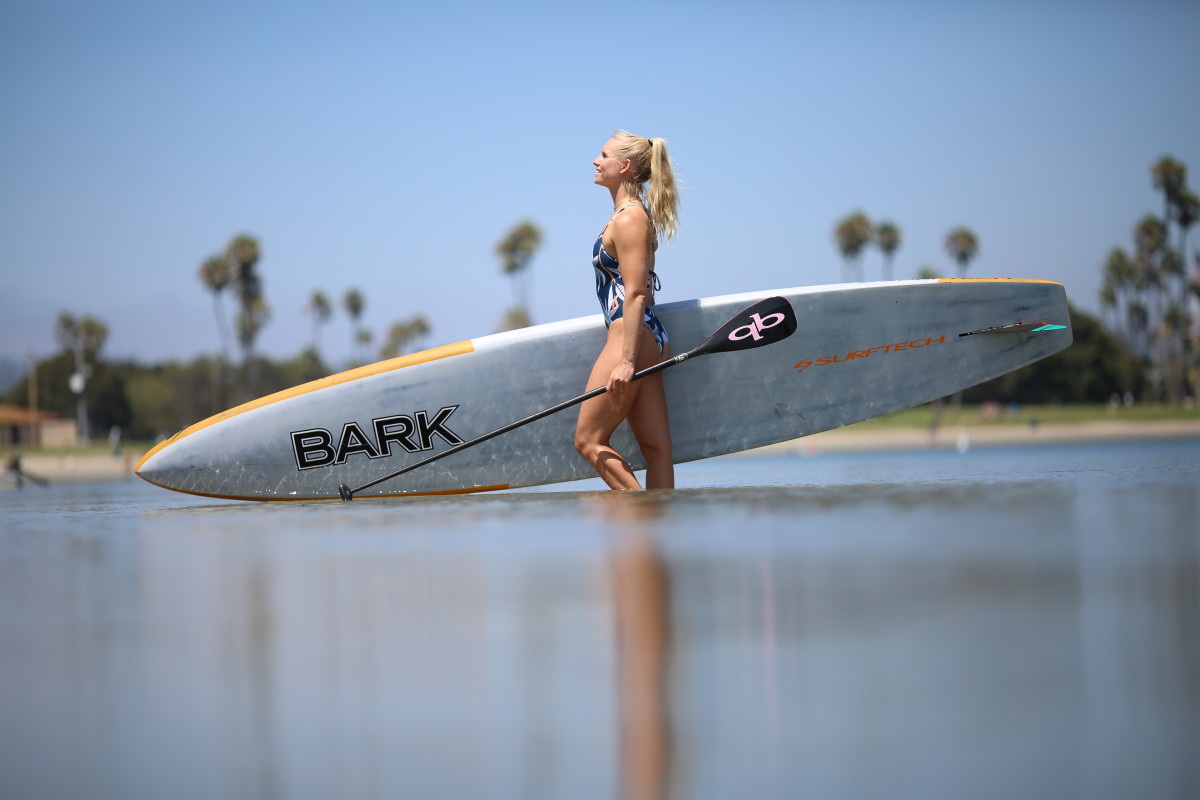 I love swimwear that is both functional and cute. This tends to be difficult to find, but I have found a few companies capture this well. I have worn Jolyn swimwear for years now for swimming, paddling, and surfing, and it probably rates the highest for me in the cute/functional scale. Also, I love lululemon swimwear, as the pieces have the luxury aspect while also incorporating functionality for my ocean activities.
I don't have a particular malfunction in mind, but it's probably just my bottoms coming off while surfing in general! That's why a drawstring on the bottoms is a must for me now, as I have had some not-so-good situations in the past, especially surfing or body surfing!
Haley Otto, Surfer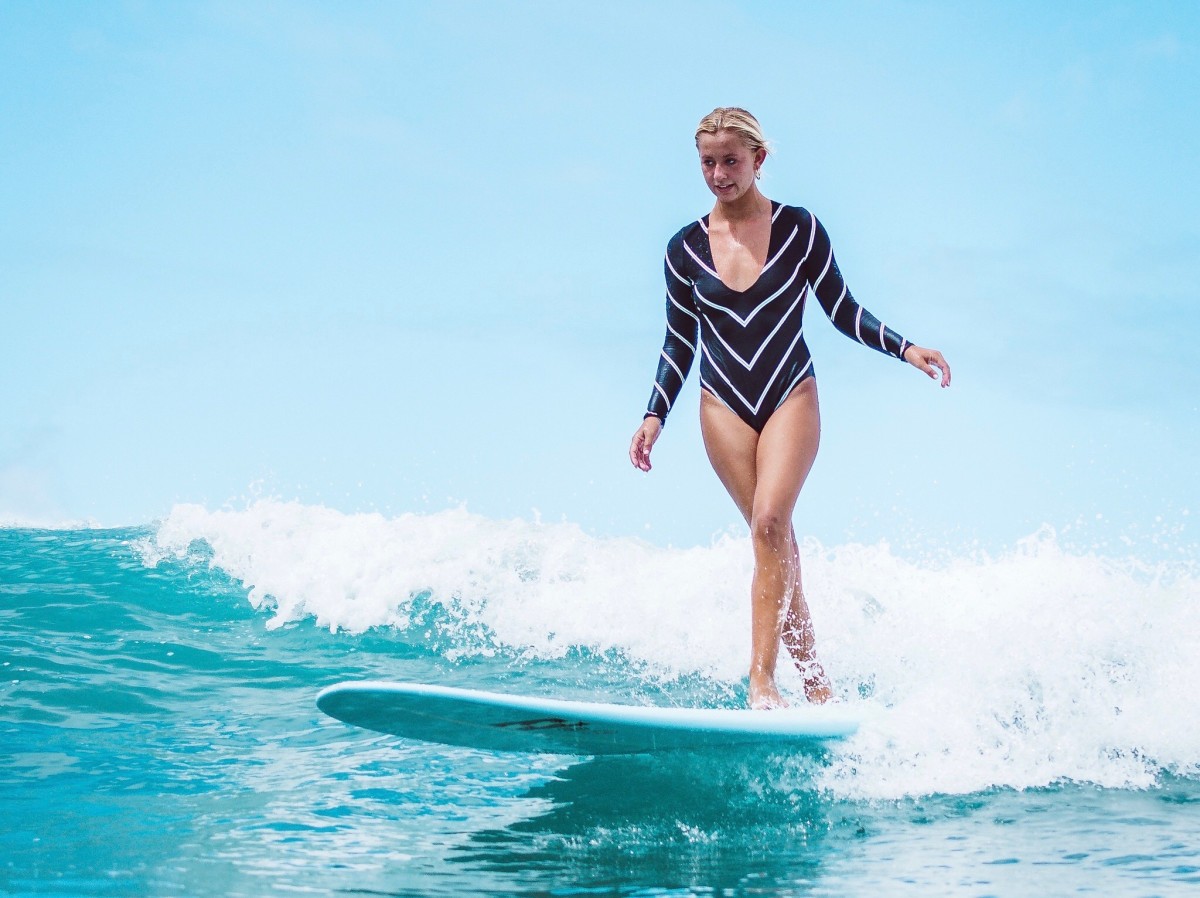 My favorite bikinis to surf in would definitely be Billabong Women's. I absolutely love the bodysuit pieces because they stay in place while surfing any kind of wave, big or small. They are also super cute and very comfortable! I'm a competitive long boarder from Oahu and I'm always in the water. I need suits that stay on and are comfortable to surf in and Billabong suits definitely do the job.
One time when I was surfing, the waves were a little bigger and I had on this suit and I kept having to adjust it all the time and keep pulling it up. Whenever I'd fall, the suit would move. It was challenging to surf in.
April Zilg, Standup Paddler, Outrigger Canoe Paddler, Surfer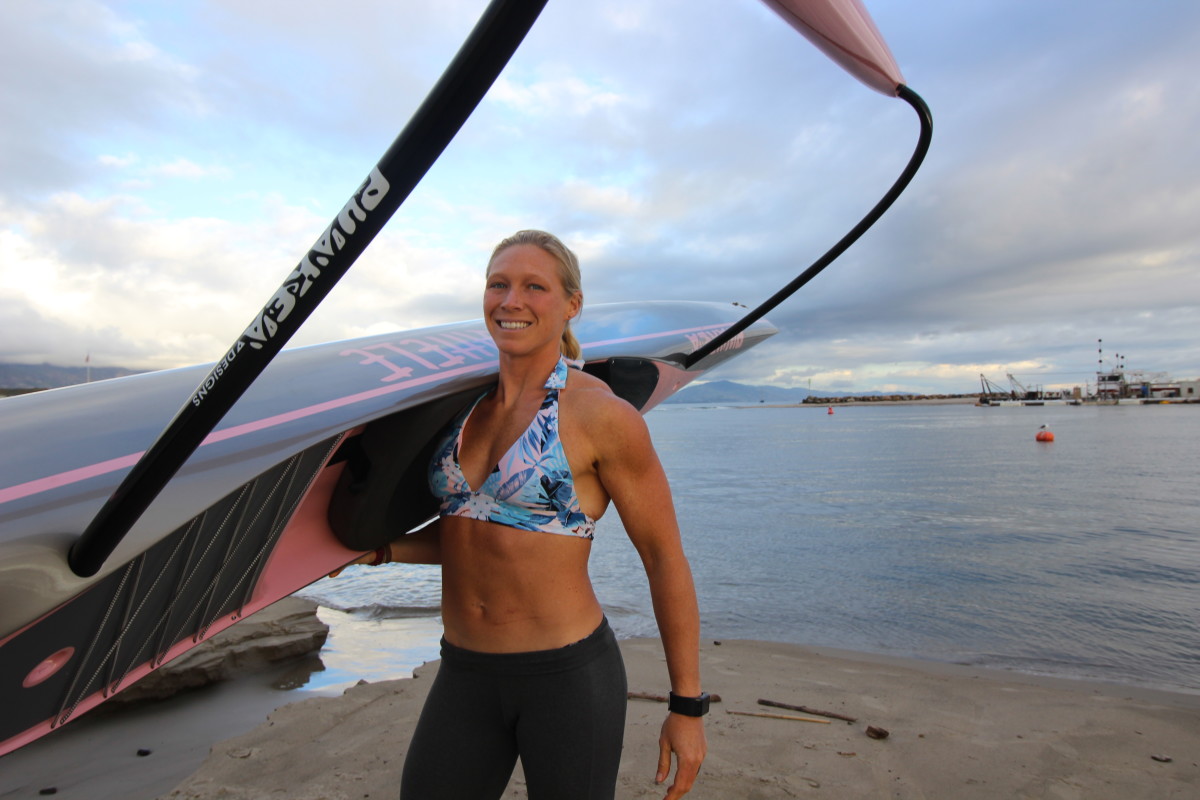 Salt Life's Vintage Beach Floral Halter Top is my favorite bikini top because it isn't a tie back; it's solid around the ribcage so it can't come off or malfunction. The extra-wide band around the chest provides support and holds my heart rate monitor down. The cut is very flattering and the fabric is incredibly soft and comfortable for some of my ultra-distance paddles (i.e. no chafing).
My biggest swimsuit malfunction is when my bikini tops come untied behind my back and the top just flaps in the breeze. The most embarrassing time this happened was during a race in Florida where I had to stop and re-tie my bikini. It took a ton of energy to catch up to the lead pack after that!
Lately, I've been logging more miles to train for the Yukon 1000, and I need a very soft top that reduces chafing, so although my biggest malfunction is boobs out, the most consistent and annoying malfunction is bad chafing.
Lauren Hill, Surfer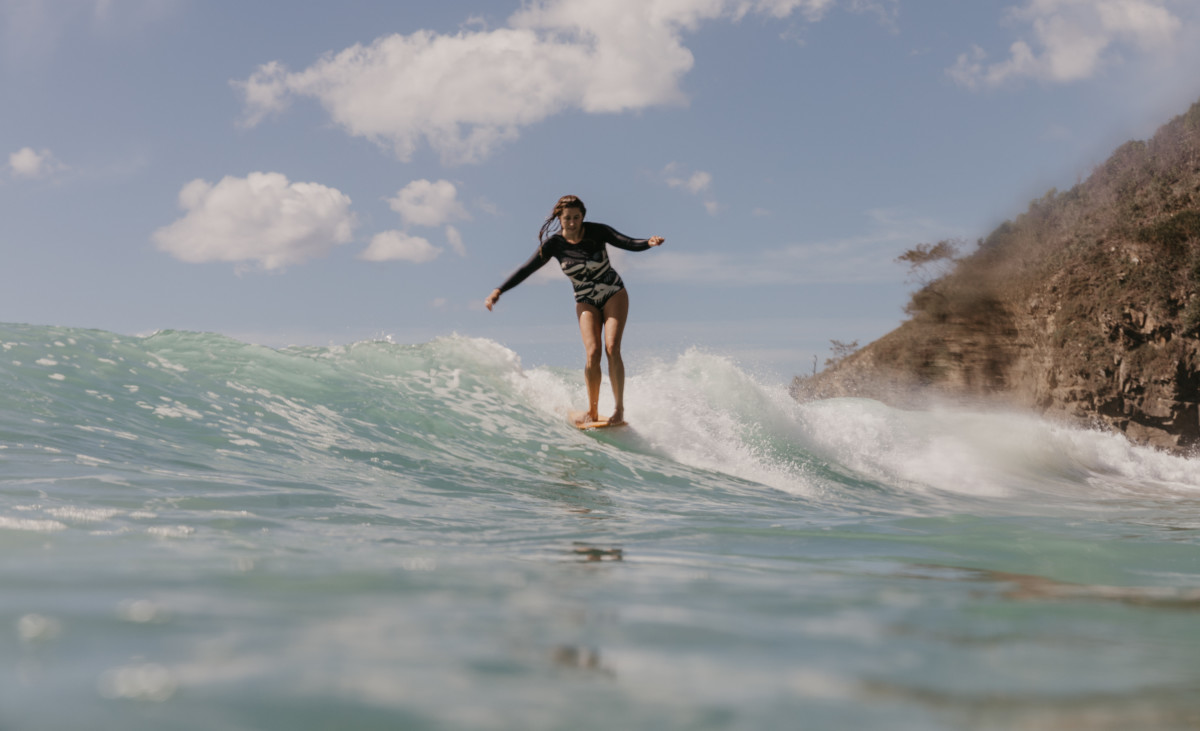 I've worked as an ambassador for all three of the big endemic surf brands over the last 15 years and have spent about 20 years putting in serious hours in swimwear. But it wasn't until I had a baby that I knew I needed more supportive, more reliable swimwear.
Without a doubt, the most comfortable and highest quality swimsuit I've worn is by Seea. My most reliable suit is The Floripa: it stays put and holds you in with buttery soft C-skin fabric along the torso, and fully covers the arms and chest from sunburn. Plus, it's reversible.
The worst swimsuit malfunction I can remember is from a trip to Hawaii one winter, where the ocean is notoriously strong. I wanted to jump in the ocean for a quick body surf, so I put on a new pair of bikini bottoms – they were really cute, with metal U-shaped rings at the hips.
I stood up on the sand after one wave and as the next wave hit me from behind, the fabric on the bottoms completely slipped off of the U-rings, making the whole shape of the bottoms snap open and the limp piece of fabric and dangling metal rings fell to my knees. By some stroke of extreme luck, I was able to grab it before it washed away.
Candice Appleby, Standup Paddler, Prone Paddler, Surfer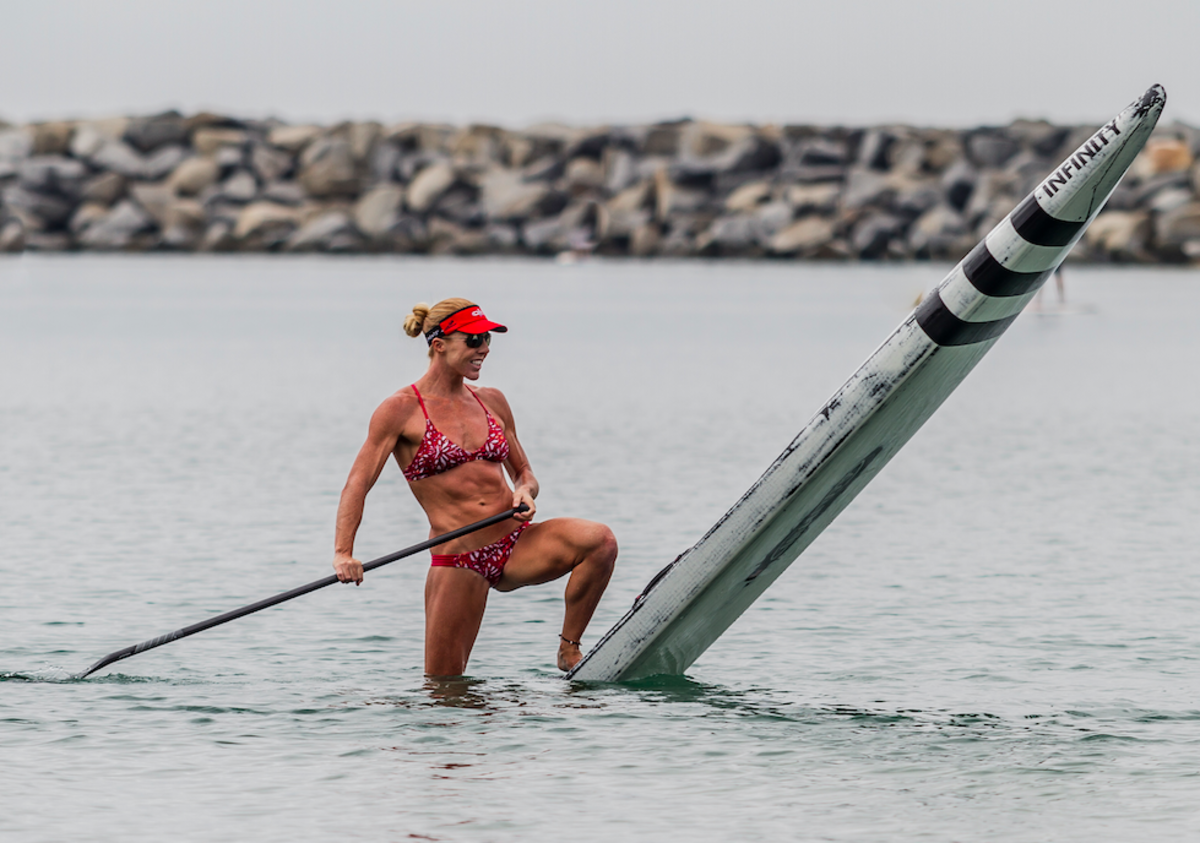 My favorite swimsuits are made by Pualani Hawaii and I've been wearing them for at least 12 years. My favorite style is the Sport Tie top and Skimpy Double Tie bottom.
The Sport Tie is adjustable and gives great support – nothing moves. Same with the Skimpy Double Tie bottom – the tie sides are double looped so that you can cinch them down tighter when doing a rough water activity or loosen them if you're just laying out. I body surf big shore break and do rigorous pool workouts in these suits and they stay put. They're also super cute.
Honestly, I can't remember a swimsuit malfunction since I've been wearing Pualani Hawaii suits – they're that good! I do recall a malfunction that was more of a mental malfunction than anything. I was having a picnic on the beach after surfing and I put my shirt on over my suit. My bikini top was wet, so I took it off under my shirt so I could warm up. Once I had warmed up, I wanted to take off my shirt and lay out in my bikini, but I had forgotten that I actually took my bikini top off. I took off my shirt and oops, I was topless for about 10 seconds until totally panicking and grabbing for cover!
Aline Adisaka, Standup Paddler, Surfer, Outrigger Canoe Paddler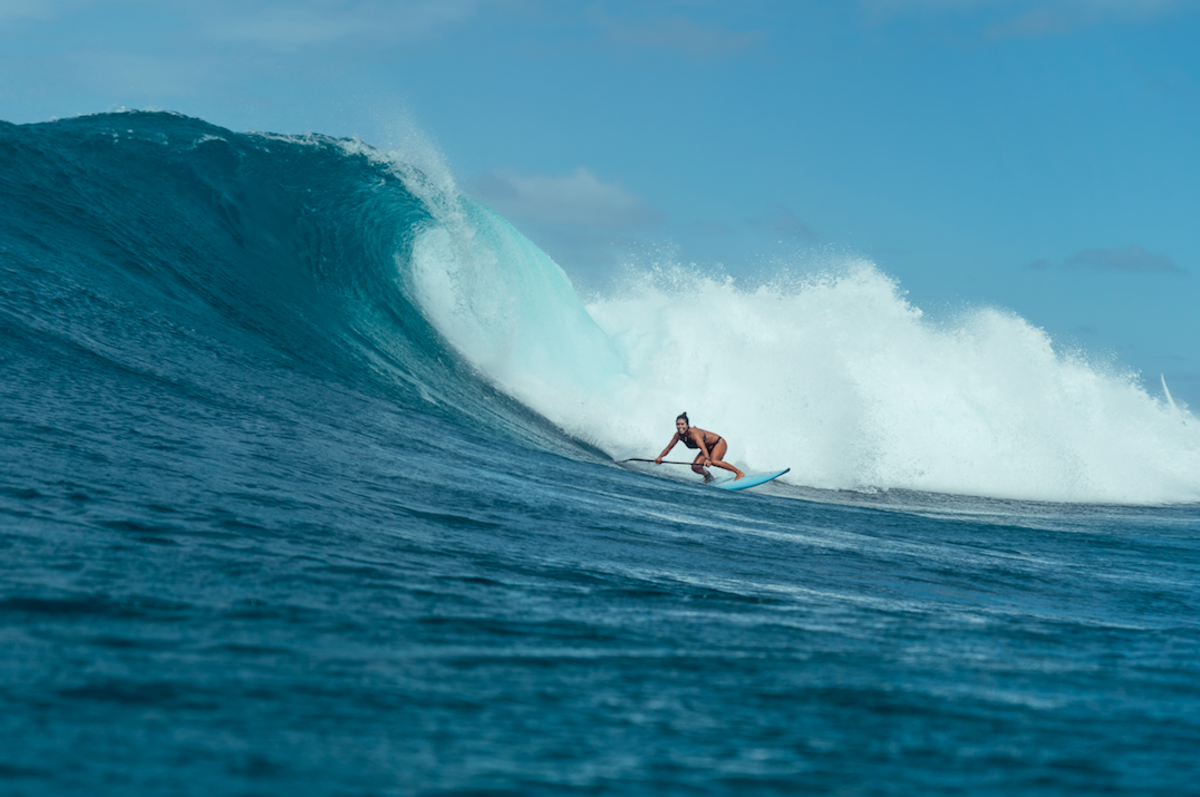 My favorite stay-put swimwear brands are Sicrupt, PoiPoi, and Decathlon. When the waves are big, I like to wear my one-piece from Sicrupt so there's no chance of it getting washed off. On sunny days, I like to wear my PoiPoi top and Decathlon bottoms – the top is like a cropped top and very safe, so I don't have to worry about anything falling out. The bottoms aren't too big, but are very comfortable.
One time I was wearing a loose bikini that wasn't very good for surfing. The bikini wasn't holding well and I got completely naked – I quickly put my top and bottoms back on.
The article was originally published on Standup Paddling
For access to exclusive gear videos, celebrity interviews, and more, subscribe on YouTube!