There's a certain breed of woman who lives for adventure—wanderlust junkies who camp on the beach, swim under waterfalls, leap into freezing alpine lakes, and hike for two days just to find some perfect little right peelers. And for this type of woman, not just any old swimsuit will do (hello, nip slip!). She needs a suit that's functional, comfortable, sleek and sexy—a suit that won't chafe under hiking pants and dries quicker than she can say, "What's next?" We scoured the market for the best outdoor-minded suits and landed on a few favorites. The criteria? Soft edges, second-skin fits, and quick-drying fabrics void of bulky ties, beading, or bunching fabrics that ride up in all the wrong places. Here are the suits that met their mark.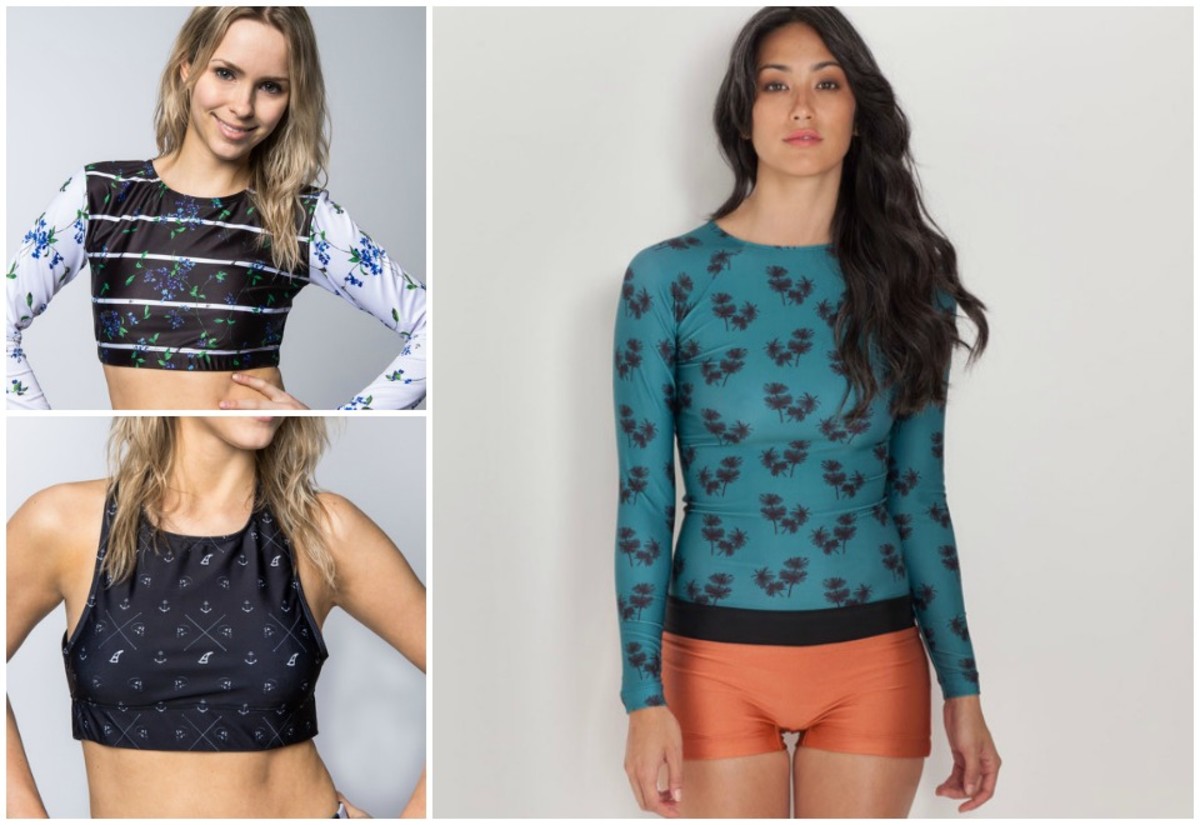 For the coastal explorer
Quick jaunts up the coast in search of surf require suits that can make the easy transition from the driver's seat to the waves to the post-slide tacos, and the Swami's Playsuit in Tea Leaf from Seea is about as stylish as they come. With a full-coverage top and low-rise contrast waistband, the romper-style suit is like the missing link between swimsuit and rashguard—throw an oversized sweater and flats on when you're dry and you're ready for margarita hour. We also love the Dancer Rashguard and Kahanu Top from Akela Surf for their ability to offer style and performance in the water and out—take a dunk, dry off, and slip on a pair of cut-off shorts and you're good to go.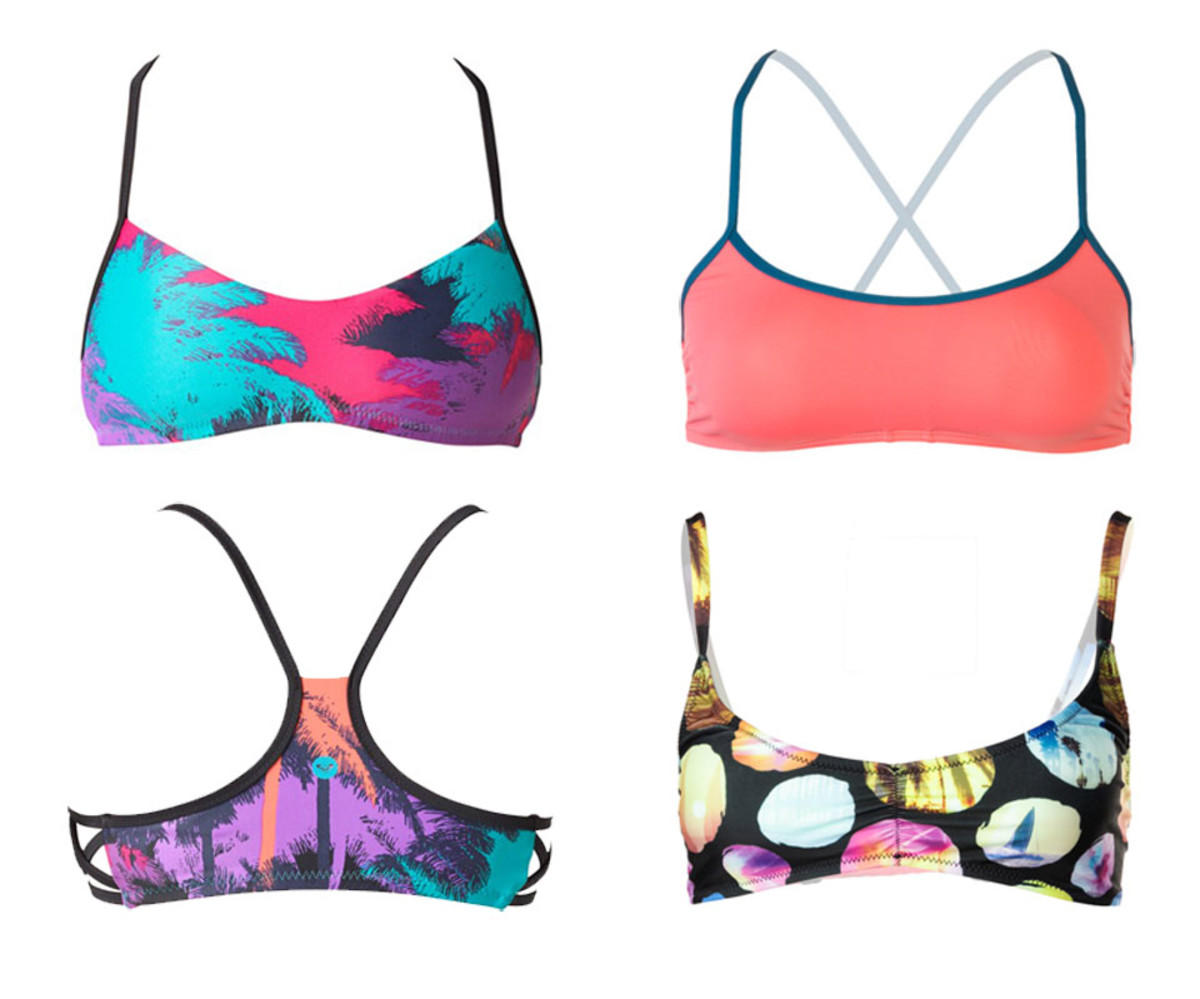 For the deep water solo-er
What's better than rock climbing in an exotic new place? Jumping off at the top of the route into the cool, blue water below. Deep water soloing is the ultimate rush, but it requires a bathing suit that stays firmly in place while you're scaling a technical face, and while swimming toward your boat in the water below. Look for hybrid swim tops that double as sports bras—Roxy Outdoor Fitness makes a few great options, but we love the tropical, chlorine-resistant colors of the Ready Steady bikini, which is made with a durable recycled nylon fabric that won't tear while brushing up against rough rock. It's also fully lined and equipped with a UPF rating of 50. Raisin's Cali Coast Starstruck top has a similar bra-style cut (we love the barely there stitching on the seams), while the L Space L Active Mantra Bikini top has thin crisscross straps that stretch when you need them to and stay put when you're hurdling toward the water.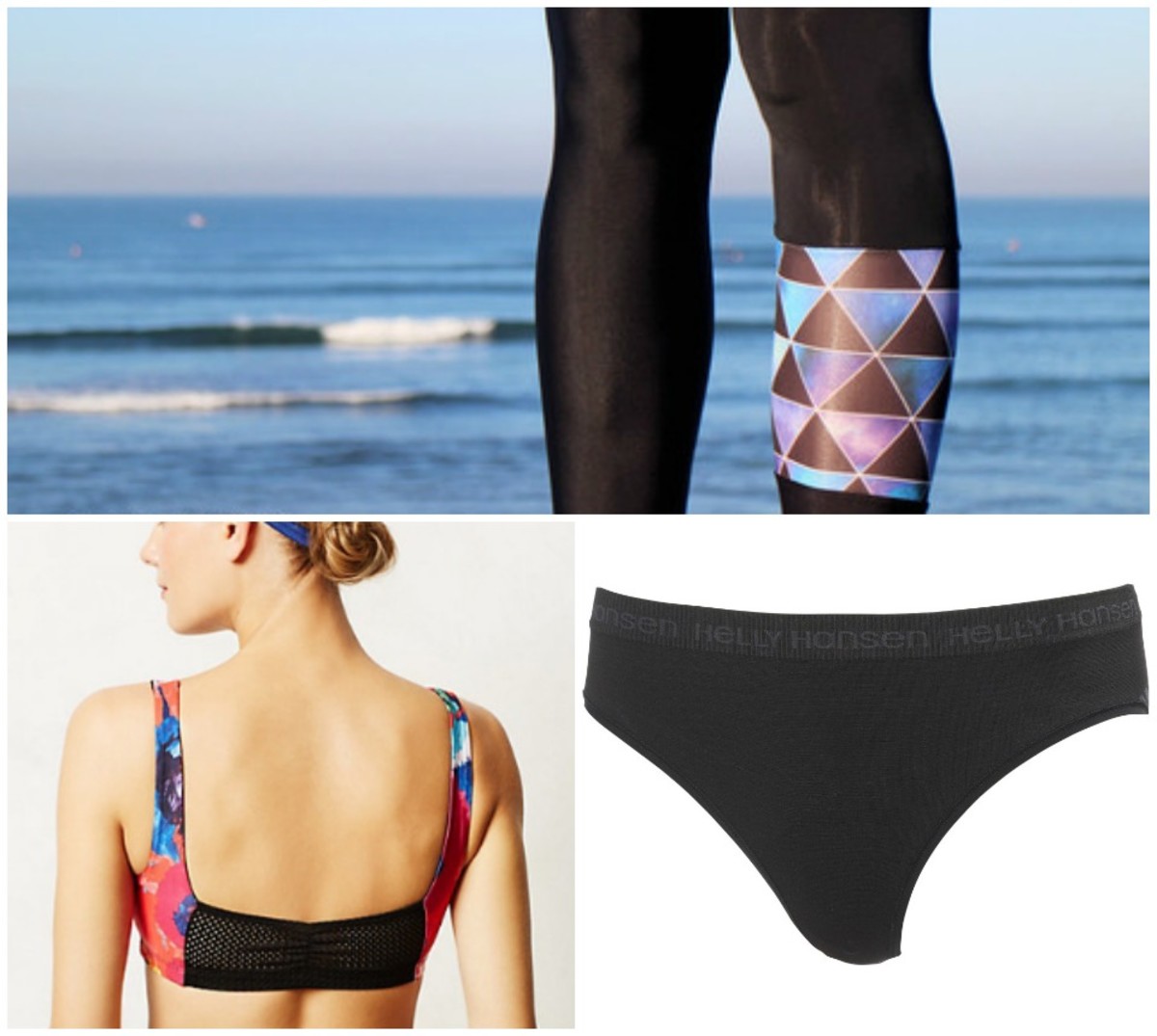 For the backcountry babe
A staple for every land-to-sea enthusiast is the surf legging—a quick drying pair of tights that protect stems from the sun—and there's no better option than the bespoke styles from the original purveyor of covered-up cool: Salt Gypsy. Developed by a designer who worked as a surfari chart boat guide in the Maldives, each pair is made-to-order from Nylon Lycra and includes a key pocket and drawstring waist so you can wear them up the mountain and then cool off in an alpine lake, all without getting changed. Try a bra-style yoga top from The Onzie under your hiking shirt—they're supportive enough that they won't sag when wet and they dry with lightening speed. We also love what we call "action undies," rapid-dry underwear that can double as swimwear in a pinch—Helly Hansen's Dry Revolution Brief Underwear uses stretchy, quick-drying, and breathable fabric and every pair is seamless so it won't look bulky under your leggings.
For the multihyphenate
From cliff jumping to kayaking to windsurfing—if you never know what a typical day outdoors will entail, opt for protective swimwear that functions like daywear: board shorts and a sun shirt. But fear not, because board shorts have come a long way from the baggy, masculine versions you had to rock in middle school—think sophisticated colors, streamlined seams, and feminine cuts. We love the coral color and four-way stretch of Oakley Surfer's Paradise board short, while the Carve Designs Noosa board short sits low on the hips with a longer inseam for added protection. Top both with Carve Designs Cruz rashguard or Athleta's Gardenia Grove sun shirt in chic black and white stripes and a breathable, stretchy UPF 50 Lycra.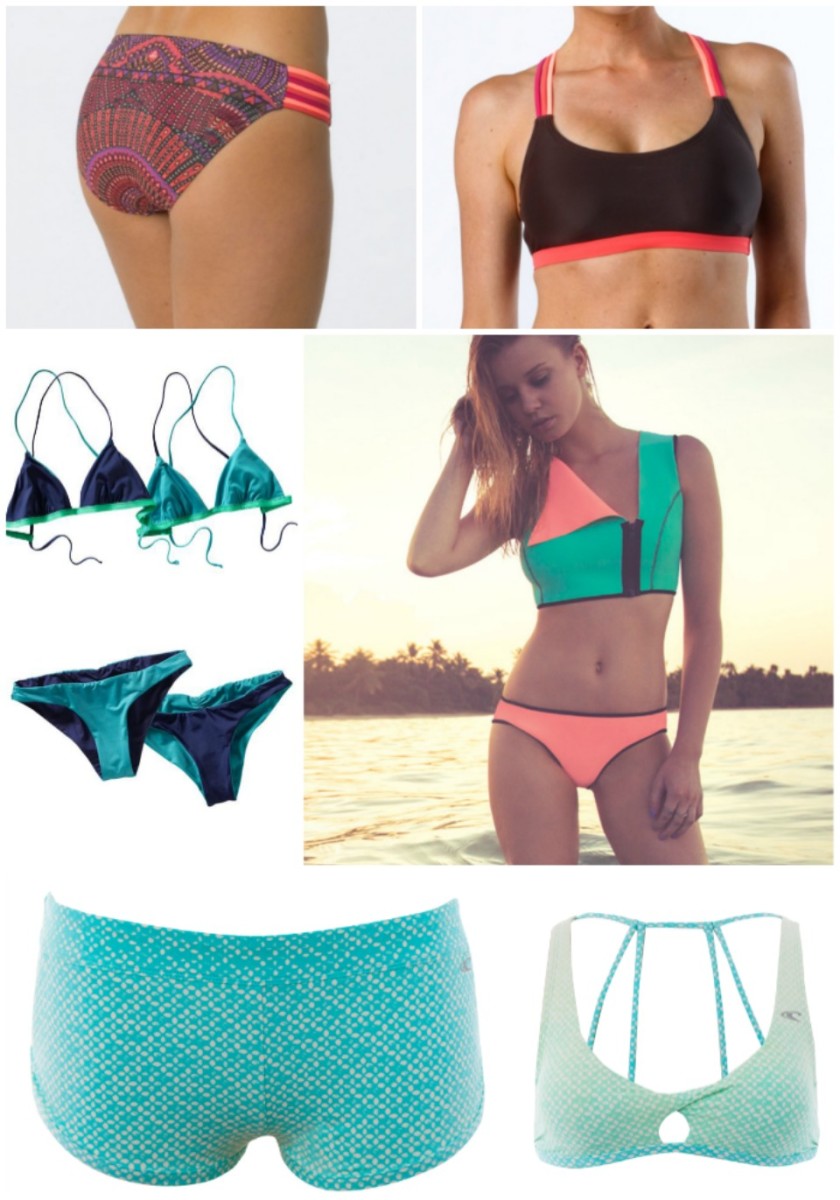 For the water warrior
If you rough it a little closer to the water, look for a swimsuit cut from soft, durable materials that dry quickly between back-to-back salt sessions. O'Neill 365's Avalon Bra Top and Hot Shorts will take you from beach run to surf session with a smooth-as-silk compression fabric adorned by a subtle sea-hued engineered print. For added coverage and a little extra warmth, try Body Glove's reversible Neo What Perfecto top, which has a fold-over neckline and smooth, chafe-proof feel thanks to sleek neoprene material. Prana offers all-day support with it's Zira top, made with a four-way stretch fabric that expands and contracts (ideal for beach volleyball or scuba diving sessions).
But the true winner for the water warrior is Patagonia's Reversible Tuhuata Top and Telu bottoms, reversible bikini pieces designed for the brand's surf ambassadors and made with buttery-soft fabric and cross-back ties that cinch down for a secure fit. "The most successful designs are the ones you wear and test yourself," says Claire Chouinard, daughter of famed Patagonia founder Yvon and a women's lifestyle designer for the brand. "I have really been analyzing and designing swimwear since I was in junior high and got tricked into entering a tandem surfing competition. There is no better test for a bathing suit than the 'helicopter' on a 12- to 15-foot day on the outer reef of Makaha."
Similar stories on GrindTV
Car camping extras worth the splurge
5 cool yoga mats we really, really like
For access to exclusive gear videos, celebrity interviews, and more, subscribe on YouTube!