Late July, Jackson, Wyoming. The forecast for next 24 hours looked perfect. A high pressure system was rolling in, leaving almost no chance for foul weather – pretty rare for this time of year. The mountain gods were begging for an adventure. After a beer at the Cowboy Bar we went to bed early, hoping to get a few hours sleep before an early start.
The Grand Teton is an iconic peak in northwest Wyoming, just north of the town of Jackson. At 13,770' high, heavy rain, hail, and even snow can happen any time of the year. Temperatures change quickly and winds are often stiff. All of the routes to the summit include some amount of alpine climbing, ranging from 5.4 to 5.12. The Grand is a bucket list for most mountaineers and accordingly draws people from all over the world.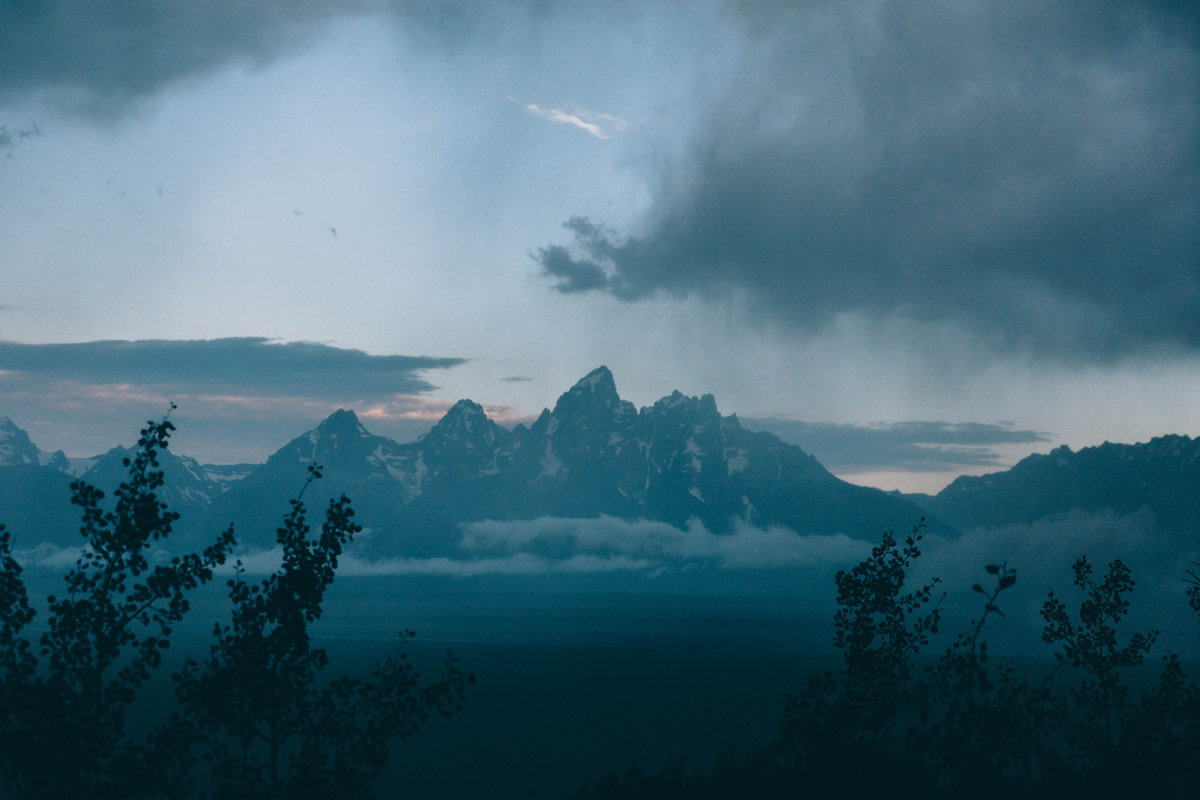 Chris and I have known each other for a handful of years, but hadn't climbed together before. We're both relatively fit and experienced, so I felt comfortable heading into the alpine and hopping on a rope together. We woke an hour before dawn and drove from Jackson north to the Lupine Meadow Trailhead, sipping coffee and trading stories of early starts. Our goal was to climb the Grand "car-to-car" in a single day, traveling 16 miles round trip from the trailhead to the summit and back. To do so, we needed the right gear.
Our game plan was to keep it light and fast. We would slow jog our way up the switchbacks to reach the Meadows, speed hike up to the lower saddle, and simul climb the Upper Exum route to the summit. Over 7,000 of vertical gain, all before noon. After a lunch break at the top we would then do it in reverse, aiming to get back to Jackson by dinnertime.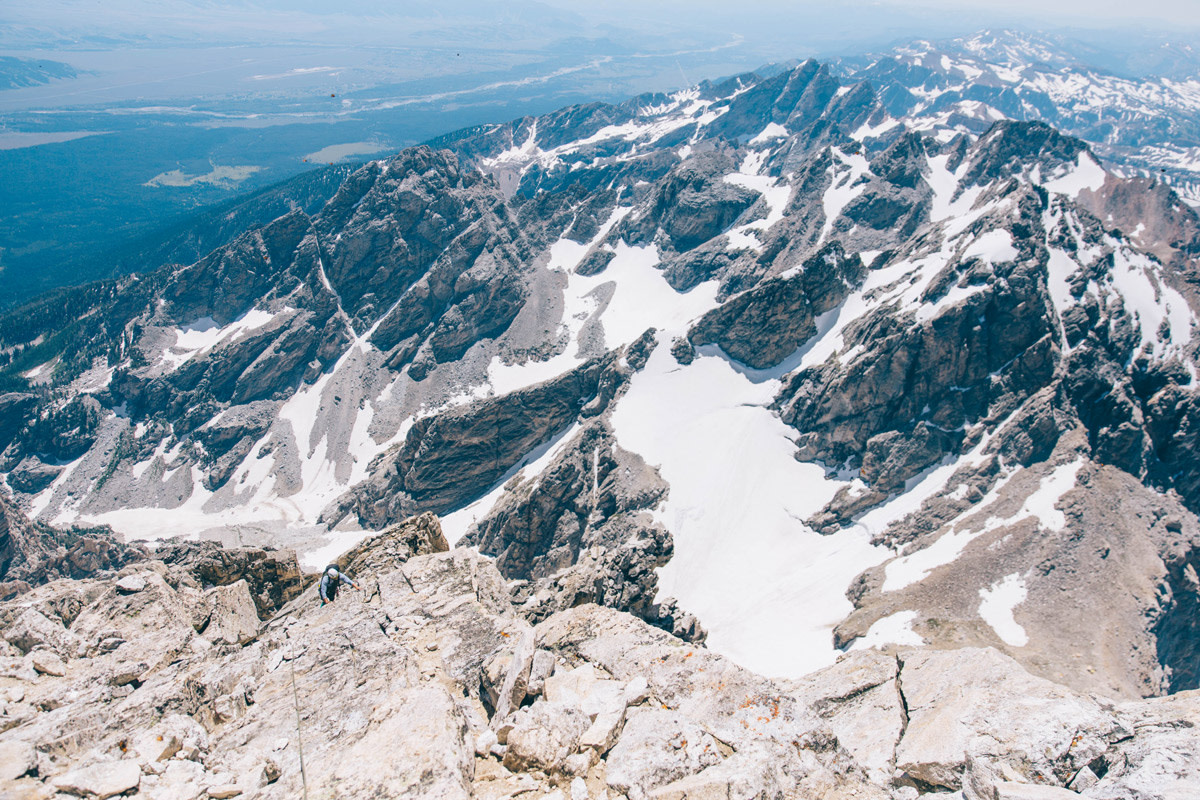 With a priority on freedom of movement and lightweight apparel, we opted for Mountain Hardwear's new Ozonic stretch jacket and award-winning AP pants. Both are flexible and comfortable, while being warm and durable enough high on the mountain. The Ozonic functions great as a raincoat or windbreaker – I barely noticed it while climbing.
The up-and-coming St. Louis brand is quickly making a name for itself with some of the best rock shoes on the market. After some debate, Chris and I decided to bring two pairs of shoes – running and climbing – and switch from one to the other when we got the actual climbing section. This allowed us to run faster uphill, feel more secure on the rock, and stay comfortable on the way down.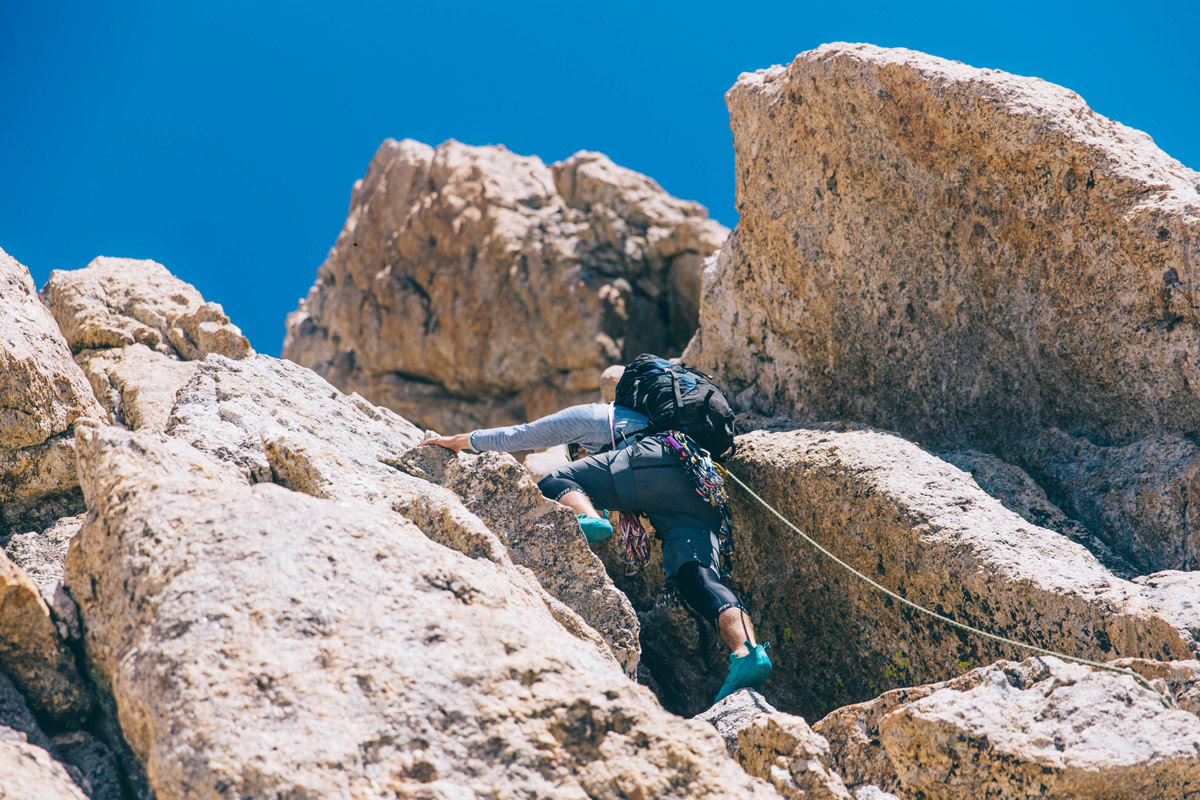 Designed in the mountains near Chamonix, HOKA Speedgoats are surprisingly lightweight for shoe that's designed primarily for downhill support and protection. With some of the best technology on the market, many distance runners have found that HOKA trail shoes help reduce soreness after long days – and I can personally attest to their performance.
Everyone has their favorite snack and mine is the Stroopwaffle. Tasty and loaded with energy, I've learned to take them everywhere, including big mountain days like the Grand. I ate a half dozen during our summit day, including a few peanut-butter-and-Stroopwaffle sandwiches.
Recently updated for Summer 2018, the Mutant is a top-of-the-line pack that balances weight with performance perfectly. The pack fits snuggly to your back, while offering enough space for a rope, rack, water, and a spare warm layer. It's everything you need, without being excessive. It's intuitively designed to carry a rope, helmet, tools, and fit around a harness well.
We opted to bring a longer 70M rope so that we wouldn't have to break the rappels down into two sections. While this length took a little more management on the climb up, an 9.0 was still light enough, and paired with some of the best ultralight protection on the market, was a great balance of safety with speed climbing.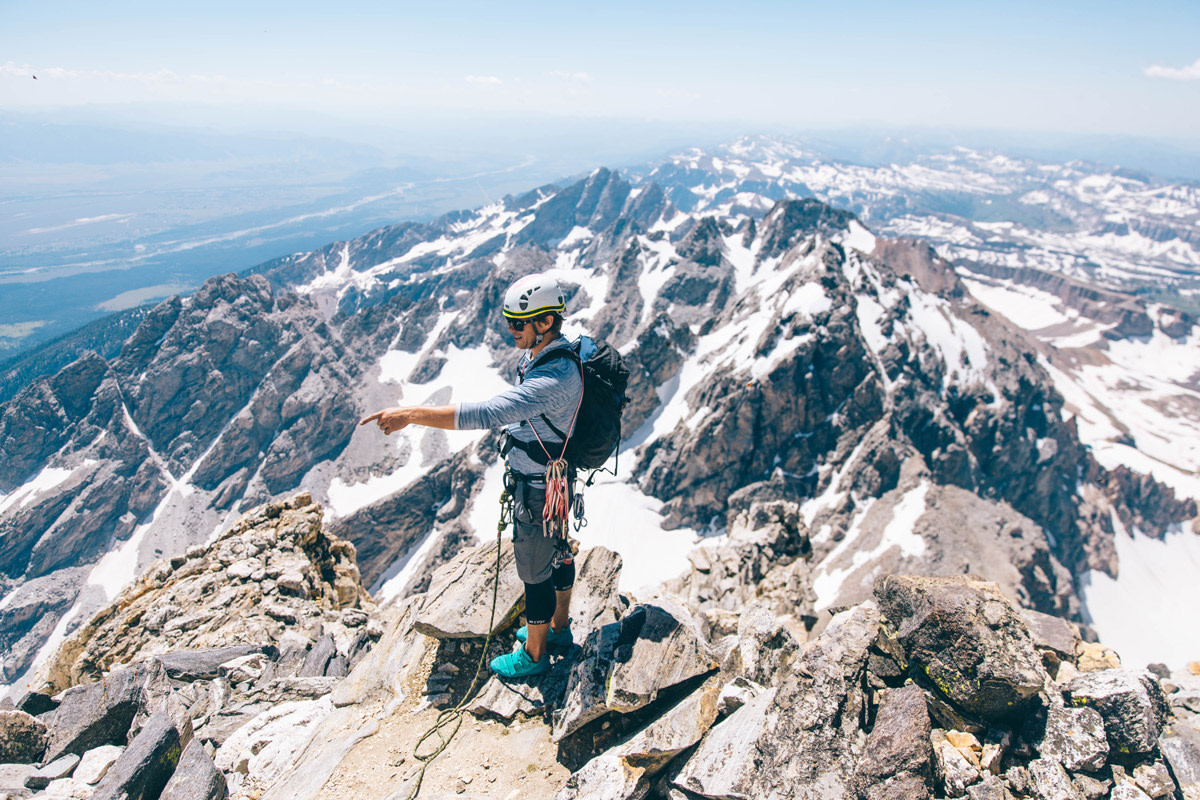 The Vapor is, as far as I'm concerned, the best climbing helmet on the market. It's incredibly lightweight, breathable, and comfortable, without sacrificing safety. It's great for trad, alpine, and long backcountry ski days. The Vision is similar – lightweight and precise, sans thrills, with everything you need. It's the lightest fully functional harness I've ever used.
All photos by Andy Cochrane.
For access to exclusive gear videos, celebrity interviews, and more, subscribe on YouTube!