The New York Mets' Yoenis Cespedes has just shown off a spring training ride to match his outgoing persona: a three-wheel Polaris Slingshot enhanced by a local customizer in Florida. Think of it as a left-field choice for a car for the gregarious left-fielder who just signed an epic, three-year contract. Cespedes, 30, who posted a photo of his personalized Slingshot on Twitter, surprised the media when he arrived at training camp in the doorless three-wheeler this morning.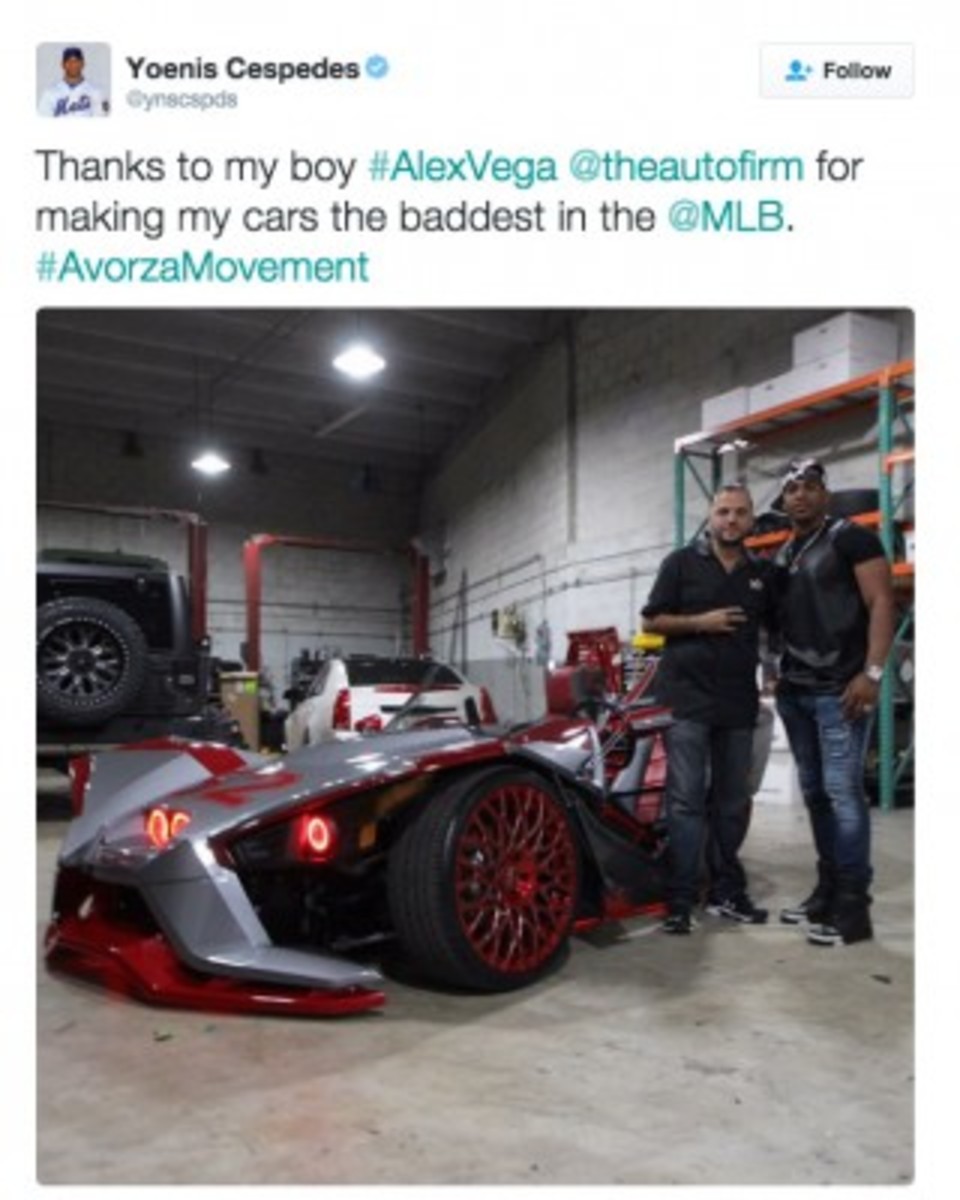 In case you haven't heard of it before, the Slingshot is essentially one seriously fast three-wheeler. In Florida, it requires that Cespedes possess a motorcycle license to ride it, as the Slingshot is based on the same, open-frame concept of a motorcycle — but it doesn't really play with motorcycles.
The tripod-like Slingshot, which has no doors, three wheels, a 5-speed manual transmission, and a General Motors-developed 2.4-liter four-cylinder engine — which once found a home in mainstream products like the Pontiac G6 and Chevrolet Malibu — is more like the Campagna T-Rex and the Can-Am Spyder Roadster. The Slingshot makes under 200 hp, but a curb weight of under a ton keeps it lithe and agile. You buy a Slingshot knowing that few have seen one, and even fewer have driven one. And with a base price of about 20 grand, the Slingshot is not out of reach of most motorcycle enthusiasts, let alone athletes with eight-figure contracts.
Cespedes, a.k.a. La Potencia, customized his Slingshot with his number on the hood, just to ensure his won't be lost among the other players' in the parking lot. Just look at the bright red wheels for proof. The gunmetal silver-and-red color scheme doesn't match his blue, white, and orange Mets uniform, but that's OK: being understated is the name of the game.
For access to exclusive gear videos, celebrity interviews, and more, subscribe on YouTube!