What It Is:
The Cake Kalk INK SL is an electric motorcycle meant to blur the lines between on- and off-road application. Actually, it's meant to blur a lot of lines. At 187 pounds, it's exceptionally lightweight for its power output. Consider that a dual-sport bike like Honda's capable, and relatively light (for gas) CRF250L weighs 321 pounds.
This is not an apples-to-apples comparison, however. The Honda costs $5,200. The Cake is almost exactly double that price, at $10,500. But to stop there would miss the bigger mission.
A street-legal electric motorcycle that's this svelte opens up a lot of possibilities. There's no clutch to learn, because there's only one speed. Twist the "throttle" and adjust your speed. That, and the brakes (one hand-brake on the right handlebar and a foot brake) are all you need to master. Also: It's way easier to load this EV moto into the back of a pickup, again, because it's not that burly. And because it'll never leak oil or fuel or offgas, you could just as easily carry it inside a minivan, too, no sweat. No fuel means no exhaust—and very little noise, too. (Most off-road motorcycles are loud or VERY loud.) That's less offensive to people around you—and perhaps, if you were reticent to ride before, to you, too.
A dirt bike that doesn't offend other outdoor users is a revelation, and simply kinder to everyone. Even to your own ears.
We knew all this going in. But to experience it is another thing.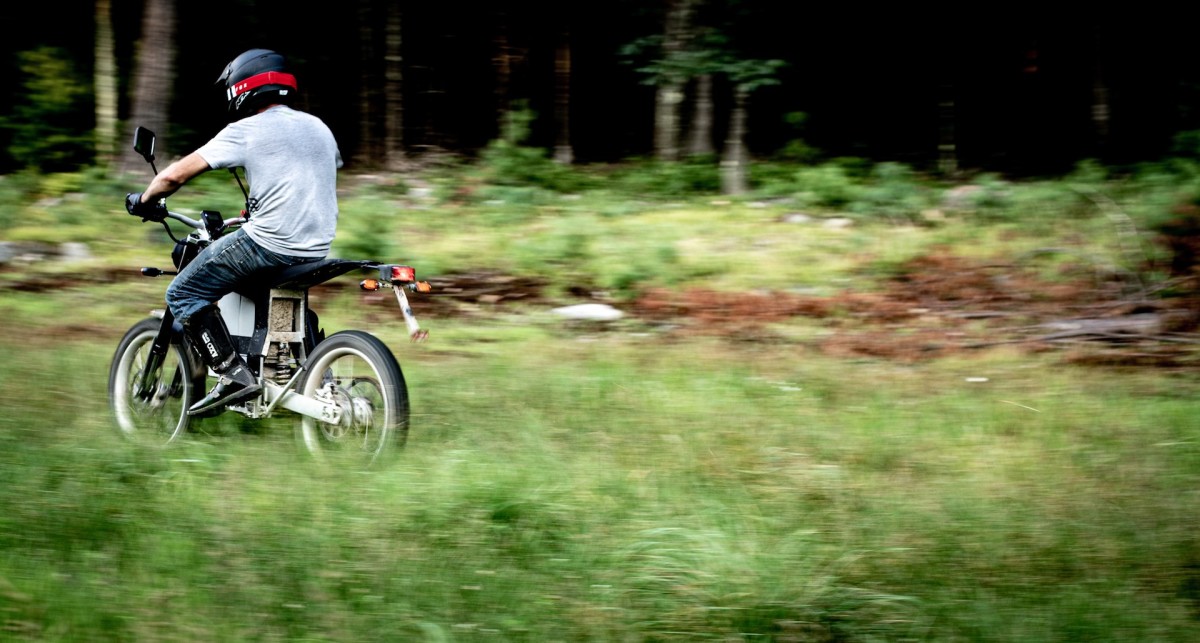 Why We Like It:
If you've ridden a downhill mountain bike, you'll immediately recognize some of the dynamics of the INK SL, which we tested on pavement, as well as a rocky, rooted, technical, private singletrack loop in the Catskills.
The bike has about eight inches of suspension travel, which is less than the 10 inches on the Honda, but not so low that taller riders felt like it was unwieldy, and shorter riders definitely appreciated the 35.8-inch seat height (unladen), which is relatively low for the MX/ADV category. Because there's no clutch to toggle, the foot pegs can sit farther back, giving your riding posture a boost when you stand, because you're in a more athletic position. All of this is aided by a relatively short wheelbase, too.
So the INK SL is light, it's quick and easy to muscle around, and did we mention its throttle is instantaneous? The 42Nm output is there, NOW, at initial twist, and—trust us—that's more than enough to burn rubber and claw up the steepest trails. (That Honda puts out 22.6Nm, if you want a baseline to compare the Cake to.)
One niggle is that the stock tires lack real bite, the better to roll quiet and offer more road grip (Cake says you can order a set with more aggressive tread). And on the street, this rubber is quiet, and let us focus on the actual driveline noise. Yes, it does make a sound, caused by the chain rollers rotating around the 72-tooth massive rear sprocket. There's a hint of whir to the electric motor, too. It sounds like there's a relatively friendly pack of hornets on your tail. Still, we're talking about a decibel level closer to a freewheeling mountain bike cassette, and nothing even remotely close to the racket of an ordinary four-stroke. Stop, and of course there's no engine idle at all. That's glorious. So is not having an exhaust pipe that can burn you, or an engine that is cooking your knees while riding in the heat of summer.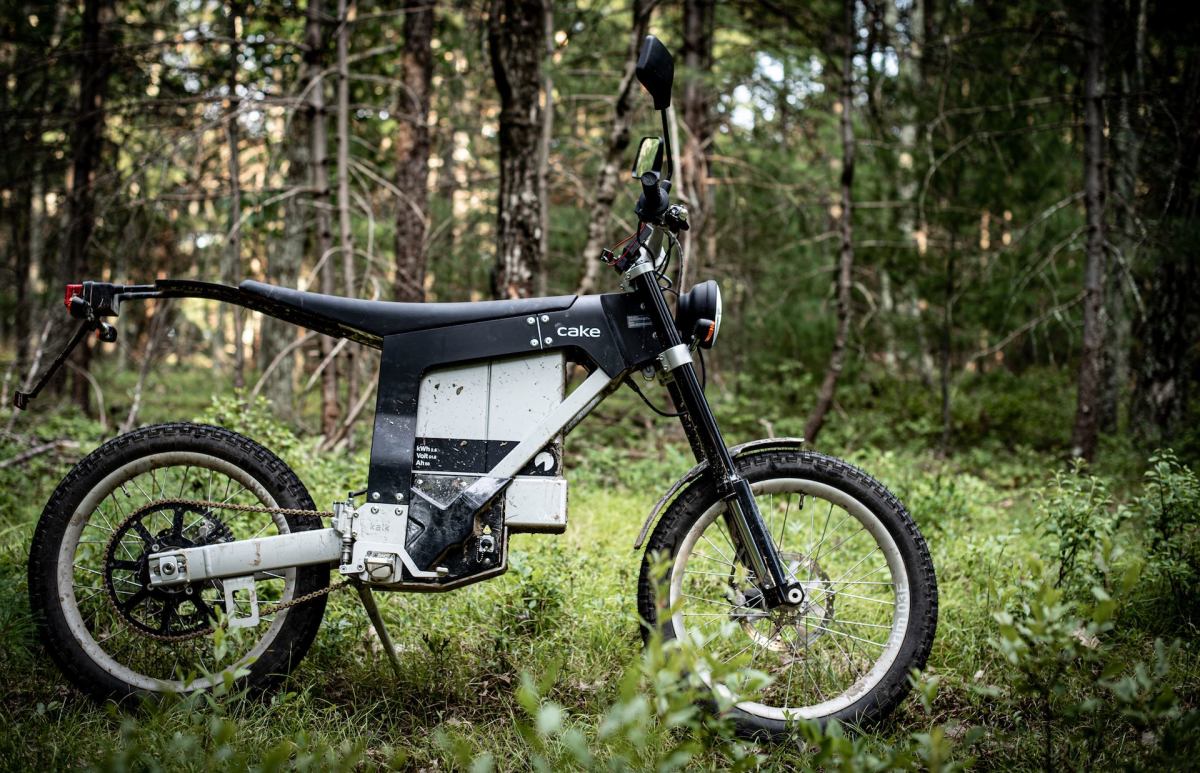 Nitpick:
Sure, we could dig on the price here, or the relatively limited 53 miles of range. This isn't a Tesla; you'll need a dryer (220-volt) plug to fully recharge in 90 minutes. Charging from a 110-volt wall plug takes three hours.
Any gas bike can be refueled on the fly just about anywhere.
Still, Cake, like other e-moto brands, is working on longer term battery plans with solar companies, so you'd set up panels and a spare battery to hot swap during your road trip adventure—leave a battery charging at camp and just be rotating the set. Then again…currently swapping batteries isn't so quick on the INK SL. It requires turning screws and removing the saddle to get at the battery. It should be like popping a cell from your DSLR. Remove; insert new unit. Ride more.
Also, while the brakes on the INK SL are fantastic and super easy to modulate, somehow Cake engineers haven't thought through an absolutely obvious function.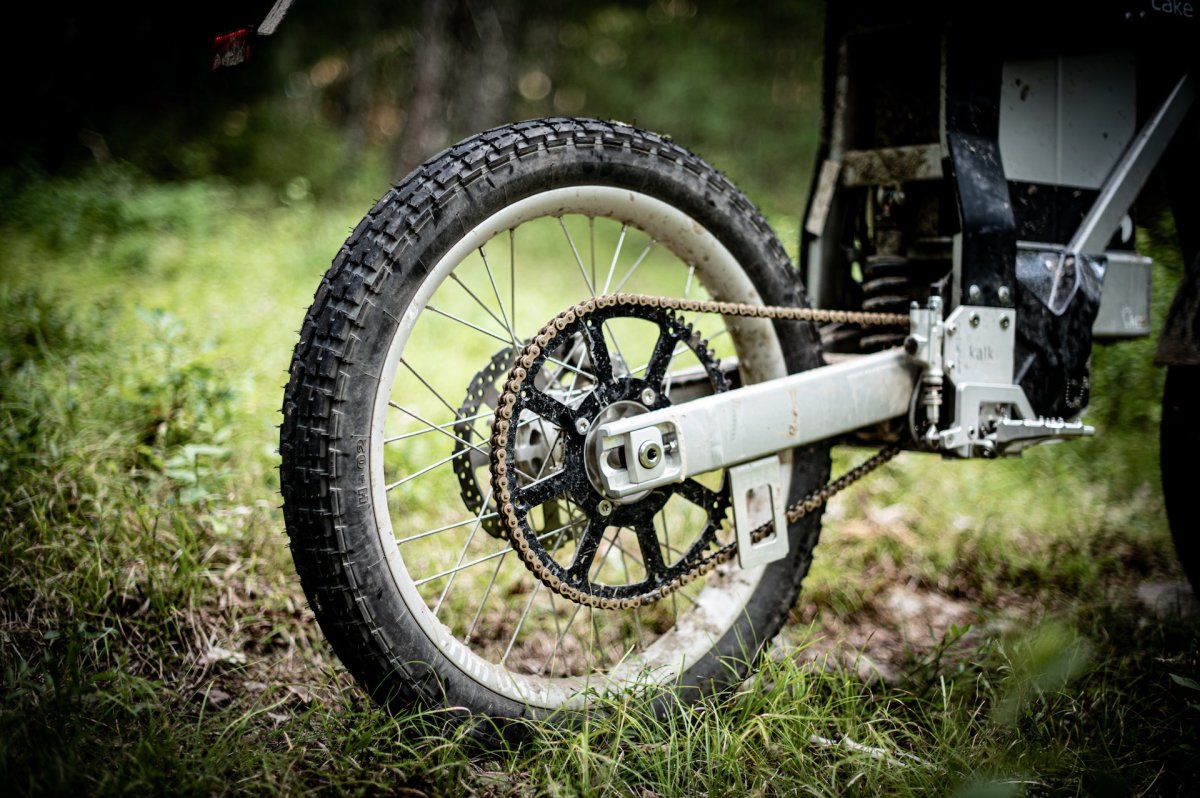 The bike has regenerative braking to juice the batteries if you hit a long downhill. But you can't easily adjust this on the fly, since it requires several steps to achieve, using the bike's menu system, and taking your hand off the bar to do so. And that's doubly bad for riding dirt, where a simple inclinometer could be preset to kick in down a certain degree of grade. This would emulate four-stroke motos, which benefit from engine braking, so you have more control on the steeps.
Cake's PR does say such hacks are possible, and that these are still early days for the brand. Software adjustments, rider presets, lower (or higher) top speeds, etc., are all merely a matter of software. And, if you want to use that Tesla analogy, think about where they were a few years ago and how so many people who never owned (or would want to own) an EV before are now buying the Model 3. Cake folks feel like electric motorcycles are already taking off because people want a fun, clean, fast solution.
And having experienced it, we think they're absolutely, totally, completely right.
Now about that price….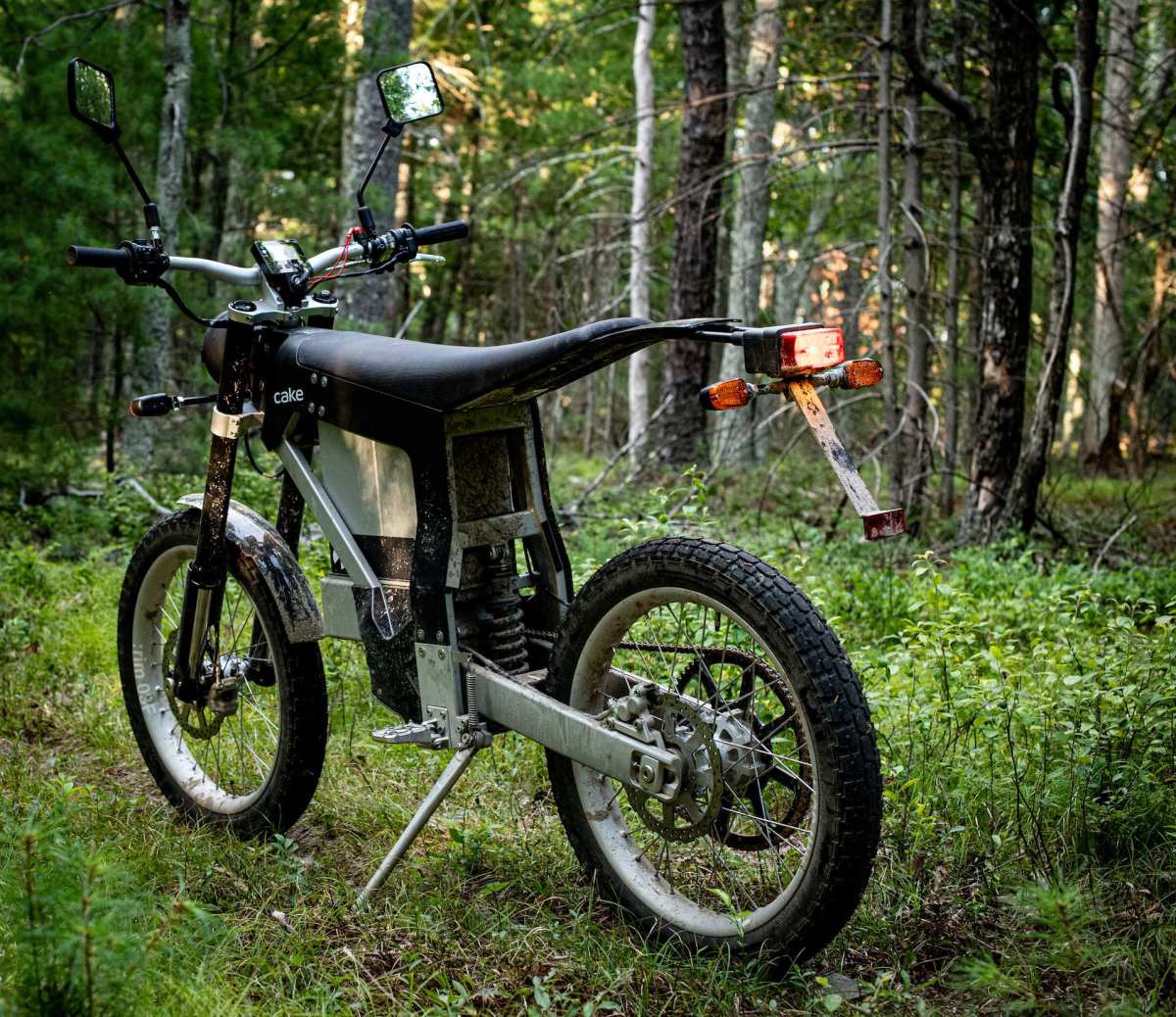 For access to exclusive gear videos, celebrity interviews, and more, subscribe on YouTube!