Last week, Arc'teryx unveiled its first avalanche airbag pack called the Voltair. It uses a lithium-polymer-battery-powered centrifugal blower to inflate its 150-liter balloon. Pull the handle, and the custom-engineered blower quickly pumps the pack's balloon in five seconds. The blower continues to pulse until you turn the battery off and manually deflate the balloon, via an oversized straw inserted into a deflation port. The fully charged battery can inflate the balloon up to eight times.
Last year, Black Diamond released its Jetforce, the first fan-powered avalanche airbag pack. It solved some of the biggest issues with compressed air and compressed gas canister airbag packs, but was recalled at the end of last season after faulty firmware caused field failures. What sets the Voltair apart from the Jetforce and canister airbag packs is its simplicity. It's quick and easy to put on and take off — the waist belt strap is a simple quick release, not the metal buckle that all other airbag packs use. Instead of attaching the pack's leg loop to its waistbelt, Arc'teryx clips it directly to the pack. To armor the Voltair, you have to open the side zipper and turn the bright red, oversized switch to "On." A green light on the battery and another on the side of the pack indicate that the pack is in go mode.
Arc'teryx engineers claim that even if the firmware on this pack is compromised, it will still inflate when you pull the handle. The pack has few moving parts, which should help prevent failures from freezing or pieces getting jammed with snow. And its lithium-polymer battery means it will hold up in cold temperatures. The battery is easily detachable, so if you won't be able to recharge, you could bring a second one along. The Voltair's airbag mechanisms are tucked away, making the pack's full volume usable space — in other airbag packs, much of the pack volume is consumed by balloon and canister or a motor, fan, and battery. Long molded zippers on the main compartment make it easy to access, even when your gloves, hat, or water bottle are jammed in the bottom. And, the pack has an SD-card "black box" that records basic information every time you pull the handle, including environmental conditions, and details on how the pack's motor, battery, and other parts work. When you send your pack back to Arc'teryx after 50 inflations, they'll ask your permission to download this info.
RELATED: Rugged Boots Made for Winter
We spent a few days testing it in the British Columbia backcountry. Even in snowfall that locals were calling "coastal concrete," the pack's lightweight water-resistant fabric didn't get saturated and heavy. And in practice runs, we found it intuitive and easy to inflate, even from a locked position. Grab the ergonomic handle, and with the natural twist of your wrist, it will turn 20 degrees, changing if from locked to open, and it's ready to deploy. Added plus: Its sleek design makes it also comfortable to carry.
Available fall 2016 in 20L (7.1 lbs.) and 30L (7.6 lbs). [$1,650-$1,700; arcteryx.com]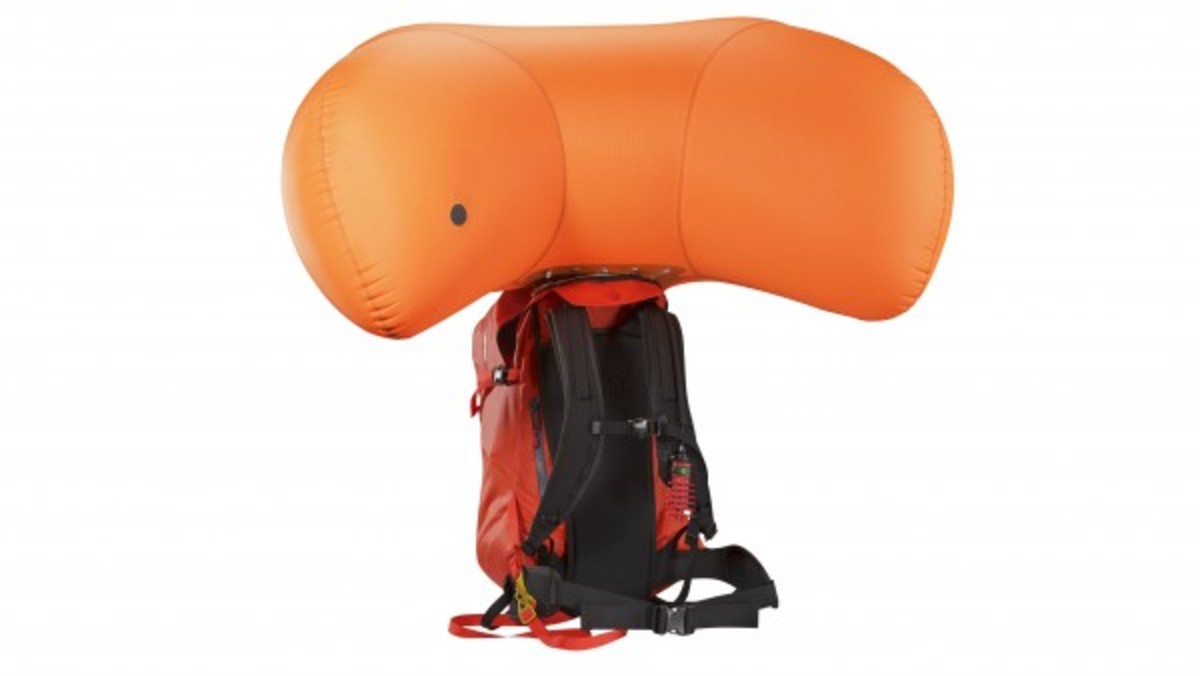 For access to exclusive gear videos, celebrity interviews, and more, subscribe on YouTube!