Gear
Therabody Rolls Out Fleet of New Recovery Tools
Pain is part of the human experience. The play hard, train hard mentality isn't always kind to our muscles and joints, neither is our largely sedentary work life. What's a guy to do—live with a cranky knee or crippling lumbar pain after every lifting session? No thanks. While we've grown to accept pain, we don't necessarily have to. You can take a tactical approach to recovery, rehab, and pain relief to treat acute and chronic aches with the help of technology. Therabody just unveiled not one, not two, but five new recovery tools to its lineup of gadgets.
Designers and scientists looked at peoples' different need states—pain, sleep, performance, and stress—to see where they could innovate. Welcome to the new age of recovery.
1. Therabody SmartGoggles
Give your eyeballs sweet, sweet relief from boring holes into screens all day with this smart eye mask. Therabody's created three preset programs: SmartRelax, Focus, and Sleep. A combination of therapeutic modalities including heat, vibration, and massage help you press pause on life, shunting stress and anxiety, relieving eye strain and tension headaches, slackening facial tension, and more. The SmartRelax setting uses biometric intelligence to sense your heart's BPM (beats per minute), then applies tactile stimulation that's lower than your own to do just that: lower your heart rate. Our nervous system drives us. It's where we carry a lot of stress, but scientists have found specific frequencies and sound can influence it, making you more present, focused, and even primed for a workout. It's a clever external way to create internal synchronicity. Through Therabody's app, you can pair the SmartGoggles with TheraMind's audio content to enhance the experience, whether you need a midday mental refresh or a nighttime wind-down. Bonus: SmartGoggles fold up so you can tote them along when traveling—or, y'know trying to get through your daily train commute.
[$199; therabody.com]
Get it
Courtesy Image
2. Theragun PRO Gen 5
We're eons away from Theragun's elemental massage gun that jack-hammered its way into our hearts (and fascia) years ago. Over 1,200 hours of testing and two years of product development went into finessing the brushless motor in the PRO Gen 5. It features QuietForce Technology, which preserves the power, frequency, and force but is 20 percent quieter. An on-device OLED screen now shows four built-in routines with visual guides: Sleep, Warm Up, Recovery, and Theragun Break. You can also connect to the Therabody app via Bluetooth for more personalized routines.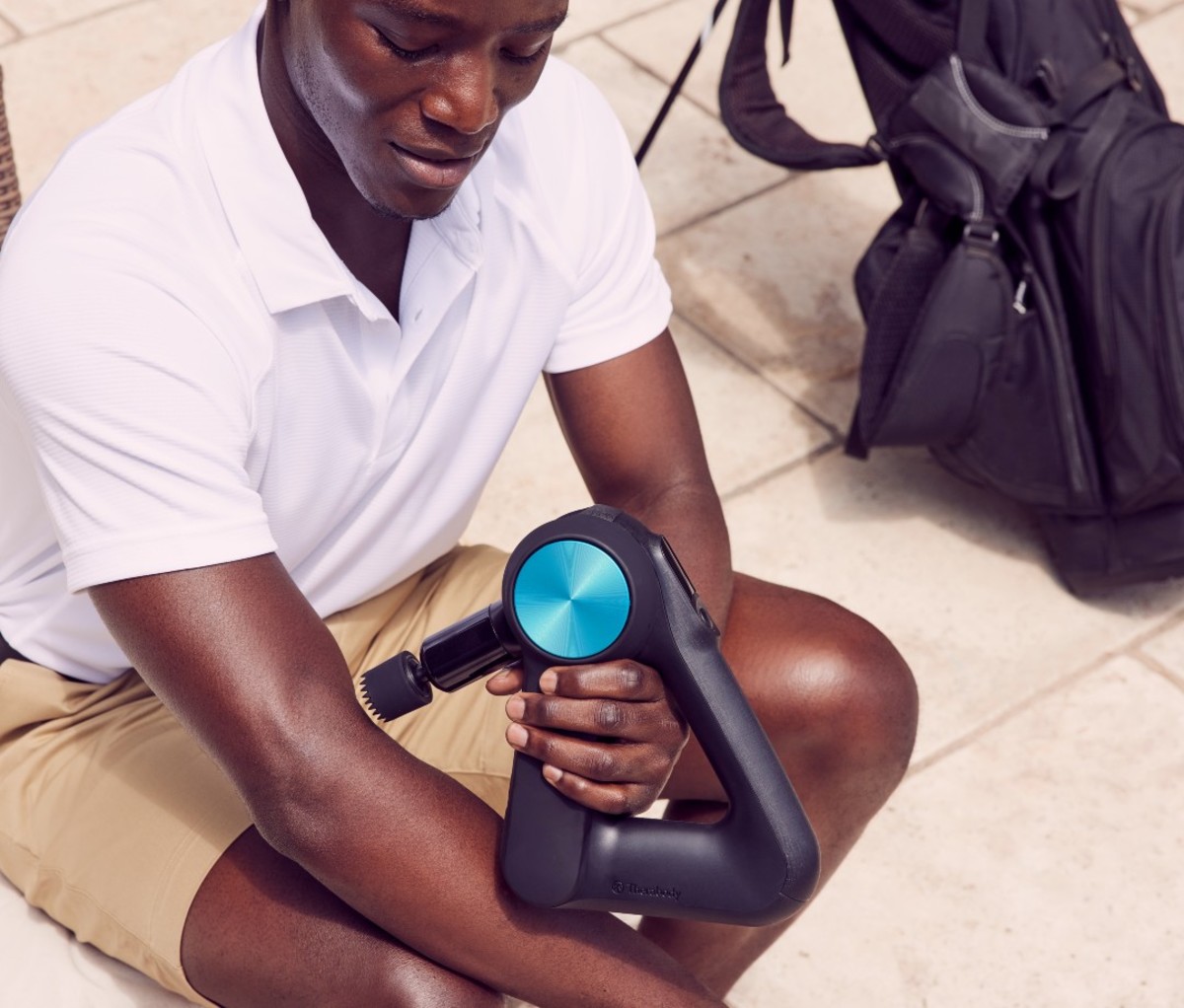 While the signature triangular design hasn't changed, the Gen 5 uses 85 percent less plastic than predecessors for a lighter environmental impact and boasts fast USB-C charging (no fumbling with a stand or digging around to find the device-specific charger). To further improve recovery, performance, sleep, mobility, and stress relief, six attachments come included: Standard Ball, Dampener, Thumb, Wedge, SuperSoft, and Micropoint (a new attachment with flexible silicone spikes that increase stimulation while gently relieving tension in sensitive areas).
Stay tuned for the Theragun Mini ($199) update. The amplitude remains the same, but that motor innovation from the Gen 5 allowed the Mini to get even smaller. Enjoy Bluetooth connectivity and ease of use with a USB-C charger.
[$599; therabody.com]
Get it
Courtesy Image
3. TheraCup
We're big fans of cupping for recovery. The suction causes tiny blood vessels to expand and break under the skin, per the Cleveland Clinic. The microtrauma spurs your body to send more blood to the area to begin the natural healing process. It also helps with recovery by releasing scar tissue and fascial adhesions, boosting circulation, and promoting better mobility. Now, the problem with offering sports medicine to the masses is it needs to be true to the science but safe, efficacious, and consistent for people to do on their own. Pressure can vary cup to cup and treatment to treatment. The masterminds at Therabody had to figure out a way to control pressure and maintain that Goldilocks level of suction. The digitized cups boast ThermaVibration™ Technology that increase circulation by adding vibration and heat. There are three different levels of heat and suction decompression (30 kpa, 40 kpa, 50 kpa) you can control at the top of each TheraCup, as well as three interchangeable cup sizes (35mm, 45mm, and 55mm). As a failsafe, TheraCup will automatically shut off after 3 minutes of continual usage as well as if the internal pressure exceeds 60 kpa. The lip of the cup is also smooth and rounded for less irritation at point of contact. Localized relief with a professional-grade treatment you can do at home? Say no more.
[$129; therabody.com]
Get it
Courtesy Image
4. RecoveryTherm Hot and Cold Vibration Knee
The issue with traditional heating pads, aside from the fact they slide around, is they mainly heat your skin. That doesn't help alleviate deep pain. To get to the root cause of discomfort, RecoveryTherm uses a material called germanium that reflects infrared light to naturally boost blood circulation and generate heat within your muscle tissue. The knee sleeve also houses the brand's signature Cryothermal Technology™ to put your skin in direct contact with thermal alloy for fast cooling, heating, and effective contrast therapy. You get heat, ice, cryotherapy (combo), and vibration to alleviate arthritis and knee pain from acute or chronic injury. It maintains a precise temperature for more effective results—no melting ice bag taped to your leg or heating pad keeping you tethered to the couch—no matter where you are on your rehab journey.
[$399; therabody.com]
Get it
Courtesy Image
5. Therabody Lounger
This is no ordinary lounge chair. Vibroacoustic technology increases the range of frequencies that can be felt. To take advantage of that, Therabody embedded the Lounger with TheraSound™ Technology and SoundHeart™ hardware that basically provides a deep-tissue, low-frequency sound massage. Vibrations pulse through your body synched to the audio content so you can feel sound. Audio tracks are available on the app to promote deep focus, stress relief, and/or sleep. The angle of the chair can be adjusted, including a zero-gravity position. Overall, this is proven to improve sleep latency (how quickly you fall asleep), limit sleep disturbances, and overall deliver better sleep scores. That's if you can make it out of the chair before you conk out…