What It Is: Yeti's SB100 is a shorter travel bike for trail and enduro riders, and a cross-country, switch infinity suspension replacement for Yeti's ASR. If you're planning to compete in a marathon trail or an epic ride, this just might be the bike for you. Some cross-country bikes can sacrifice fun on the downhill for speed on the uphill. But on the Yeti SB100, you don't have to compromise. It's low slung with loads of progressive geometry and the handling to help you go faster and have more fun trail riding anywhere. And it climbs like a mountain goat. We rode this bike for four days on loose, dry, and sometimes sandy dirt, up steep and punchy climbs, through hairpin switchbacks, and back down the same.
Why We Like It: Yeti built the SB100 to be the most capable 100mm bike on the market, and to ride like other Yetis—able to handle technical and challenging trail on the downhill. But this 29er climbs better than any other Yeti we've ridden, and it's maneuverable and nimble in even the sharpest corners, both up and down. The SB100 has a super efficient pedaling platform, but on the downhill you can rally Yeti didn't build this bike for weight weenies. Full bikes are 24.5-25.5 lbs., according to Yeti, and the Turq medium frame solo is 5.5 lbs. Yes, there are lighter bikes on the market. But this one may be the most capable short travel bike you can buy with Fox's new Step-Cast 34 fork.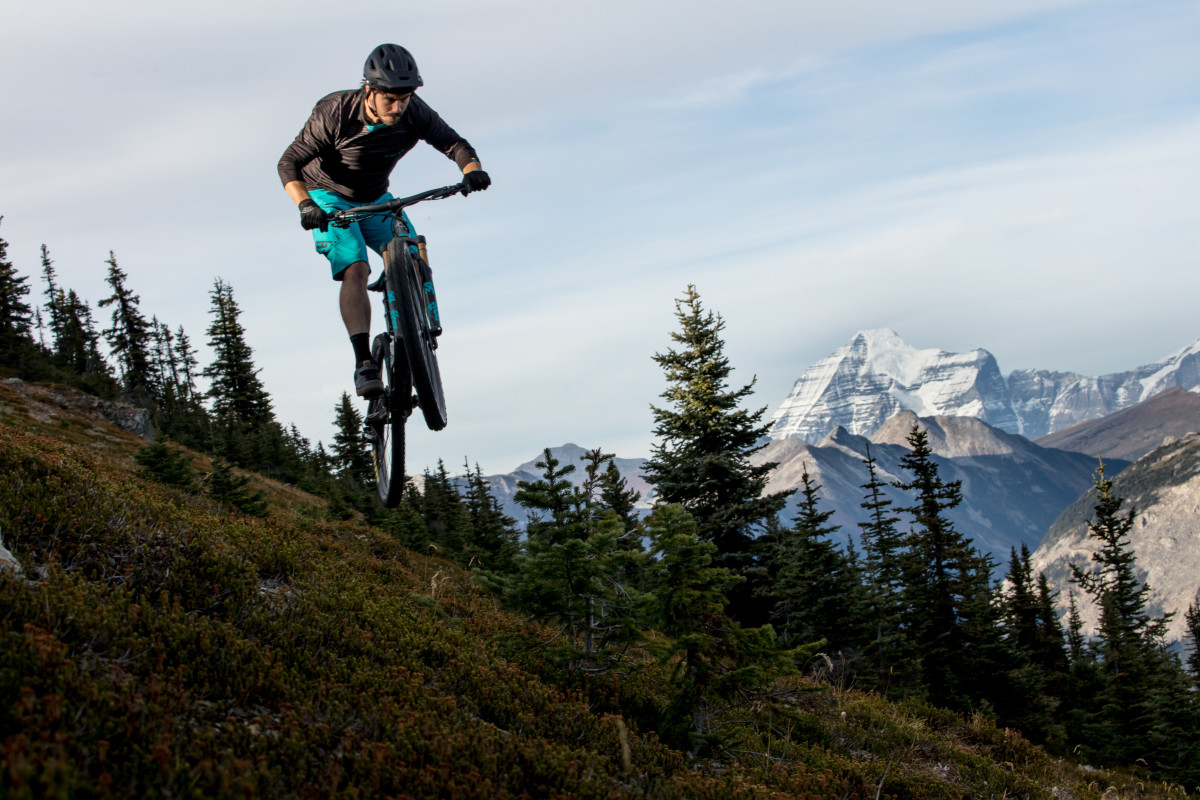 The fork is a dedicated 120mm travel fork that's the same stiffness as Fox's 34 140mm. The bike has real rubber—a Maxxis Minion DHF 2.3 in front, and a Maxxis Aggressor 2.3 in the back—not tires you'll want to swap out before you hit the trail. And—wait for it—the new SB100 frame accommodates a water bottle. Yeti created space in the main triangle by moving its Switch Infinity auxiliary suspension behind the seat tube. By moving the Switch Infinity, Yeti was able to make the mechanism smaller and lighter, shaving weight from the bike, and it also covered it to protect it from mud, dirt, and water coming off the rear tire.
Yeti maintained its signature feel with this bike, but it changed the tube geometry to give the SB100 exceptional standover height, which was good for smaller riders. It also let all riders run a dropper post with more travel than they may have been able to on other frames. The bike comes with the Fox Transfer dropper, which is one of our favorite dropper posts on the market. We loved the Ergon GE1 grips, which come on all SB100 builds, and which we consider a serious upgrade from the grips Yeti previously used. A new DT Swiss XRC 1200 25mm carbon wheel upgrade is $900-$1,200. The bottom line: We can't wait to get more time on this bike. It climbed extremely well, and the descent left us smiling so hard it hurt.
Nitpick: We wish Yeti offered a shock tuned for a lighter rider on the SB100, not just on the women-specific Beti version of this bike. The bike is relatively heavy for a 29er XC bike, so if your biggest concern is weight, you might consider another bike.
[$5,999 for a complete bike; frame only for $3,400; yeticycles.com]
For access to exclusive gear videos, celebrity interviews, and more, subscribe on YouTube!