Books can be a difficult sell to your kids. On the one hand, the iPad exists. That's just an uphill battle that print is going to have to deal with forever. On the other hand, there's really nothing like cuddling up up on the couch, turning all electronics off and flipping though a good ol' story.
It's always so cool when kids get stoked to snuggle up next to you and gaze into pages of a colorful, magical world. And sometimes, that world can even be pretty darn entertaining for Mom and Dad, too.
But finding that perfect blend of "cute for the kids" and "cool for the folks" can be an elusive thing to come across.
That's why my wife and I were so excited when we discovered "The Surfing Animals Alphabet Book" ($39) by Jonas Claesson to read to our little grommets.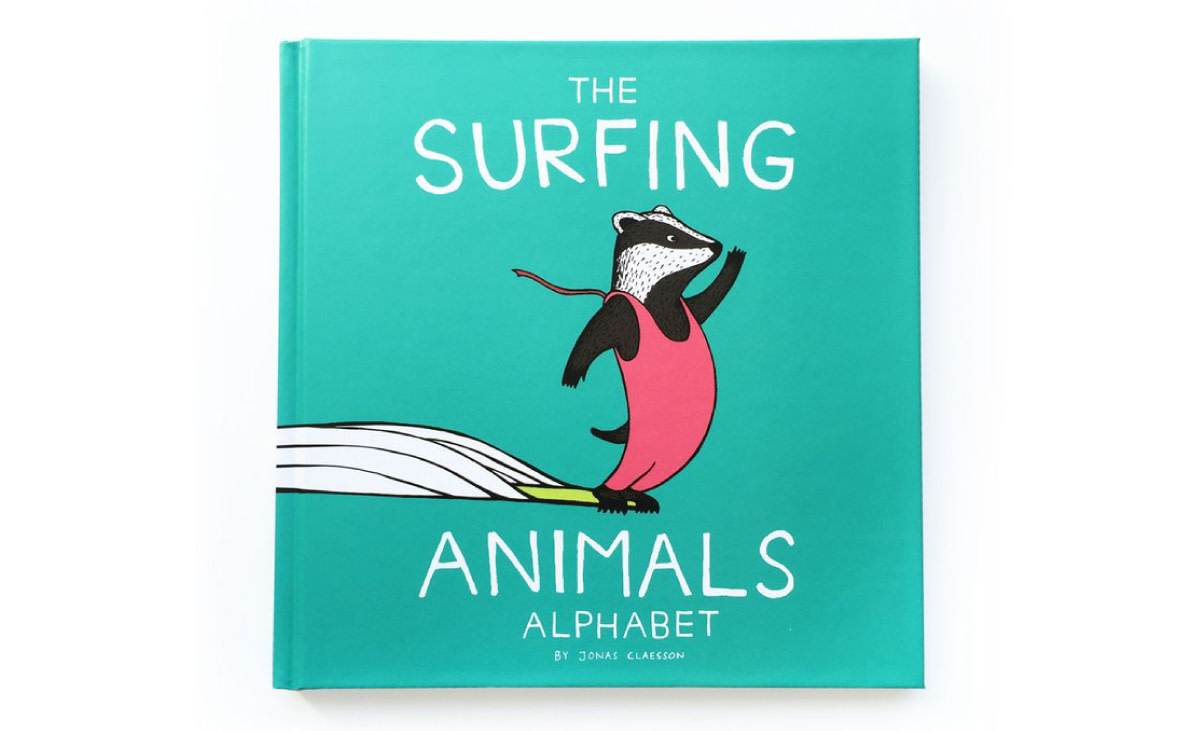 You know the old saying, "Never judge a book by its cover"? Well, you might find yourself making an exception in this case (and I mean that in a very good way).
Why We Chose It
Why not? I mean, the cover art alone is the first telling sign that this book would be super core and awesome, but after reading the first couple of pages, it was quite clear that book was written by a legitimate surfer.
As any surfer knows, you can't fool surfers by pretending to be a surfer when you're not actually really a surfer … right? It was quite clear right out of the gate that Claesson knows what's up.
Why We Liked It
We're right in the middle of getting our two-year-old dialed with her ABCs. She can sing the song pretty well, and she even knows the sounds that just about every letter makes (thanks, LeapFrog). But to embark on an entertaining little surf journey through the alphabet, filled to the brim charming graphics and cheeky little rhymes, is just too much fun. The language is legit, the art is just so rad, and you keep the pages turning at a perfect rate – maximizing their engagement and ultimately keeping their tiny little bodies from squirming out of control.
The best part? The lessons and the verbiage that they learn from this story stretch far beyond learning the ABCs … it gets that tiny little stoke for surf culture brewing inside the soul of your little ones, long before they even know it.
Tester Tip
Buy it as a gift for the young surfer parents that you know. This isn't just one of those small gifts that renders a smile and a hug, then gets tossed aside in the toy chest. This book will stand alone on any surfer's kid's bookshelf. It's a thoughtful gesture that any surfer will certainly appreciate.
Claesson tells ASN, "I am surprised and humbled over how many people that seem to genuinely enjoy it and say nice things about it … Stoked!"
For access to exclusive gear videos, celebrity interviews, and more, subscribe on YouTube!