"You're invited to experience Asics Blackout Track, an interactive experience in order to fully test out the Gel-Kayano 25's new generation technology in an atmosphere void of all stimulants – no music, no clocks, no watch, no light … only darkness and the power of your minds."
Did I want to go to London to test out one of my favorite running shoes in a once-in-a-lifetime experiment? Count me in! I didn't know much other than the fact that in order to celebrate the 25th generation of the brand's flagship stability shoe, the Kayano, Asics developed a track to test the shoe on. Built in collaboration with sports scientists and top coaches inside of a warehouse, this 150-meter course was created in pitch black, without any technology, scenery, sound, music, or even a finish line in sight. The goal: to be the first running track for the mind.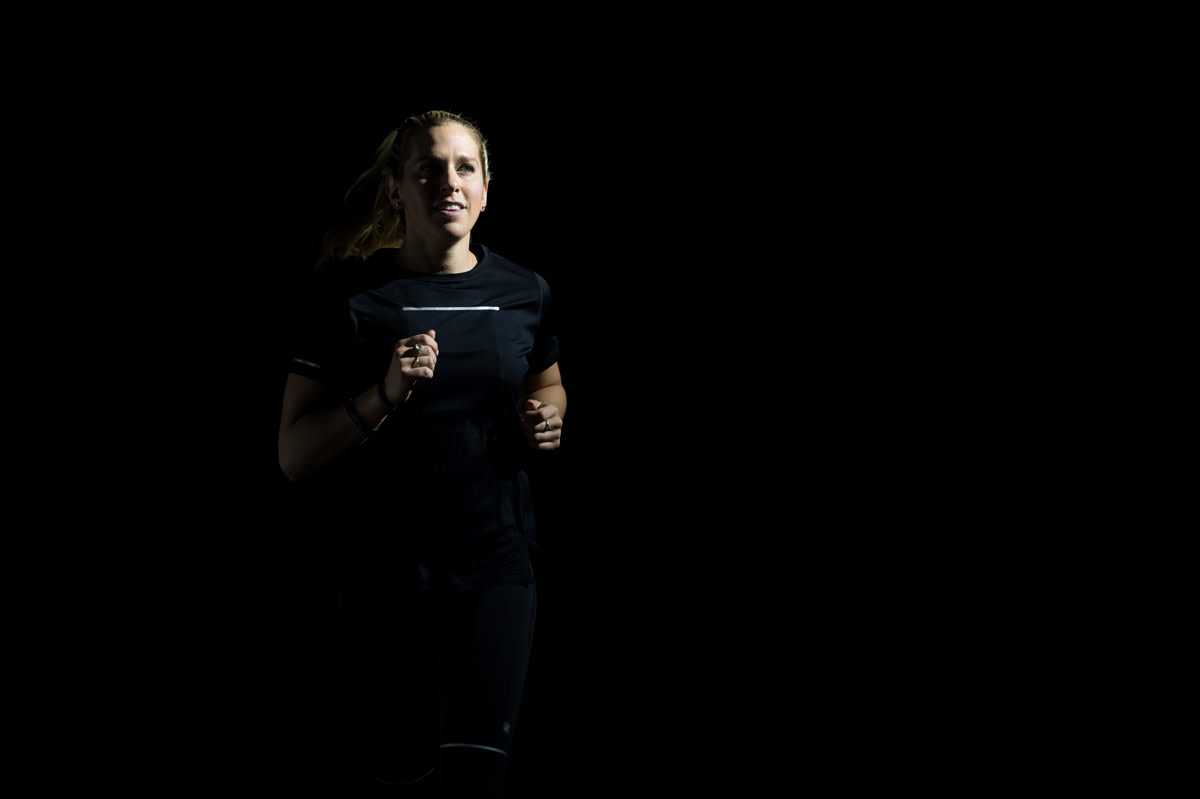 While it sounded exciting, I am not used to running without music or my watch to track everything from pace to distance to time, so I knew I'd be outside of my comfort zone.
"Let's take your headphones out, let's turn your app off, let's take your watch off, let's take your heart rate monitor off, and go for a run," says Chevy Rough, human performance coach and ambassador for Asics. "People have gone into the experience and they've looked for anchor points in a sense of time, scenery, stuff like that, and we've stripped that away. And the only place that they have been able to look is internally."
Upon arriving at the warehouse, I was shuffled into the darkness and given a kit of all black clothing and the new Gel Kayano 25 to change into. I did have to size down (a half size) in the shoes, but found them pretty cushy, even upon first fit. I went through a 3D-scan to be sure I didn't have any tracking devices on me, and then met with a coach to go through a quick, dynamic warm up – a couple shuttle runs and some stretching. The experience suddenly became more real and my heart rate spiked. Would I be able to do this? Am I going to quit halfway? Will my mind get bored? I was actually more nervous than I've ever been for a run before and was truly questioning whether I could actually do it or not.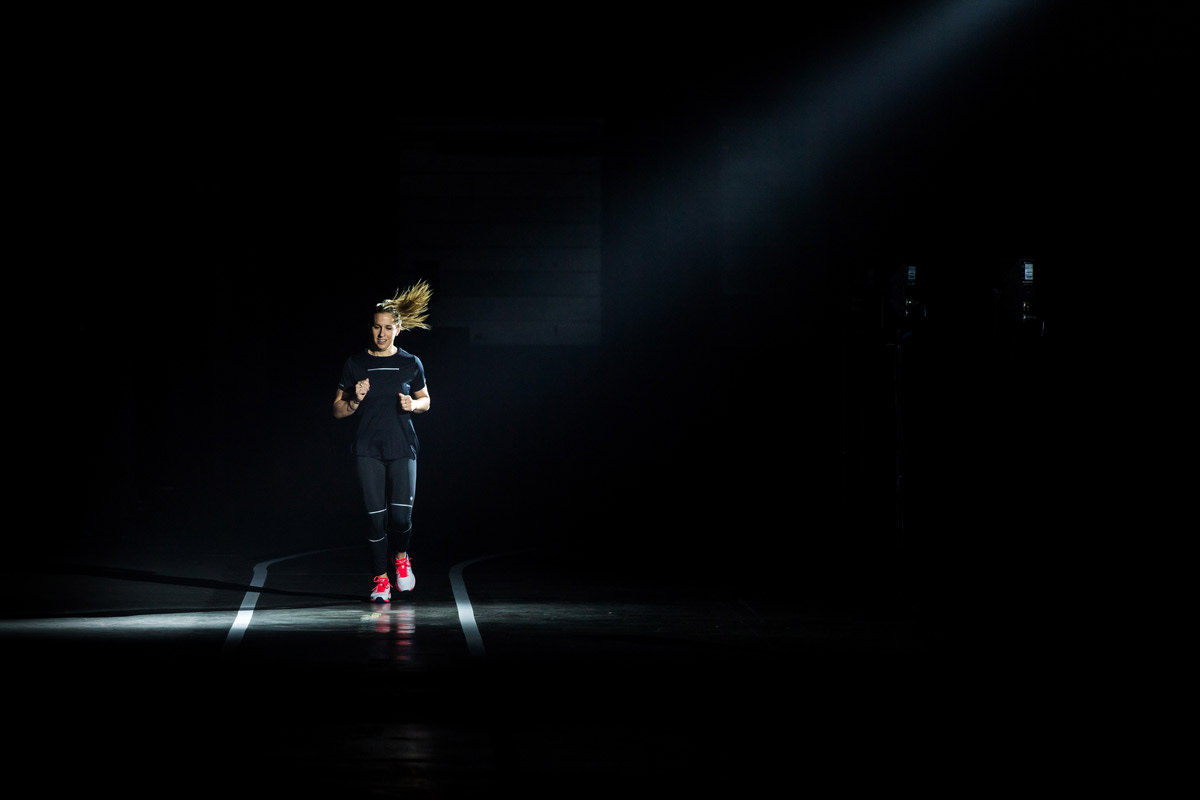 "When I started, I felt a similar anticipation to a significant workout or race, the feeling like, 'There is only one shot to get it right,' though I didn't really even know what that meant," explains Deena Kastor, Olympic Medalist, American-record holder, long distance runner, and Asics-sponsored athlete who also had the opportunity to experience the Blackout Track. "What was I supposed to get right? I wasn't too sure, so I decided to just run and observe what came to me."
It was comforting to know that all those who were running – pros and media alike – were all in the same situation, not really knowing what to expect from the experience. I was escorted onto the track and instructed to walk a lap. As I walked I noticed the darkness and the absolute quiet. I noticed the spotlight that followed me, so I could see where I was going. As I made my way back to the start, I was instructed to listen for the beep and then to start running, and that the same beep would indicate the finish. Ready or not … 3, 2, 1, beep …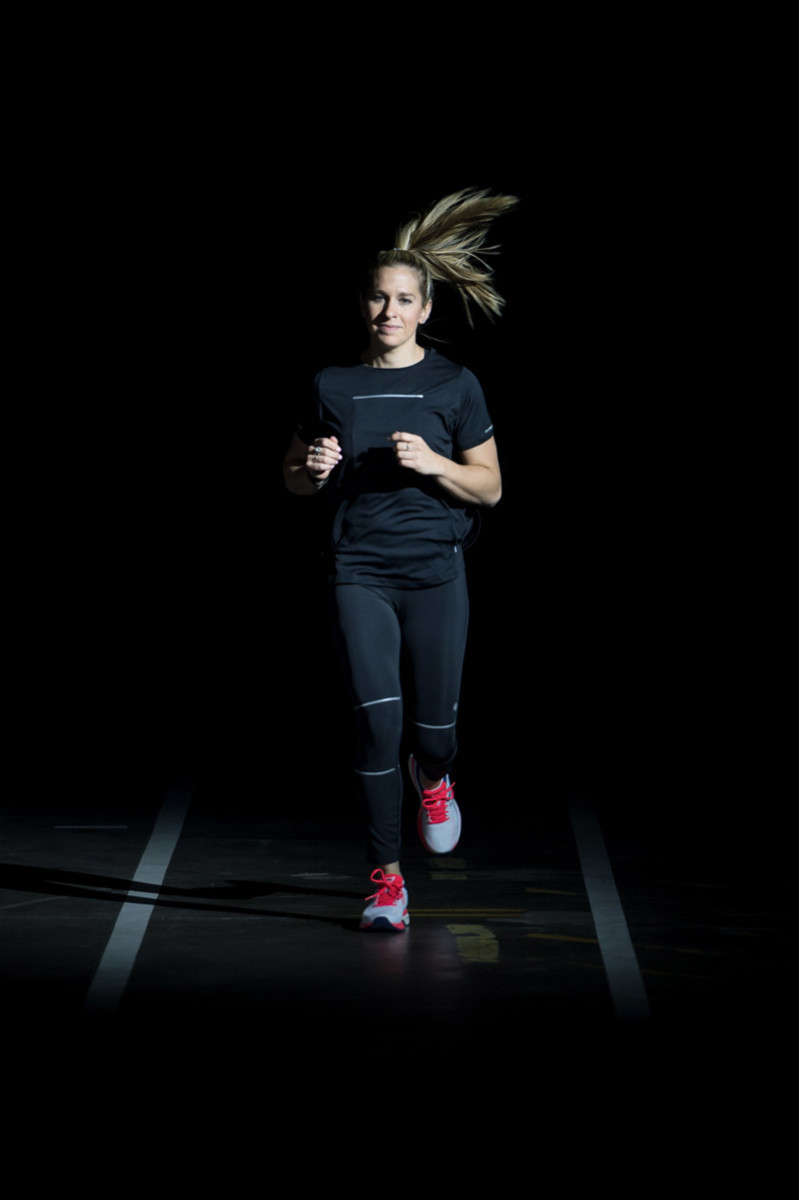 As I took off, I was immediately counting – how many steps made up one lap, the amount of seconds it took for me to complete another lap, repeating the number lap I was on continuously for another lap, and so on. Normally when I run, I pace with my watch, which is helpful because I also listen to music. The music often distracts me from the numbers so I lose count, but without any beats this time around, the numbers were all I could think about.
I also thought about my running form – not only because I knew I was being observed, but because I had nothing else to focus on but myself. I noticed how cushy the new Gel Kayano 25s felt on my feet – how my toes weren't hitting the front and my steps felt springy, which I chalked up to the new gel in the shoe, which was put there to propel my feet forward. These sneakers felt lighter than some of my previous editions of the same shoe, too.
Then it was back to counting, and suddenly without even realizing it, I started to relax. It became obvious to me by lap five that I was going to be able to do this and it was quite silly to think quitting was ever an option. I clung to my counting and numbers as my anchor point, but I became calmer and started to actually enjoy myself. The counting helped me move around the track, swiftly and quietly.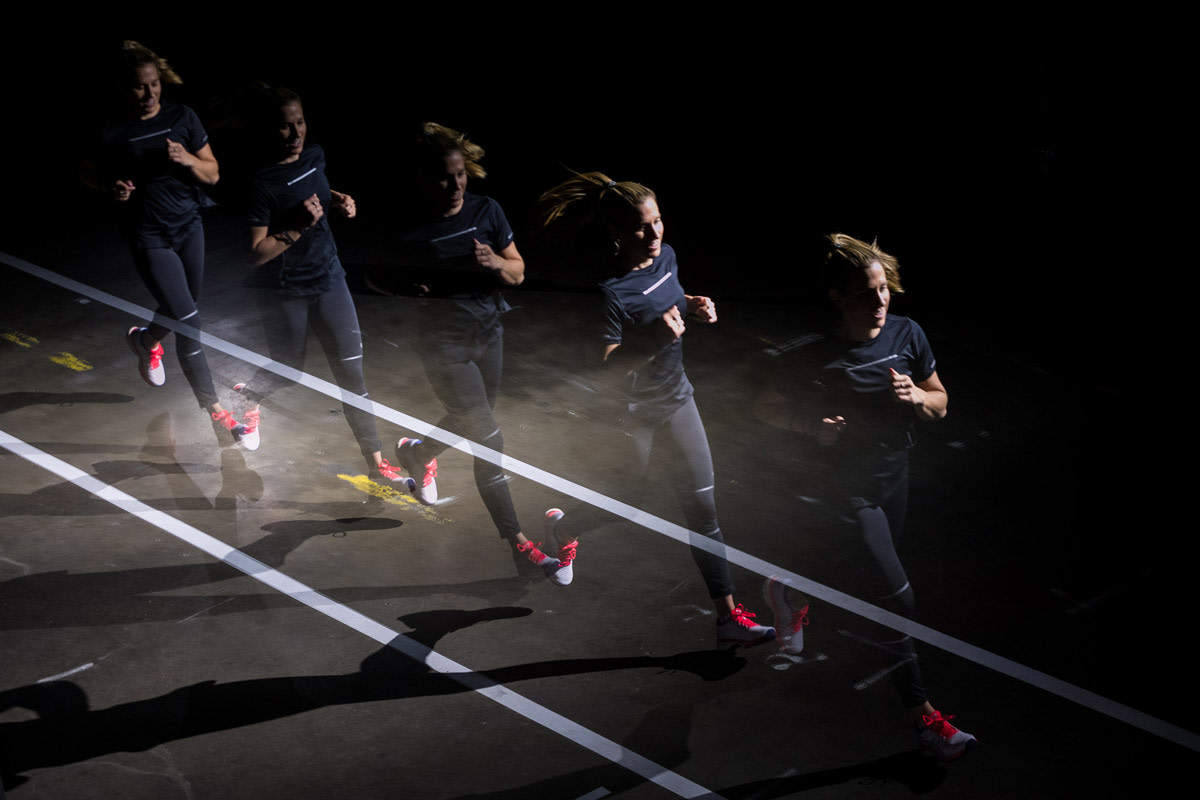 "I was surprised that I was able to get into such a quiet, meditative, almost hypnotic state," describes Kastor of her experience. "The straightaways and turns quickly blended together – I lost sense of time and after only two laps, lost sense of laps at all."
While I never lost track of counting, for me it was as though the counting became meditative. It was what helped me step one foot in front of the other, over, and over, and over, and over again until I heard that final "beep!"
"When you don't have stimulus in front of you, it allows mind to go into another space completely," explains JoAnn Dahlkoetter, Ph.D. clinical and sports psychologist, author of Your Performing Edge. "The brain goes into 'default mode' where we're bored, which might seem like a bad thing, but when the the brain is switched off, or at rest, we're actually more productive. In the darkness with no distractions, you can regain that focus you need to be able to perform well, you could run faster, or you could even just enjoy running more."
Relief, calm, happiness, pride were all the thoughts that immediately rushed over me as I brought my feet to a stop. I was escorted off the track and reunited with the coaches I'd met beforehand – who all congratulated me for finishing – to discuss the experience.
Unlike Kastor, I'm not a distance runner. In fact, running doesn't come easily to me (strength is more of my forte). I run because it's challenging and I want to be better at it. But I always have my watch so I know exactly how close I am to the finish, and my music to keep me moving. Going into this run without them made me nervous, even contemplating if I could do it.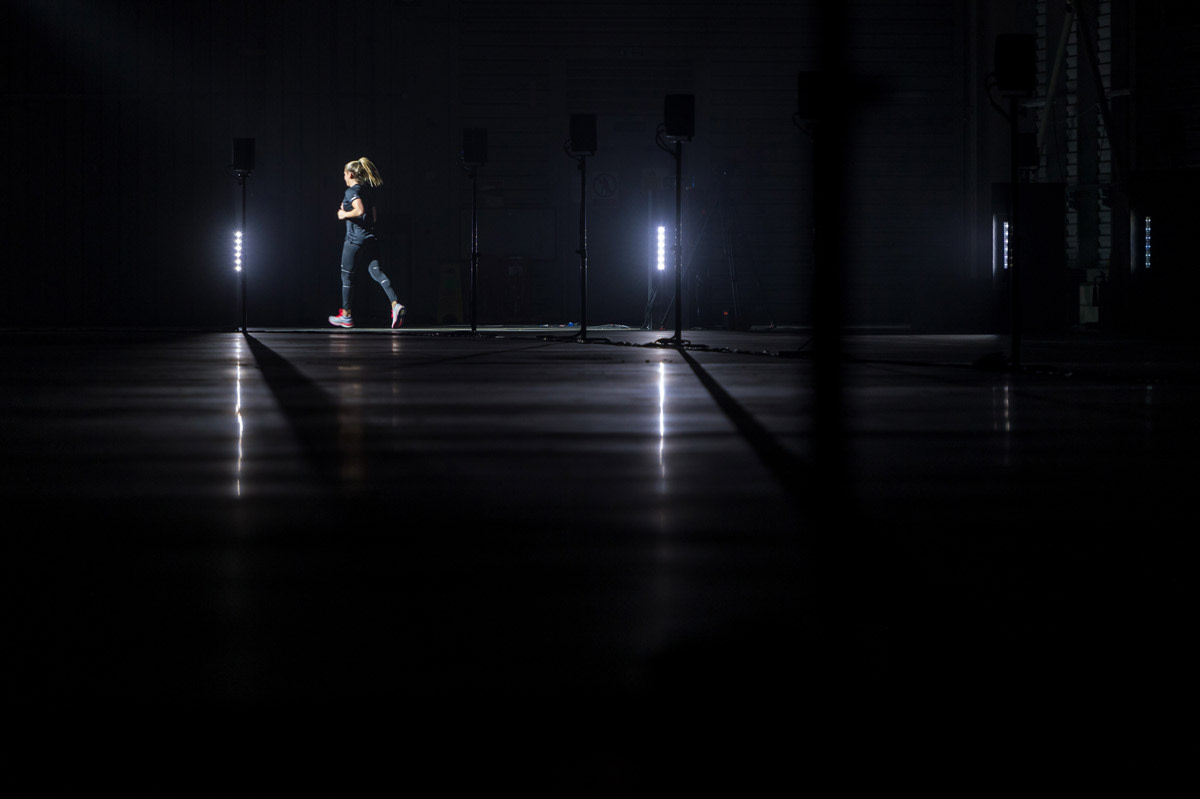 And that was kind of the point of this experiment, explained Rough, to show that when people are left alone with the pure experience of running sans distractions, it can be unfamiliar and uncomfortable territory for many. "What do people incur? They pace themselves inaccurately, their minds get bored – they don't have the tools they need to be able to actually just run," says Rough. "So this experience is a way to get people thinking, 'Okay, why do I want to build that connection between my body and mind, what is the importance of it, and how will it affect my running?'"
Mindfulness, whether during a run or another type of exercise, is a crucial part of fitness and training, which is why the concept is currently growing in interest to the psychological and sports psychology community. "As a society we are always trying to avoid and make our experiences augmented with technology, so there is something very beautiful about taking all of the technology away and enjoying the experience as simply as possible," says Kenneth Texeira, PhD, Professor of Psychology/Sociology at Quincy College in Quincy, Massachusetts. "Instead of avoiding being alone, try to embrace it. Personality and dispositions may have a huge impact on how people are capable of doing this. Introverts tend to not need as much distraction if they are running alone, as opposed to an extrovert. But the best thing to do is try to push your limits and experience new things. It's opposite of what we do as a culture and it can be really useful."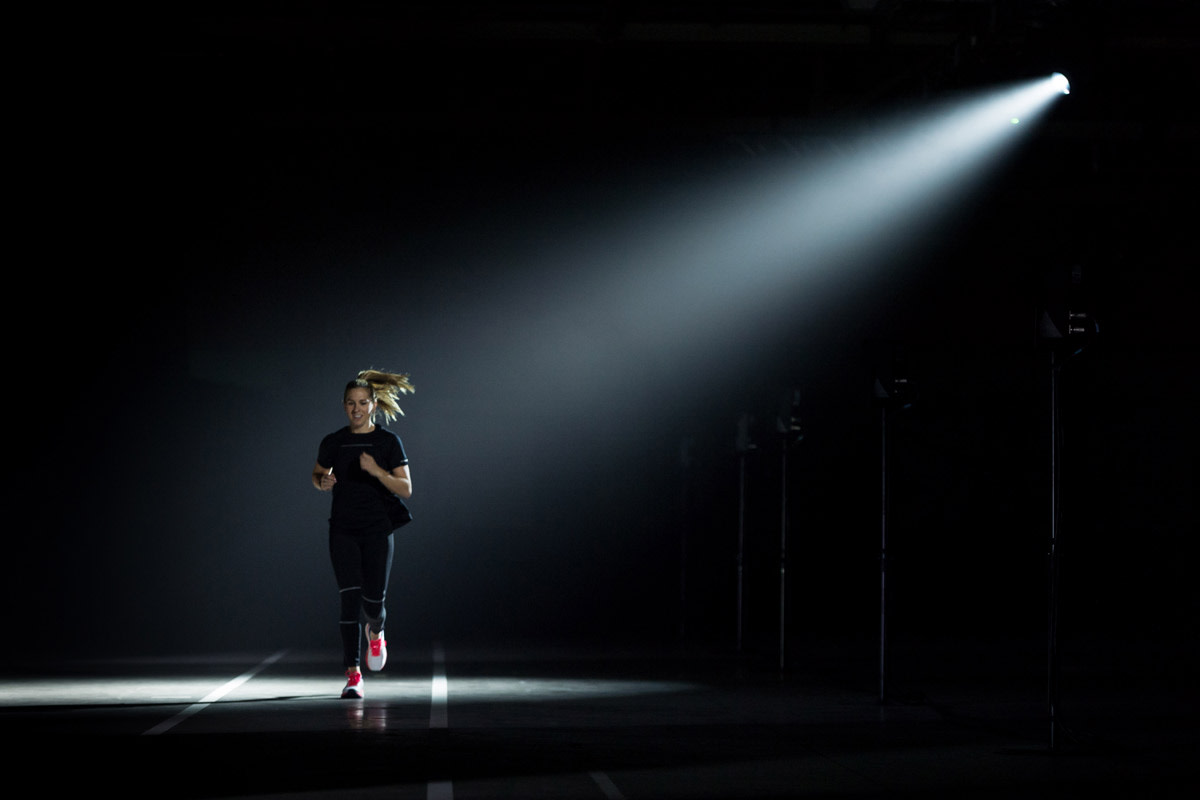 It's true – technology and distractions crowd our already busy, fast-paced lives today. By creating this Blackout Experience, which could be similarly replicated by removing all technology and going for a run when it's dark out, we're forced to have the conversation about mindful movement, and how important it can be to reconnect with your body so you know what you're capable of on any given day.
If these sports scientists are correct, and this experiment helps me harness the power of my mind, becoming a great runner may not be such a far-fetched idea.
All photos courtesy of Asics.
For access to exclusive gear videos, celebrity interviews, and more, subscribe on YouTube!