There's no uniform more uniquely American than jeans and a T-shirt. But after the recent closing of the country's last selvedge-denim mill, you may have to give up on "Made in the USA."
ON JANUARY 19, 2018, Todd Smith walked the maple floors of the White Oak denim mill in Greensboro, North Carolina, for the last time. He'd worked in the factory since September 1980, when he was 19 years old and scored a job on the factory floor. His dad, who worked for White Oak's parent company, Cone Mills Corporation, for three decades himself, had pulled some strings to get his son the gig. Over time, Smith worked his way up and became one of the mill's electricians and now, three weeks after the last run of denim came off the storied looms, it was his job to help shut off the facility's electrical system as it prepared to close down for good.
"It was terrible, just like a ghost town," Smith says. "The machines are all still there, and it felt like you could still see people doing their jobs."
Most of the plant's 200 other workers had been gone since December 28, the company having extended its last day past Christmas so its employees would get holiday pay—its final act of generosity.
For more than 120 years, Cone Mills had churned out cotton textiles, from corduroy to flannel, for hundreds of apparel companies using dozens of mills. But it was White Oak's selvedge denim that earned Cone Mills a place in American lore. "White Oak was an institution," says Michael Maher, co-founder of the apparel brand Taylor Stitch. "It was a place people had a strong connection to, and they made an amazing product. They'd been doing something so well for so long and never wavered."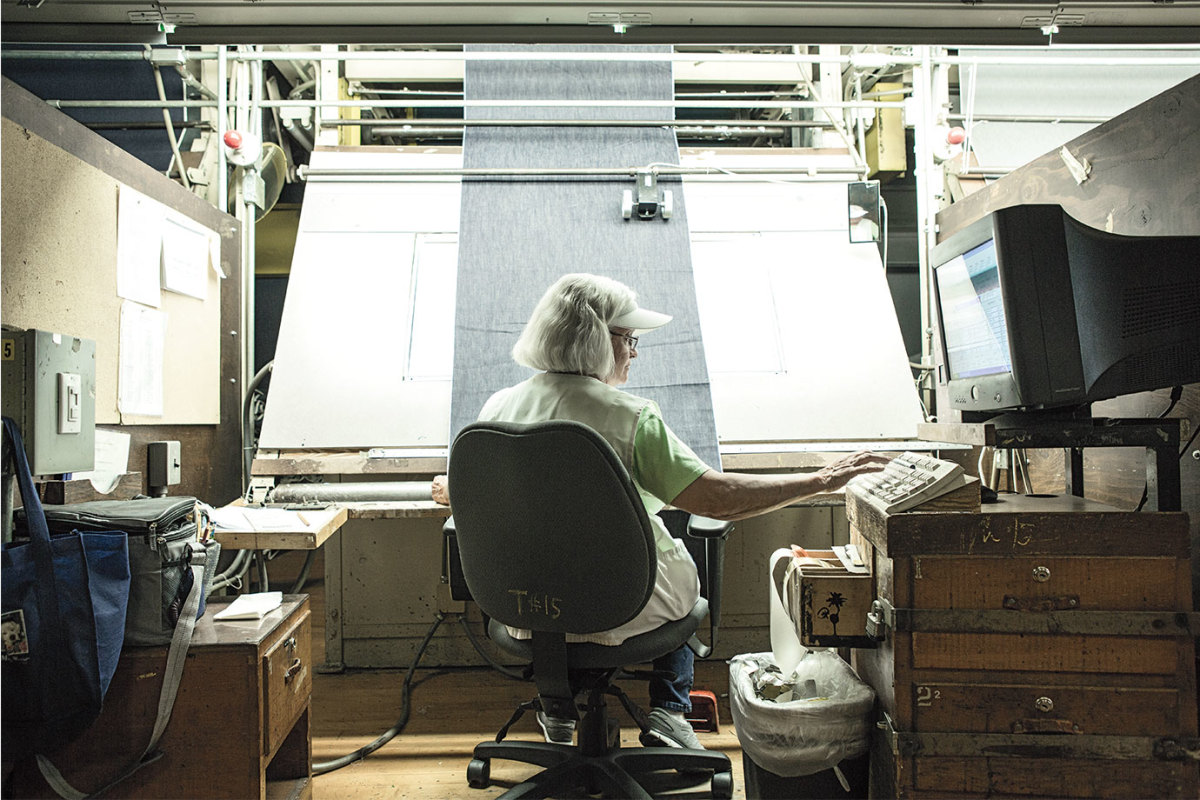 Almost from the day it opened in 1905, the White Oak facility was a titan in the industry. During its heyday, it had a workforce of more than 2,000 and produced more denim than anywhere in the world, supplying the likes of Levi's and Blue Bell, the precursor to Wrangler. It was so big that it had its own power plant, schools, stores, churches, ball fields, and worker housing. Cone Mills also man- aged to be one of the few American denim makers to weather the offshoring trend that began in the 1980s, as big brands transitioned to cheaper, faster-to-make, prewashed denim in Asia and Latin America. When White Oak finally closed, it was the last mill producing high-quality selvedge denim on U.S. shores. And in die-hard circles, its death was the equivalent of France shuttering its last Champagne vineyard.
"It's an embarrassment to our country that we can't keep one selvedge denim mill open," says Christian McCann, founder of the menswear brand Left Field NYC. "I purchased 3,500 yards of White Oak denim as soon as I heard about the closing, which was pretty much all my free money."
What made White Oak's selvedge denim so coveted was, in part, its machines. Since the 1940s, the plant had produced its selvedge denim on Draper X3 looms, which were the most advanced machines of their day but a far cry from the mass-production models of today, with microprocessors able to create rolls of flawless fabric. The low-tech X3s, combined with White Oak's jiggling maple floorboards, created a subtle motion that would weave small irregularities into the fabric—little errant threads and denim buds. Technically they were defects, but the irregularities came to be seen as one-of-a-kind traits and an aesthetic rebuke to ultra-uniform, mass-production denim being made in Asia. It was denim with personality.
"There's a sense of character to the yarn, the color, and the shade of it," says Vivian Rivetti, Wrangler Jeans' vice president of design. "But also, fundamentally, there is a quality difference."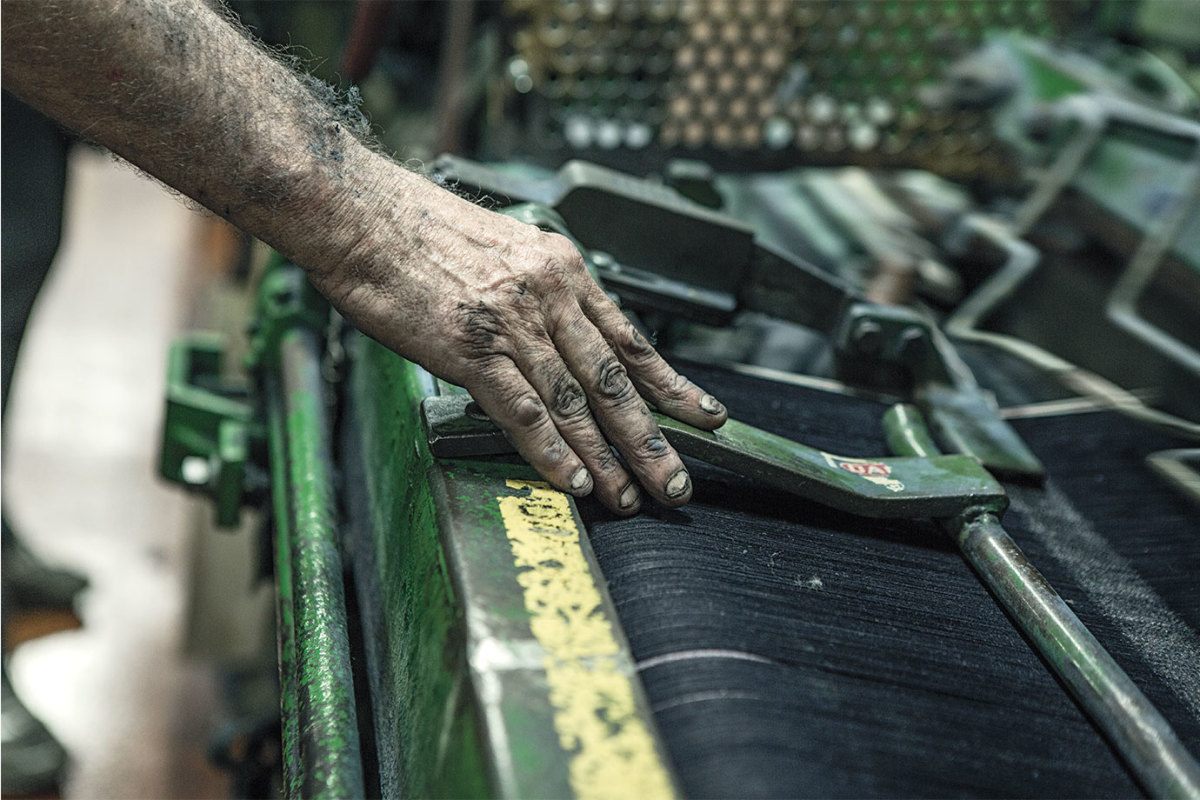 Selvedge doesn't necessarily mean higher quality—it's just a method of finishing a seam by folding over the end into a neatly unfrayed edge inside each pant leg. But it's typical that selvedge denim is thicker and denser, the stitching stronger and the indigo dye nicer. Cone Mills' fabric had all of those traits. It also had history behind it, and a sense of nostalgia in the garments it produced, which is why they are fetishized by many aficionados. "It kind of has that old '50s greaser, Sears-and-Roebuck, stiff, dry-goods-store look to it," says McCann.
White Oaks' closing came as a surprise to many even though the writing was clearly on the wall. Selvedge denim, once the industry standard, began dying out as a mainstream product in the 1980s, as brands like Wrangler and Levi's transitioned to nonselvedge, pre-washed denim. Japanese companies bought up America's selvedge looms—or manufactured their own, based on American designs—and raw selvedge denim lived on as a men's luxury item. Cone Mills was one of the few American companies that continued producing through the 1980s and 1990s.
In 2004, the investor Wilbur Ross, the current U.S. secretary of commerce, purchased Cone Mills out of bankruptcy through his company International Textile Group. It was good timing, as buy-American sentiment dovetailed with a boom in men's fashion. Employee numbers, which had been dwindling since the 1980s, leveled off, and orders picked up. Wrangler, Levi's, Lee, and J.Crew had all begun selling premium lines made of White Oak denim, and small labels like Taylor Stitch, Railcar Fine Goods, Rogue Territory, Raleigh Denim Workshop, and Rising Sun began advertising "100% Authentic Cone Mills White Oak Denim," the way American automakers in the 1970s had advertised Corinthian leather. It was a marketable distinction of luxury and quality.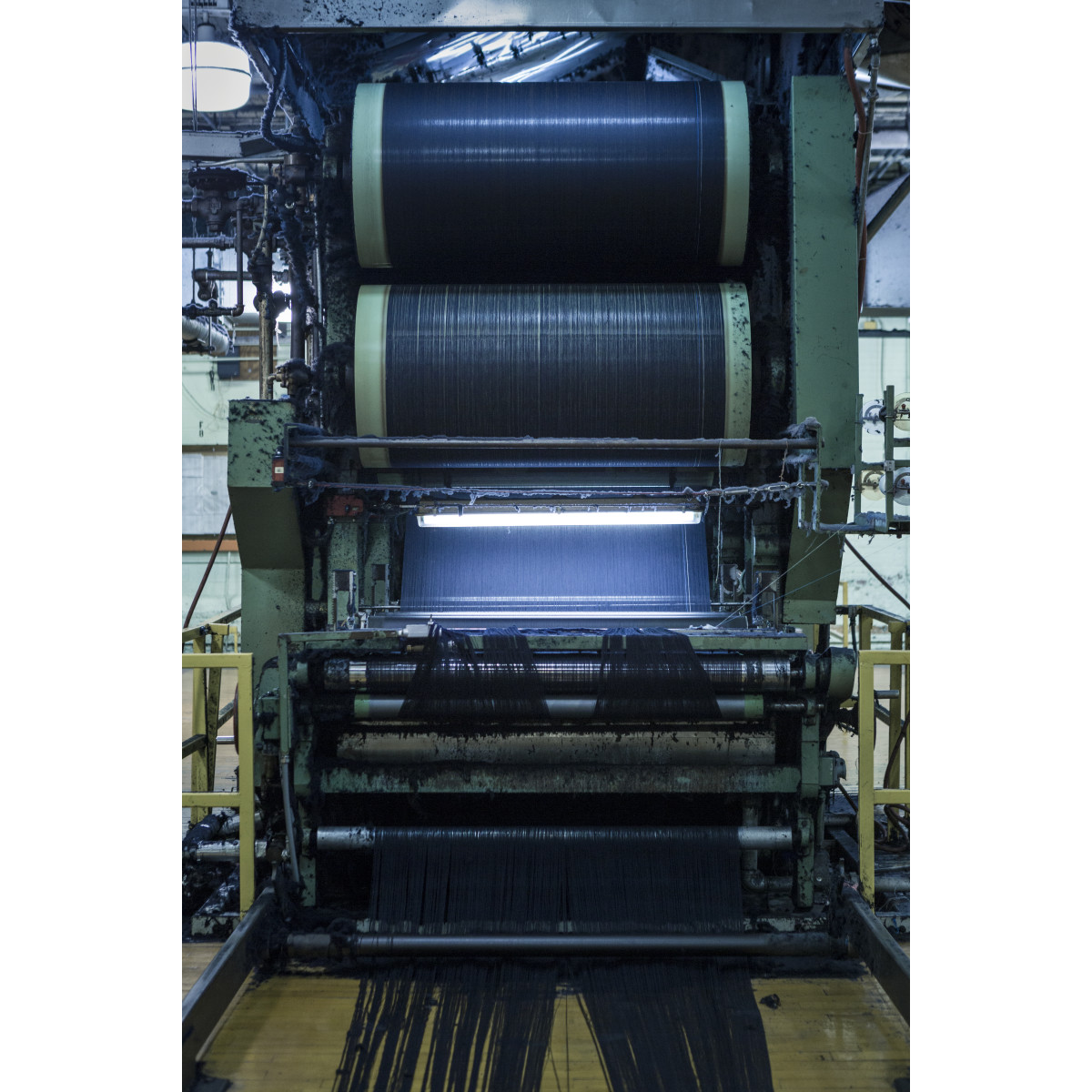 "When I first went there, they told me, 'You can work all the overtime you want,' " says Ricky Cook, who maintained White Oak's 51 X3 looms, "because they had so many orders to keep up with."
In the late 2000s, the mill accelerated from a five-day workweek to a six- and seven- day workweek. "We was actually running good," Smith says. "Weren't makin' a lot of money, just enough to keep the building up. When Ross bought us, he said as long as the plant was making a little bit of profit, he'd keep us going."
But shortly before he was picked by President Trump as secretary of commerce, Ross sold ITG to Platinum Equity, an American private equity firm. One year later, almost to the day, ITG made the announcement that it was closing White Oak and laying off all its employees.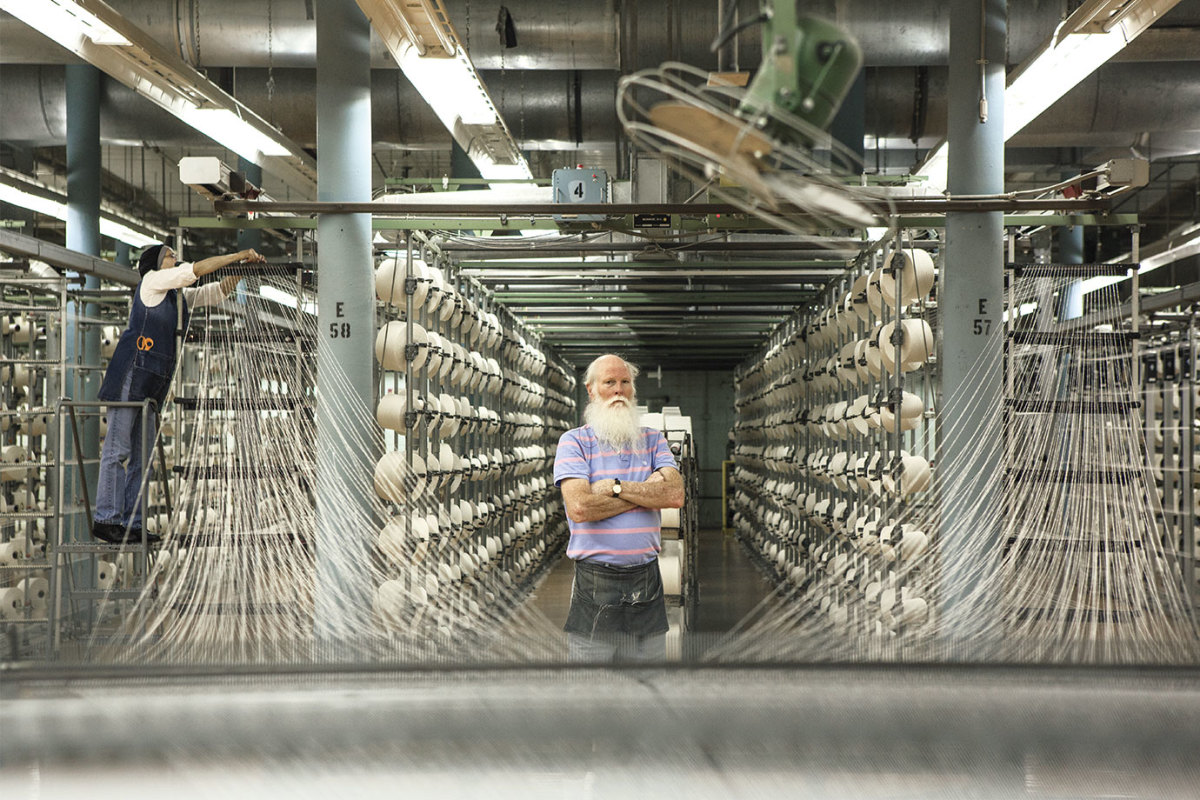 "To be honest with you, I seen it coming years ago," says Smith. "We had such a big facility, and we had a lot of space that wasn't doing anything. I think it was the overhead of having to keep the lights on. We came to where we was just slowin' down and layin' people off. We'd do real good for a year or six months, and then we'd start hittin' a drought again, and we'd lay another 20 or 30 more people off."
Rivetti, and designers at other labels, were caught off guard. Wrangler had actually increased its orders in 2017, and never had an issue getting all the denim it needed from White Oak.
Wrangler, Levi's, and all the boutique brands using White Oak will have no problem finding selvedge denim elsewhere—the Japanese are still cranking out super-high-quality fabrics—but almost certainly the White Oak closure will set off a scramble for the last products made from the plant (see "The Last Batch of White Oak Denim"). "As brands start to sell out their remaining quantities, there's going to be a lot of people just freaking out and going into collector's mode," says McCann. "People will start hoarding it."
The 51 Draper X3s are still sitting on the swept maple floors, and the building is dead quiet but intact. So far, no one knows what's happening with the machines, and the company has refused to comment. Rumors are that ITG declined an offer to buy the looms and asked some employees if they would ever consider coming back, if the mill opened again. Many of them said yes.
"White Oak was a good place to work," says Cook, who was employed for more than a decade at another denim maker, Dan River, in Virginia. "Most of the people in Greensboro referred to us as the 'Cone Mills family.' I never heard nobody refer to Dan River as the 'Dan River family.'"
For access to exclusive gear videos, celebrity interviews, and more, subscribe on YouTube!