It's 9 p.m. on a Thursday, and instead of watching Netflix with a cold beer in hand like usual, I am hunched over my bike wheel, which is wedged sideways into my couch. Tonight's task: Try to remove the cassette, the series of cogs attached to the rear wheel, without the help of a chain whip, a tool used to keep the cogs in place as you loosen their lockring.
At this point, I'm nearly finished rebuilding my bike. It has taken many hours and even more trips to the bike shop for parts and tools to get here. I figured I could improvise my way around buying one more piece of hardware. Besides, the chain whip looks ridiculous. It's just a short length of chain with a handle attached to it, more like a medieval torture device than something you'd find in a toolbox. Who needs that? But after half an hour of fruitless wrenching in my living room, I realize I am totally wrong.
I need that chain whip.
And also that beer.
This was one of many realizations I had over the four months it took me to disassemble, repaint, and rebuild my beloved bike, a 1980s Puch Pacifica. I had toyed with the idea of rebuilding it basically since I first bought it off Craigslist four years ago. In December, my girlfriend and I moved from New York City to Los Angeles, and of course our bikes came with us, strapped to the back of our car. But a five-day cross-country drive over salty roads took its toll. My bike's drivetrain looked like it had been resting on the bottom of the ocean for 30 years, and on the frame, rust spots had bloomed around every little nick in the paint. Then, a few weeks later, its wheels were stolen. I took it as a sign from the universe: You can't ride it, so you might as well tear it apart and fix it up.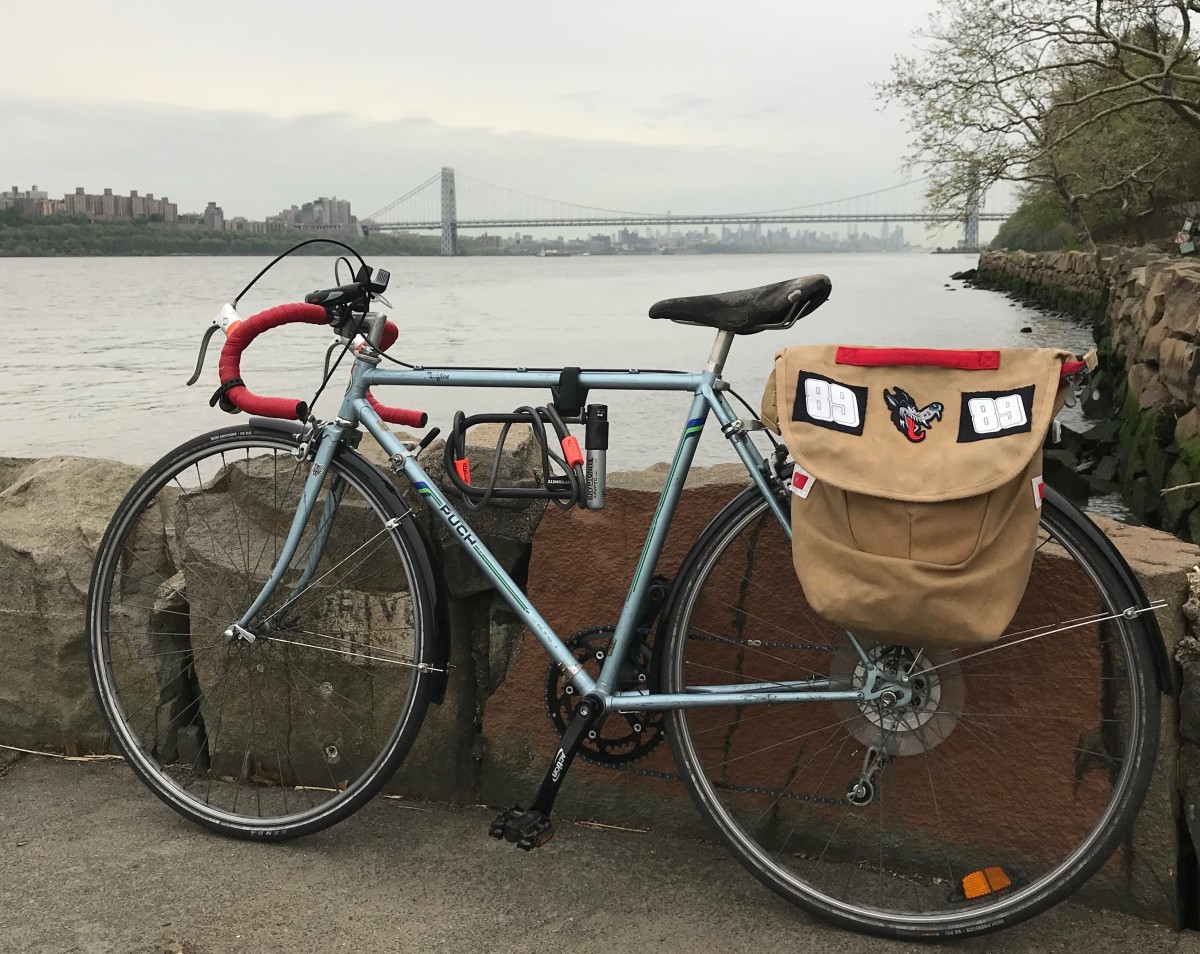 Sounds simple enough, but I'm not a bike mechanic. When I started, my wrenching skills were limited to things I've picked up while keeping my creaky old ride in shape—stuff like changing a tire and adjusting the brakes. But I love riding, and I've always enjoyed working on my bike, so I decided to take the plunge and do the rebuild. That meant removing decades-old parts from the frame, having it sandblasted, painting it, and putting the whole thing back together again. I also had to clean up all the old parts I was reusing, like the shifter assembly and brakes, which meant a lot of time scrubbing tiny bits of metal with rubbing alcohol and a wire brush. I bought a few new parts as well, like a chain, shifter cable, rear derailleur, seat, tires, and tubes.
All told, it cost me about $487 to get my bike in shape, including parts, paint, tools, and sandblasting. I could have done it for less, but I splurged on items like handlebars and some good gravel tires. That's still no small expense, and especially considering the time and effort this project took, it's fair to ask whether the rebuilt was worth it. Why not just buy a new bike?
Aside from the fact that a new ride can cost thousands of dollars, I just really love my old, beat-up set of wheels. It has seen me through countless commutes and long rides out of town, and survived several crashes. I wanted to learn more about how it works and how to take care of it, and that's exactly what this project gave me the chance to do.
Thinking about trying a rebuild yourself? Here are some of the other things I learned along the way.
Get the right tools
As my blunder above illustrates, you will need more than just a crescent wrench and a can-do attitude for a project like this (although both of those are essential). There are all sorts of specific tools for removing and attaching things like cassettes, pedals, and bottom brackets. Park Tool has a really useful section on its website that will help you determine what's on your bike and what implement you need. Don't want to purchase a bunch of tools? See if there's a tool library near you that has them, or a bike shop with open benches where you can work on your bike for a small fee. I discovered the Bicycle Kitchen near my apartment, and it has been a godsend as a source of replacement parts, tools, and knowledge. As for paint, Spray.Bike has an excellent lineup of products, including primer and plenty of colors and finishes.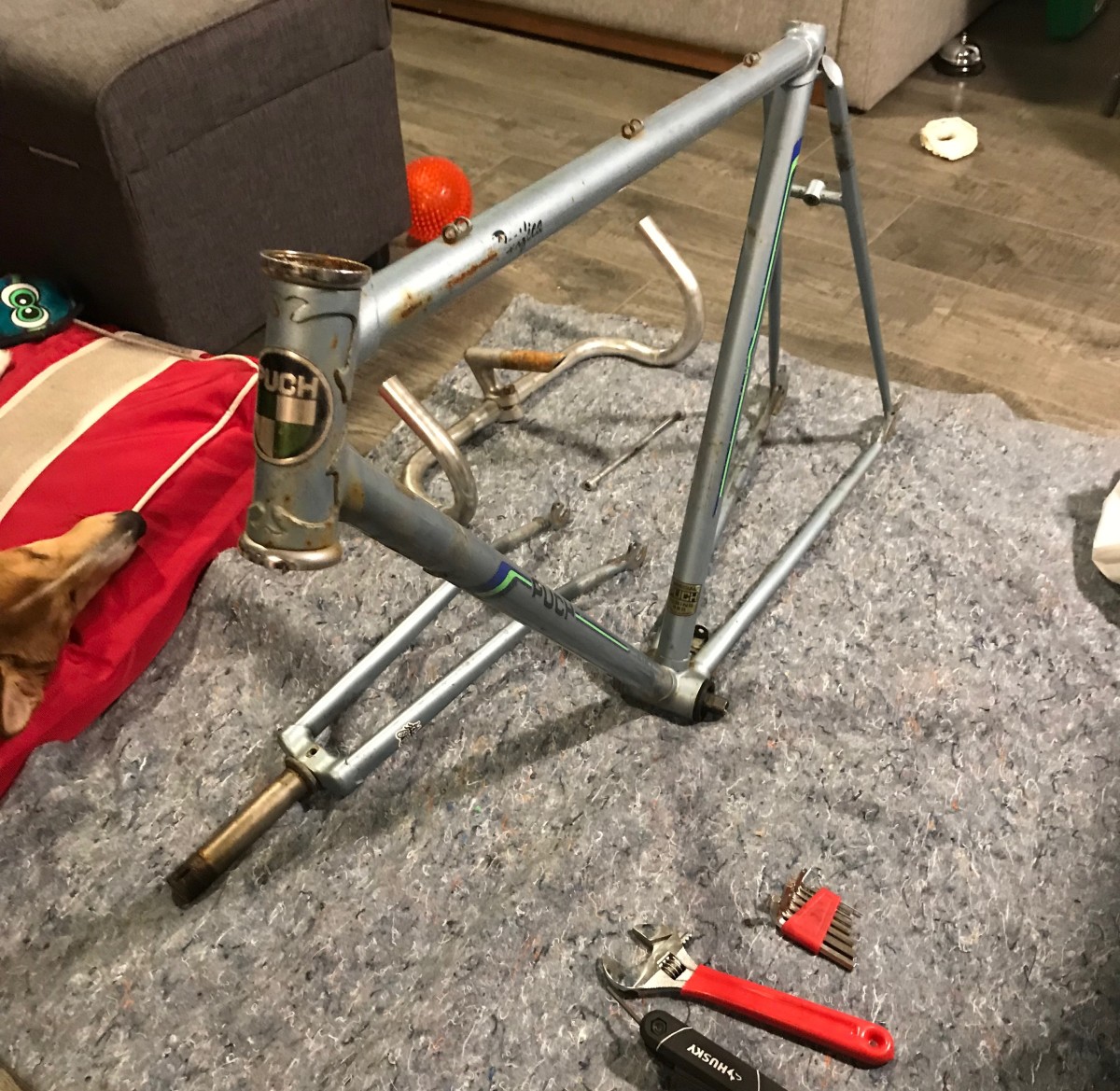 Take pictures of the parts as you disassemble them
I only did this while removing some parts, but I wish I had done it more frequently. While putting everything back together, I had to zoom in on old, grainy photos of my bike and guesstimate how things fit. I figured it out, but it wasn't easy. Don't expect you'll remember how all the parts are assembled. You won't.
Be patient
Whether it's hoping for good weather to paint the frame (I found I could only paint early in the morning, before the wind picked up), or waiting around for a part to arrive in the mail, rebuilding a bike takes time. This was the hardest part for me. It seemed like I could only make progress in short spurts before I realized a part didn't fit or I needed a new tool. But I slowly learned that's part of the process, especially since this was my first rebuild. However long you think your project will take, add a month, at least.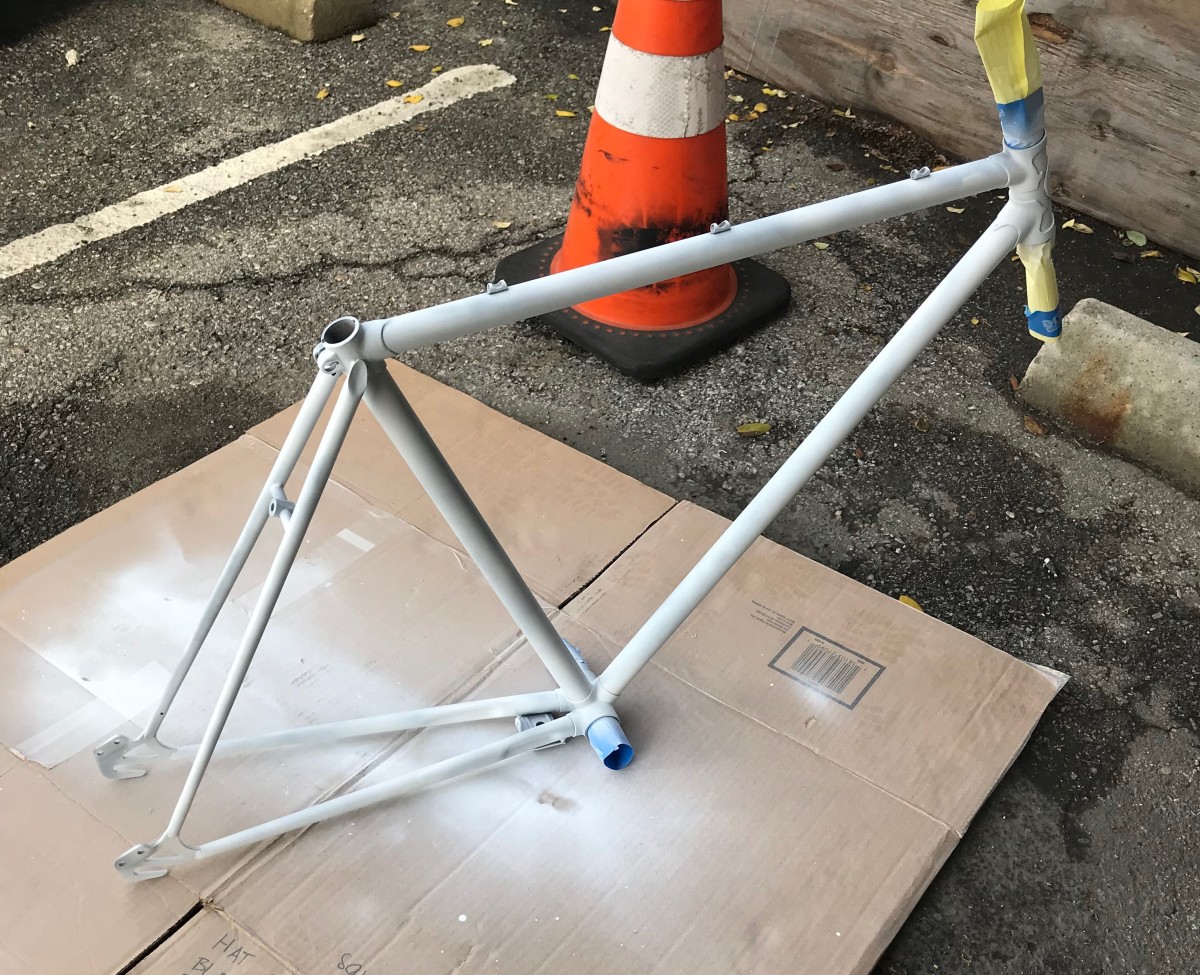 Ask for help
If you're thinking about rebuilding or doing some major maintenance on your bike, now's the time to find a good local bike shop, where you can get help picking out the right parts and tools. There are also plenty of great resources online. I found Park Tool's series of how-to videos on YouTube absolutely invaluable, and they cover nearly every bit of maintenance you can perform on a bike.
Working on your bike is a great way to get to know it
Now that my bike is painted and rideable, it's surreal seeing an idea I had thought about for years become a reality. I'm also amazed at how much I've learned in just a few months of wrenching. Bits of my bike that used to be a total mystery to me (What springy magic makes a derailleur work? How does a bottom bracket stay in place?) are now things I know about—things I've taken apart, cleaned, adjusted, and screwed back on with my own two hands. It makes riding an even more satisfying experience, and I wouldn't trade it for anything. But I might shell out for another old bike to work on.
For access to exclusive gear videos, celebrity interviews, and more, subscribe on YouTube!