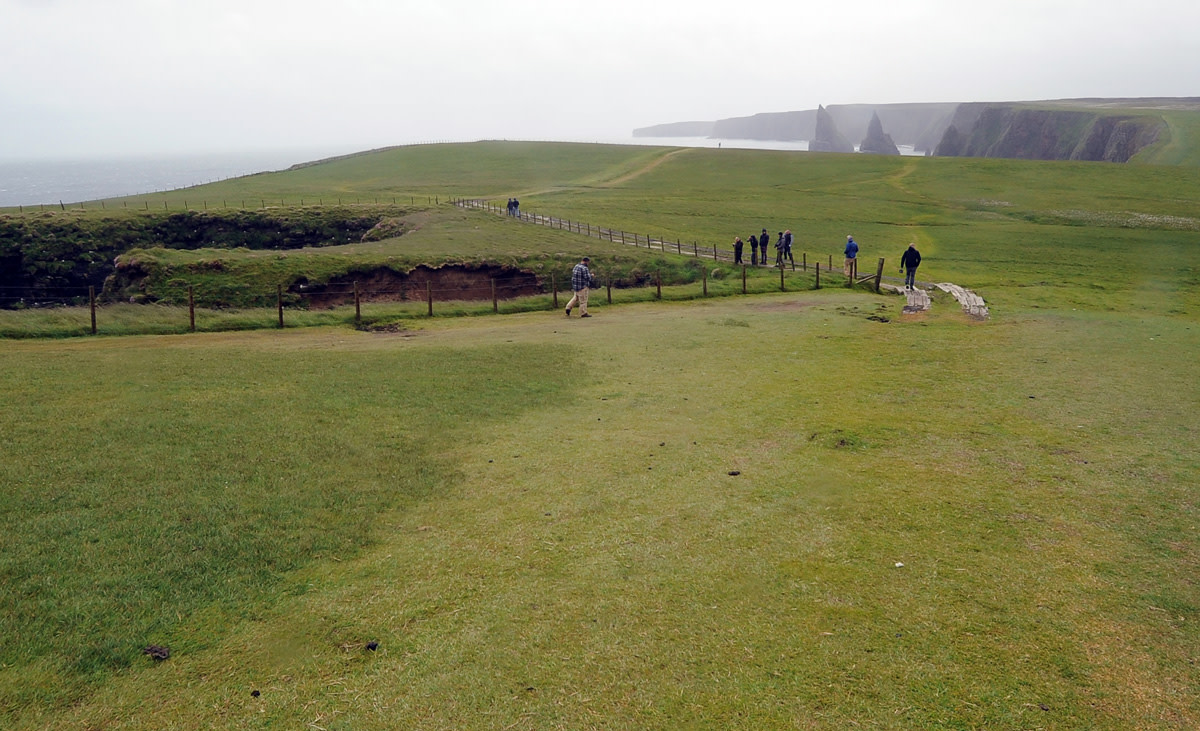 Brightly colored yellow gorse bushes speckled the Scottish hillsides as our plane began its descent into Inverness Airport. We'd been traveling for nearly 24 hours straight (after three layovers and one delayed flight), and were finally about to touch down in Scotland.
Traveling this far for only two full days on land may sound like more work than it's worth, but when a work opportunity arose, and my schedule was only as flexible as the final itinerary, I decided that I wasn't going to pass this opportunity up.
I had never been to Scotland and was very much looking forward to lush green hills, and rich history (not to mention our deep appreciation for fine whiskey).
I was headed north of Inverness to the Ross-shire peninsula, where I was optimistically hoping to score some waves (weather permitting, of course). Scotland's weather is beyond unpredictable, so the expectation was quite low. However, exploring the coast and sipping some of the finest whiskey on the planet were the iron clad portions of my agenda that I was certain to fulfill.
Here's what I packed for my short excursion to the Scottish coast.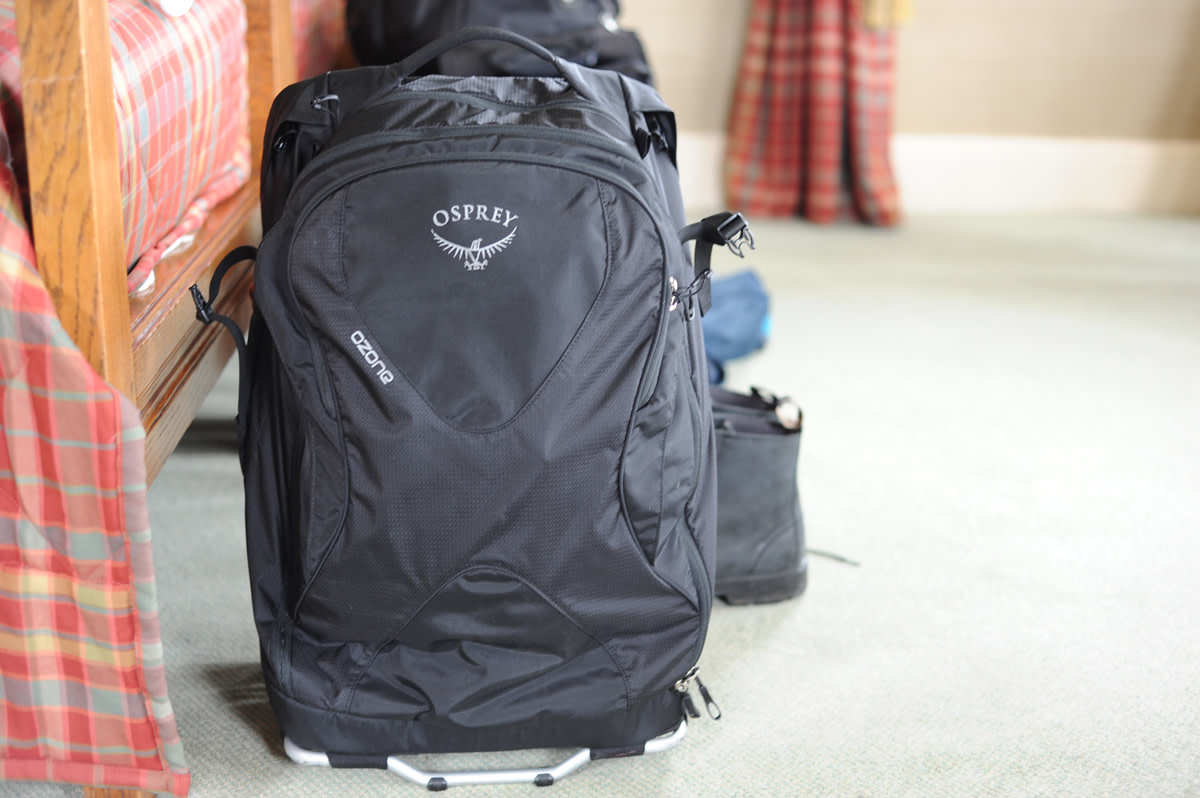 Layover after layover from Orange County to Inverness had proven to be the most taxing part if this whole journey. Which is precisely why I was so happy I brought along the Osprey Ozone Wheeled 42L Carry-On Roller Bag.
It's placed under Osprey's "Ultralight Travel" category, which is exactly what I was looking for, without compromising any of the space issues that oftentimes comes with attempting to travel as light as possible. I did not want to check a bag, so it was imperative that this roller adhere to the carry-on specifications of any airline (which it did, with no issues at all).
Given that I had to deal with a couple of stressful sprints in between terminals to catch connecting flights, I was beyond pleased with the Ozone's agility and sturdy build quality that I've come to expect from a brand like Osprey. And while dragging it up stairs, lifting up into overhead compartments, or stuffing it into storage areas in the shuttles, it was its featherweight qualities that stood out to me most. (Again, all of this while still fitting everything I needed for our trip, and kept it all conveniently organized for my swift travel).
The Ozone 42L was the perfect travel companion for a trip like this, which is really saying a lot given the fact that I really put this carry-on through the wringer with my demands.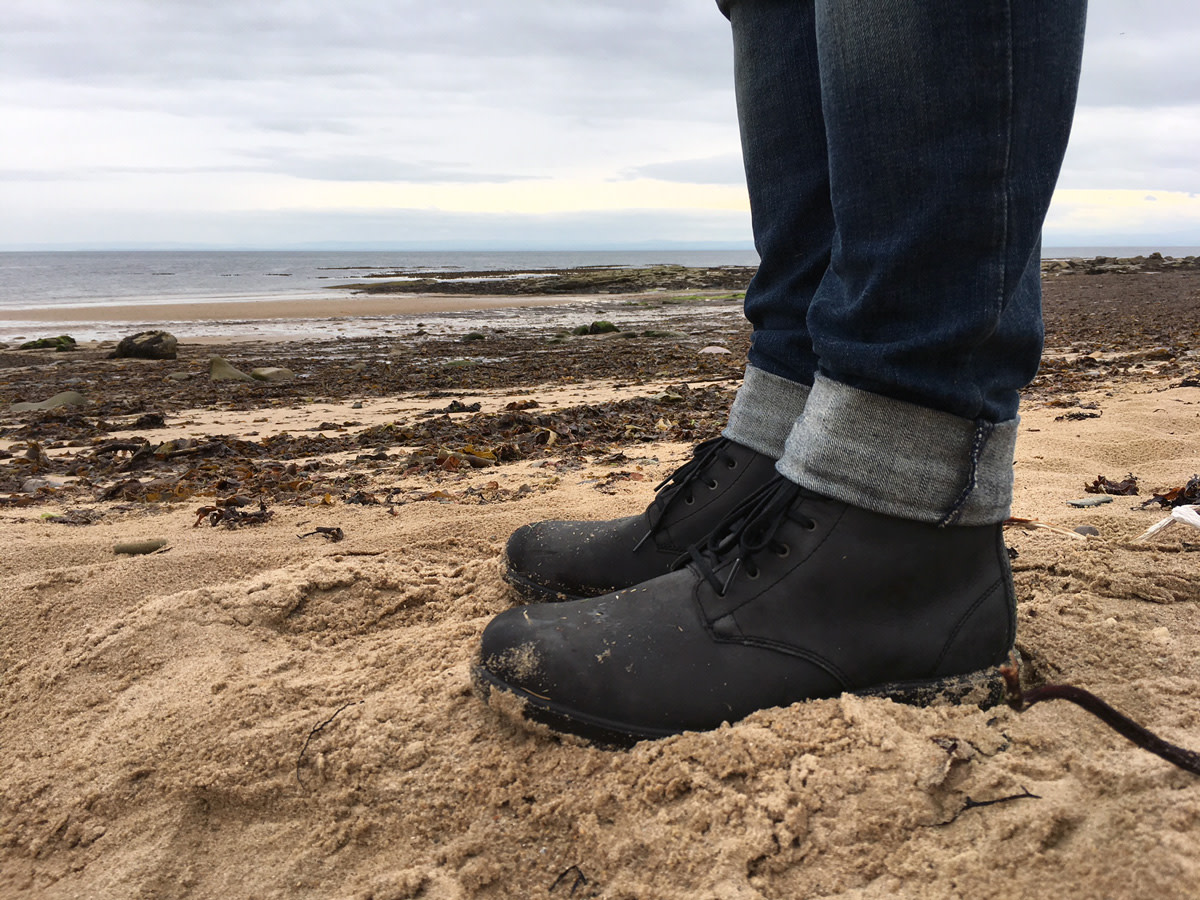 When taking off on a trip to a location that is known for fickle and inclement weather, it's really tough to nail down the type of footwear that would not let us down. I was definitely planning on as much outdoor activity as possible, but I also had visits to nicer facilities in the itinerary that would aptly call for some presentable (and clean) footwear. This is why I opted to pack the Blundstone Lace Up Boots.
First off, they just look so good. Founded on 1870, the Tasmanian boot manufacturer prides itself in its quality, legacy and integrity. As the brand's website states, their boots are bulit "to go anywhere, do anything, and look great every step of the way." I most certainly agree.
Made with premium waterproof leather and a durable, slip-resistant TPU outsole, these boots not only handled whatever conditions Scotland threw at them, but with a quick wipe down with a rag, the materials cleaned up to a proper condition for all of my more civilized engagements. From the trudging around barley fields, to rainy beaches in search of waves, to magnificent vistas with breathtaking panoramic views, and then off to whiskey tastings and traditional Scottish meals, these boots took me comfortably (and stylishly) in and out of all of Scotland's contrasting personalities. Needless to say, my feet were happy the entire trip, these were the only pair of footwear I needed the whole time, and the best part: These boots only look (and feel) better with age. Win, win, win.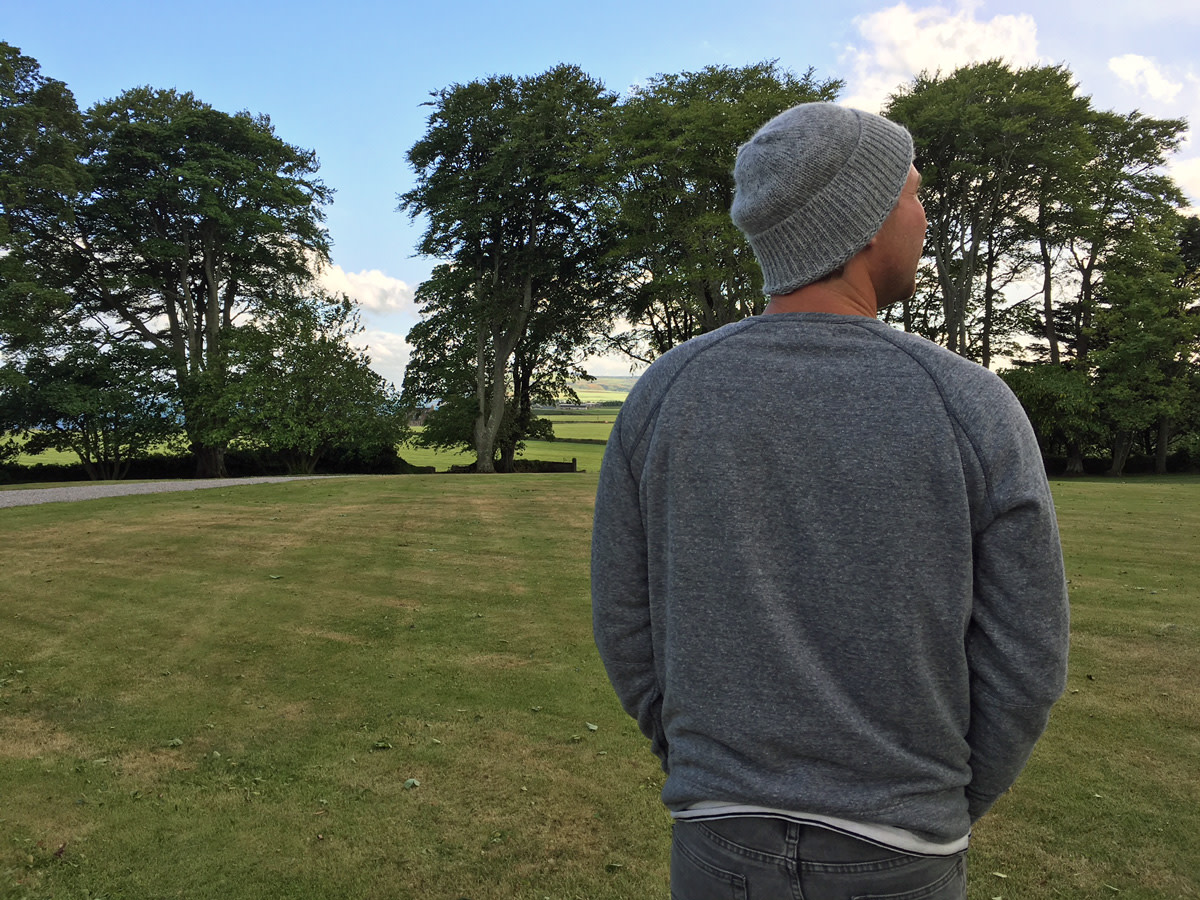 Not really knowing exactly what the weather would be like, I wanted to pack a layer that could go from under the jacket to into the dining hall, seamlessly – not to mention having something light and uber-comfy for the long haul through multiple airports. And given Outerknown's reputation for making high-quality apparel in an eco-conscious fashion, the Transit Crew made all the sense in the world.
Made from 97-percent cotton and 3-percent French terry (milled in the USA), the Transit Crew lives up to the brand's standard of quality. It breathes without compromising insulation, and it feels nice to the touch (without feeling overly delicate). Given that the weather would be fickle, bringing any other sweater with below-par construction could have proven to be a huge mistake. (Not to mention that the Transit Crew is produced through a sustainable supply chain, and comes packaged with a 100-percent biodegradable, compostable, and recyclable water-soluble paper tag.)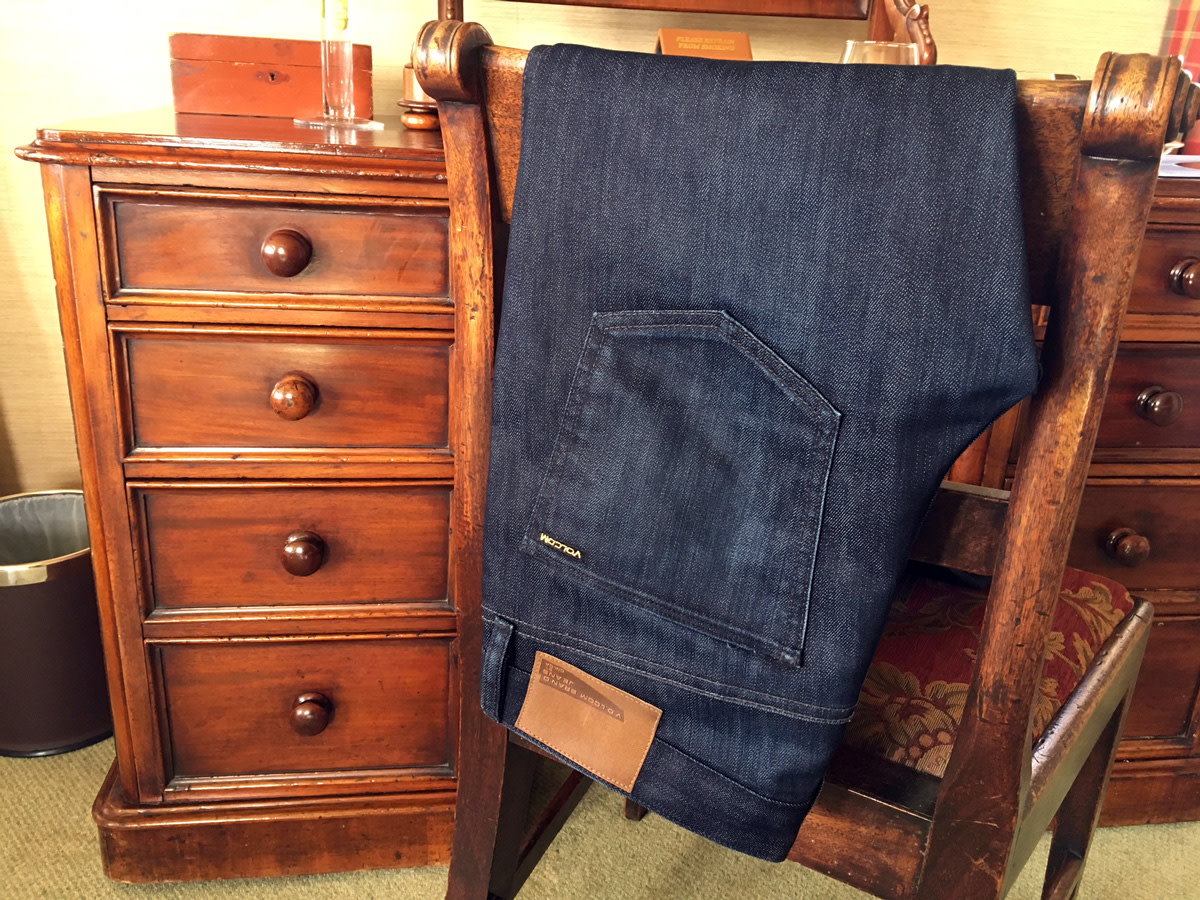 While the inescapable theme of this trip was unpredictability, the predictable elements still needed to be accounted for. This is why I was adamant about bringing some trusty denim along for the ride – denim that could handle the rigors of swift travel. And Volcom's Vorta Slim jeans fit the bill in astounding form. Ultimately designed with skateboarding in mind (which is one of the most taxing activities that a person can put a pair of pants through), the Vorta series features just the right amount of stretch to accommodate any range of motion, while still feeling sturdy and durable.
They move and they breathe, and they can handle harsh elements without any issue. I opted for the the much darker "Rinse" wash, in order to uphold a clean appearance should I run across some unfavorable incidents.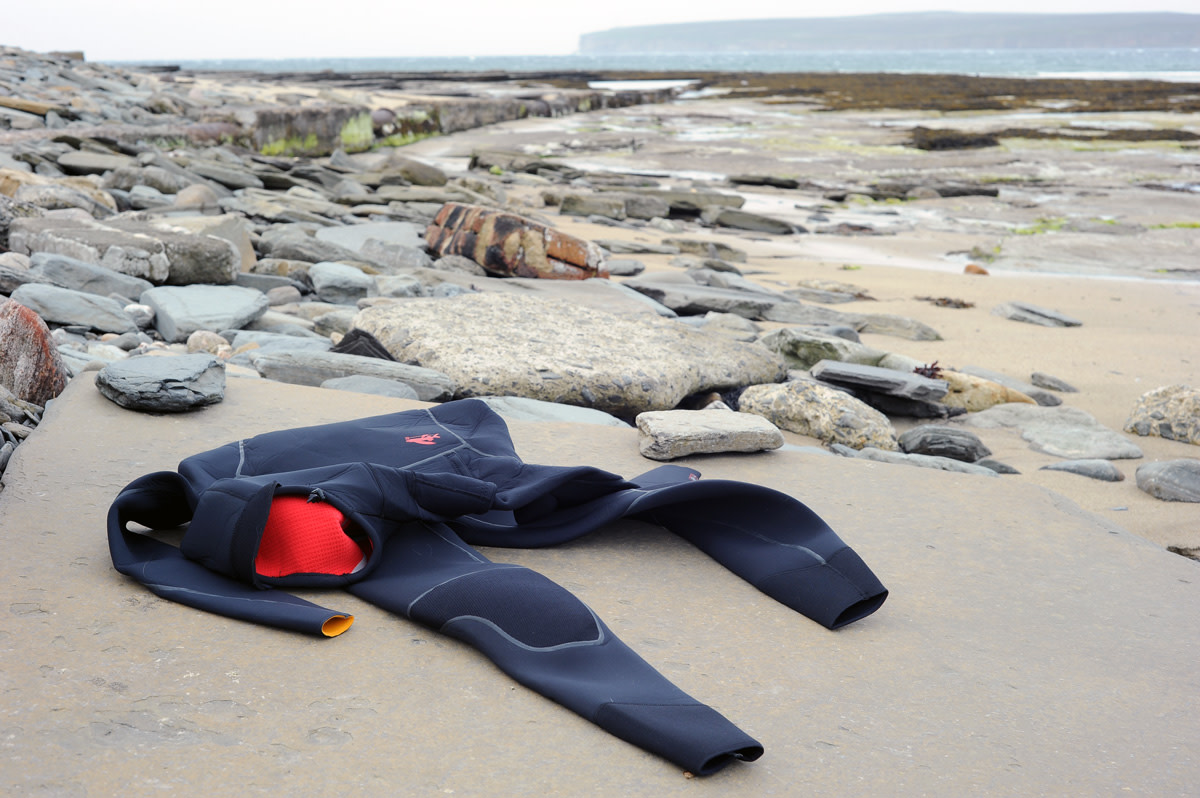 With the hopes of scoring something surfable, I was sure to pack some heavy rubber for the frigid water that's be expected in a place like Scotland. The forecast predicted water temps in the 50s (Fahrenheit), and coming from Southern California where a 3/2mm wetsuit will cover you all year long, I decided to pack on the heat with Patagonia's R4 Yulex Hooded Wetsuit, just to be safe.
The Yulex natural rubber that Patagonia uses in their R line of suits, is quite remarkable in the fact that it feels very similar to other suits I've worn before. This is a great thing, especially when prying yourself into a full suit that's packing some serious thickness, it's imperative that the rubber itself be pliable enough to allow easy entry (as well as exit). Their latest iteration of Yulex natural rubber proved to be the perfect combination for an ocean dip in Scotland. And while I didn't score any surfable conditions, it was still really cool to take a cold-water plunge … just to say that I did.
I also packed a pair of Patagonia's R3 Split Toe Booties ($85) for obvious reasons, and while my session in the frigid North Atlantic was short lived, I wouldn't have been able to do it without some rubber on our footsies.
More Packlists From ASN
Packlist: The Gear We Took on a Paddling Trip Through Chattanooga
Packlist: The Most Useful Items For Climbing British Columbia's Skaha Bluffs
Packlist: What We Packed for a Full Day Out on the Lake
For access to exclusive gear videos, celebrity interviews, and more, subscribe on YouTube!