Three former engineering students from Chile claim to have solved the problem of bike theft by creating the world's first "unstealable bike," called the Yerka, and less than two weeks ago put their first batch of Yerkas into production.
Engineers Cristóbal Cabello, Andrés Roi Eggers and Juan José Monsalve each had experienced having their bikes stolen too many times. As a result, they set out to build the first bike that would be impossible to steal. Their solution? Creating a bike frame that can be dismantled and reconnected to make a bike lock in less than 10 seconds.
By creating a seat tube that doubles as a lock, the inventors made it so that the only way a thief could steal the Yerka would be by sawing through its aluminum frame — which, in effect, would render the Yerka useless.
RELATED: Linka is the 'smart' bike lock that's also loud
Now, after a highly successful crowdfunding campaign on Indiegogo, the three young entrepreneurs have started production on the Yerka.
"We chose crowdfunding because it's the easiest way to make the product go worldwide," Cabello, the company's CEO, told CNN. "It's an international web page that is well known, and customers can pay securely with a credit card. It was the safest way to handle the money."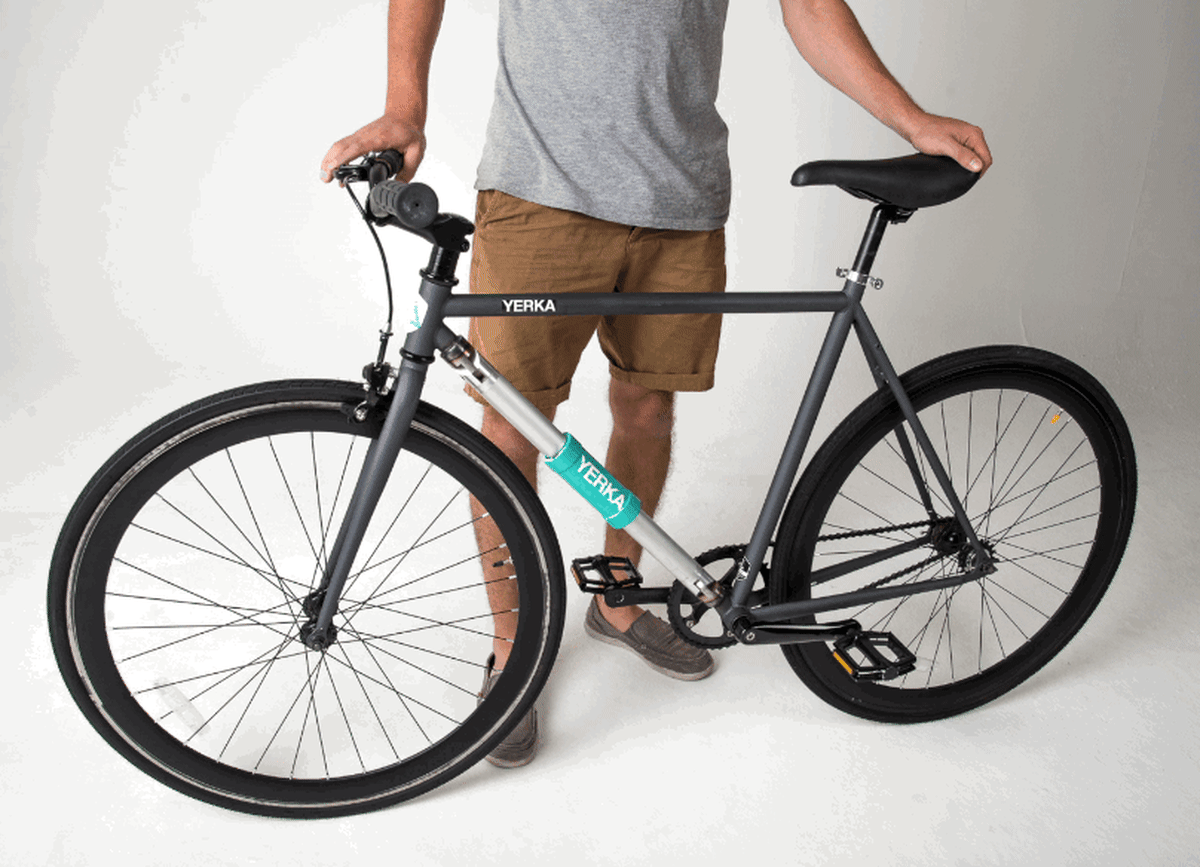 The demand on the Indiegogo campaign was so high this past April that Cabello just put in an order for the first 300 Yerkas to be produced. And while their startup has experienced a seemingly meteoric rise, the three inventors (all of whom dropped out of college to pursue the company's future) are still far from rolling in the dough. Cabello said that after spending on production and distribution, the trio will likely see no profits from the first order.
"We knew this at the beginning," Cabello told CNN. "What's important is that people get to know the Yerkas worldwide. Hopefully someone in Australia will say to their friends, 'Look at this bike I bought,' which in the future will increase sales and hopefully profits."
For now, the trio is simply enjoying its initial success. The bike's first order of production on a $499 model sold out at a breakneck pace, and consumers looking to get their hands on a Yerka will currently have to monitor Yerka's website and wait for them to restock the invention, which will likely retail for around $600 going forward.
More from GrindTV
Chris Burkard's new photo book 'High Tide' captures out of the ordinary surf locations
Roxy's #RunSUPYoga 'triathlon' comes to Huntington Beach
Pro skier starts aggressive mountain running series
For access to exclusive gear videos, celebrity interviews, and more, subscribe on YouTube!