Back in the old days—when plaid wool jackets were popular because they were made from scratchy wool, and not because urban lumbersexuals started wearing them—keeping your bratwursts and brews cold meant buying a Coleman cooler.
Those steel-clad Colemans were plenty rugged and easily closed, which made them popular among outdoorsmen. (You can still buy them, albeit slightly updated.) But they didn't keep your cold cuts cold for long, and they suffered from flimsy plastic pieces that often broke. All-plastic coolers were lighter, thicker, and cheaper, but also tended to often break in the field.
Then, in 2006, Yeti upended the cooler game, creating a burly but heavy ice chest made from roto-molded plastic, which allowed for one-piece construction with thicker walls for more insulation and robust corners to withstand rough outdoor action. Sales took off—the company as a whole hit more than $460 million in 2016—as outdoorsmen flocked to the pricey-but-tough coolers because they lasted season after season, and kept food and beer colder for longer.
With sales numbers like that, other companies took notice and knock-offs flooded the market. (Yeti just won a lawsuit against a rival that closely mimicked their designs.) But the most recent competition for the adventure cooler king has come from noted device-case-and-drybox maker OtterBox. Otterbox's newest Venture line, which came out in June, is injection-molded and designed to match (or exceed) the tough-cooler path blazed by Yeti's signature Tundra products.
I was lucky enough to get testers of both products this summer, so naturally I did what any gear-minded guy would do: I pitted them against each other—brash newcomer vs. the tried-and-true veteran—in a battle of ice box supremacy.
The ice test: Yeti Tundra 45 vs. Otterbox Venture 45
I created a (mostly scientific) ice showdown in my backyard through an ultra-humid August in North Carolina. My method was simple: Load up each cooler with ice, let 'em sweat it out, and weigh the ice left over after days in the North Carolina heat.
First, I let the coolers "acclimate" for three days to make sure they were starting on equal footing. I set both coolers outside, next to each other, with the lids open. I set each cooler on two bricks to allow for air flow underneath. I then loaded up each cooler with two 16-lb bags of ice, and let them sit for 15 minutes. After the short cooldown, I reweighed the ice, sans plastic bags, and checked the internal temperature of each cooler. They both were sitting at approximately 55°, per a Weber iGrill mini digital thermometer.
Acclimatization complete, I loaded 31.6lbs of ice into each cooler. I latched each lid securely, and put both coolers in a shady spot on the side of the house, back on top of the bricks. The outside temperature at the start of the test was 79.9°.
I let the coolers sit for four days without opening the lids. Halfway through the test, I switched the coolers' location so each had equal time in the same spot. Over the four days, the average high temperature in the area was 88°, and the average humidity was 78.5%, per the National Climatic Data Center.
After the test was over, I emptied each cooler of water, using a wire mesh colander to get as much water out as possible. I then weighed the remaining ice, to see which cooler managed to keep the water frozen for longer.
The winner: In a surprise usurping of the OG hard cooler, the OtterBox slightly outperformed the Yeti, with 5.75lbs of ice remaining vs. 5.03lbs.
Obligatory caveats: No, this wasn't a truly scientific test, although I tried to make it as fair and accurate as possible. Could you debate all sorts of variables? Sure. But these results are what I came up with using my sixth-grade science class methodology, which pitted the coolers against each other in what should be their natural habitat: the side of the house on a summer afternoon. Furthermore, the numbers really aren't that far off, with only a 13% difference in leftover ice.
The bottom line: The OtterBox Venture seems like it'll keep your ice colder for longer. Of course, at the same $349.99 price point, both coolers are great values for people who need hardcore, tough coolers built to last.
The road test: Yeti Tundra 45 vs. Otterbox Venture 45
I brought the Yeti Tundra 45 and the Otterbox Venture 45 on a summer's worth of excursions:
a three-day canoeing trip down a river in western Virginia;
a Memorial Day weekend bash on a lake in South Carolina; and
a long car-camping weekend in the mountains outside of Asheville, NC, for eclipse-watching (totality, baby!).
What follows are my thoughts on the pros and cons of each model, as they relate to pure usability, durability, and travel-friendliness.
Review: Venture 45 cooler by OtterBox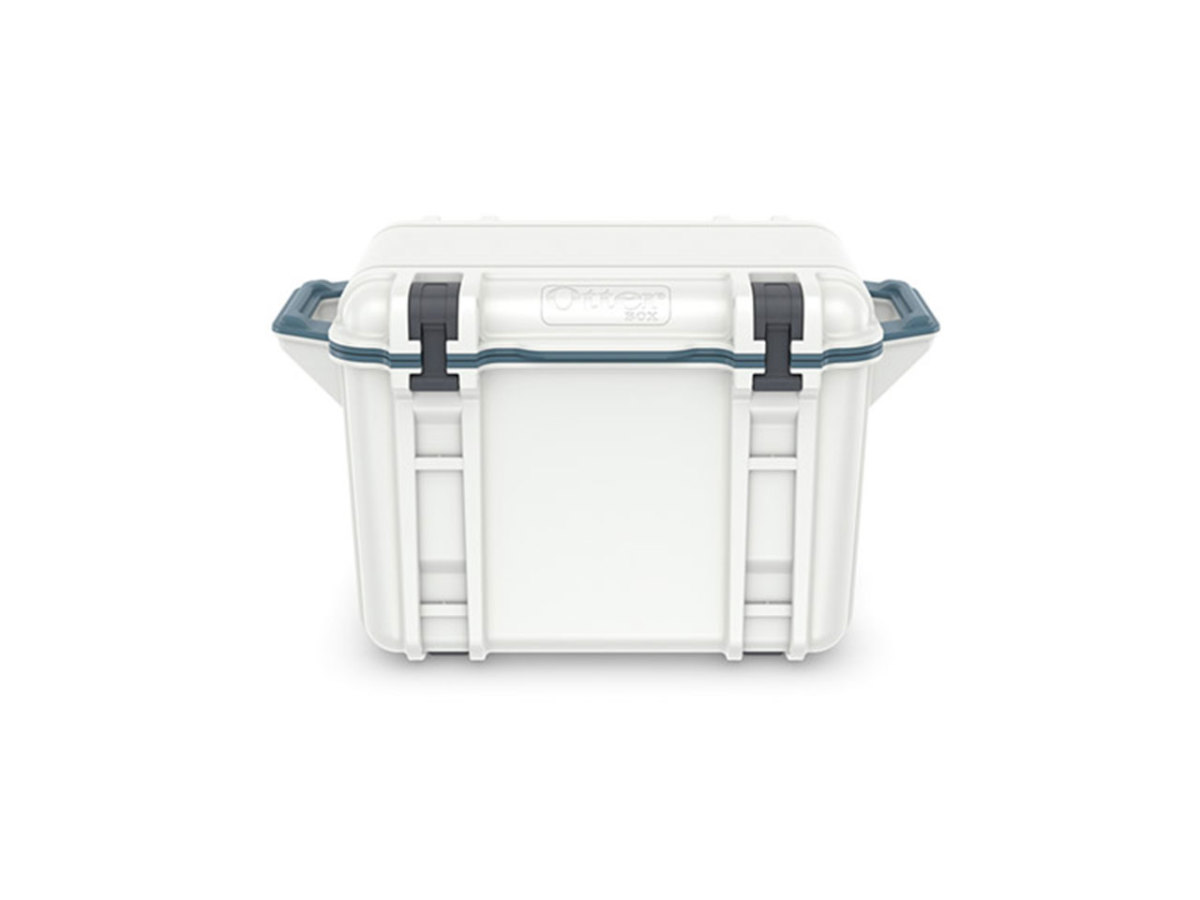 The OtterBox Venture is Yeti's first real competitor that doesn't just copy Yeti's Tundra design. The Venture, for example, is designed around the injection-molded construction methods OtterBox uses in its dryboxes and device cases; the injection-molding retains the toughness of roto-molding, but allows for more variation in design. The Venture also has a cam-style latch system that makes it easy to open and close with one hand.
Venture advantages:
Easier-to-use handles (more on those in a bit).
Slightly longer ice retention (OtterBox claims the cooler can hold ice for 14 days).
Modularity: The Venture's interior has three divider slots, which make it easier to separate your drinks from your cold cuts.
Versatility: Myriad accessories latch onto the cooler at eight mounting points on the front and back. It also has an awesome side table with a removable cutting board, and three integrated cup holders that slip over either handle. Other nice accessories that attach to the outside include a double cup holder, drybox clip, and an included bottle opener. It also comes with a handy dry storage tray.
Venture drawbacks:
Bulk: The Venture does have a little more internal area than the Tundra, but the outside volume makes it seem much larger. The easy-to-use handles can become a liability when packing the cooler into smaller spaces, as they can rob precious cargo space or just make it unwieldy to situate.
Bottom line: If space isn't a big concern and you love lots of little cooler gadgets—especially a fantastically useful side table—then the OtterBox Venture is the super-cooler for you.
External: 31.39" x 18.76" x 18.83"
Internal (top): 19.30" L x 11.67" W x 13.30" H
Internal (bottom): 18.10" L x 10.60" W x 13.30" H
Dry Weight: 26.37lbs
Price: $349.99, otterbox.com
Review: Tundra 45 cooler by Yeti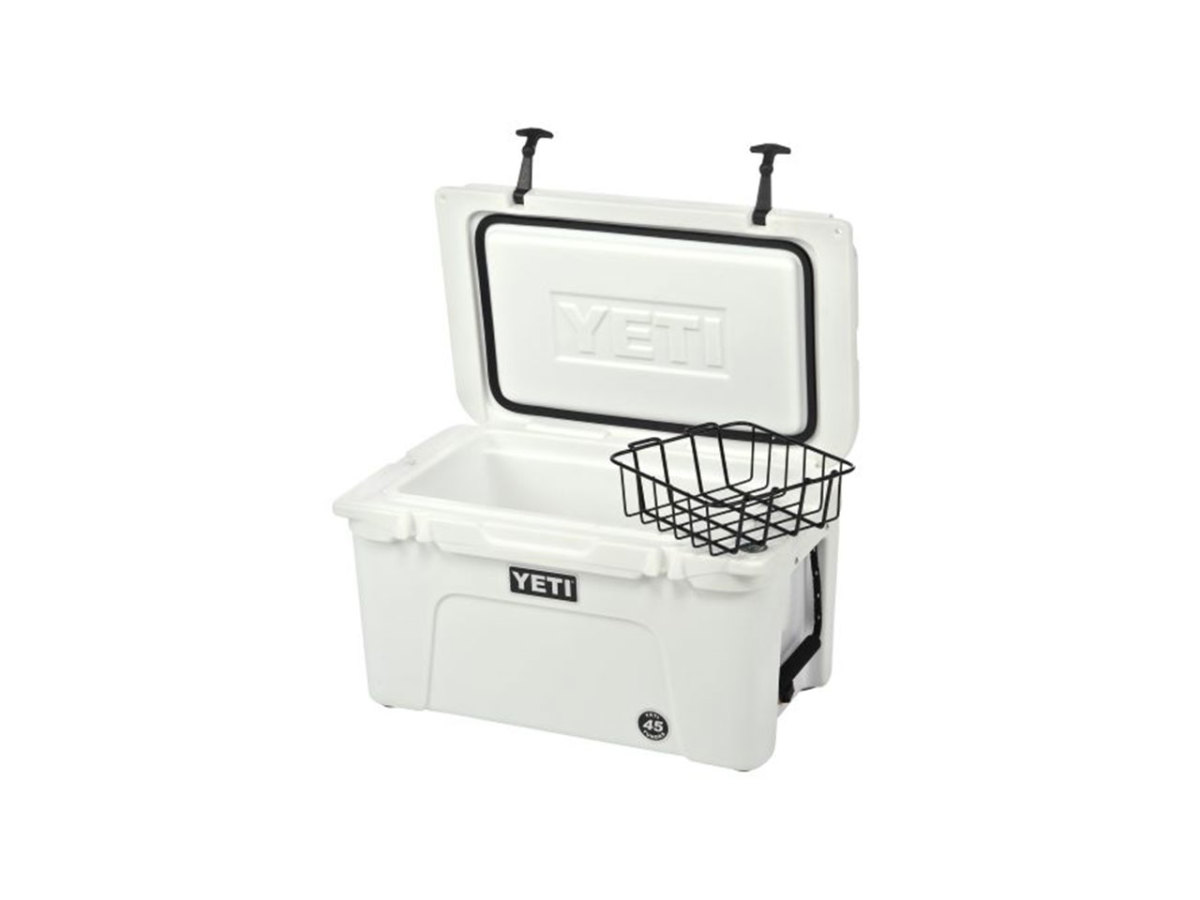 The standard for all tough outdoor coolers, the Yeti Tundra sports impressive features and a clean, sure-to-be-classic design.
Tundra advantages:
Durable design: The Yeti is made with thick "Fatwall" sides, bolstered with two inches of polyurethane foam between roto-molded plastic for long-lasting ice retention. The lid features a freezer-grade gasket that fits into a channel to keep cold from leaking out through the top. The hinge—similar to a piano hinge—runs the length of the lid to maximize durability and minimize breakage, and the T-shaped rubber latches are easy to lock down.
Compact for its size: The Tundra's handles are flush lips below the lid, or you can also use the military-grade nylon rope handles for another carrying option. That compact shape means no protrusions, so the Tundra fits nicely in trunks and the back of SUVs with your other luggage.
Tundra drawbacks
There aren't many downsides to the Tundra, aside from our finding that it may not hold ice quite as long as the Venture. That said, if we were to critique some of the finer points, we'd point out:
Lack of accessories: The Tundra doesn't have much in the way of add-ons besides the included dry goods basket, a divider that you can buy separately, and three sizes of specially designed ice packs.
The compact handles, while certainly low-profile, can be a little awkward to maneuver when the cooler is fully loaded.
Bottom line: If you need a robust cooler with a low profile that fits smoothly in smaller SUVs, cars, and boats where space is a premium—and if you don't really see yourself using the accessories—you can't go wrong shelling out for the Tundra.
External: 15.50" x 25.50" x 16"
Internal (top): 19.50" L x 10.50" W x 9.88" H
Internal (bottom): 18.38" L x 9.50" W x 9.88" H
Dry weight: 23lbs
Price: $349.99, yeti.com
For access to exclusive gear videos, celebrity interviews, and more, subscribe on YouTube!