The 2014 Ultimate Athlete Games are back, and even better than ever with an all new three-part course designed to test your speed, strength, and agility. And we might even be going on tour to a city near you! We can't share all the details and secrets yet, but to get you primed and ready for competition we've carefully crafted a balanced, well-rounded program by Michael Giovanni Rivera, the owner of GIO Training and contributor to HUMANFITPROJECT.
KEY NOTES ABOUT THE PROGRAM:
This program is designed to take the already fit participant to the next level. It is a very intense program working the entire body in all are areas, strength, power, speed, agility, balance, explosiveness, endurance and muscular endurance all in a short period of time designed in 4 stages that last a total of 6 weeks in the program all the way to race day.
The Ultimate Athlete Games' Master Exercise List>>>
STRUCTURE:
* Exercises that are bundled together in groups of 3-5 are to be supersetted. For example, go through each exercise in the group and then repeat according to how many sets are noted in the workout.
* For the timed workouts, each exercise is 1 minute each, set up in 5 exercises. For example do the 5 exercises in a row without rest, total of 5 minutes of exhaustion then 1 minute of rest. Then repeat according to how many rounds are indicated in the workout.
RESISTANCE/LOAD:
As far as what weight to use the max load you can do according to the rep range indicated per set. When its for timed workouts use what you think you assume you can do for the indicated time.
TIMING:
* Most weight training workouts should last about 60 minutes, not including the cardio.
* Timed workouts can last from 25-40 minutes
ADDITIONAL:
* Dynamic warm exercises are to be performed prior to every workout for proper warm up of the body.
* Cool down and stretch is indicated at end of every workout.
THE PROGRAM LAYOUT
Week 1-2: Strength & Power Phase
Monday: Push & Pull, 30 Minute Cardio
Tuesday: 30 Minute Cardio
Wednesday: Legs & Core
Thursday: 30 Minute Cardio
Friday: Full Body, 30 Minute Cardio
Saturday: 30 Minute Cardio
Sunday: Off
Week 3-4: Muscular Endurance & Cardiovascular Phase
Monday: Full Body, 30 Minute Cardio
Tuesday: 40 Minute Cardio
Wednesday: Full Body Timed, 30 Minute Cardio
Thursday: 40 Minute Cardio
Friday: Full Body, 30 Minute Cardio
Saturday: Full Body Timed, 40 Minute Cardio
Sunday: Off
Week 5: Intense Muscular Endurance & Cardiovascular Phase
Monday: Full Body Timed, 50 Minute Cardio
Tuesday: 40 Minute Cardio Twice Am & Pm
Wednesday: Full Body Timed, 50 Minute Cardio
Thursday: 40 Minute Cardio Twice Am & Pm
Friday: Full Body Timed, 50 Minute Cardio
Saturday: Full Body Timed, 50 Minute Cardio
Sunday: Off
Week 6: Peak Phase
Monday: Full Body Light, 50 Minute Cardio
Tuesday: 30 Minute Cardio
Wednesday: Full Body Light
Thursday: 30 Minute Cardio
Friday: Off
Saturday: Race Day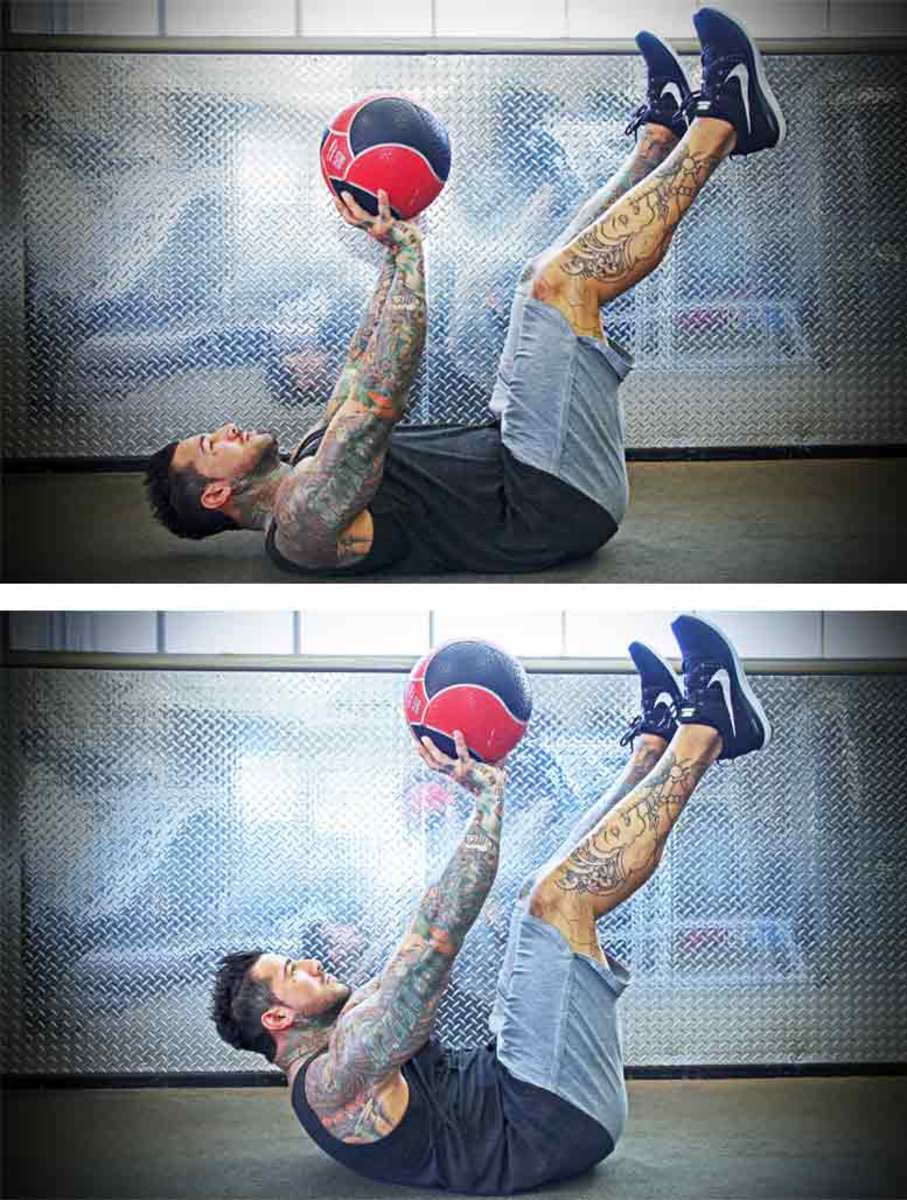 Week 1-2 Strength & Power Phase
Monday: Push & Pull, 30 Minute Cardio
* Dynamic Warm up
Workout
Pull Up: 5 sets x 15,12,10,10,10
Barbell Chest Press: 5 sets x 15,12,10,8,6
Rope Slams: 5 sets x 30 seconds
Bent Over Row: 4 sets x 10
Incline Dumbbell Press: 4sets x 10
Bear Crawl: 4 sets x 40 feet there & back
Plank One Arm Rows: 3 x 12
Inch Worm With Push Up: 3 x 12
Ball Slam: 3 x 20
Push Press: 3 x 15,12,10
Dips: 3 x 15
Reverse Curls: 3 x 15
Crab Crawl: 3 x 40 Feet There & Back
30 Minute Cardio
Cool Down & Stretch
Tuesday: 30 Minute Cardio
Wednesday: Legs & Core
* Dynamic Warm up
Workout
Squats: 5 sets x 15,12,10,8,8
Single Leg Steps: 5 sets x 10 Each Side
Lateral Cone Drill: 5 set x 10 Each Touch
1 Arm Ball Crunch: 4 setx 20 Each Side
Lunges Stationary: 4 set x 10
Squat Jumps: 4 sets x 20,30,40,50
Agility Ladder (Forward & Lateral Movements): 4 sets x End & Back Twice
Side Planks: 4 sets x 20 Each Side
Leg Press: 4 sets x 12,12,10,10
Sprint: 4 sets x 1 Minute
Single Leg Dead Lift: 3 sets x 10 Each Side
Leg Lift With Hip Thrust: 3 sets x 25
Arm Plank: 3 sets x 5,7,10 Each Side
Cool Down & Stretch
Thursday: 30 Minute Cardio
Friday: Full Body, 30 Minute Cardio
* Dynamic Warm Up
Workout
Deadlifts: 4 sets x 15,12,10,8
Close Grip Pull Up: 4 sets x 15,12,10,10
Alternating Dumbbell Chest Press: 4 sets x 12 Each Side
Cable Twist: 4 sets x 12 Each Side
Rope Slams Alternating: 4 sets x 30 Seconds
Bulgarian Lunge (Off Bench): 4 sets x 10 Each Side
Plyo Lunge: 4 sets x 10 Each Side
Standing Alternating Cable Rows: 4 sets x 12 Each Side
Plyo Push Up: 4 sets x 15
Barbell Crunch: 4 sets x 20
Sprint: 4 sets x 1 Minute
Squat With 1 Arm Curl To Press: 3 sets x 10 Each Side
Close Grip Push Ups: 3 sets x 15
Hanging Leg Lifts: 3 sets x 20
Agility Ladder (Forward & Lateral Movements): 3 sets x End & Back Twice
30 Minute Cardio
Cool Down & Stretch
Saturday: 30 Minute Cardio
Sunday: Off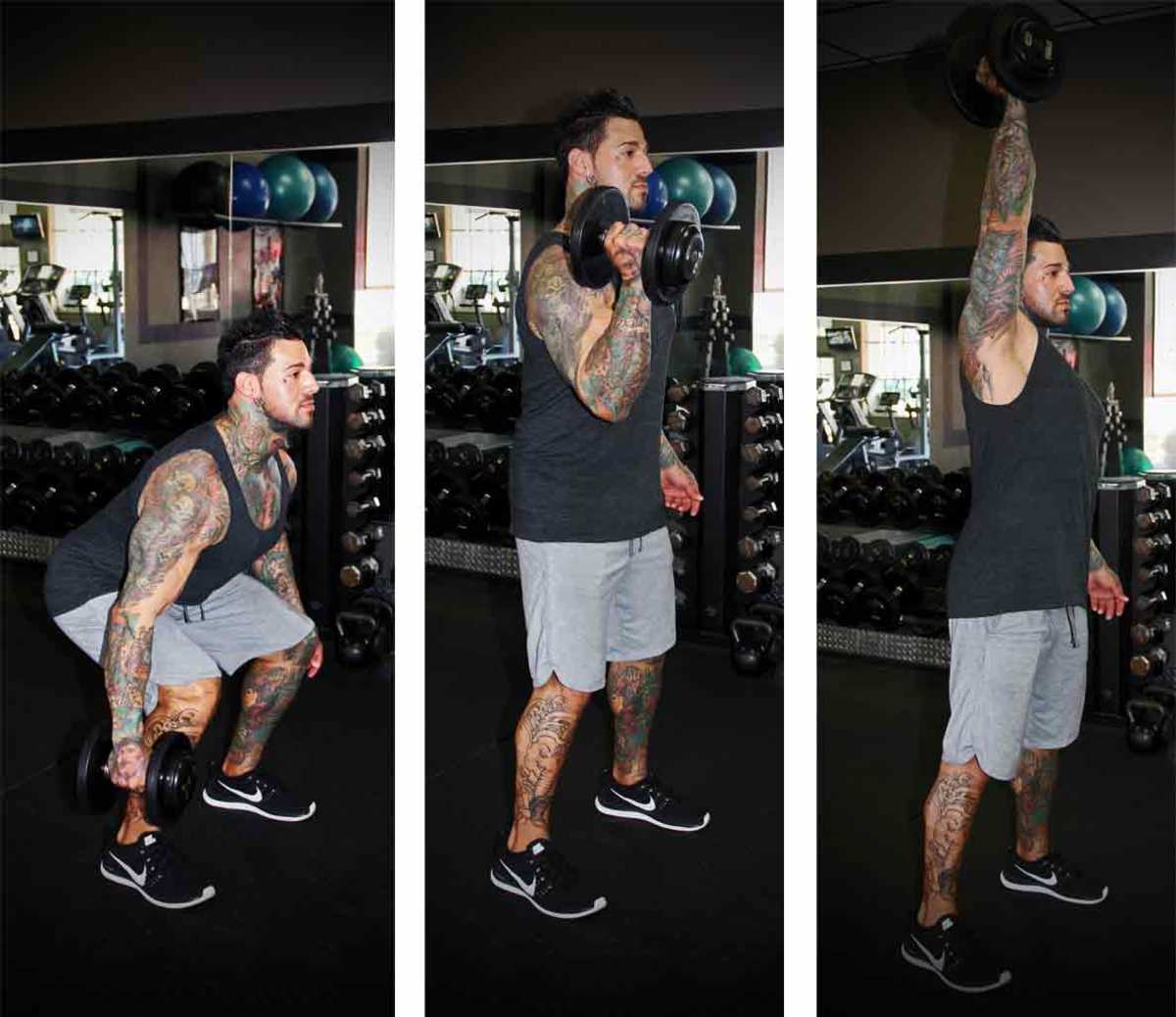 Week 3-4 Muscular Endurance & Cardiovascular Phase
Monday: Full Body, 30 Minute Cardio
* Dynamic Warm Up
Workout
Burpee With Pull Up: 4 sets x 20
Squat With 1 Arm Shoulder Press: 4 sets x 15 Each Side
Wood Chops: 4 sets x 15 Each Side
Rope In To Out Circles: 4 sets x 1 Minute
Bear Crawl 20 Feet To 20 Staggered Push Ups: 4 sets x 2 Times
Plank One Arm Rows: 4 sets x 20 Each Side
Single Leg Deadlift: 4 sets x 12 Each Side
Dips: 4 sets x 20,20,30,30
Stepper: 4 sets x 2 Minutes
Box Jumps: 3 sets x 25,35,50
Windshield Wipers: 3 sets x 25 Each Side
Arm Plank: 3 sets x 5,7,10 Each Side
3 Cone Drill: 3 sets x 5
30 Minute Cardio
Cool Down & Stretch
Tuesday: 40 Minute Cardio
Wednesday: Full Body Timed, 30 Minute Cardio
30-60 Seconds Per Exercise w/ 60 Seconds Rest After Each Round
* Dynamic Warm Up
Workout
Round 1,2,3
Kettle Bell Swings
Step Up With Barbell Shoulder Press
Standing Alternating Cable Rows
Alt Cable Chest Press
Sprint
Round 4,5
Farmers Walk
Sprawls
Decline Push Ups
1 Arm Pulldowns
Rope Slams
Bosu Single Leg Balance: 3 sets x 30 Seconds (Both Sides)
Swiss Ball Balance On Knees: 3 sets x 1 Minute
Barbell Twist: 3 sets x 20 Each Side
Supermans: 3 sets x 25
30 Minute Cardio
Cool Down & Stretch
Thursday: 40 Minute Cardio
Friday: Full Body, 30 Minute Cardio
* Dynamic Warm Up
Workout
Inch Worm With Push Up: 4 sets x 20
Muscle Up: 4 sets x Failure
Walking Lunges: 4 sets x 10 Each Side
Lateral Hops: 4 sets x 10 Each Side
Stepper: 4 sets x 2 Minute
1 Arm Cable Chest Press: 4 sets x 20 Each Side
Low Pulley Cable Row: 4 sets x 20 Each Side
Kettle Bell Transfer: 4 sets x 20 Each Side
Agility Ladder: 4 sets x End & Back Twice (Forward & Lateral Movements)
Dips: 3 sets x 20,20,30,30
Crab Crawl: 3 sets x 40 Feet There & Back
Decline Crunch: 3 sets x 25
Side Planks: 3 sets x 20 Each Side
30 Minute Cardio
Cool Down & Stretch
Saturday: Full Body Timed, 40 Minute Cardio
30-60 Seconds Per Exercise w/ 60 Seconds Rest After Each Round
* Dynamic Warm Up
Workout
Round 1,2,3
Burpees
Jump Pull Up
Leg Press
Single Leg Hop
Rope Slams Alternating
Round 4,5
Band Chest Press (Fast As Possible)
Band Rows (Fast As Possible)
Side Lunge
Box Jumps
Sprint
Crunch: 1 set x 150
Jack Knife: 1 set x 150
40 Minute Cardio
Cool Down & Stretch
Sunday: Off
Week 5 Intense Muscular Endurance & Cardiovascular Phase
Monday & Friday: Full Body Timed, 50 Minute Cardio
30-60 Seconds Per Exercise w/ 60 Seconds Rest After Each Round
* Dynamic Warm Up
Workout
Round 1,2,3
Spiderman Push Ups
Close Grip
Pull Ups
Sprawl To Squat Jump
Bulgarian Lunge (Off Bench)
Stepper
Round 4,5
Incline Sprint
Depth Jumps
Flat Bench Barbell Press
1 Arm Row With Single Leg Balance
Ball Slams
Hanging Knee Lift
Low Pulley Cable Twist: 4 sets x 15 Each Side
Plank Hold: 4 sets x 1-2 Minute
50 Minute Cardio
Cool Down & Stretch
Tuesday & Thursday: 40 Minute Cardio Twice Am & Pm
Wednesday & Saturday: Full Body Timed, 50 Minute Cardio
30-60 Seconds Per Exercise w/ 60 Seconds Rest After Each Round
* Dynamic Warm Up
Exercise Sets Reps
Band Chest Press (Fast As Possible)
Band Rows (Fast As Possible)
Rope Slam
Alternating Agility Ladder (Forward & Lateral Movements)
Sprint
Lateral Walking Push Up
1 Arm Pulldown
Push Press
Box Jumps
Stepper
Bosu Single Leg Balance: 3 sets x 30 Seconds (Both Sides)
Swiss Ball Balance On Knees: 3 sets x 1 Minute
Barbell Crunch: 4 sets x 20
Supermans: 4 sets x 30
50 Minute Cardio
Cool Down & Stretch
Sunday: Off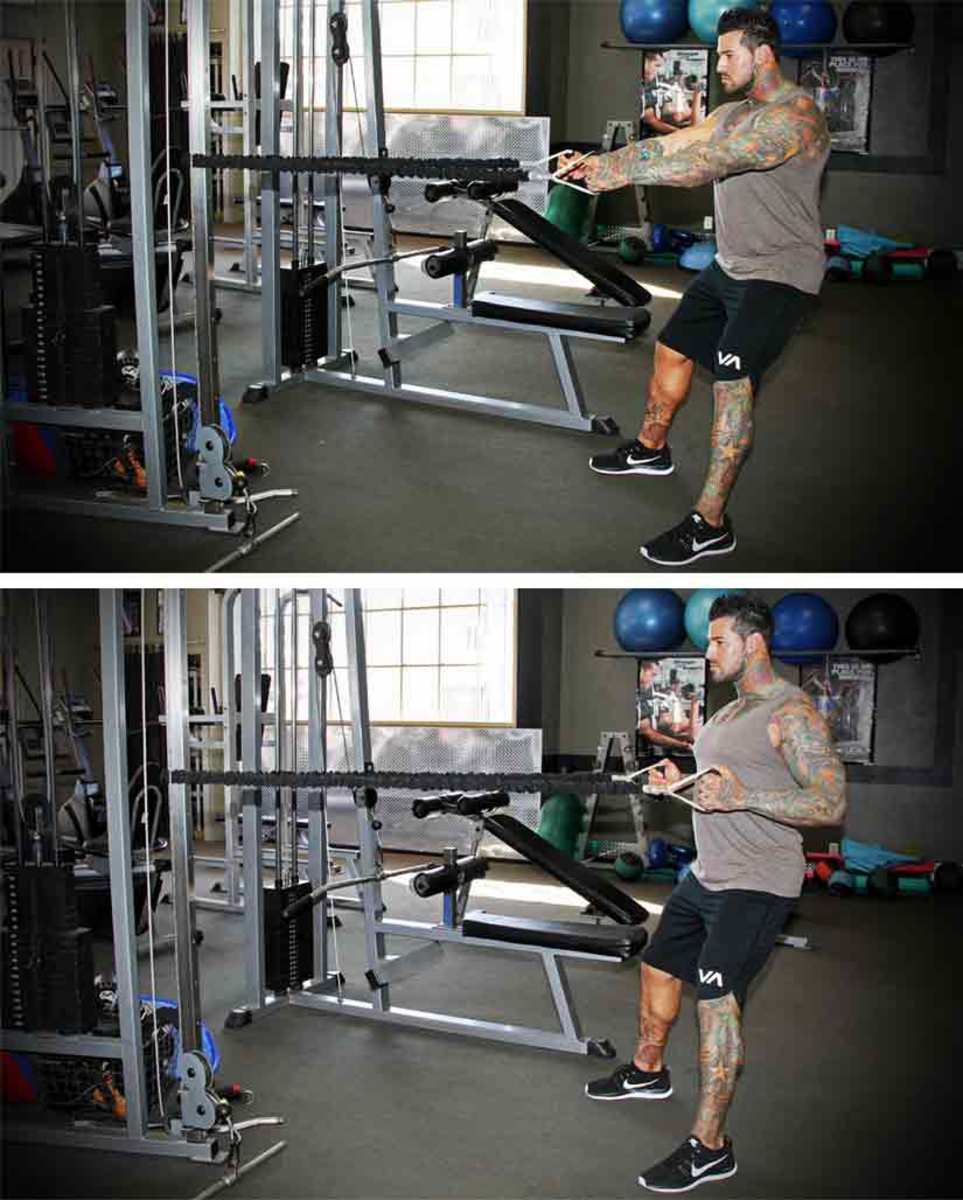 Week 6 – Peak Phase
Monday & Wednesday: Full Body Light, 50 Minute Cardio
* Dynamic Warm Up
Workout
Squat (Body weight): 3 sets x 20
Step Up (Body weight): 3 sets x 10 Each Side
Lunge (Body weight): 3 sets x 10 Each Side
Agility Ladder (Forward & Lateral Movements): 3 sets
Bosu Single Leg Balance (Both Sides): 3 sets x 30 Seconds
Band Chest Press: 3 sets x 20
Band Rows: 3 sets x 20
Arm Plank: 3 sets x 5,7,10 Each Side
Tuesday & Thursday: 30 Minute Cardio
Friday: Off
Saturday: Race Day