It's easy to look at Hollywood stars and celebrities and assume they just work out all the time. Being ripped is sort of, you know, their jobs. But between marathon movie shoots, production meetings, publicity commitments, and traveling, it can actually be tough to find time to get in the gym. Just like the rest of us, it can feel like there aren't enough hours in the day to get it all done. These 25 ripped celebrity dudes—guys like Dwayne "The Rock" Johnson, Vin Diesel, Jason Statham, Dave Bautista, Zac Efron, and Dolph Lundgren—find time to get it done.
But for the ones who do make the time, they don't just crush their workouts—they broadcast them for their fans to see, just to prove that they're putting in the work.
These are the stars who get at it every day, even when they don't want to. They're the ones we admire and they're undeniably the ones to keep an eye on when you're browsing social media.
Here's a look at 25 celebrities who own the Instagram workout game:
1. Dwayne "The Rock" Johnson
As the highest-paid actor in the world and one of the most jacked dudes in Hollywood, Dwayne "The Rock" Johnson barely has any time to sleep—but he always has time for the gym.
Along with photos and videos promoting his top movies like Central Intelligence, Jumanji, Fast 8, and Baywatch, Johnson shows off his many workouts: battle ropes, hitting the punching bag, overhand-grip bicep curls, flipping tires with Zac Efron, blasting his massive chest and shoulders with cable flyes, and doing leg curls.
2. Vin Diesel
The Fast & Furious star has a massive following on Instagram, so it's no surprise he posts frequent gym updates to his near-30 million fans. Diesel keeps his body in top form so he can do his own stunts in movies like Fast 8 and xXx: The Return of Xander Cage.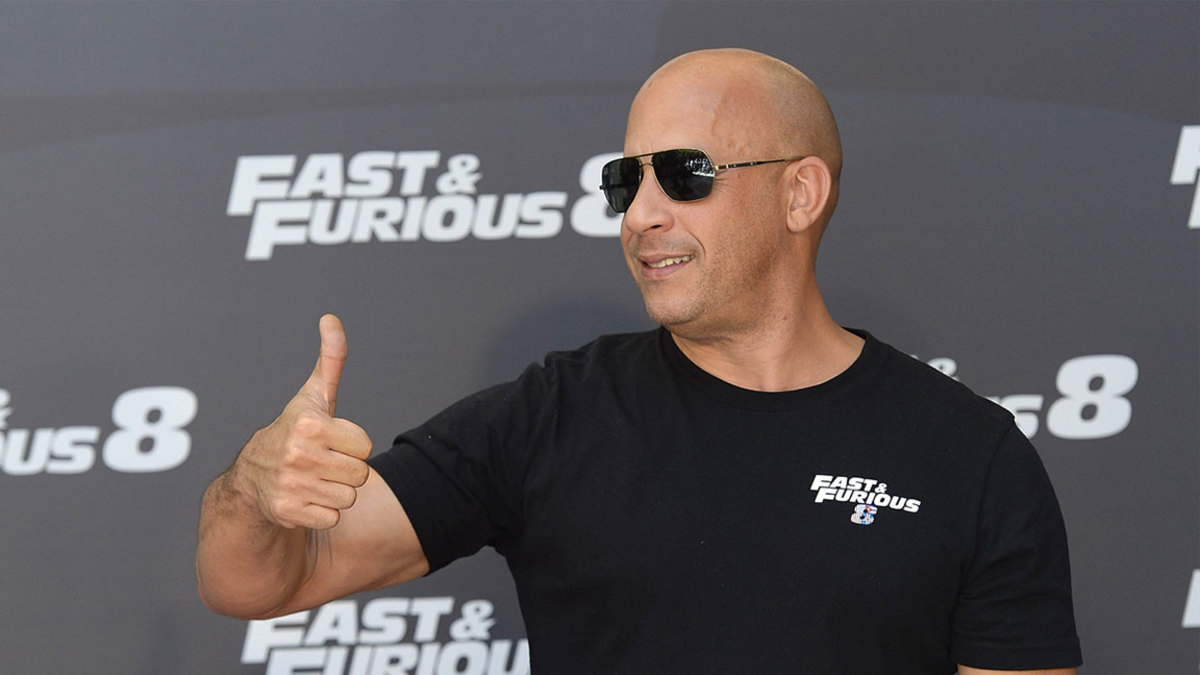 The April 2015 Men's Fitness cover star (who detailed how he builds his signature arms and shoulders) often documents on showing off his ripped and "tattooed" back, blasting his abs with a wheel workout, and doing cable workouts.
3. Jason Statham
This badass British star of films like Furious 7, The Mechanic, and The Transporter can play the villain or the hero with ease.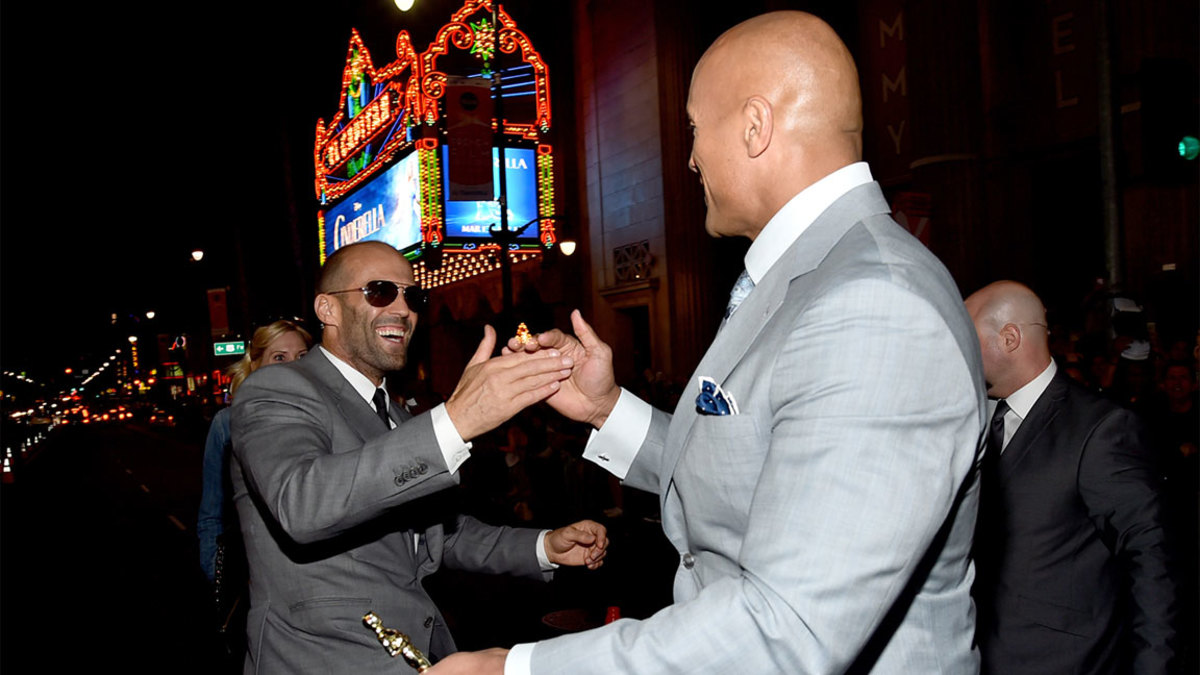 He owns the Insta workout game: pullups (while rocking killer abs), boxing, plank variations, pushups for the #22pushupchallenge, and kickboxing.
4. Jason Momoa
After appearing as the ultra-ripped aquatic member of the Justice League and the fearsome Dothraki warlord Khal Drogo on Game of Thrones, actor Jason Momoa knows what it takes to get his body into peak form: sled pull workouts, renegade rows, pushups, expressively lit bench presses, and (of course) axe throwing—just what every real man needs.
Warner Bros.
5. Kevin Hart
The October 2016 Men's Fitness cover star and funnyman has committed himself to staying in shape and promoting fitness in recent years—including with his own signature training sneaker—and the results have been great: Hart is unquestionably shredded, and has the stamina to run marathons.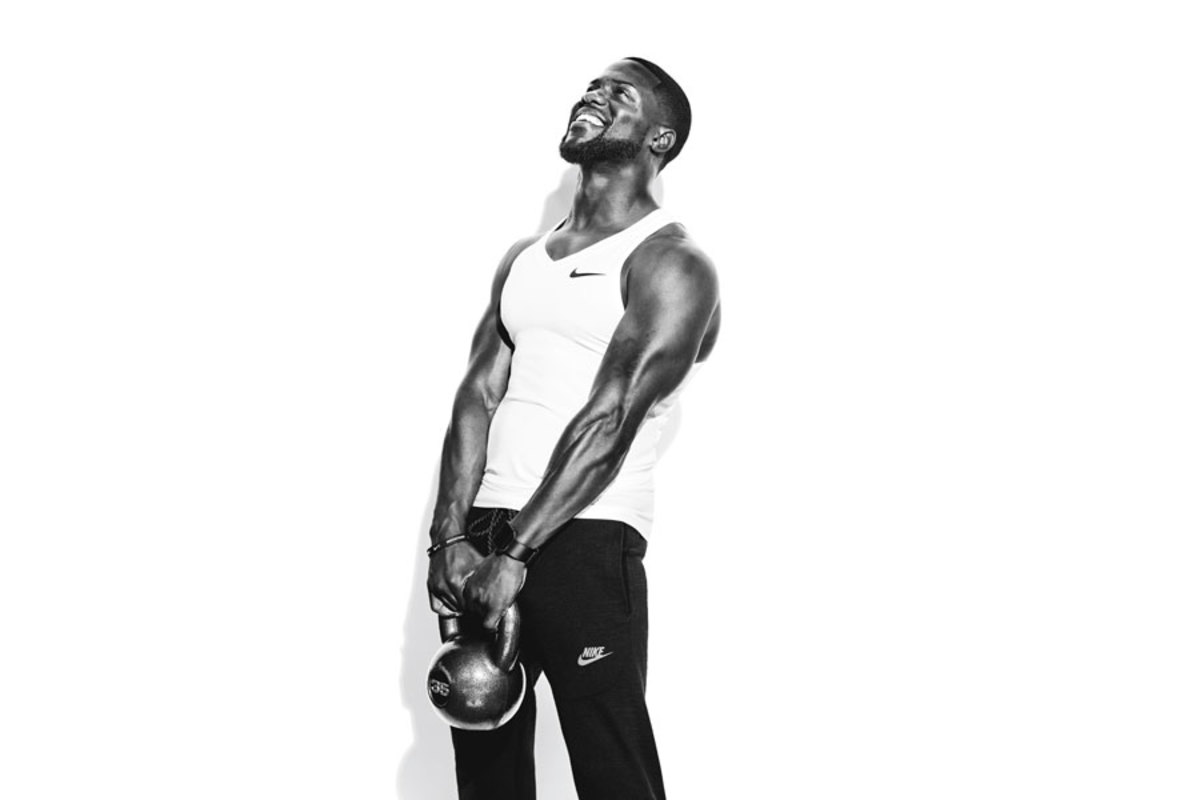 Hart's training keeps things classic with the bench press, pushups, rows, curls, and dips. He also shows off some of his moves on Instagram: intense rope workouts, squats, early-morning gym sessions, long runs, kettlebell workouts, cable workouts, and dumbbell shoulder presses. Bonus points for his Mannequin Challenge in the gym.
6. Henry Cavill
The September 2016 Men's Fitness cover star sculpted his body for his role as Superman in Man of Steel, Batman v. Superman, and the upcoming Justice League, using an intense workout regimen that included shuttle runs, kettlebell workouts, chinups, step ups, and squats.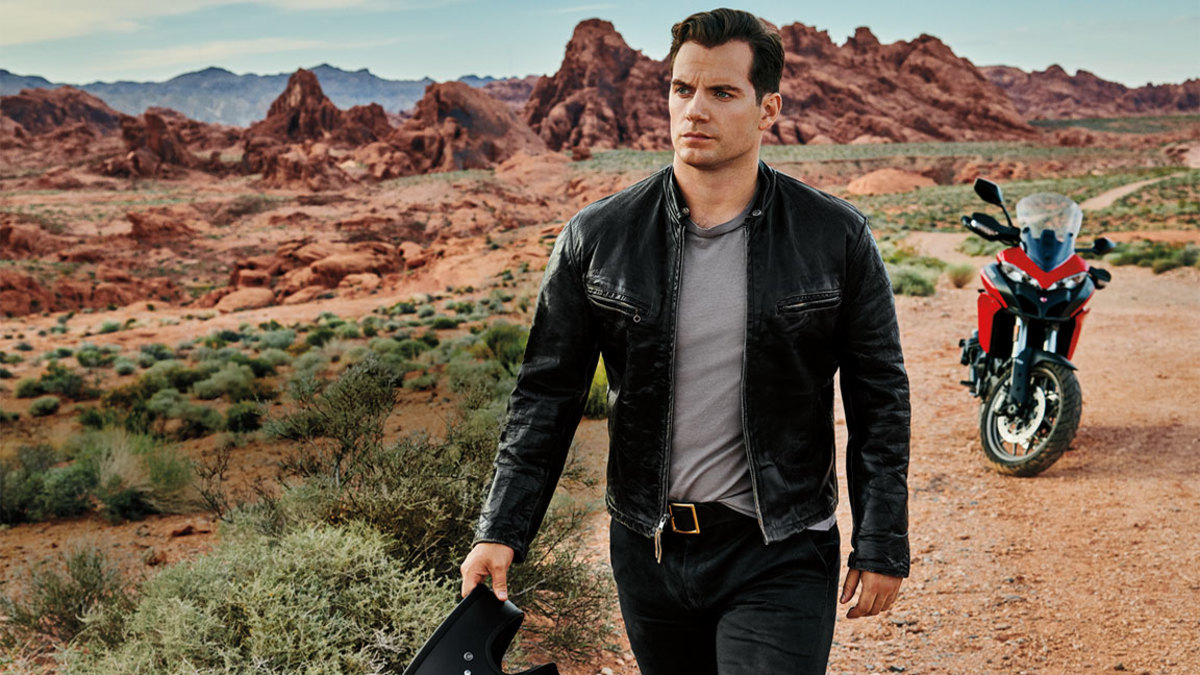 The British actor takes his training seriously and he shows off some of his workouts on social media, including back squats, rope workouts, and fight training, like his session working out at the Renzo Gracie Jiu-Jitsu academy.
7. Chris Hemsworth
All hail the mighty Thor—and his Instagram workouts. The Australian actor keeps himself in shape with boxing work, fight training, kickboxing, and special "one-armed pullups".
8. Chris Pratt
The July/August 2014 Men's Fitness cover star went through a major body transformation, going from the loveable, doughy Andy Dwyer on Parks and Recreation to the musclebound, six-pack rocking superhero Peter Quill in Guardians of the Galaxy and a beefed-up Navy SEAL in Zero Dark Thirty.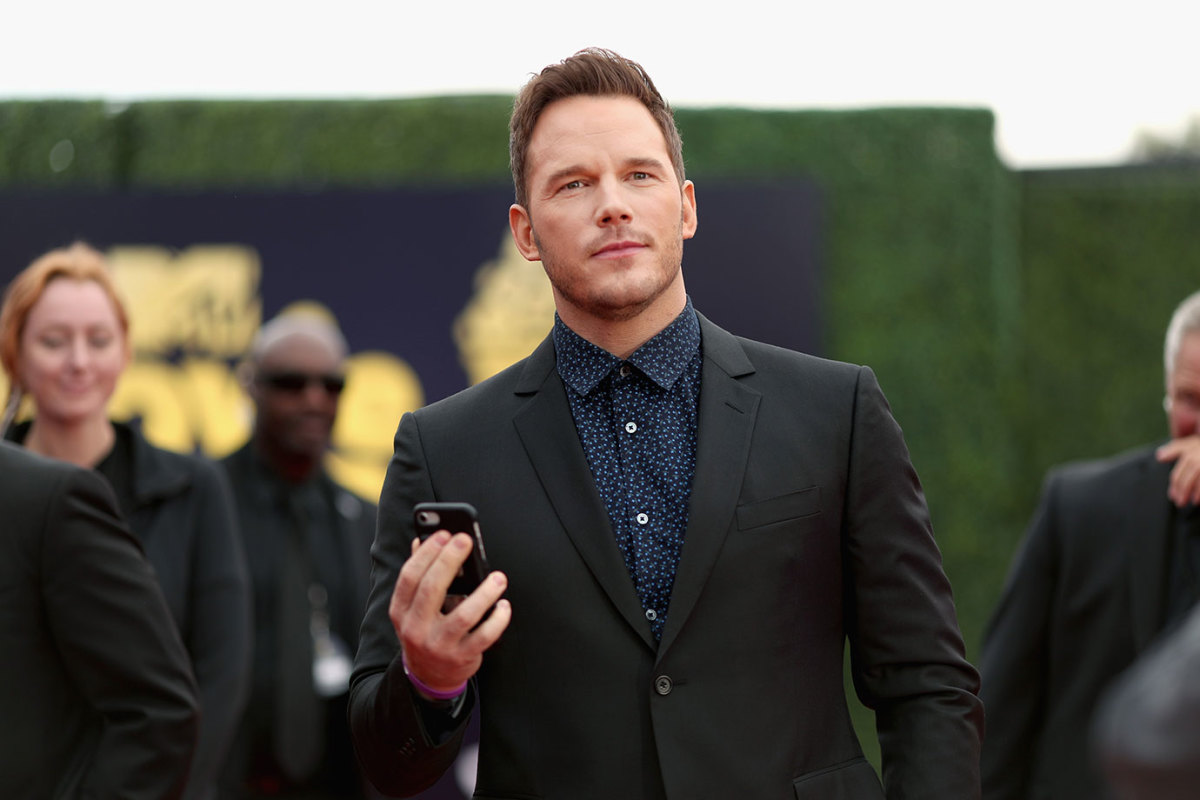 The winning combo? Hitting the gym and staying off beer.
9. Hugh Jackman
Playing Wolverine for over a decade has kept this Australian actor in fantastic shape, he's been sharing his workouts and gym routines on social media throughout his career.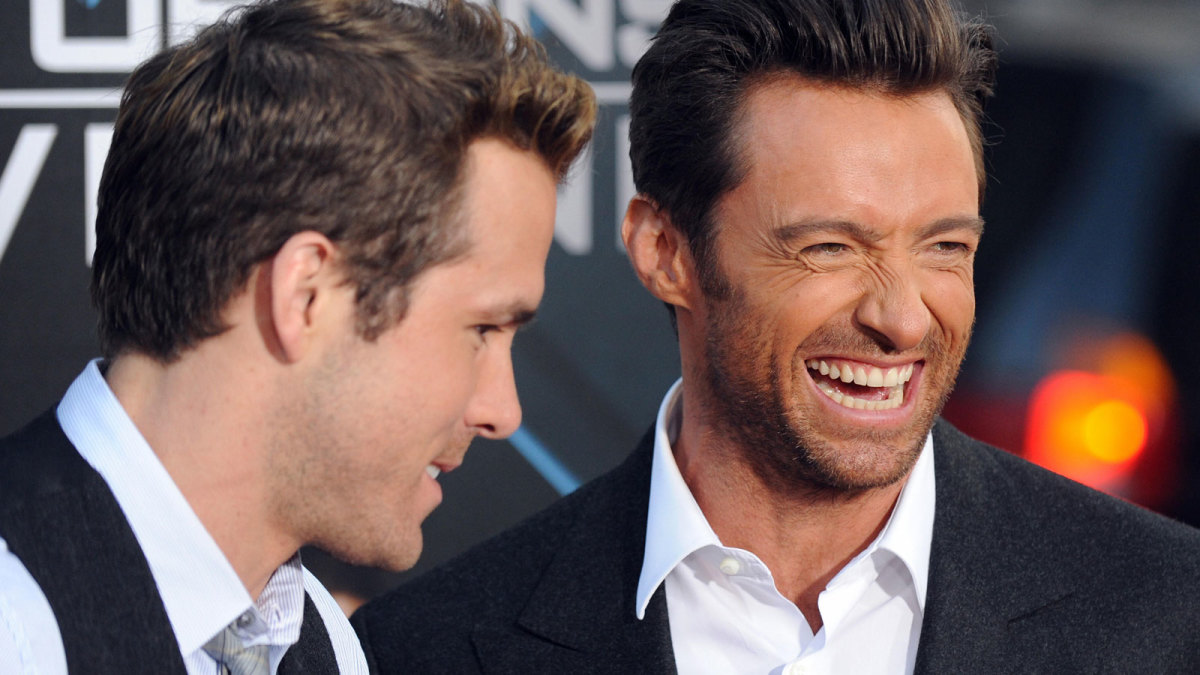 To get in shape for his final turn as the X-Men hero, Jackman used clap pushups, squats, deadlifts, bench presses, and weighted pullups along with supersets and circuit workouts to get his body ripped.
10. Arnold Schwarzenegger
The bodybuilding legend has never forgotten his roots and he continues to stay in fantastic shape even as he nears 70 years old.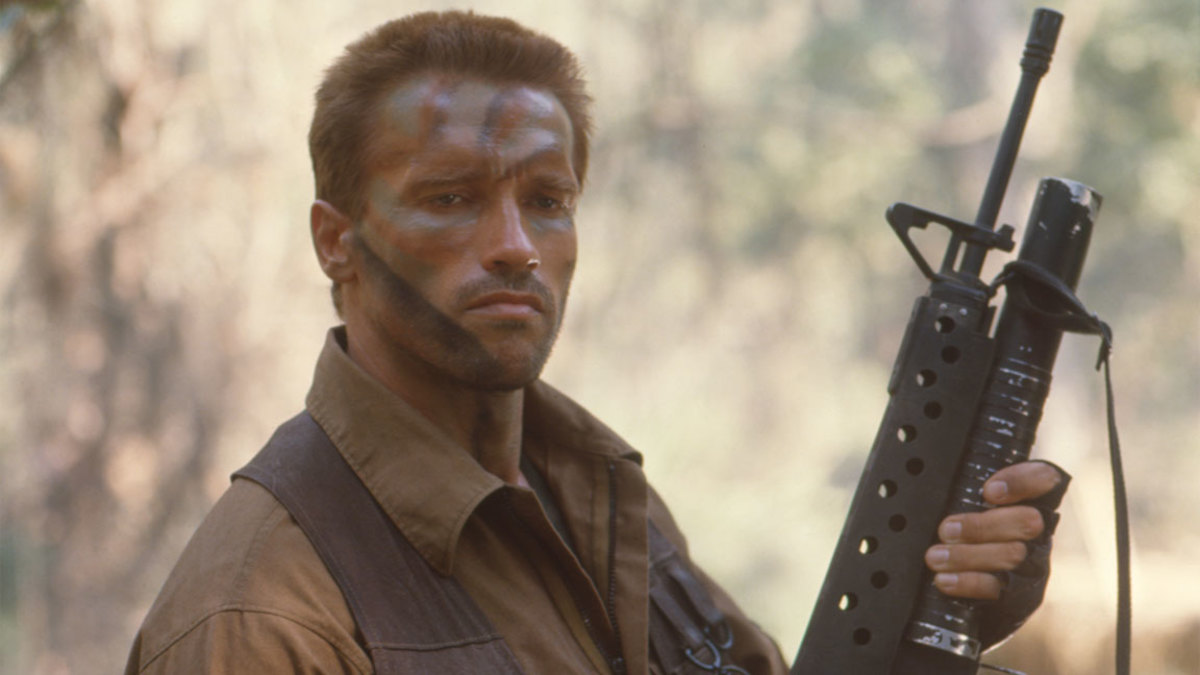 Whether it's pumping up his massive biceps ("biceps can't be bought"), blasting his upper back, going for hilariously "heavy" barbell curls, or sharing his entire morning workout, the Governator is always ready for the gym.
11. Nick Jonas
The December 2016 Men's Fitness cover star went from shaggy-haired Jonas Brother to a ripped leading man who's taking on Hollywood. Jonas detailed his workout routine for Men's Fitness—and he was even nice enough to show off his chiseled six-pack on our cover. Between his work on Jumnaji with Dwayne "The Rock" Johnson and the MMA-themed series Kingdom, Jonas is putting in tons of time to stay in shape—and he often posts his fitness exploits on Instagram, including MMA/boxing training.
12. Zac Efron
The June 2016 Men's Fitness cover star went from a teen idol to one of the most jacked dudes in Hollywood with an intense training routine that included ab wheel workouts, bicep curls, pushups, mountain climbers, deadlifts, and pullups. While Efron was shooting Baywatch with Dwayne "the Rock" Johnson, he shared a pullup contest and a tire flipping challenge. Those went right along with his Instagram workouts, including kettlebell swings, bike work, American Ninja Warrior-style training, and dumbbell exercises.
13. Joe Manganiello
The April 2016 Men's Fitness cover star—aka Mr. Sofia Vergara—showed off his ridiculously cut six-pack and biceps while strutting his stuff in Magic Mike. (He'll be chasing around Ben Affleck's Batman as the supervillain Deathstroke in Justice League and The Batman). Manganiello keeps himself in shape with box jumps, kettlebell workouts, cable workouts, bicep curls, and rope pulls—and he has no problem sharing them with his fans on Instagram.
14. Dolph Lundgren
The legendary actor and musclebound Rocky IV heavyweight is well past 50, but that hasn't stopped him from staying in fantastic shape—and having some humongous arms to go with it. Lundgren—who appeared on Arrow as a Russian mafioso, and in Creed 2 and Aquaman in 2018—stays busy with appearances in the Expendables series and the Universal Soldier series.
Lundgren shares his workouts on Instagram, including pushups, medicine ball throws, kickboxing training, bicep curls, shoulder presses, and beach workouts. Put it this way: The guy can still pack a major punch.
15. Terry Crews
The former professional football player—Crews spent time with the Los Angeles Rams, San Diego Chargers, the Washington Redskins, and the Philadelphia Eagles in the NFL—successfully made the transition to acting, but he hasn't forgotten his athletic and fitness roots. Crews is one of the most in-shape actors in Hollywood, showing off his muscular physique and powerful body in projects like The Expendables and Brooklyn Nine-Nine. Crews' Instagram workouts feature bicep curls, inhumanly heavy deadlifts, and total body training with medicine balls and cables.
16. Scott Eastwood
The son of legendary actor/director Clint Eastwood has been on a steady rise in Hollywood since appearing in some of his dad's films, becoming a sort of go-to-guy for action films—Eastwood gets to show off his cut six-pack and muscular frame in Suicide Squad, Fury, Live By Night, Fast 8, and Pacific Rim: Malestrom. His workout roster: heavy ropes, boxing training, surfing, and more heavy ropes.
17. Jean-Claude Van Damme
The martial arts master and action movie star has had a career resurgence with films like JCVD and The Expendables 2, but we all remember his ass-kicking work in classics like Bloodsport, Kickboxer, Sudden Death, Hard Target, and (of course), Street Fighter. JCVD likes to flash his monstrous biceps on Instagram, along with his upper-body workouts, bicep workouts, sparring, dumbbell workouts, and flexibility workouts. Even at his age, JCVD's still got it.
18. Hafþór Júlíus Björnsson
"Thor" Björnsson is one of the strongest men in the world—he placed second at the 2016 World's Strongest Man competition—but he's also made a name for himself as an actor, starring as the brutal Ser Gregor "The Mountain" Clegane in the HBO series Game of Thrones (we think he's one of the 25 most physically dominating villains of all time). Björnsson posts workouts of all kinds on Instagram, including pause squats, dumbbell presses, wide-grip deadlifts, barbell skullcrushers, incline dumbbell presses, hamstring workouts, and MORE barbell-bending deadlifts.
19. Ray Fisher
The actor is set to portray the cybernetic-robot hero Cyborg alongside former Men's Fitness cover star Henry Cavill and Ben Affleck in 2017's Justice League, and he's made sure he'll look the part by training hard in the gym. (Easy on the back hyperextension there, Ray.) Fisher has done work with Mark Twight, who has trained Jason Momoa (playing Aquaman in the film), as well as Affleck and director Zack Snyder himself. Fisher is looking huge these days, and he should only get bigger as his role in the DC Entertainment Universe expands.
20. Scott Adkins
The martial arts expert has become a Hollywood action film mainstay, with ass-kicking credentials in movies like The Bourne Ultimatum, X-Men Origins: Wolverine, Zero Dark Thirty, and Doctor Strange. He starred as Jean-Claude Van Damme's sidekick in The Expendables 2, culminating in an epic knock-down, drag-'em-out brawl with Jason Statham. Adkins is trained in karate, judo, kickboxing, jujutsu, Krav Maga, and ninjutsu, and keeps his body in fantastic shape with volume training, simple weight training, and sparring. Adkins likes to share his exploits on social media, including his fight training, bicep workouts, cable workouts, shoulder raises, and incline dumbbell curls.
21. Idris Elba
The man who played Stringer Bell on The Wire, the Norse god Heimdall in Thor, and Stacker Pentecost in Pacific Rim doesn't mess around when it comes to staying in shape. The British actor—who could arguably be the next James Bond—uses swimming, jogging, and body-weight training to keep himself fit, plus he's an avid fan of kickboxing, something he'll explore in a new show, Idris Elba: Fighter, which will end with Elba taking part in a professional bout. Elba has been showing off his kickboxing training on social media, as well as his massive biceps, sparring sessions, and boxing training.
https://www.instagram.com/p/BI4XmsGgu86/
22. Dave Bautista
The 6'5" former wrestler has made the jump to acting, showing off his physical prowess in films like Spectre and Guardians of the Galaxy. Bautista's body is packed with muscle, as evidenced by his frequent fitness exploits on social media: sparring training, kickboxing, and regular old staring menacingly at the mirror. Bautista has shown he can play villains or heroes—and no matter his allegiance, they're always jacked.
23. Michael B. Jordan
The December 2015 Men's Fitness cover star transformed himself into a quick-punching boxer for the film Creed, and he hasn't looked back since. Jordan gave himself the body of Adonis with his workout routine (detailed for Men's Fitness). Jordan likes to show off some of that work on social media, including jump rope workouts, leg workouts, and bench work.
https://www.instagram.com/p/t_T70OuCDw/
24. Stephen Amell
Between playing Oliver Queen a.k.a. The Green Arrow on Arrow and Casey Jones in Teenage Mutant Ninja Turtles: Out of the Shadows, Canadian actor Stephen Amell has had his fair share of kickass moments on screen. On his social media workout roster: incline kettlebell pushups, treadmill work, rope workouts, fight training, and bar muscle-ups in the gym.
25. Donnie Yen
Everyone's favorite spiritual warrior from Rogue One is as well-trained in martial arts as actors get—Yen can handle himself with Brazilian Jiu-Jitsu, judo, Wing Chun, taekwondo, Karate, Muay Thai, wrestling, and kickboxing—and he got to show that off in the Ip Man film series where he starred as grandmaster Yip Man. Yen likes to show that off to his fans on social media, whether it's heavy bag work, Guan Dao training, core workouts, upper-body work, dumbbell shoulder presses, and the occasional weight-room flying kick.
For access to exclusive gear videos, celebrity interviews, and more, subscribe on YouTube!