Thousands upon thousands of gyms, health and wellness centers, CrossFit boxes, and other assorted fitness meccas populate the 50 states.
And most of us have one in particular which we call our own and visit (hopefully) regularly. But is yours the best in the state? Men's Fitness and Yelp worked together to bring you the best gym in each state. That's not to say there aren't plenty of other great ones out there, but these 50 gyms stood out amongst the competition.
Gyms were chosen based upon the quantity of recommended reviews and the overall star rating of each business on Yelp.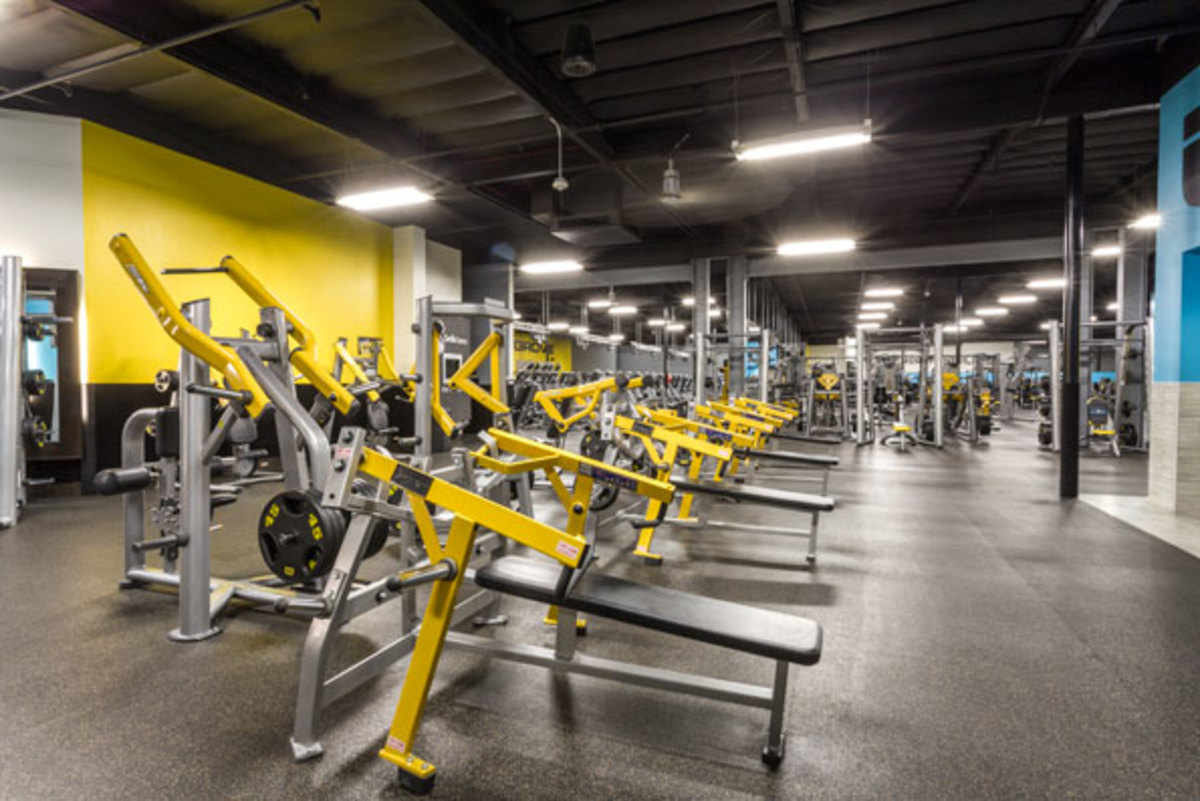 [Chuze Fitness, Tucson, Arizona; Photo Credit: Ted7.com]
1. Alaska (Eagle River)
Complete with spas, massage therapists and personal trainers; you're practically getting treated like royalty at any of the dozen The Alaska Club locations and affiliates in Anchorage. Self-defense classes and a suite of other diverse workshops can be found inside a majority of the clubs. 
What reviewers are saying: "The classes are awesome…rooms are spacious, well lit, comfortable, and clean. The instructors are AMAZING. The machines are well kept and maintained. Clean and I've never had an issue." -Caitlin E. 
Notable: Extensive set-up, highly modern facility
2. Alabama (Northport)
NorthRidge Fitness is something of a fitness lover's oasis. Members are given a plethora of classes to choose from. They also offer personal training sessions and a number of memberships for all ages and families. Additionally, NorthRidge also functions as a CrossFit gym.
What reviewers are saying: "You will find everything you need at this gym. Separate CrossFit room, tons of machines, free weight area and a large cardio section." -Steve S. 
Notable: Fitness and nutrition tracking
Top 10 CrossFit Gyms in America >>> 
3. Arkansas (Bentonville)
There isn't much that Walton Life Fitness Center doesn't have. The center is an elaborate collection of swimming pools, an indoor track, basketball courts, weight and cardio rooms, free and paid classes, plus on-site child care. 
What reviewers are saying: "It is a huge gym and a great place to go! Lots of classes (free and pay – even though it is inexpensive), weight room, cardio room, indoor track, lots of swimming pools, classrooms, great child care area, and so much more!" -Summer C.
Notable: Fitness for the family
4. Arizona (Tuscan)
Inside Chuze Fitness, one will find all the amenities of a luxurious, modern-day gym. With two low-priced membership options, and an overwhelming amount of classes to choose from, Chuze Fitness gives you the most bang for your buck. 
What reviewers are saying: "I've been to several other gyms and this one by far surpasses them all. The machines and equipment are in superb well kept condition, nothing is ever out of order. The entire place is immensely clean. The hydro massage and tanning beds are awesome!" -Amanda S. 
Notable: Impressive membership options, variety 
5. California (Santa Monica)
Box N' Burn Boxing and Fitness will have you drenched in sweat and a few pant sizes smaller in no time. Featuring a highly motivating, knowledgeable, and supportive staff of trainers, Box N' Burn is a great gym for any guy.
What reviewers are saying: "When I'm able to go frequently, I'm definitely in the best shape of my life and it has a lot to do with the Mitt Training, Heavy Bags, and Conditioning circuit."
-Kevin K.
Notable: Diverse workout 
[Central Rock Gym, Glastonbury, Connecticut; Photo Credit: Hank Kenary]
6. Colorado (Denver)
A dedicated staff and a 2,000-square foot box—that's CrossFit Elevation calling your name in Mile High Country. 
What reviewers are saying: "The fundamentals are strongly emphasized and the class size is small and intimate, I never feel like I'm being ignored." -Richard C.
Notable: Attention, Mom-and-Pop feel
7. Connecticut (Glastonbury)
The name may be Central Rock Gym, but in addition to climbing walls, this gym has a healthy selection of strength and cardio training equipment; as well as programs and classes for adults and kids.
What reviewers are saying: "They have lots of routes/ropes to climb, including routes for lead climbing, and a good sized bouldering area. They change the routes on various walls quite regularly and there are lots of different ones for every level." -Kasey B.
Notable: Varying difficulties, yoga/Pilates classes, kids classes and parties 
The Ultimate Indoor Rock Climbing Workout >>> 
8. Delaware (Rehoboth Beach)
Rehoboth Beach CrossFit is your one-stop spot for a killer workout and an unparalleled staff of coaches and nutrition experts, who will work with you on creating your own customized diet program.
What reviewers are saying: "The coaches, staff and members make this a place you want to go to have a challenging workout and a great time." -Chris P.
Notable: Fitness and healthy food 
9. Florida (Boca Raton)
The Facility for Personal Training in Boca Raton is just that. With a dedicated staff that helps mostly men and women 40-years-old and up, this niche gym is perfect for those looking for a little more personal attention.
What reviewers are saying: "Great place for a workout. Just trainers, clients and great equipment are here. No crowds, classes or socialites, just good old working out." -Beth B. 
Notable: Clean, extremely helpful staff, sleek setup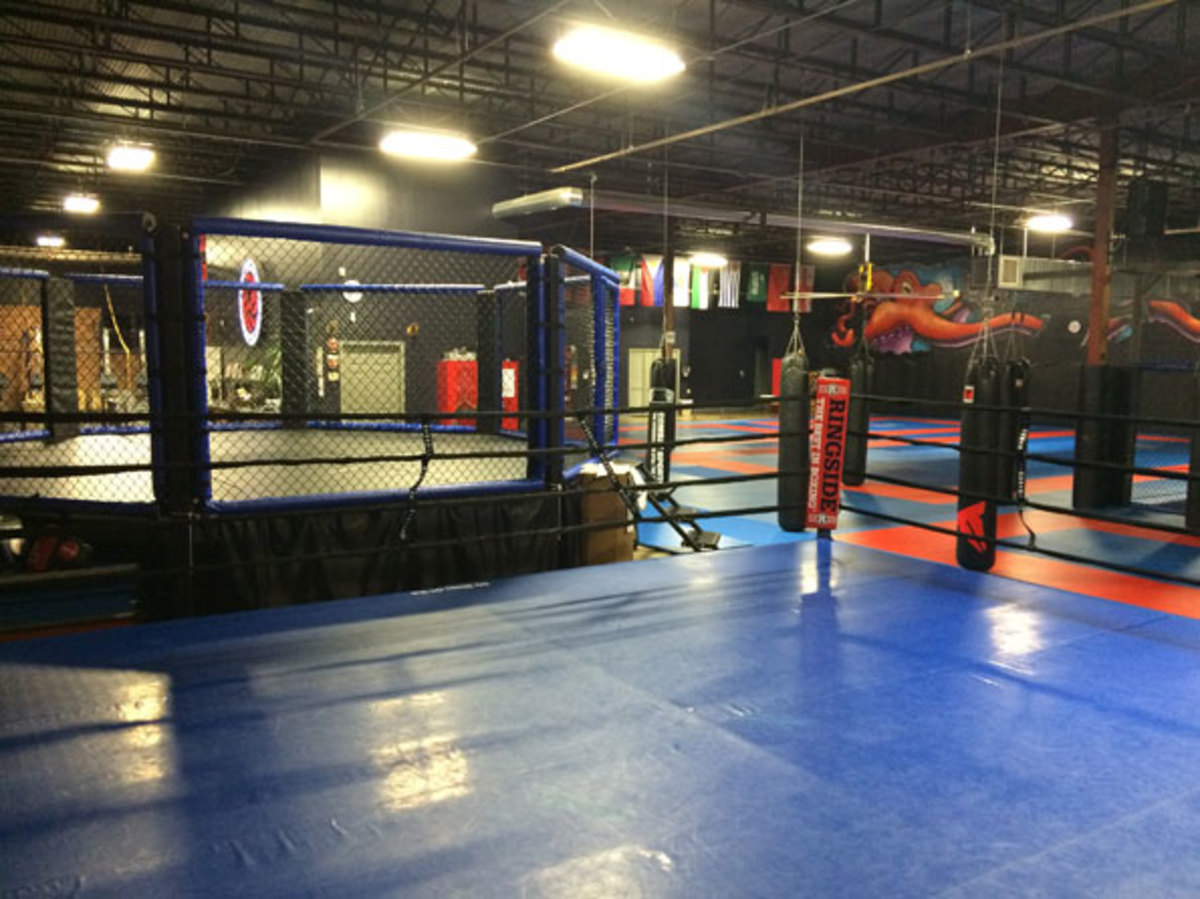 [Team Octopus, Chamblee, Georgia; Photo Credit: Koon Lau]
10. Georgia (Chamblee) 
Team Octopus has something for everybody, including kickboxing, jiu-jitsu, CrossFit, and muay-thai classes. 
What reviewers are saying: "These guys have unbelievable backgrounds and without a doubt know their stuff. These guys are not a LA Fitness or sales people. All the instructors and staff here genuinely want you to be there and learn." -Michael K.
Notable: Wide range of classes 
11. Hawaii (Honolulu) 
The Fitness Ranes facility may actually rival some professional sports teams' indoor practice facilities. 
What reviewers are saying: "There are always enough trainers for the amount of people in the class. The facility is great. Showers, water, clean towels, parking validation and even a workout shake is included." -Bryan G. 
Notable: Sprawling environment, intelligent training staff, individual and group bootcamps
7 Things to Look for in a New Gym >>> 
12. Iowa (Des Moines)
A wide-open gym, with tons of cardio and strength training equipment; the atmosphere at Planet Fitness is rich and not overwhelming. 
What reviewers are saying: "They have a pretty good-sized space with a clear divide between people doing cardio and people lifting weights. As long as you aren't there during the few hours where the place gets pretty packed (pre and post 9-5), then you always have your own personal space." -Chris B. 
Notable: Ability to bring friend (black card), personal training (black card), hydromassage, tanning 
13. Idaho (Coeur d'Alene)
You would be hard pressed to find something that Peak Health and Wellness Center doesn't have. Inside this sprawling metropolis are private showers, saunas, steam rooms and jacuzzis; not to mention group fitness classes, strength training equipment, an indoor pool and a basketball court. 
What reviewers are saying: "Whether you're into functional training, powerlifting, sports training, or just keeping fit, I can see just about anyone getting a great workout in here." -Olesya N.
Notable: The multitude of amenities 
14. Illinois (Chicago)
CrossTown Fitness is equipped with an on-site café, hundreds of weekly classes, and personal training. 
What reviewers are saying: "This is a great gym. I recently signed up and I'm very satisfied with my enrollment. It is fairly priced-especially for the area. The staff is awesome and the trainers are experienced and very positive." -Fernando C. 
Notable: Diverse lineup of classes, cafe, and a challenging team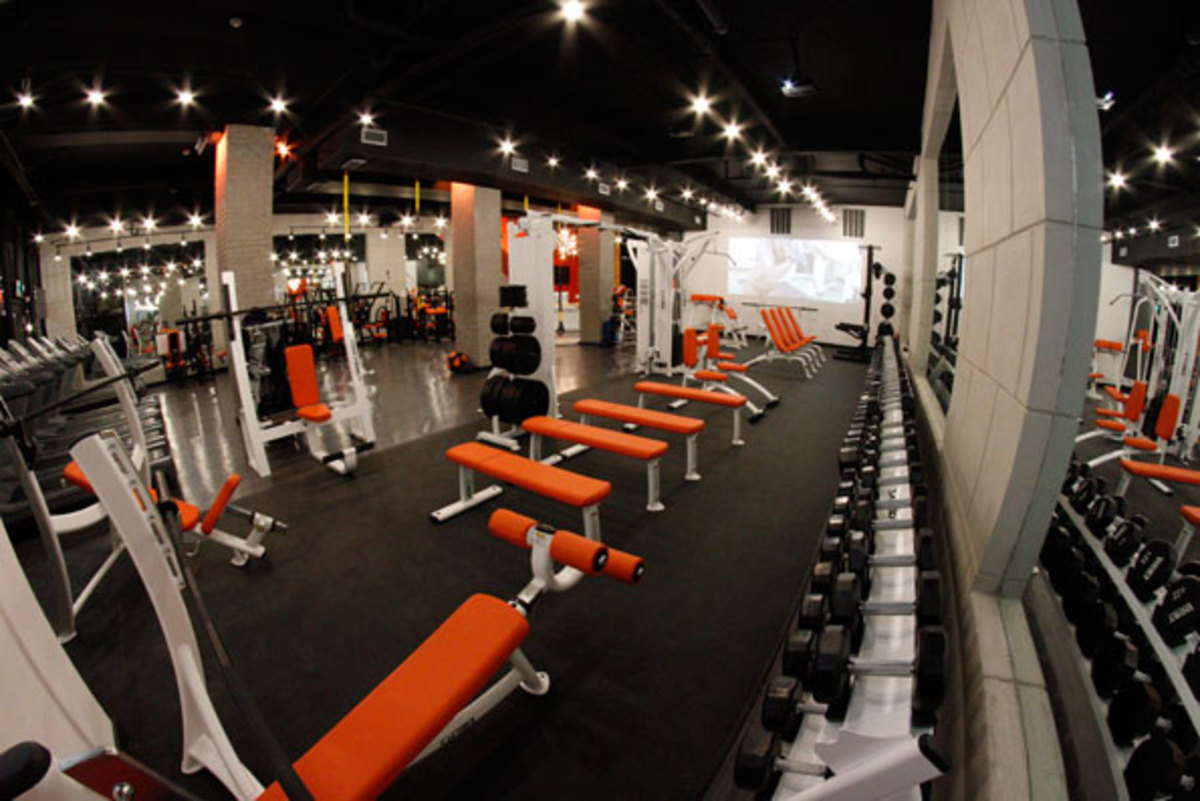 [Prime Fitness, New Orleans, Louisiana; Photo Credit: Benjamin Simmons]
15. Indiana (Indianapolis)
CrossFit Infiltrate offers a variety of classes for all fitness levels, including a kids class. 
What reviewers are saying: "Top-notch experienced coaches doing what they love, small class sizes, powerful facilities. If you're new to CrossFit they'll get you up to speed, you'll be amazed with what you can do if you WORK and stick with it." -Galen R. 
Notable: Prices, staff
16. Kansas (Lenexa)
There are several reasons that Element Fitness has exactly what you want in a health and wellness center. For an affordable price, you can get access to a host of sleek features.   
What reviewers are saying: "They have ample free weights and machines to work on, treadmills for days, a few ellipticals, and a pool. There is a private workout area back behind everything else if you want to work out in private." -Brandon D. 
Notable: Spa, group fitness classes
17. Kentucky (Louisville)
The Downtown Family YMCA has something for everyone. Whether you're looking to do Pilates, go cycling, weight train, or swim in the 25-yard indoor heated pool. 
What reviewers are saying: "There's a great pool, climbing wall, walking track, multiple classes, lots of machines, racquet ball and hand ball courts, a full basketball court." -Corey H.
Notable: Extensive array of equipment, classes and features
18. Louisiana (New Orleans)
Prime Fitness RX is a state-of-the-art fitness facility with a welcoming vibe. You'll have no problem staying motivated with an expert personal training staff and encouraging environment. 
What reviewers are saying: "Outstanding state-of-the-art equipment for cardio and strength training, as well as other exercise options such as TRX. The owners Mark and Sacha are personable and engaging." -Ed P. 
Notable: Sleek equipment, personal training 
25-Minute Full-Body TRX Circuit >>> 
19. Massachusetts (Somerville)
Fun. Community. Goals. Get all three characteristics by enrolling in classes at Achieve Fitness. With workouts designed to push your aerobic and anaerobic limits, you're sure to get results at Achieve. 
What reviewers are saying: "I joined Achieve about a year ago and have seen amazing changes, not only in my fitness level, but also in my overall health and attitude. I have gone from barely running for 5 minutes without stopping, to signing up for my first sprint triathlon with other Achieve members this summer." -V. t. 
Notable: Environment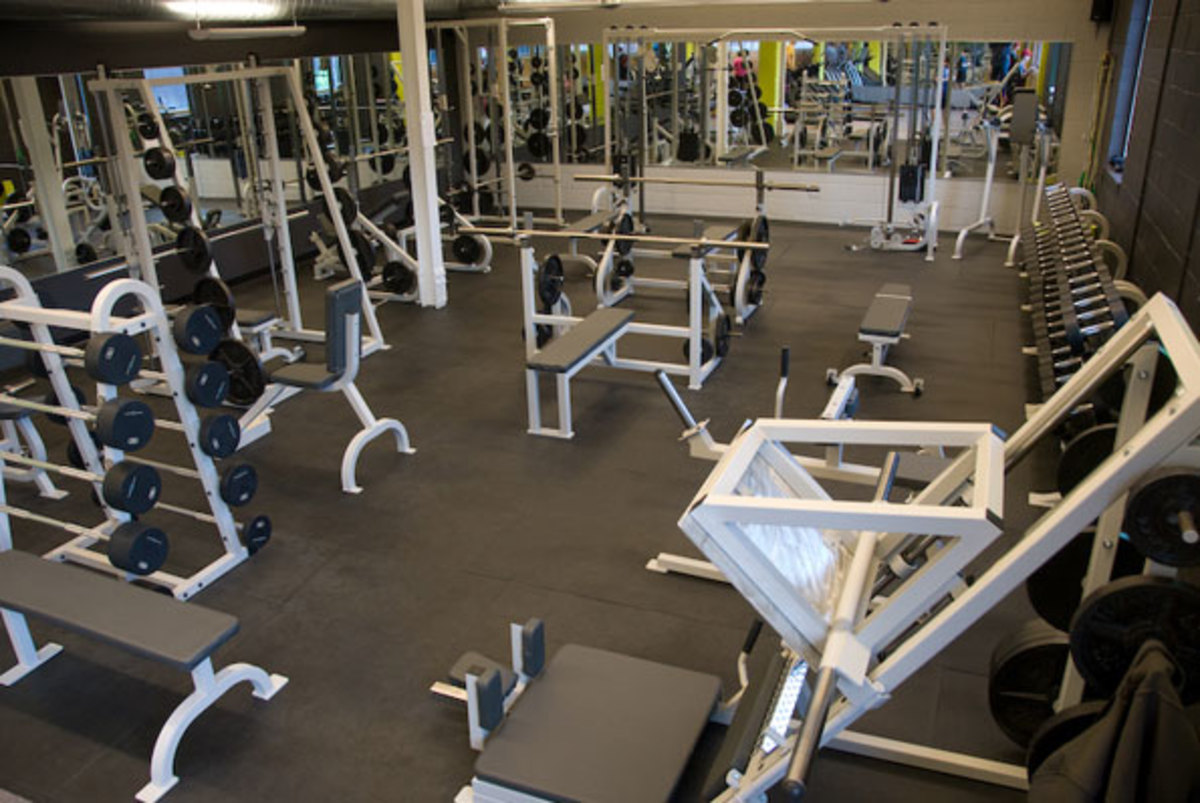 [501 Fit, Minneapolis, Minnesota; Photo Credit: David Welder 2010] 
20. Maryland (Bethesda) 
Get your fitness on at Equinox. The renowned nationwide gym leader possesses the very best in personal training, group fitness, and overall health and wellness.
What reviewers are saying: "Yes, it's expensive. But you aren't just paying for use of gym equipment, you're paying for an entire, all encompassing experience of fitness and luxury that is truly an oasis in the chaos of everyday life." -Alyssa C.
Notable: Expansive amenities 
The Most Luxurious Gyms in America >>> 
21. Maine (Portland)
Body Architect Fitness Center comes equipped with all that's needed to improve not only your physical well being, but your mind as well. Lifestyle coaching every four to six weeks, which will help you conquer stress, is just another reason that Body Architect Fitness Center has all you need. 
What reviewers are saying: "Beautiful facility. This fitness center focuses more on mind/body and is not your typical spin class, line-of-elipticals fitness facility many may be looking for." -Jay N.
Notable: Personal training, team training, massage
22. Michigan (Royal Oak)
Have fun and get fit in a vibrant, family-owned cycling studio Go Cycle. The rocking sound system is sure to keep your body moving and the sweat pouring.
What reviewers are saying: "If you're looking for a way to lose weight, get in shape, and have fun, then come here! So many class times and a very friendly staff!" -Christina S.
Notable: Environment 
23. Minnesota (Minneapolis)
Immaculate views and a dedicated staff will have you calling 501 FIT your home for personal training in no time. Workouts designed around the versatile G-Werx machine add spice to any fitness regimen.
What reviewers are saying: "The instructors—Diana, Joel, Meg and Phil—are all exceptionally good and they pay very close attention to detail and interact closely with everyone during the workout sessions." -Mahesh K.
Notable: Convenient class times 
24. Missouri (St. Louis)
Looking for a health club with an assortment of unique classes to choose from? Bodyfit Gym & Personal Training offers an array of courses like kickboxing, yoga, and interval training, giving you a multitude of ways to achieve peak performance. 
What reviewers are saying: "The yoga studio is plenty spacey, and the instructors are incredible. The Bodyfit classes and gym setup is just right. There's no wasted space with machines that get used 4x a year." -Benton M. 
Notable: Outstanding variety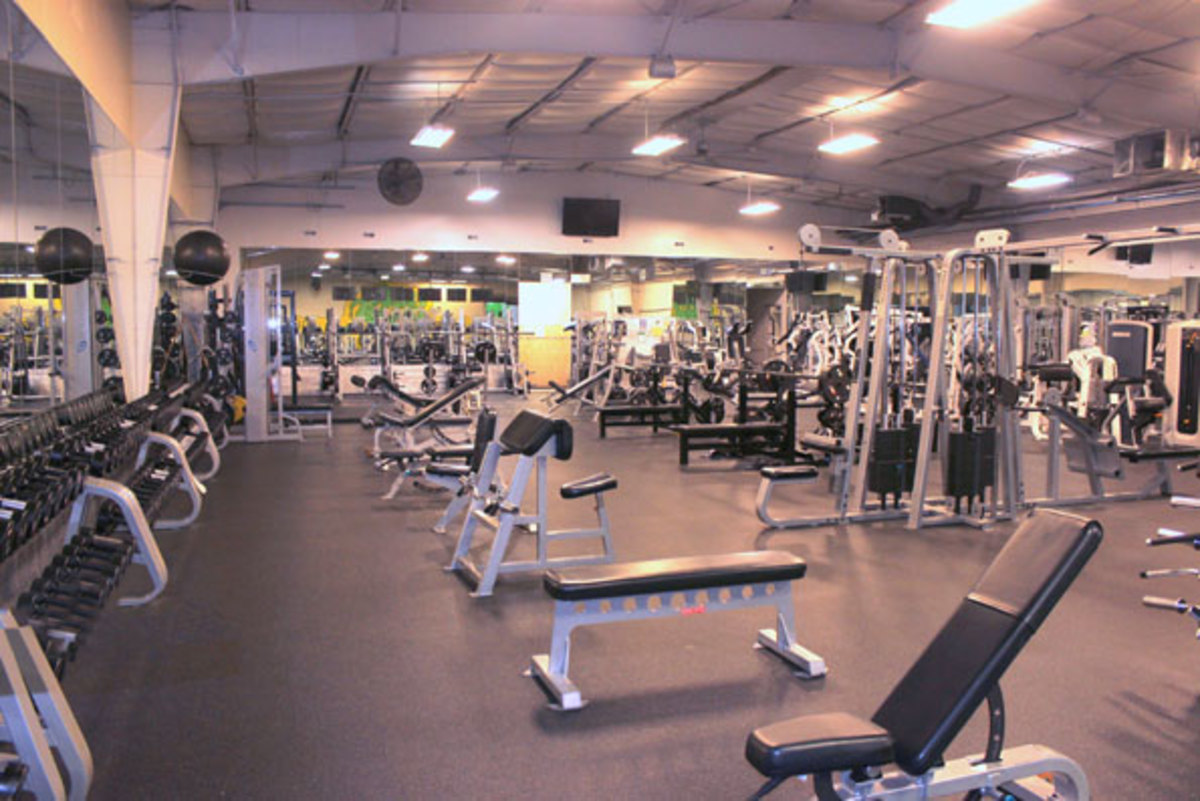 [Good Life Fitness, Lincoln, Nebraska; Photo Credit: Good Life]
25. Mississippi (Hattiesburg)
Revolution Fitness is the place to be if you're a bodybuilder or powerlifter. 
What reviewers are saying: "I will go out on a limb and say that this is the best place to lift weights. They seem to be more suited for powerlifting but don't be afraid to try it out." -Christopher P.
Notable: Equipment, low-cost memberships
7 Things Anybody Can Learn From a Bodybuilder >>>
26. Montana (Bozeman)
True Spirit CrossFit and Yoga are where the best of both the strength training and yoga worlds meet. From the encouraging staff, to an abundant offering of memberships, the facility accommodates all types of bodies. 
What reviewers are saying: "True Spirit CrossFit & Yoga is a warm, welcoming gym with an emphasis on listening to your body, being safe, and having fun.  Would recommend this gym to people of all ages and fitness levels." -Michael P.
Notable: Team atmosphere
27. North Carolina (Charlotte)
Charlotte's Dowd YMCA is your home for all things fitness. The facility contains a wide-range of cardio and strength training machines, as well as locker rooms, a pool, track and basketball courts.
What reviewers are saying: "The facility itself is great. There are 4 floors. The bottom tends to be for the men. The first floor has a women's center and a yoga studio. The upper floors are filled with all sorts of gym equipment." -Jen C.
Notable: Variety
28. North Dakota (Fargo)
Courts Plus is everything you want in a fitness club and perfect for families. 
What reviewers are saying: "Great fitness center for the entire family. They not only have kids playground, but also a young teen game room. Indoor basketball court, tennis courts, and racquet ball courts. Indoor track and of course everything a gym should have." -Winfield K. 
Notable: Friendly atmosphere
29. Nebraska (Lincoln) 
For those intent on building an explosive and fit self, Good Life Fitness has what you need. From a healthy selection of boot camps and group fitness classes, to a nutritional staff, Good Life Fitness is your one-stop spot for overall wellness. 
What reviewers are saying: "Highly motivated staff. Boot camp classes can't be beat! Multitude and variety of classes held all day to fit your schedule. Wide variety of gym equipment available." -Pam W.
Notable: Class intensity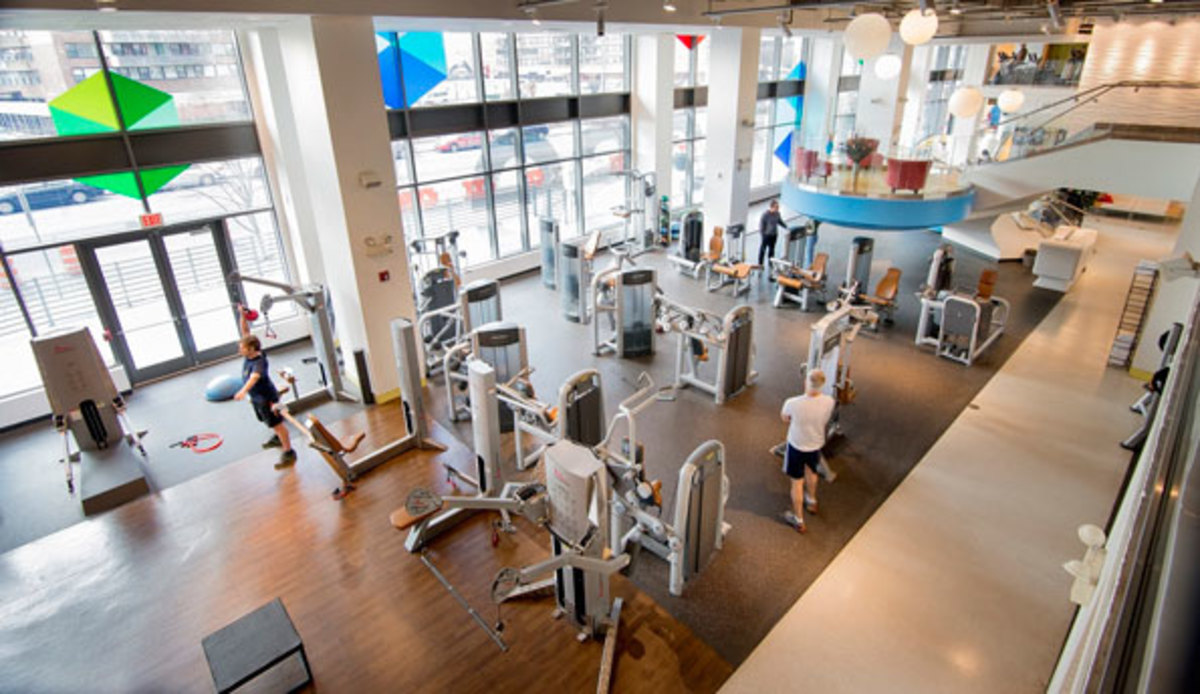 [Base Fitness, Jersey City, New Jersey; Photo Credit: Base Gym]
30. New Hampshire (Dover)
The trainers at Seacoast Kettlebell are extremely experienced and with a registered dietician on hand to offer nutritional advice, what more do you need?
What reviewers are saying: "SKB is an incredible place. Colin and the staff know your name, your ability, and your goals. The workouts are well designed. The gym atmosphere is awesome and supportive." -Jenn L.
Notable: Personal and team training, boxing, yoga
31. New Jersey (Jersey City)
What looks like a sprawling shopping center on the outside is actually a phenomenal fitness haven for all kinds of gymgoers on the inside. Work out in a luxe space at Base.
What reviewers are saying: "Tons of cardio equipment, three squat racks, multiple cable towers. Haven't ever had to wait for equipment. Staff and gymgoers are friendly. Lots of group fitness class time options." -Tracy C. 
Notable: Drink bar, locker room, laundry, child care
32. New Mexico (Albuquerque) 
Rebel Workout makes use of the TRX for a variety of exercise classes for every level of exerciser. 
What reviewers are saying: "No two workouts are the same, as they are always mixing things up with the TRX, SandBells, ViPR Bars and ropes. Also they offer a bunch of classes M-Sa so you are bound to find times that fit into your busy schedule." -Shelley B. 
Notable: TRX training 
4 Steps to Master Your TRX Workouts >>> 
33. Nevada (Las Vegas)
The staff at Dethrone Basecamp Fitness Studio will challenge you to an effective 35-minute workout centered around an Air Assault Bike, as well as TRX cables for challenging strength-building exercises. 
What reviewers are saying: "The trainers are knowledgable yet they will challenge you and they encourage you to set a goal and then follow up with you every time they see you, just that extra nudge of accountability we all need! The schedule is flexible and there is something for everyone!" -Ashley H. 
Notable: Multi-faceted workout
34. New York (New York)
If you're looking for a gym with a classic feel to it, look no further than Throwback Fitness. 
What reviewers are saying: "I have hit this unique gym a couple times through class-pass and it's a very clever and fun workout. You will burn it while competing with others as a team or on your own." -Phil C. 
Notable: Atmosphere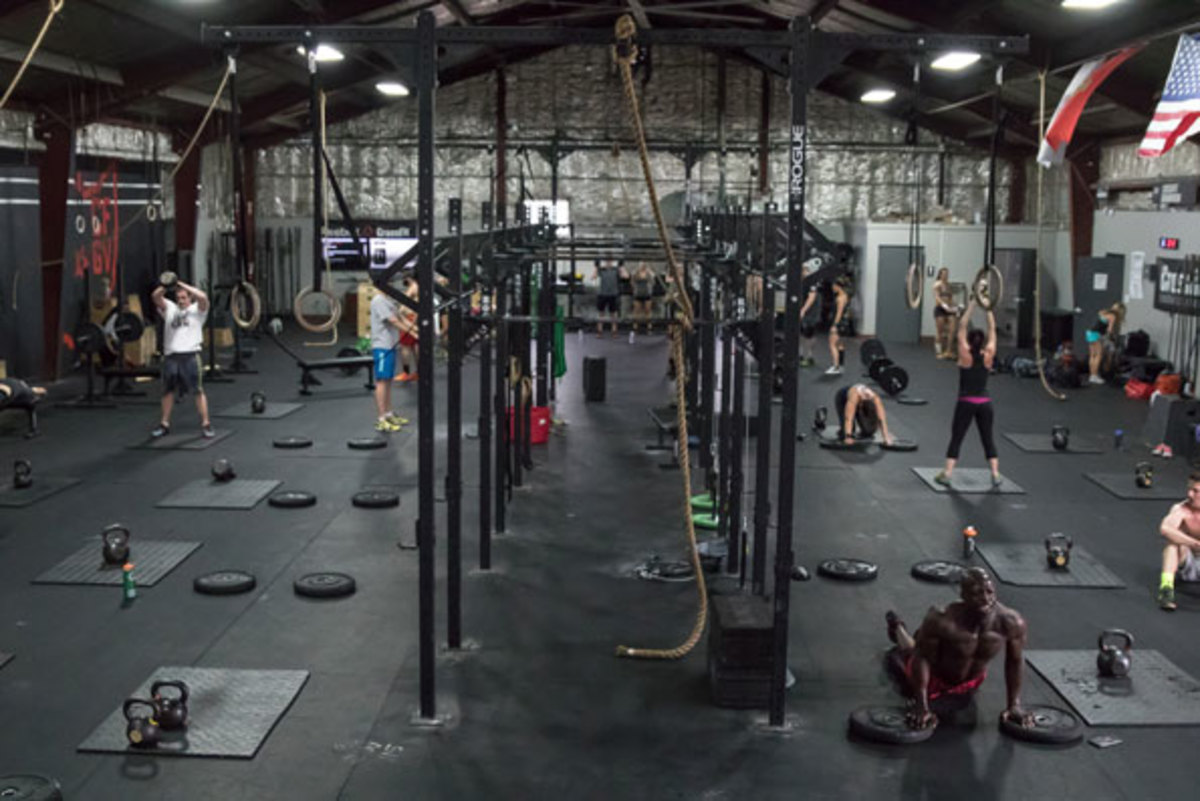 [CrossFit Grandview, Columbus, Ohio; Photo Credit: Michael Murphy]
35. Ohio (Columbus)
CrossFit Grandview is a hub for the talented athlete and for those looking to enter the CrossFit games. 
What people are saying: "I've been going here 5-6 days/week for about almost 2 years; I've lost 30+ lbs and gained way more than that many friends!" -Scott W. 
Notable: Knowledgeable staff
36. Oklahoma (Oklahoma City)
Build a rock-solid upper body at Rocktown Climbing. At the facility, you have a choice of over 65 routes, with varying difficulty levels. 
What reviewers are saying: "It is the perfect place for kids to learn to climb, to take a first date, or to work on your fitness." -Pete M.
Notable: Change of pace 
37. Oregon (Portland)
Sculpt your body, all the while having a good time at Firebrand Sports. For a unique spin on training, head down to Firebrand, where you'll find yoga and CrossFit routines all rolled into one. 
What reviewers are saying: "The classes are limited to 12 (you can reserve online) and the clientele is really chill – not judgmental; like me they're just there to get their butts kicked too." -Ryan M.
Notable: Juice bar, showers, lockers
8 Amazing Fat-Burning Intervals >>> 
38. Pennsylvania (Philadelphia)
Unite Fitness brings together three core workouts for one, 75-minute total body routine. Personal training and nutrition programs also add to the extensive features at this prime fitness studio. 
What reviewers are saying: "Unite has plenty of classes and you will never get bored of your workouts. I highly recommend Unite to anyone who wants a new start, get healthy or just looking for a challenge! They will kick your butt!" -Jose Rainier C. 
Notable: One-stop fitness destination
39. Rhode Island (Providence) 
There's nothing you won't be able to accomplish with the well-versed staff at CrossFit Providence. With on-ramp classes, even the rookies will have something to look forward too. 
What reviewers are saying: "The coaches are so incredibly professional and well-educated in the sport, and they were so friendly and helpful in correcting my form, giving me some helpful tips, and making sure I was performing to the best of my own personal ability." -Nic D.
Notable: Boot camp, free intro class
40. South Carolina (Charleston)
The Planet Fitness of Charleston, South Carolina has all you need from convenient and inexpensive memberships, to a facility that's open 24 hours, seven days a week. 
What reviewers are saying: "Their staff are very friendly (at least this one is), and they even have tanning and massage chairs too plus 24/7 now so if you feel like working out after midnight feel free. Their treadmill also have tv too so overall great price for great service." -Mary L.
Notable: Open 24 hours
41. South Dakota (Sioux Falls)
Sanford Wellness Center is packed with offerings for all members of the family. 
What reviewers are saying: "From classes to weights, two pools, and much more, all at a reasonable price, I cannot recommend highly enough this gym for all your needs." -Alex V.
Notable: Affordable, expansive facility
42. Tennessee (Nashville)
Kick your underwhelming workout to the curb and try HOTBOX Fitness. HOTBOX turns the tables on boring, uninspired workout regimens with kickboxing and the latest heart-thumping music to kickstart each and every class. 
What reviewers are saying: "They have a couple of different classes, but my favorite is the standard kickboxing class.  The instructors take you through a pretty intense 1 hour session which involves kickboxing combinations with calisthenics in-between." -Chris B.
Notable: Environment, reliable and helpful staff 
43. Utah (Cottonwood Heights)
Inside TITLE Boxing Club you will receive an endless amount of support from the professional boxers on hand as you burn hundreds of calories, while kicking ass.
What reviewers are saying: "thought maybe you needed to be a physical specimen to feel comfortable in a boxing club. Or be an MMA expert, or a kickboxing expert.  Not so. Really, every level of fitness is welcome." -Elle P.
Notable: Free trial, class variety 
44. Virginia (Vienna)
With an seemingly infinite amount of classes, plus personal training options, Crunch Fitness takes the win in Virginia. 
What reviewers are saying: "Paul and his amazing team helped me figure out how to go to group classes and I LOVED their facility! Their group fitness room is so great (mirrors on every wall really helped me nail my form when doing squats) and I loved their instructors." -Mary B.
Notable: Clean facility, up-to-date equipment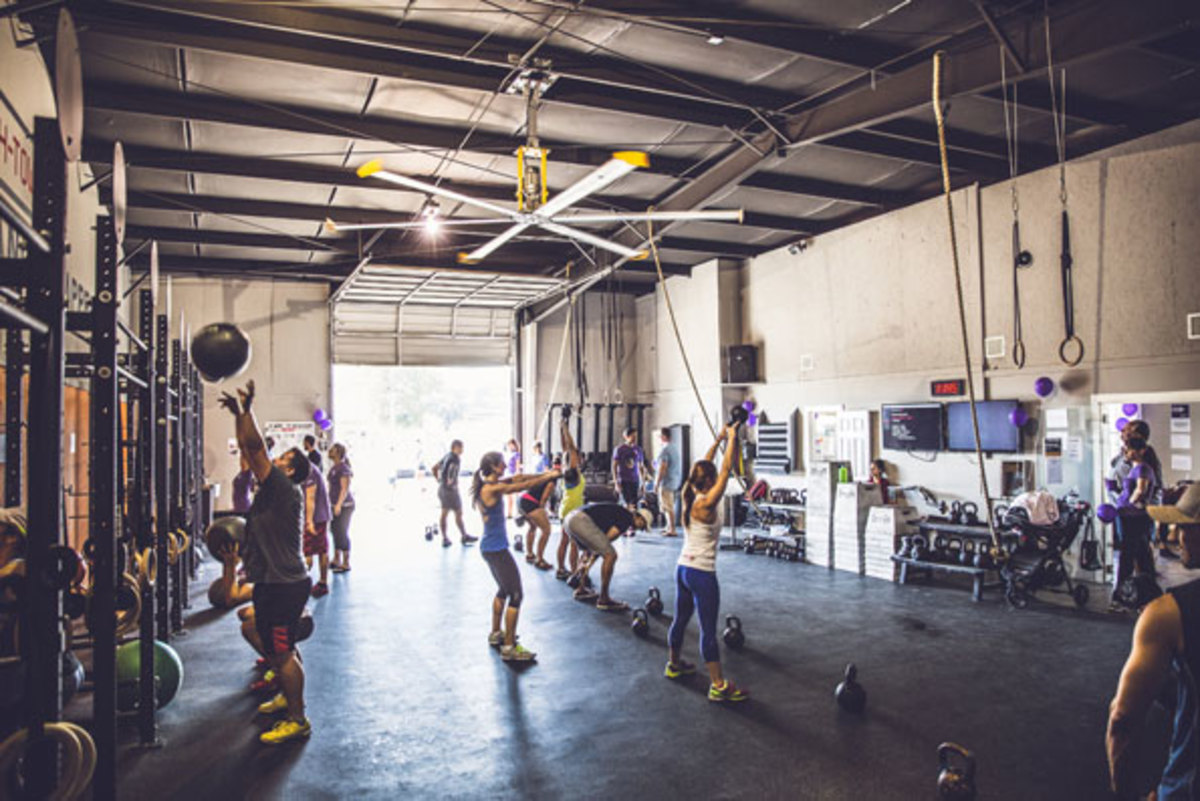 [CrossFit H-Town, Houston, Texas; Photo Credit: AmaByAisha.com]
45. Texas (Houston)
Get a wide range of services and nutritional advice from the trainers and nutritionists at CrossFit H-Town. 
What reviewers are saying: "It's like a small family and everyone there is willing to help you improve. I went in not being able to do any Olympic lifting and now I can manage without intimidation. The coaches are awesome and willing to help you out." -Karina F.
Notable: Yoga, cycling, nutritional counseling
46. Vermont (Saint Albans)
Ben and Jerry's isn't the only crown jewel to hail from Vermont. Duke's Fitness Center is a full-fledged fitness oasis where the classes and personal training opportunities are plentiful. 
What reviewers are saying: "Good people, good services, and a comfortable place to get your lift on; check em out." -Sarah C.
Notable: Nutrition counseling, student programs, babysitting
47. Washington (Renton)
Renton CrossFit is a spot-on mix of industry-leading equipment and expert coaching housed inside a well-kept facility. 
What reviewers are saying: "High quality industry name brand equipment. Only box with showers and locker rooms! Coaching staff is excellent. I wont even mention membership rates! Cheapest in the area without sacrificing quality." -Brian P.
Notable: Quality instruction and equipment
48. Wisconsin (Fitchburg)
Once you sign up for the revered Gold's Gym franchise, you won't want to leave. The facility is sleek and modern, and includes numerous amenities outside of strength and cardio equipment.
What reviewers are saying: "There's a pool, sauna, cinema room, and daycare in addition to the weights and cardio rooms and equipment. The basketball court is kind of small, but they just renovated it to have hardwood floors." -Tunaidi A. 
Notable: Well-rounded gym with expert personal trainers, locker room, shower
49. West Virginia (Morgantown)
Club 24 Fitness is your go-to spot for strength, cardio and flexibility training. This 24-hour gym offers personal trainers and a locker room with showers.
What reviewers are saying: "I have really been enjoying Club 24. It's clean, has a lot of machines, free weights, kettle bells, yoga mats, friendly staff and obviously, it's 24 hours. The clientele is diverse, covering many age brackets and fitness levels." -Danielle P.
Notable: Attractive memberships, open 24-hours
50. Wyoming (Cheyenne)
Train in a well-furnished, sleek-environment, at the Fitness One facility in Cheyenne, Wyoming. Open all-day, with tons of functional cross-training equipment, you are sure to be immersed in a workout wonderland.  
What reviewers are saying: "I couldn't really ask for more from this gym. It's clean, the equipment is nice, and it's not crowded." -Tyler P. 
Notable: Top-notch quality for price 
For access to exclusive gear videos, celebrity interviews, and more, subscribe on YouTube!