It's a quiet Wednesday morning in Malibu. The traffic on PCH is light. A small southwest swell tickles the myriad points dotting the coastline. Hooking inland, I turn onto a twisting, turning canyon road and weave my way to the top of a mountain. Point Dume spreads out below as I pull up to Laird Hamilton and Gabrielle Reece's house.
I put the car in park and a pair of nondescript vans roll up to the house.b The XPT, or Extreme Performance Training retreat is about to begin.
Laird and Gabby are bustling around their backyard, giddy with excitement that they'll soon have a new group to both torture and enlighten. With physique like something you might find on a Grecian urn, the married couple needs little introduction. Throughout his distinguished career, Laird's ridden the biggest waves the planet can throw at him, and if there are bigger waves he hasn't found them. Meanwhile, Gabby's been an elite professional volleyball player and fitness icon for decades.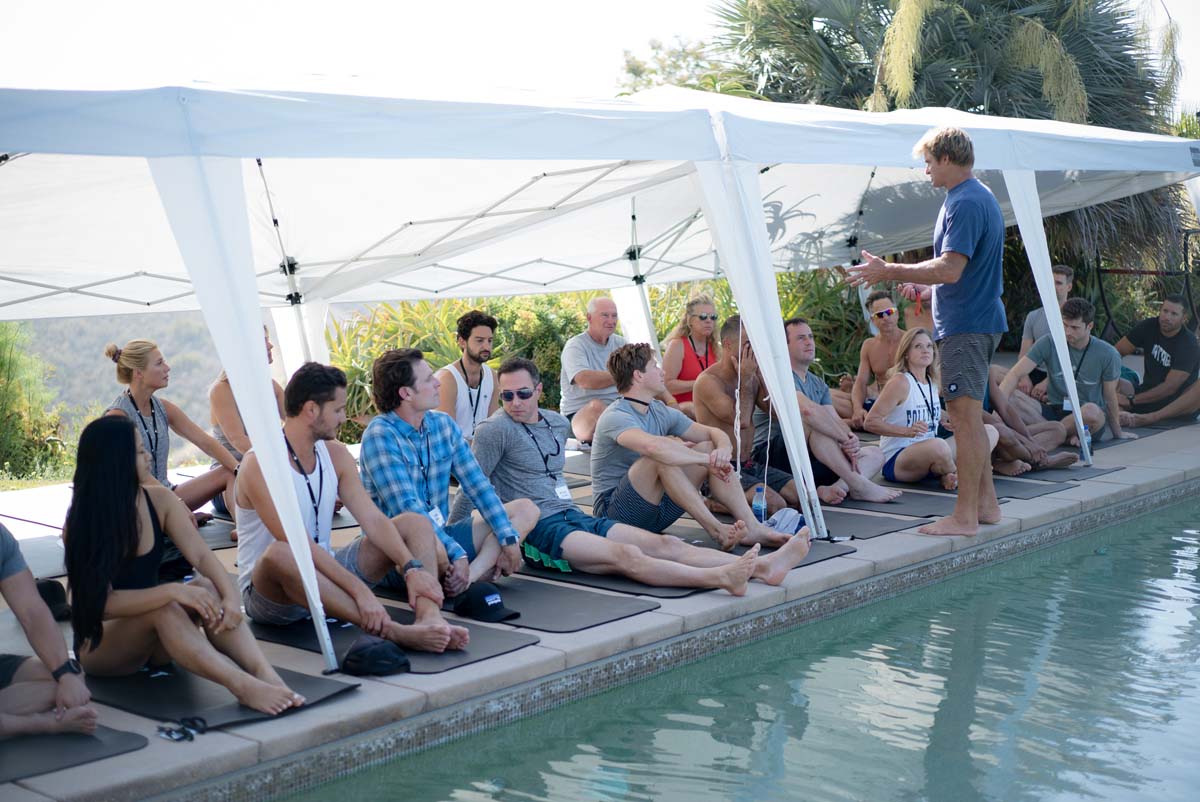 Together they founded XPT, a series of workshops and retreats that tout the mantra "breathe, move, and recover." Compiling their vast experiences and knowledge into a well-rounded fitness program, they do things like weight reps in a sauna, running underwater with dumbbells, and breathing routines that would make the average person pass out.
Six times a year they host "experiences." Sometimes it's at their house, other times it's somewhere exotic. Obviously, today we're at their house, with about a dozen students from all walks of life. There's a former Navy rescue swimmer who now moonlights as a roller derby announcer. There's a guy from Boston who had just happened to have some time and signed up. There's a married couple and another woman from Florida. NBA all-star Joakim Noah lurks in the back. It's an eclectic, inquisitive and enthusiastic group.
"I know there are some 'alphas' here," says Gabby. "We're all here to learn, so just remember, today's not about winning or losing but improving."
The first order of the day is to get into some breathing techniques and exercises.
"If you've never done this before, it may get uncomfortable," Laird explains, empathetically. "You may get some crazy stuff going on in your head. You may cry. That's okay. That's why we do this."
The goal of the breathing exercise is, first and foremost, to learn how to breathe correctly and efficiently. But the other philosophy behind the breathing is to quiet the mind. A quiet mind means more focus, which in turn allows for better performance, especially when under pressure.
Laird and Gabby have brought in renowned breathing expert Patrick McKeown, who's been studying the art of the breath for over 25 years. He explains how proper breathing techniques optimizes body systems, improves aerobic capacity, promotes recovery and improves cognitive function, among other things (including "male performance," Laird jokingly points out).
McKeown notes that the average person has 70,000 thoughts a day.
"We're constantly being distracted and pulled in different directions," he says. "But to really get to a point of peak performance you have to quiet the mind, and the most effective way to do that is by breathing correctly."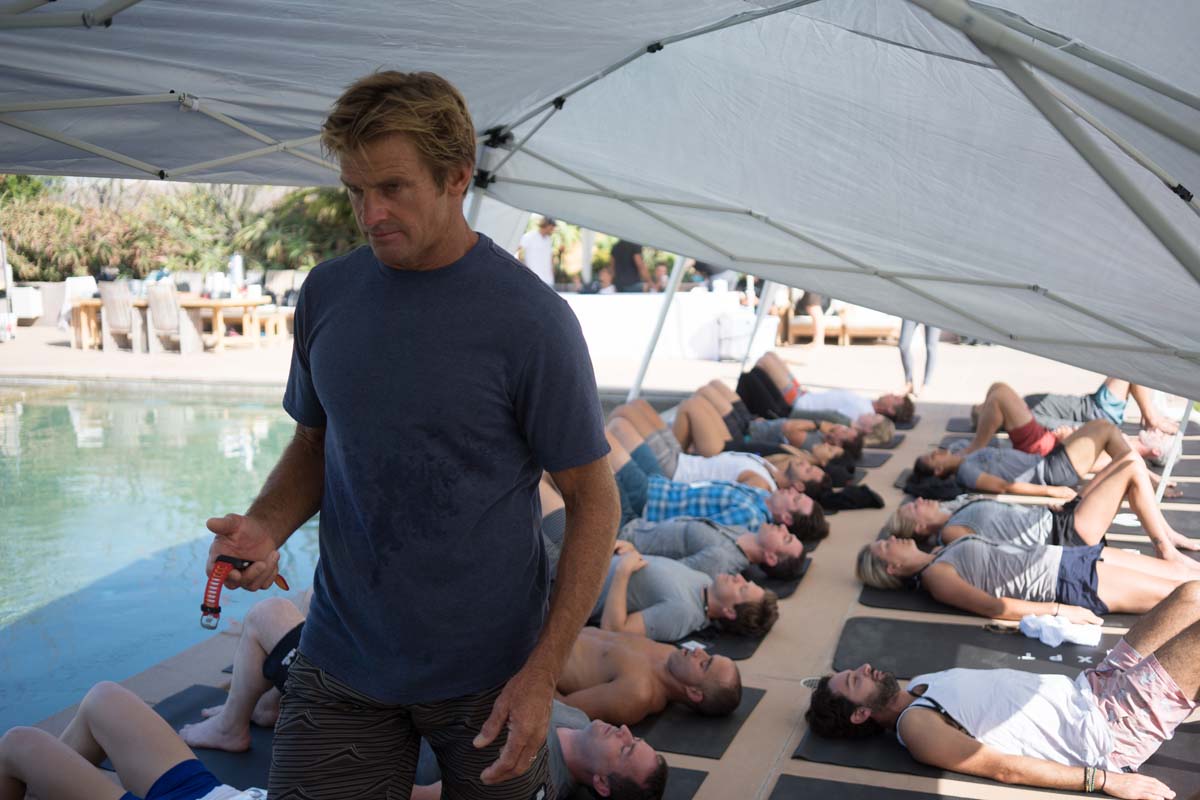 The average American checks their phone 46 times a day. That number spikes for those between the ages of 18 and 24, who look at their phones an average of 74 checks per day…or every 15 minutes (if one accounts for 8 hours of sleep).
McKeown points to a study conducted by Microsoft, which found that in 2000 (around the start of the "mobile revolution") people had an average attention span of 12 seconds. Fifteen years later, in 2015, people only had an average attention span of eight seconds.
"Heavy multi-screeners find it difficult to filter out irrelevant stimuli — they're more easily distracted by multiple streams of media," the report read.
The answer is pretty simple.
"Put the phone down and breathe," says McKeown. "I haven't had a phone in six years and it's the best thing I've done."
For the next 30 minutes the class goes prone on yoga mats. We breathe in through the nose, out through the mouth. Then in through the nose and out through the nose. Then we go through a series of breath-holds. My body starts to tingle as my O2 and C02 levels dance. By the time we're done I'm feeling light and relaxed.
McKeown recommends we all try to get our BOLT (or Body Oxygen Level Test) score. It's easy enough. After a normal exhalation, hold your breath until you get the urge to breathe again. It's not about how long you can hold your breath, but how long until you have the desire to breathe again. This length of time is your BOLT score. A good BOLT score is about 40 seconds. If you can go over 60 seconds you're golden.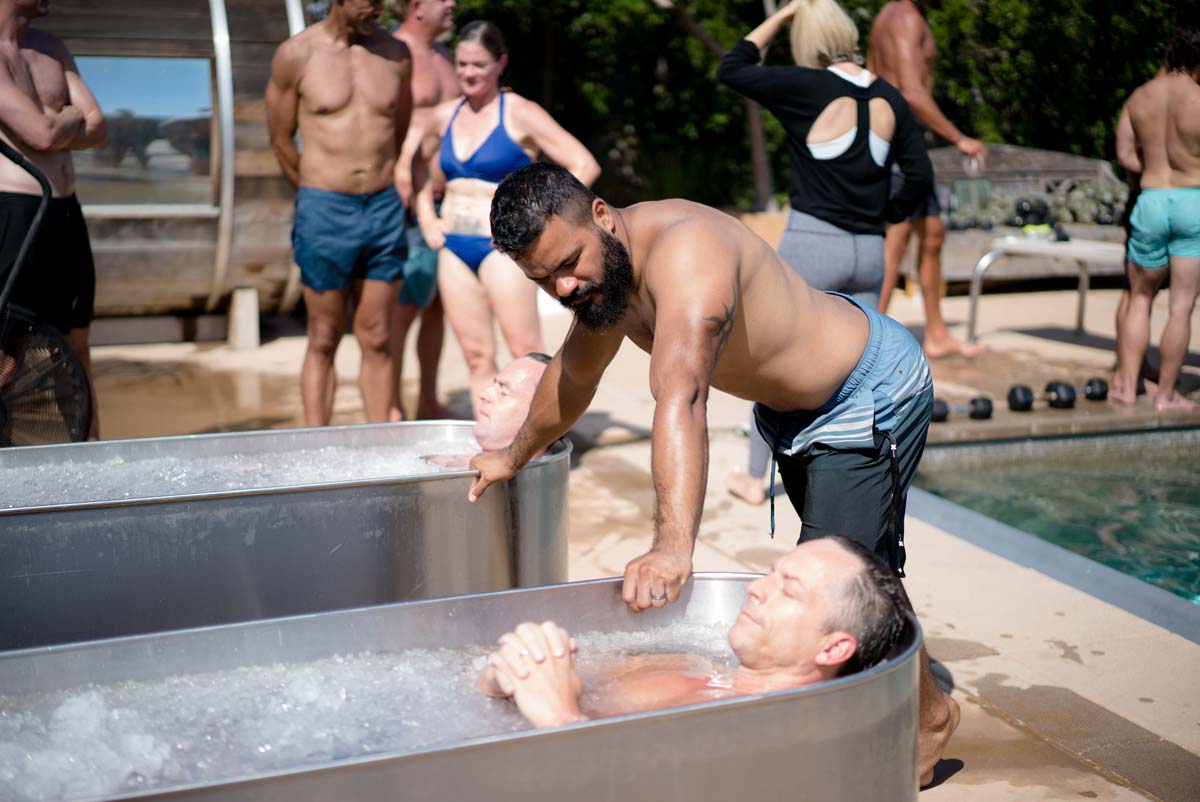 Back on our feet, Laird and Gabby break everyone into two groups. One group's bound for the pool. The other will be going through a "hot/cold" exercise.
I'm in the hot/cold group. We'll be enduring three minutes in an ice bath, then into a 220-degree sauna until "you're really uncomfortable," says Laird. We're slated to go through that cycle three times over the course of the next 45 minutes.
The purpose behind XPT's cold-water immersion therapy, hyperthermic conditioning and contrast therapy is to help decrease inflammation, enhance cognitive function, balance hormones, prevent muscle breakdown and increase cardiovascular function.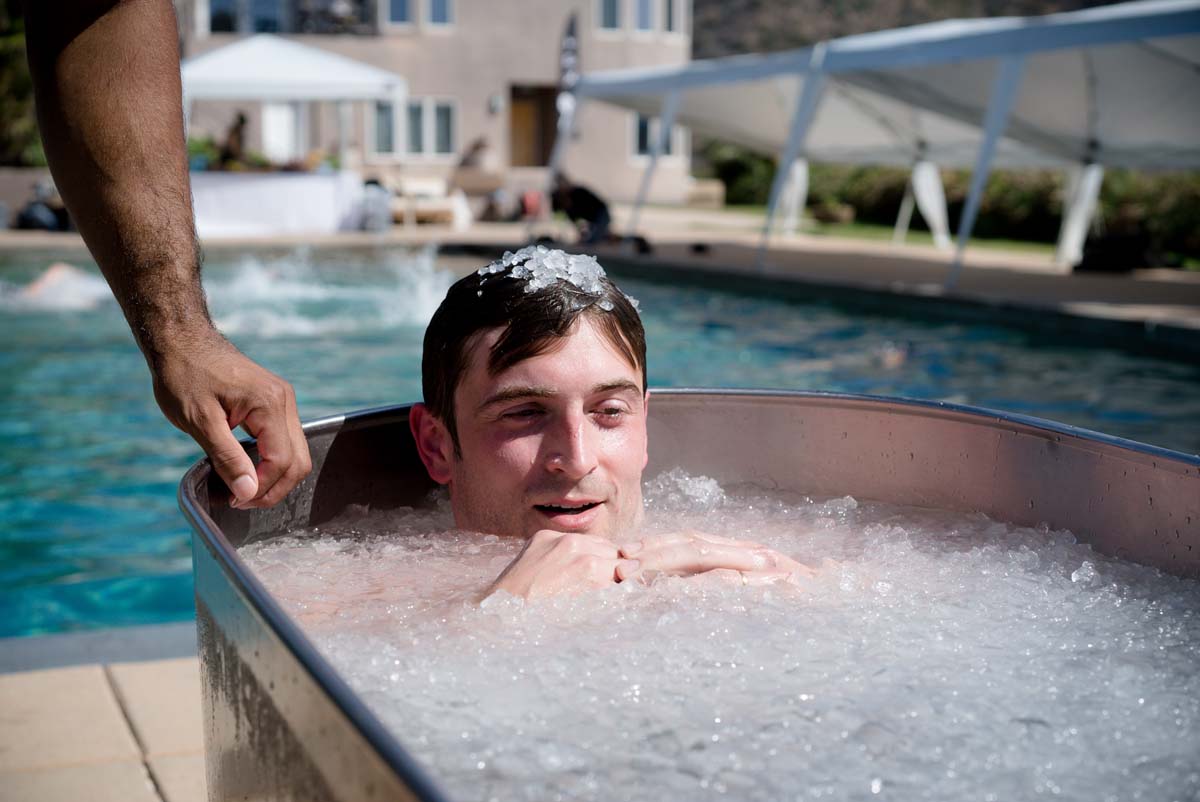 With a deep exhale I slide into the ice bath. It's actually not that bad. My hands are cold and start to hurt, but otherwise, as long as I focus on my breathing, I'm good. Dare I say, it even feels kind of good.
Afterwards, sitting in the sauna, I ask Laird how he got into his hot/cold regimen.
"It kind of evolved over time. You know, you look back across time and a lot of different cultures have used heat and cold as a way to purify the body," he says. "Whether it was Native Americans and their sweat lodges, or Russian baths, or Japan, you see it in a lot of cultures. Then I learned about Wim Hof, the Ice Man, and that really helped advance our understanding. Now, if we're traveling, we'll hunt out Russian baths and stuff like that because once you start doing it regularly you feel so good."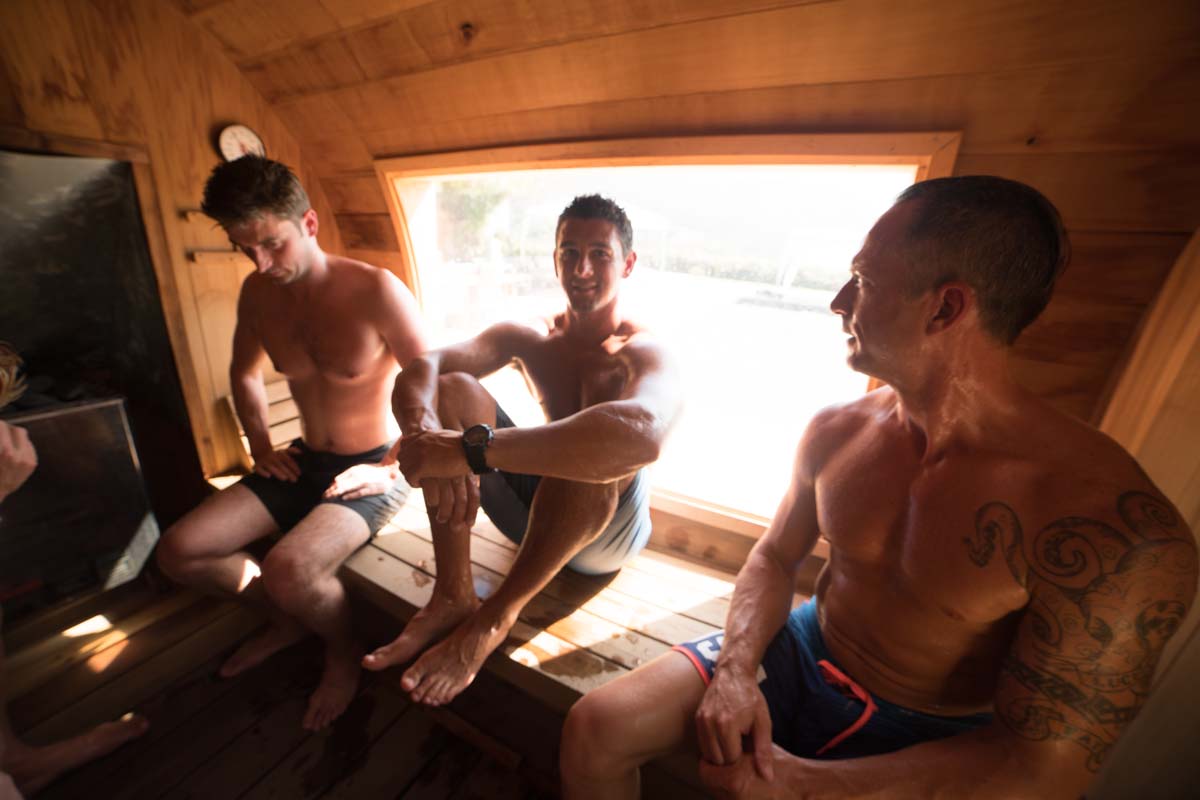 Surviving the ice bath, it's into the pool next. Admittedly, I grew up a swimmer, water polo player and lifeguard. I've surfed most of my life and generally feel more comfortable in the water than I do on the land. I couldn't wait to dive into the deep end and throw some weights around.
Gabby was running point on this part of the training. She's decidedly more of a taskmaster than Laird, who's prone to cracking jokes and making off-the-cuff remarks. Gabby's more serious. She wanted the work in the pool done right.
She put us through a battery of exercises, including swimming underwater with a dumbbell in one hand, running underwater with weights and other creative, low-impact routines. She complemented me on my last exercise. Inside, I blushed.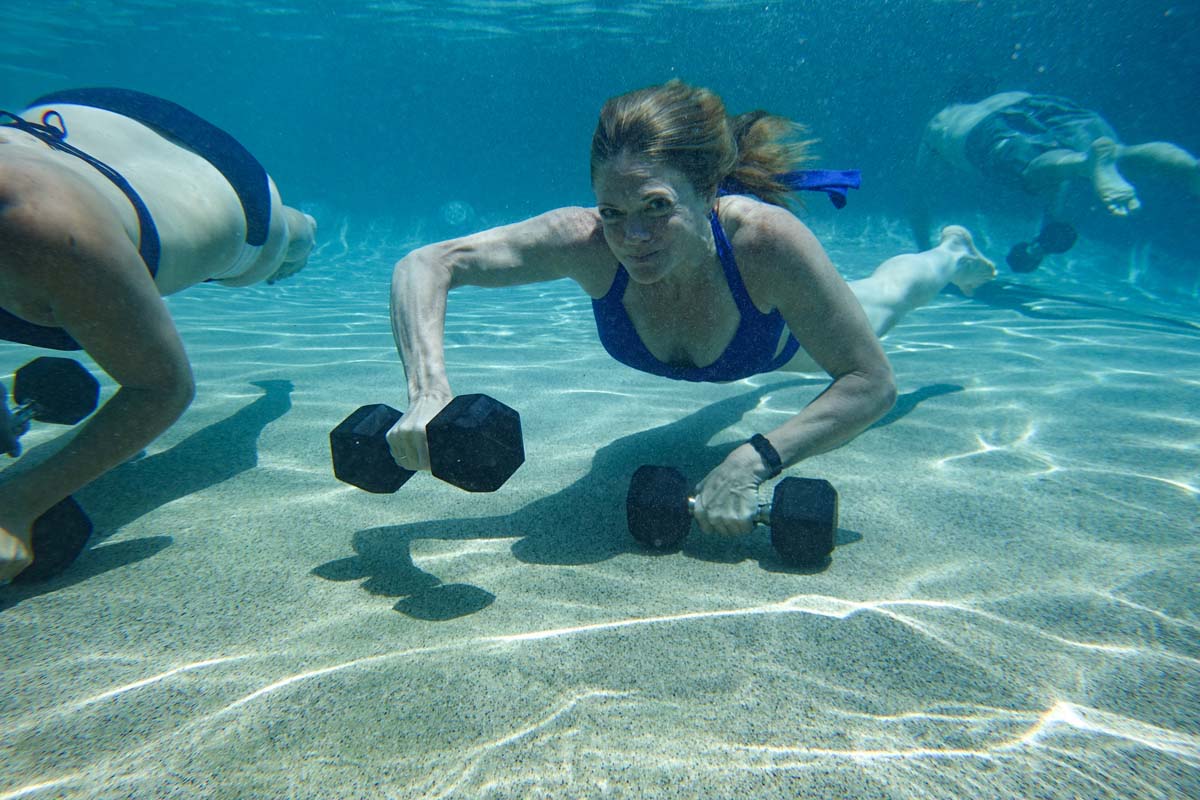 Besides the pool workouts, the XPT program also includes progressive gym training, joint-specific mobility routines, high intensity training and nature workouts. All of this is aimed to promote physical adaptation, improve body composition, restore foundational movement patterns and "bulletproof the body from injury."
By the end of the day I felt exhausted, depleted – and ready for more. The breathing exercises and techniques really resonated as something that we could all apply to our daily lives. We could all be more in the present and less distracted. Whether you're riding big waves or just trying to get ahead at work, cutting out the noise and being more focused is a huge benefit.
The time in the sauna and ice bath were also well spent. The next day at my regular Masters swim work-out the nagging soreness and inflammation in my shoulders was all but gone. I felt fresh and revived. The restorative benefits were immediately apparent.
But maybe more than anything, after seeing Laird and Gabby on the covers of so many fitness magazines and knowing all they've accomplished over the years, it was cool to spend a day with them in their own environment where they're comfortable and happy. They're both super gnarly athletes and "alphas," as Gabby would say, but they're also down-to-earth, fun people to hang with. Gabby and I spent lunchtime talking about the pitfalls of parenting. It was just a normal conversation. I love that.
You don't have to be a big-wave champion or a guru in your sport to get something out of the XPT program they've developed. You just have to be motivated to chase a goal, whatever that may be.
For access to exclusive gear videos, celebrity interviews, and more, subscribe on YouTube!