Men's Journal aims to feature only the best products and services. We update when possible, but deals expire and prices can change. If you buy something via one of our links, we may earn a commission. Questions? Reach us at [email protected].Sponsored content
If adult acne is a problem for you, you're not alone. While there is no cure yet, there are steps you can take to fight it. Proactiv has been helping people treat their acne for two decades. It's helped more than 20 million people clear up their skin. With acne solutions starting at just $20 a month, isn't it time you gave Proactiv a try?
Proactiv isn't just a face wash, and it's more than medicine. It's a comprehensive, multi-step preventative anti-acne strategy that provides you with a complete skincare regimen. Together with acne-fighting medicine that attacks acne at every stage of the cycle, Proactiv stops acne breakouts in their tracks and prevents new ones from forming. And it really works.
How Does Proactiv Work?
Fact is, acne doesn't occur overnight. It's a slow process that occurs over the course of several weeks beneath the skin surface and way before the first pimple appears on your face or body. Proactiv goes to work early in the cycle to help prevent clogged pores and keep you from breaking out. Nothing can completely cure your acne, but with the daily use of Proactiv you can treat mild-to-moderate acne and prevent future breakouts.
Look at it this way: You brush all of your teeth, not just the ones that have cavities. Why not treat your entire face, instead of spot-checking only the pimples you see?
It's a myth that teens are the only ones who experience acne. Acne is a chronic condition because it's genetic and hormonal, rather than environmental. It can last anywhere from a few years in teens to 20 years or more in adults. Acne may come and go at different times in your life. But if you are acne-prone, you should always be concerned with managing it.
You can keep acne under control with daily cleansing, exfoliating, and hydration and by sticking to a consistent routine. It may take time to find the best combination of Proactiv medicines and skincare products. Also, since our bodies and skin change throughout our lives depending on many factors (hormones, lifestyles, habits, environments, etc.), what worked for you as a teenager may not do the job when you're in your 30s. It's all about finding potent medicines and putting them to work in the right combination in effective skincare formulations.
That's exactly what Proactiv offers. Each of the lines in the Proactiv family uses the Combination Therapy approach to help you address your skincare needs.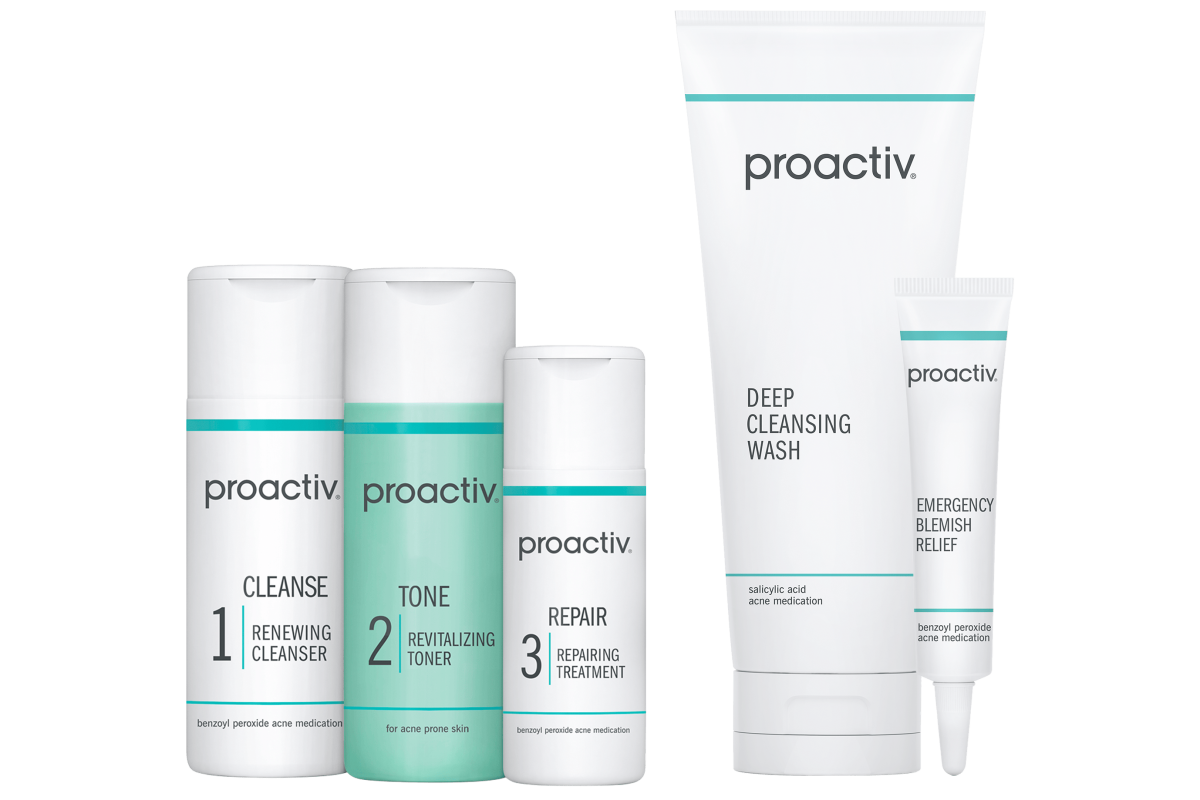 Proactiv Solution 3-Step System
The original Proactiv Solution 3-Step System ($20) came out way back in the 90s, and its reputation for success is the foundation that the company was built upon. It delivers micronized benzoyl peroxide deep into your pores, to stop acne-causing bacteria in its tracks and prevent new breakouts from forming. It starts with a Renewing Cleanser twice a day, to wash off excess dirt and oil. Follow that up with a Revitalizing Toner, to sweep away any other impurities left behind and balance your skin's pH levels. Finally, deliver micronized benzoyl peroxide directly to your problem areas with Proactiv Repairing Treatment, to heal and soothe acne-prone skin. Proactiv Solution has a complete line of products beyond the 3-Step System, including moisturizers, sunscreens, and spot treatments and body washes.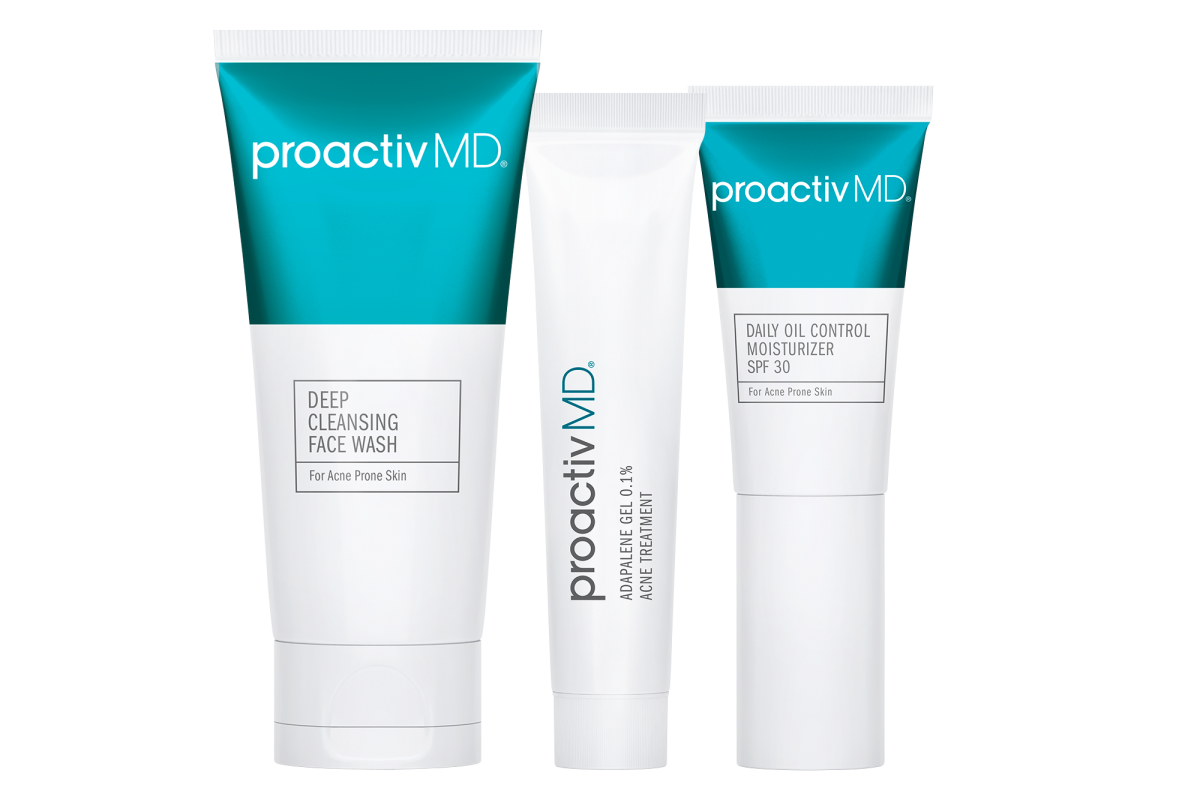 Proactiv MD
Get prescription power without the prescription. After 30 years as a prescription-only retinoid, Adapalene is the key to ProactivMD. Begin with the Deep Cleansing Face Wash with micro-beads to exfoliate your skin; Daily Oil Control Moisturizer SPF 30 is a lotion with sunscreen to protect you from harmful UV rays (contrary to a popular myth, sunlight is not good for acne); finally, apply a thin layer of Adapalene Gel 0.1% to the affected areas. Be advised, this is not OTC benzoyl peroxide; it's serious medicine, for use only by those 12 years and older. After a few weeks, your breakouts will lessen in frequency and severity, and you'll notice your skin clearing up. If you've struggled with acne for years, this is the solution for you.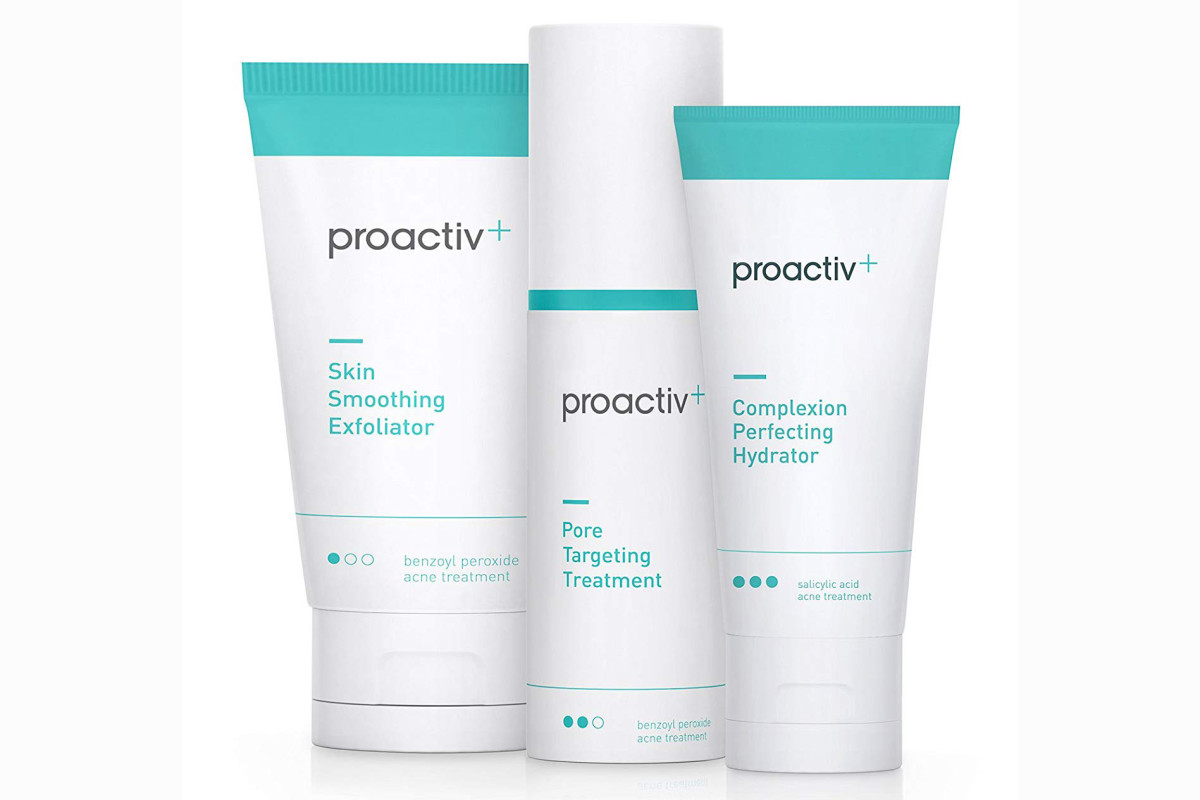 Proactiv+
Combination Therapy combined with Smart Target technology takes encapsulated benzoyl peroxide and delivers it directly into the pore, while salicylic acid and other skin-brighteners help to soothe, nourish, and balance your skin. The first step in Proactiv+ is cleansing and preparing your skin with Skin Smoothing Exfoliator. Next, Pore Targeting Treatment delivers medicine like benzoyl peroxide deep into pores. Finally, Complexion Perfection Hydrator moisturizes your skin without clogging your pores.
All the Proactiv acne solutions are proven to work; the key is to find the right combination that works for you, and stick with it. Do that by joining the Proactiv Subscription Program. You're automatically enrolled when you order Proactiv; approximately every 12 weeks after your first shipment, you'll receive a new 90-day supply delivered to your doorstep at a price well below retail. You also have the option to pay for each 90-day supply in three installments or all at once, and adjust your subscription's frequency or pause, cancel, or tweak your program at any time. You can also order more or different products to dial in your system to get a treatment that works for you.
No matter which Proactiv system you try, the bottom line is to take action and fight your acne now. The sooner you start, the sooner your acne is under control.
GET IT: Try Proactiv today (starting at $20/month) and get a free charcoal face brush.
Check out all the products and gear we've selected for Men's Journal readers here.
See Also:
For access to exclusive gear videos, celebrity interviews, and more, subscribe on YouTube!