Adam Levine has cleared the furniture out of his living room and basically installed an Equinox.
Two personal trainers wait for him inside, armed with kettlebells, bouncy exercise balls, and enough Cybex machines to wear out a professional football team. Levine bounds into the room and starts to stretch a hamstring. "I like the way I look when I work out," he says. "I'm not doing it to be vain—though that's part of it. But it feels so good. I'm happy all the fucking time. Seriously, without yoga and working out, I'd be a mess." 
It's a rainy December afternoon in Los Angeles, and Levine, who works out six days a week, is dressed in a black tank top and gray mesh shorts, and he's primed to get good and sweaty. With fitness, as with everything in his life, nothing is half-assed. After all, this is a guy who isn't content with one tattoo, he has sleeves. He isn't just a pop star, the lead singer for the band Maroon 5, he's a bona fide TV star, too—the alpha-male coach of NBC's hugely successful singing competition The Voice. So it only makes sense that Levine doesn't have one trainer. He has a team. 
His yoga instructor, Chad Dennis—who also trains One Direction's Harry Styles and wears his hair in the same man-bun—tells me they've been working out together, on and off, for eight years. Dennis often travels with Maroon 5 on tour. He recalls an early conversation with Levine's manager. "He called me and said, 'How much would it cost to buy you for the year?' I threw out some absurd number. Literally 10 seconds later, he was like, 'Done.'" 
As Levine flashes his flexibility by extending his body upward into tree pose, I can't help but notice there's a playfulness to him that doesn't translate to any screen. Unlike his persona on The Voice, where he often (intentionally) comes off like a confrontational jerk from an '80s movie, in person he's more like the handsome, mischievous kid from your Hebrew school class—the kid who hung out in the bathroom during Shabbat services bragging about two girls he made out with at camp. But that's part of his appeal: The dude's just the right amount of threatening without being dangerous. 
It's a formula that is clearly working out for him. Besides, say, Justin Timberlake or Beyoncé, Levine's about as successful as a musical artist can be, flourishing in a fearful industry plagued by plummeting record sales and shaky alliances with streaming services like Spotify and Pandora. Though technically his side gig, appearing on The Voice, which premiered in 2011, currently earns him roughly $22 million a year.
Maroon 5's latest album, V, released in 2014, debuted at No. 1 on the Billboard charts on the heels of the band's most profitable touring year ever the previous year. In 2013, he took a big swing at Hollywood when he starred opposite Keira Knightley in the drama Begin Again. And February marked the beginning of Maroon 5's next world tour, with a two-night run at New York's Madison Square Garden. 
Yet that's only part of Adam Levine Inc. After trash-talking celebrity fragrances in 2011 (he tweeted: "I also would like to put an official ban on celebrity fragrances. Punishable by death from this point forward."), Levine released his own eponymous "eau de parfum" two years later. He shills for the acne skin care line Proactiv. He recently signed a deal with NBC to produce a sitcom partly inspired by his life. And he's even gotten into the mass-market fashion business, starting a clothing line sold exclusively at Kmart.
In 2013, The Hollywood Reporter estimated his yearly earnings at $35 million. "I don't see myself as any sort of mogul," he says. "I think that's hilarious that that's even said. But, at the same time, I take a lot of opportunities that come my way." 
In the meantime, Levine's managed to become something of a divisive cultural talking point. He was mocked on an episode of HBO's Girls. (Stuck in the car on a road trip, the main character, played by Lena Dunham, sings along to Maroon 5's "One More Night" until her boyfriend silences the radio with his fist.) When People magazine named Levine the Sexiest Man Alive in 2013, the website Jezebel called it a "stunning victory for douche bags everywhere." 
Ouch. Of course, every huge star has plenty of fans and haters alike, but there's something about Levine that seems to bring out particularly strong opinions in both of them. Could it be his privileged upbringing? Or is it his Steve Perry–esque, falsetto voice? Or is it simply rooted in jealousy? After all, he's been linked to basically every woman you've ever crushed on, from tennis pro Maria Sharapova to Hollywood stars like Jessica Simpson and Cameron Diaz. This year he married supermodel Behati Prinsloo. (But if you fear domesticity taking its toll on Levine, know that he's hung a decorative wooden block over their kitchen sink that reads: "The only reason I would kick you out of bed is to fuck you on the floor.") And by now the annual Victoria's Secret Fashion Show is basically a reunion episode from his own personal season of The Bachelor. 
But as I watch Levine transition from yoga poses into a set of punishing reverse burpees, it's clear that he resides at the eye of his own storm: He's all focused intensity. He's also pushing himself too damn hard—each burpee has more burst than the one before it—to be simply some self-satisfied rocker cruising through life. And just when I think he's ready to slow down, he cranks his Beastie Boys Pandora station up even louder and rolls onto his back for a set of reverse crunches. "He's in the best shape of anybody I've ever trained," says his at-home trainer, Teri Ann Krefting, who works for celebrity trainer Harley Pasternak. "Honestly, he works out like crazy." 
OK, now I'm curious: Just where the hell does all this intensity come from?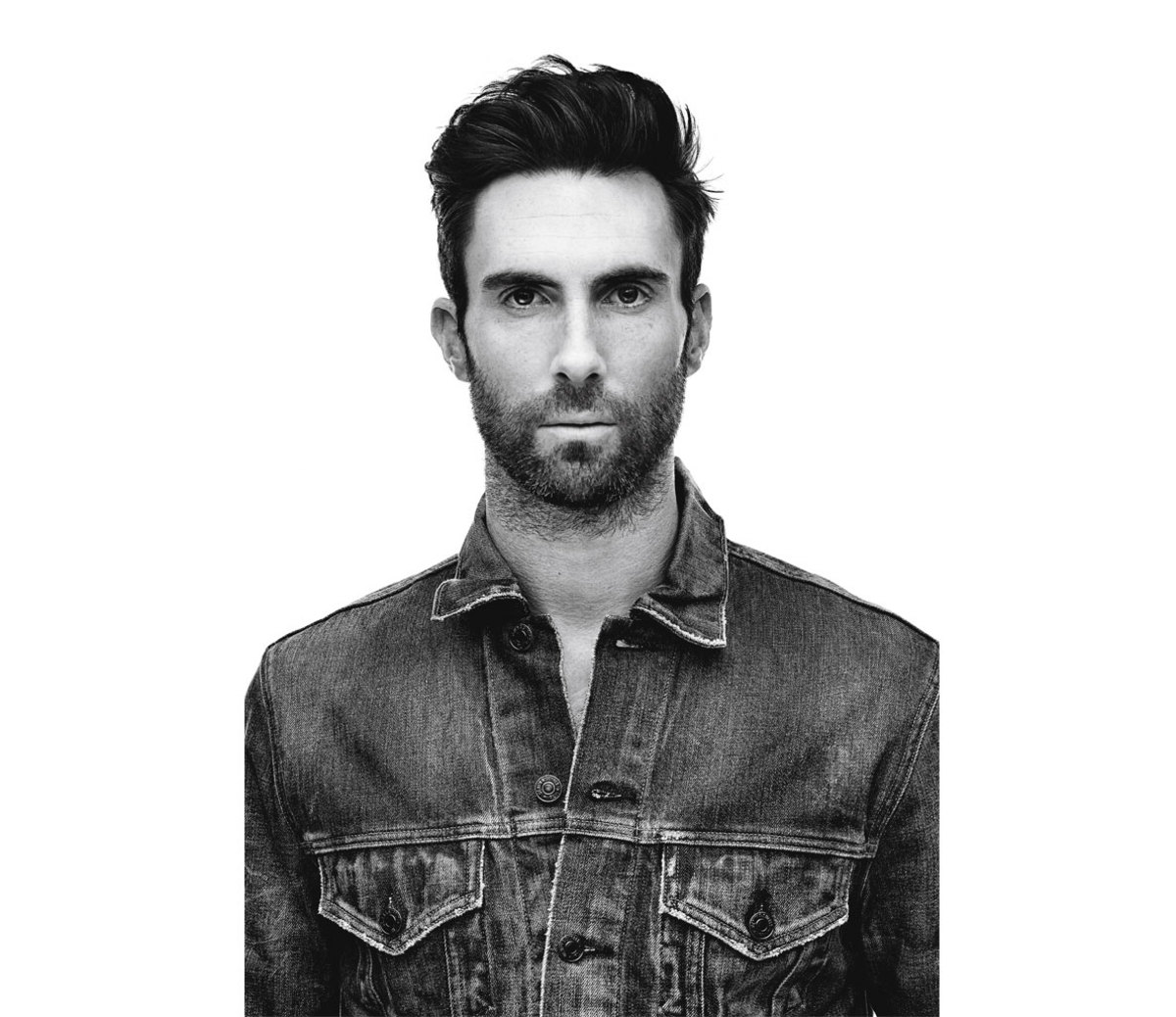 Adam Levine, Age 35, was raised in Los Angeles, where his father owns an upscale chain of clothing stores called M. Fredric. As a young man, Adam used to appear in the store's local TV commercials. He and his dad remain very close. He shows me a photo of them running a 10K for charity in 1985, and Levine the elder looks straight-up Magnum P.I., complete with mustache and muscular arms. 
Levine grew up going to fancy private schools and spent at least one summer at a theater camp in upstate New York. (When Taylor Swift appeared on The Voice, she revealed that Levine's weakness is "musical theater songs.") As a kid, he celebrated holidays with his parents' best friends, who happen to be actor Jonah Hill's parents. In high school, Levine started a rock band; he and his buddies played clubs on the Sunset Strip and got drunk and smoked weed at Hollywood house parties. So, if he's so confident in who he is today—and we'll get to that soon—perhaps it's because he knows who he isn't. 
"I fucking grew up in L.A. with a bunch of hipsters I constantly wanted to smack in the mouth," Levine says. "They were all so goddamn cool. I hated it. I'm like, 'Guys, I don't want to be cool. Fuck that. It's stupid. It's boring. And it's sad. I want to have fun. And make pop music.'" 
It turns out you can do both. Maroon 5's first album, Songs About Jane—a breakup album, basically, about Levine's stomped-on heart—has sold more than 5 million copies. The band won the 2005 Grammy for Best New Artist, and Levine enjoyed the spoils like so many rock stars before him. But it wasn't enough. By late 2010, the group hit a crossroads. "The band was struggling a bit," he says. "We were still successful. But we were three albums in. [The music] really wasn't fresh anymore. It wasn't working." That's when Mark Burnett, the TV producer behind Survivor, gave him a call. 
On paper, the idea of doing The Voice—an American Idol knockoff with a high-concept twist (the celebrity judges, including Levine, compete for the chance to coach the contestants)—didn't make much sense. Says Levine: "It's not like I was some sort of Svengali, thinking, 'The Voice will open the door for my "branding," and then I'll do the clothing line.' I thought it was going to be, at best, a paycheck and an experience. And maybe, like, a small blemish on my career. But that it was going to enhance the credibility of our band? I could never have told you that." 
The biggest knock against The Voice is that, after seven seasons, the show hasn't produced one Kelly Clarkson–level star. But that's not exactly true. The music act that's benefited the most from The Voice is Maroon 5. The song "Moves Like Jagger" (which featured The Voice co-star Christina Aguilera) became the sixth-top-selling digital download of all time. All that advertising-friendly primetime exposure has made Levine a bona fide megastar, and he hasn't been shy about cashing in on his marketability. When he senses a looming question about greed, he cuts me off: "I've pulled out of deals for things that didn't feel right." I mention Proactiv. "I grew up with horrible cystic acne," he says. 
"I was in high school. I was a pissed-off teenager. When Proactiv came to me, I was like, Great, I get to make some money and also help a kid get it together. It felt like an honest transaction." Of the Kmart collection, he insists: "They're fucking great clothes." He's not finished.
He points to the kitchen counter, telling me there are two bottles of tequila there he might endorse. "The whole nature of the music business has changed so much," Levine says. "Back in the day, everyone had a lot of pride and a certain purity. That was a really beautiful thing. But that's changed. Rather than lamenting things not being that way anymore—which is something I spent plenty of time doing—I'm more interested in exploring what the future is. People are really hung up on a lot of things they don't need to be hung up on anymore." In other words: Don't hate the player, hate the game. 
I ask him whether the band's fans have changed since The Voice. "No," he says with a laugh. "There's just more of them." He takes another minute to think on the subject and then adds: "You know what's rock and roll? Doing whatever the fuck you want to do."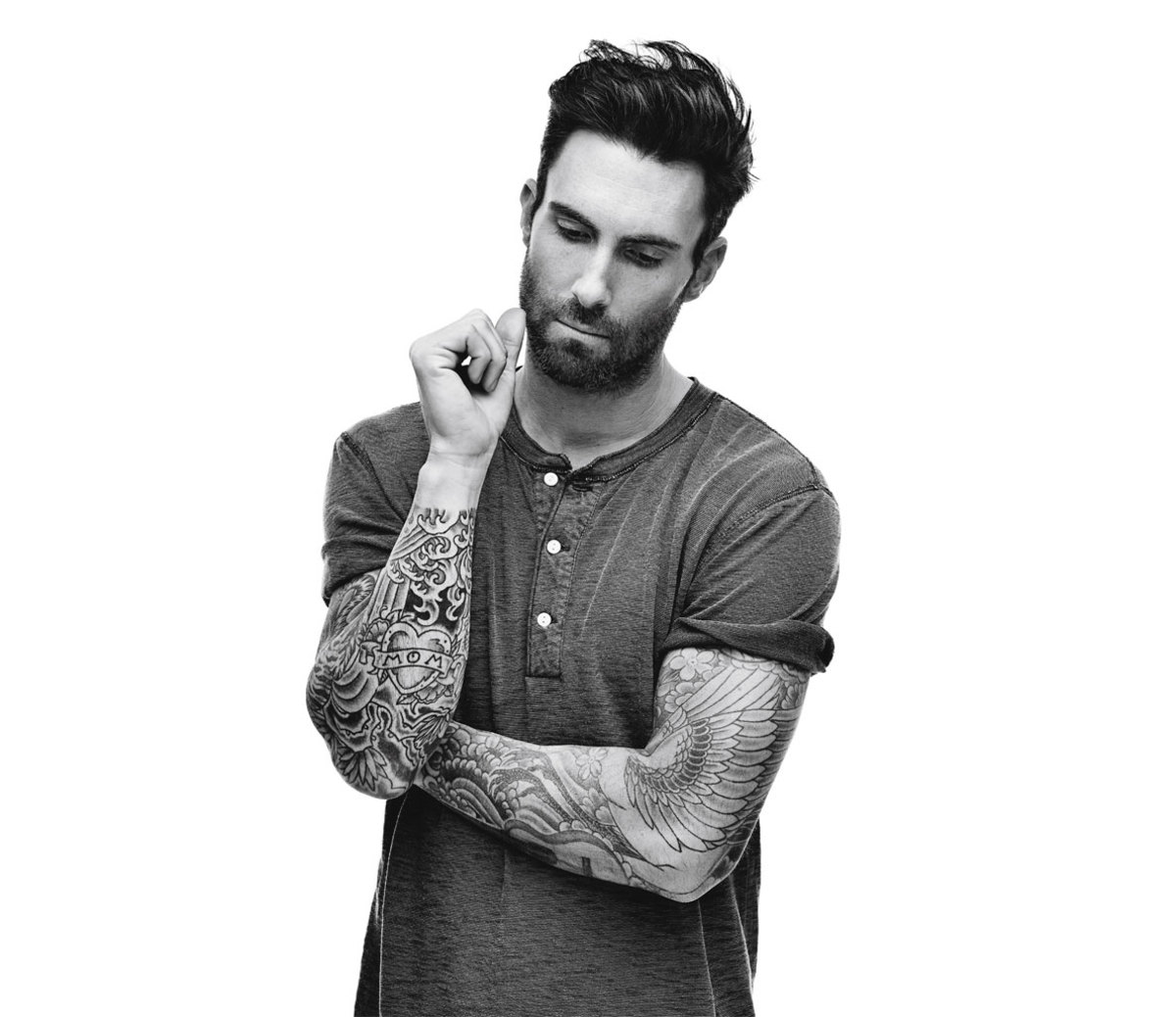 Levine's grab-every-opportunity philosophy isn't much different from the principle that fuels his training program. "I'm going to get older, and I won't be able to do a lot of this shit," he says, pointing at a kettlebell. "At least I'll be able to be like, 'I did that shit once.' I want to see what I can do with my body." 
Right now he can do quite a lot. When Krefting kicks the shit out of him, Levine eases up only on exercises that could strain his elbow, which is currently wrapped in an elastic brace. "I've got a little bit of golf elbow," he explains, laughing. "How do you hurt yourself playing golf? It's the lamest way to hurt yourself."He's such a golf nut these days he says he studies pro golfers' swings on YouTube late at night. I ask him if he has trouble sleeping. 
"My problem is, I never want to go to sleep, because I'm too stoked to be alive. I'm always like, Yeah! I'm in bed, but I could be doing something awesome right now." Dennis, his yoga instructor, laughs: "Every day is Christmas for Adam." It's a joke, but he's kind of right. Levine seems to be having more fun than your typical megastar, which is what makes him such an appealing presence on TV and in music videos to begin with.
For the video of the song "Animals," he and his real-life wife stripped naked and covered themselves in blood. I mention to him that Girls star Dunham recently commented on the graphic lyrics of that song, tweeting: "I am an adult woman who writes a lot about sex for my job and I am still scandalized when Adam Levine sings about being 'inside' someone." Levine bursts out laughing, then gets excited. "Did I out-sex her?" The lyric in question is, "But don't deny the animal that comes alive when I'm inside you." 
"It's not exactly shrouded in metaphor," he says, adding of Maroon 5's singles. "It's become kind of a game: How do I say the same thing everyone says but do it in a slightly more evocative way? That's one of the exciting things about music: You get to fuck with people. The problem with music nowadays is it's so fucking boringly safe a lot of the time. "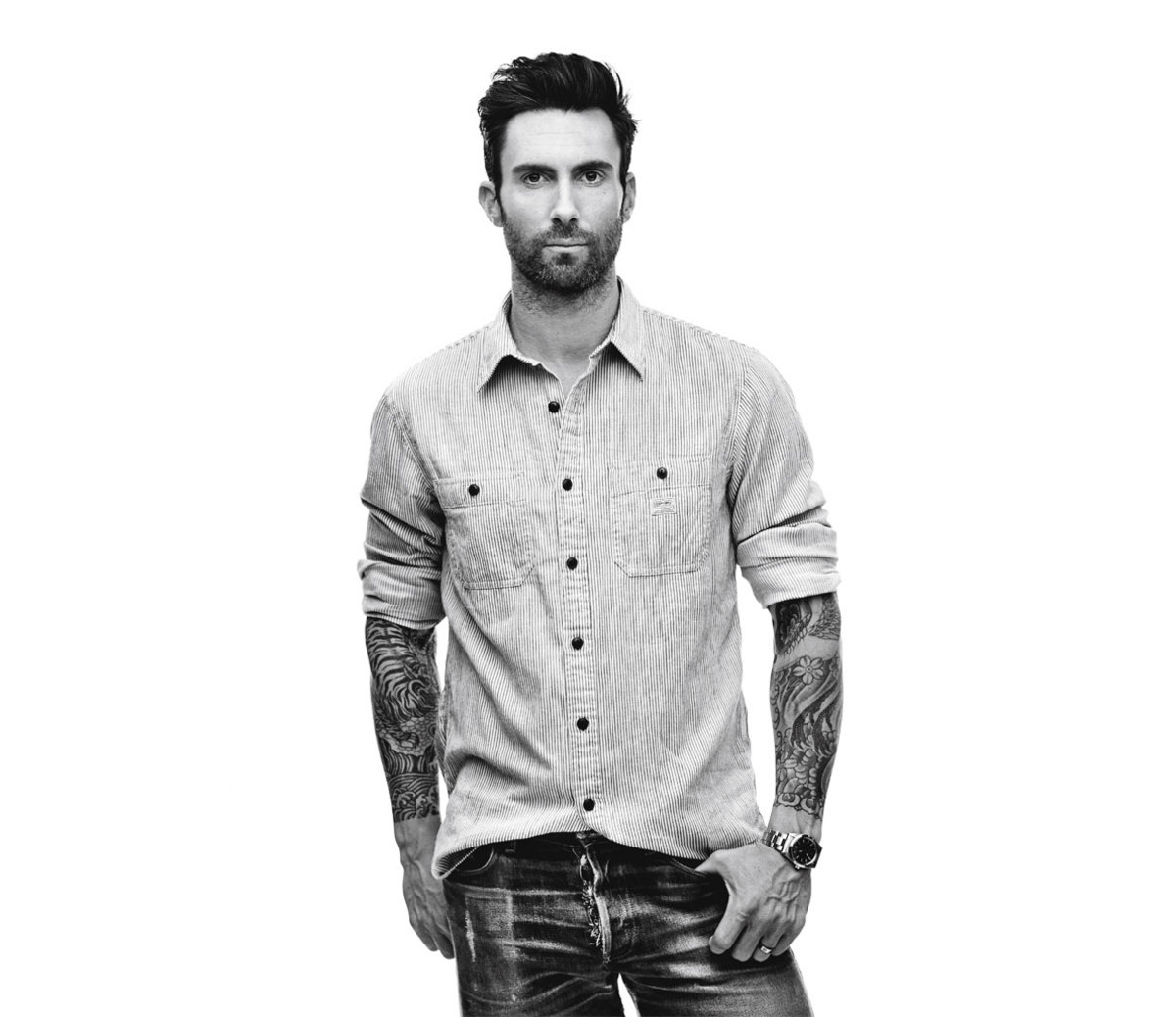 I should say: This is the second time I've met Levine. The first was for a story almost two years ago. He'd recently gone through a breakup, and on the subject of settling down, he'd told me: "If you don't get married, you can't get divorced. Why couldn't we learn from the devastatingly low percentage of successful marriages that our last generation went through?" 
Today I read the quote back to him, and he levels with me. "That comes from a man who's afraid," he says, "who's operating out of fear." I ask him if he felt afraid. 
"Wasn't it obvious in that quote?" he says. "You're basically admitting that you're afraid to get married because of divorce. You shouldn't be afraid to do things. It's not a good way to live your life." 
As we near the end of our interview, he tells me to "make him look cool," referencing a line ("Is it that hard to make us look cool?") from Almost Famous. But I don't think he really cares. He knows who he is: a certified pop star with good taste—in women, in fitness, and even in architecture. He's got a Philippe Starck–designed bedside lamp shaped like an AK-47 and works by Warhol and Basquiat in storage. 
The house we're in right now is a rental, a massive French country estate in Encino that belongs to former Entertainment Tonight host Leeza Gibbons. Levine's living here while he guts a $4.8 million spread he bought in 2012; he expected the renovations to take a year, but it's now going on two. ("Permits," he says, shaking his head.) He talks animatedly about the cathedral ceiling in the new house and the ice bath he's installing because he likes the way it soothes muscles after a workout. He's even learning to cook. As for having kids, well, the clock is ticking. "My mom ain't asking," he says, "because she knows it'll happen." 
As his workout wraps up, Levine wipes a tsunami of sweat off his face and reminds Krefting that he's taking tomorrow off. Behati is flying home from London tonight, and she's going to want to sleep in. "My wife is spoiled," Levine says. "She's blessed with good genetics. She eats cheeseburgers and drinks beer. She's my kind of girl." 
I express doubt that someone who wears underwear on a runway eats cheeseburgers and drinks beer with any regularity. After all, they say, pretending to eat junk food is something skinny women do to make other women feel bad about themselves, right? "For 99% of women," says Levine, that's true. "My girl—she's chowing down! She only cares about what she eats because I care about what I eat. She doesn't need to. She's young. When she gets older she'll have to work out." I ask if he's told her that. 
"No!" he says.
"She's 26. When I was 26, if you told me to work out and eat well? I'd be like, 'Go fuck yourself, I'm 26!'" 
For access to exclusive gear videos, celebrity interviews, and more, subscribe on YouTube!