Alex Høgh Andersen had just wrapped up his first year at the University of Copenhagen when he auditioned for a role in Vikings.
At that point, the epic History Channel series, which draws inspiration from the Old Norse tales of the Viking warrior Ragnar Lothbrok and his sons, had just come off a third successful season. And by the end of Season 4, Ragnar's youngest sons—Ubbe, Hvitserk, Sigurd, and Ivar the Boneless—had grown into full-size, blood-thirsty Vikings.
That's when Andersen stepped into the picture. Actually, it's more accurate to say he crawled: Ivar is a "violent and extreme character," Andersen says, but the young Viking can't use his legs—and that's how Andersen went from studying film to scrabbling through the "absurd" world of Vikings.
So far, he's loved every damn second of it—even when he's covered in bruises, blood, and mud.
Getting in the zone
Many of the characters on Vikings have (rightfully) earned critical praise for their complexity—and few are as nuanced as Ivar the Boneless. Even by Viking standards.
Ivar's complexity is a testament to "phenomenal writing" from series creator Michael Hirst, Andersen says, which made embodying Ivar onscreen less "of a challenge to try to understand." But at the end of the day, Ivar's success as a driving force in the series comes down to what you see on the screen—and that's all Andersen.
Still, that doesn't mean he didn't have to put in the work both mentally and physically.
"My main goal as an actor is to never judge him, and to try to make people understand his actions," Andersen says. For instance: At one point, Ivar (spoiler alert) hurls an axe into his brother Sigurd's chest, leaving one less son of Ragnar to raid and pillage new lands—a wound, Andersen says, he'll never be able to heal. "You'll see him be genuinely sorry" at the beginning of Season 5, but he's "just also Ivar," meaning he's not going to let anything stand in the way of what he wants—least of all a brother.
As for getting hyped up to film one of the intense, action-filled battle scenes for which the show has become known?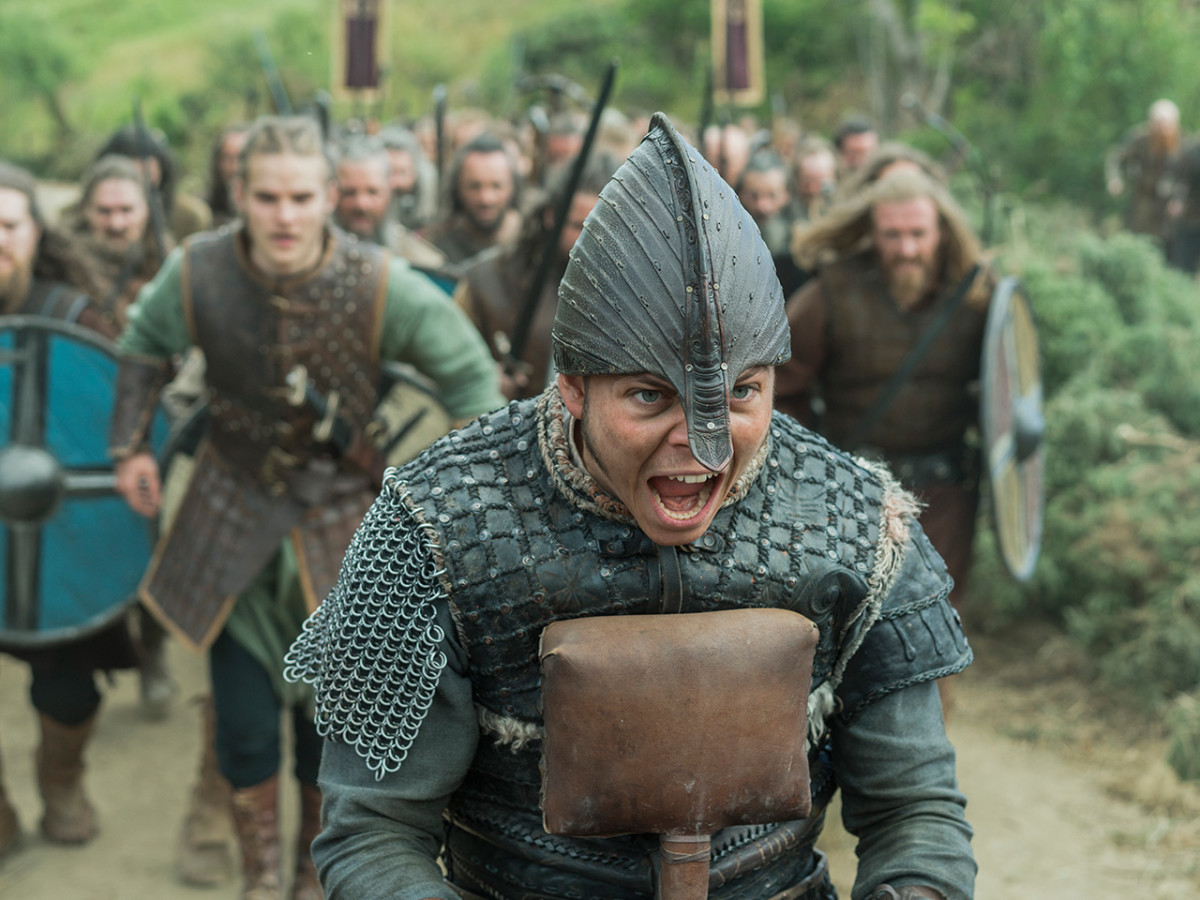 Andersen once joked on Twitter that all it took was a quick listen of Katy Perry's "Roar," but it's really a bit more involved than that. "When you're standing on set and it's raining, there's blood all over your face, and there are 50 extras dressed as Saxons pointing their bows and arrows at you," Andersen explains, "you just get into that zone."
Looking in the mirror post-makeup and costume doesn't hurt either. "You've got your hair done, you've got the braids…And you look at yourself and you're 100% a Viking."
Skipping legs day
If you've already made the whole "Ivar skips legs day" joke in your head, don't feel bad—Andersen is way ahead of you.
"I know the readers of Men's Fitness will hate me for this, but I am skipping legs day," Andersen quipped. (You don't have to agree, but you'd at least "fucking better" understand, he cracks.)
But his character's paralysis didn't spare Andersen from the same grueling training Ragnar's other sons endured to forge battle-ready strength—he simply focused on his cardio and upper-body power.
To get (and stay) "lean and strong" without looking bulky, Andersen sticks to a routine of high-intensity circuits, some weight training on chest and back day, and (most important) a lot of boxing, which he describes as a type of therapy. "It's just brilliant. It kills you every single time," he says. "But it's just therapy because you forget about everything and you're very focused on this thing, this one technique, and you can't breathe after this…one very intense hour."
His total routine: Three days of boxing, including Saturday mornings—"no excuses," he says—and two off days when he'll usually play a pick-up game of football or basketball, plus a gym day to focus on his chest and arms. That keeps Andersen fit and strong enough to survive 12-hour shoot days of crawling through mud and rock, take after take after take.
The long-hair 'experiment' and Scandinavian style
Ivar the Boneless is unlike the rest of his brothers in plenty of ways—most notably his beard, or lack thereof. So he makes up for his whiskerless chin with a long, thick head of hair he'll probably never get used to.
"It's been an experiment," he says lightheartedly. "I mean, the whole experience of learning what conditioner is—it's magic."
And while his buddies, of course, understand he can't just chop it all off on a whim, that doesn't mean they don't give him shit for it every now and then. "When I take it down and, you know, throw it around because I'm worth it," he jokes, "they're like, 'What is happening?' What happened to you? Why?'"
Still, Andersen manages to gel his "hay stack" of a mane with his low-key, "very Scandinavian" sense of style.
A fan of greys and navy blues, and a firm believer that a simple T-shirt "never hurt anyone," Andersen's look is about as effortlessly cool as they come. To this, he credits an appreciation for minimalism and contemporary Danish fashion brands like Wood Wood.
That's not to say that Andersen's closet is a monochromatic nightmare, he's got a few key pieces that add pops of color to his wardrobe. Case in point? An "almost-Native-American jacket" he bought at a vintage store in Dublin and wears all the time. "It's completely massive and baggy, but it's so cool," he says. "It's my standout piece."
Vikings Season 5 premieres on the History Channel on November 29.
For access to exclusive gear videos, celebrity interviews, and more, subscribe on YouTube!