Alicia Vikander knew the work that was going to go into becoming the new Lara Croft for the Tomb Raider franchise. Seven months before the cameras were turned on she sat down with director Roar Uthaug to discuss the transformation required to become the iconic adventuring heroine.
"I wanted her to be a very strong physical girl," said Vikander during an event for the upcoming Warner Bros. reboot. "This was the first time I really weight trained. I think a lot of girls are intimidated by it, but I felt empowered lifting like that." Guiding her through the process was trainer Magnus Lygdback, who has gotten guys like Ben Affleck and Alexander Skarsgard jacked for their film roles.
"Alicia had an incredible work ethic, which comes from her past as a ballerina," says Lygdback. "She was already strong going into this process, but she wasn't 'Lara Croft' strong." There were four training phases in the Magnus Method program that Lygdback created for Vikander, starting by bulking up with real muscle mass and then transitioning slowly into a cutting cycle. Simultaneously they ran a three-cycle core program that Lygdback used to get Skarsgard that eight-pack for Tarzan.
On top of strength training, Vikander spent hours diligently building the skills possessed by Croft in the Tomb Raider video game, like mixed martial arts and rock climbing. "No matter where we were in the world we found cliffs and rock walls for Alicia to hang off of," Lygdback says. "We hadn't seen the script yet, we didn't have particular scenes to rehearse, but we were able to anticipate the kind of action that she would be doing because of the character."
Preparing for those death-defying sequences meant extra time spent building up Vikander's fast twitch muscles and hand strength, so that she would be able to sprint and grab onto edges. Over the course of their work together, Vikander added 12 pounds of lean, dense muscle. "There aren't many people out there who would have been able to keep up with her in the gym," Lygdback says.
Inside Alicia Vikander's Tomb Raider Training
Day One: Legs
Deadlifts: 4 sets, 12 reps
Front Squats 4 sets, 12 reps
Leg Press: 5 sets, 12 reps
Lunge (with weights): 3 sets, 20 reps
Skate Jumps: 4 sets, 30 reps
Day Two: Chest and Shoulders
Chest Press: 4 sets, 12 reps
Push-Ups (on dumbbells): 4 sets, max reps
Push-Ups (on bench): 3 sets, max reps
Machine Flys: 4 sets, 15 reps
Day Three: Back and Shoulders
Machine Pulldowns: 4 sets, 12 reps or Pull-Ups: 5 sets, max reps
Standing Row (with Olympic bar): 4 sets, 12 reps
Straight-Arm Pulldowns: 4 sets, 12 reps
Windmill (with dumbbell rotation): 4 sets, 20 reps
Lateral Raises: 5 sets, 15 reps
Day Four: Biceps and Triceps
Alternating Biceps Curls: 4 sets, 16 reps
Tricep French Press: 4 sets, 12 reps
Biceps Curl (with bar): 4 sets, 12 reps
Superset Bicep Curls: 4 sets, 12 reps (into)
Tricep Pushdown: 4 sets, 12 reps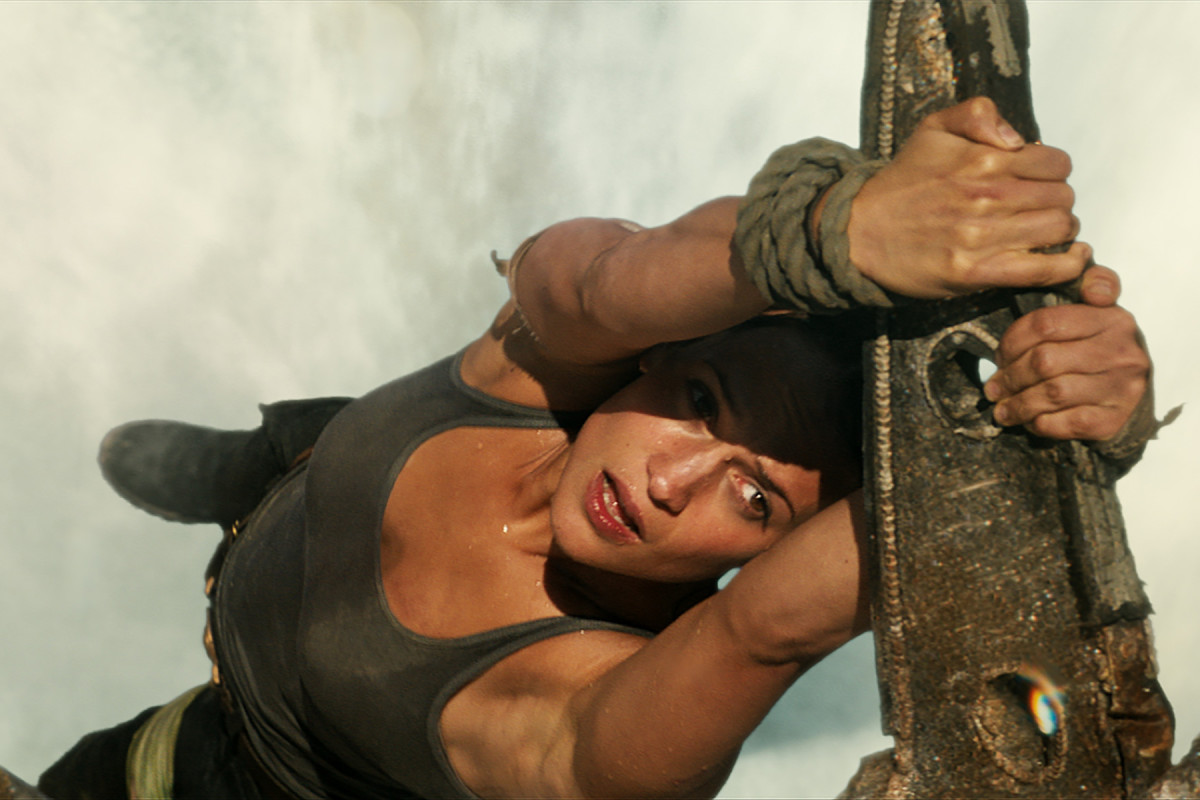 Nutrition
Three meals a day and two snacks a day, with lunch and dinner including 40g of protein, 40g of good carbs, and 30g of healthy fat. Snacks were all protein-based including, for example, chicken skewers, sashimi, or grilled octopus.
Tomb Raider hits theaters this weekend.
For access to exclusive gear videos, celebrity interviews, and more, subscribe on YouTube!