In the dog days of summer, sweat happens. A lot. From July through about September, most of us (especially in the South and on the East Coast) walk around wet and sticky all day long—there's just no avoiding it. We wipe the sweat away with a bandanna. We duck into storefronts just to feel a moment's worth of air conditioning. Some of us even hit the gym on our lunch hour, if only to take a shower. But no matter what, sweat happens. And unless you clean your face well, chances are pimples are going to happen, too.
That's why you need a serious facial scrub. Something without the harsh detergents that can dry out your skin, and the flowery fragrances that enter the room before you do. If you want to cleanse your face and clear your pores the natural way, you've got to try age-defying M3 Natural Infused Charcoal Scrub ($29 at Amazon).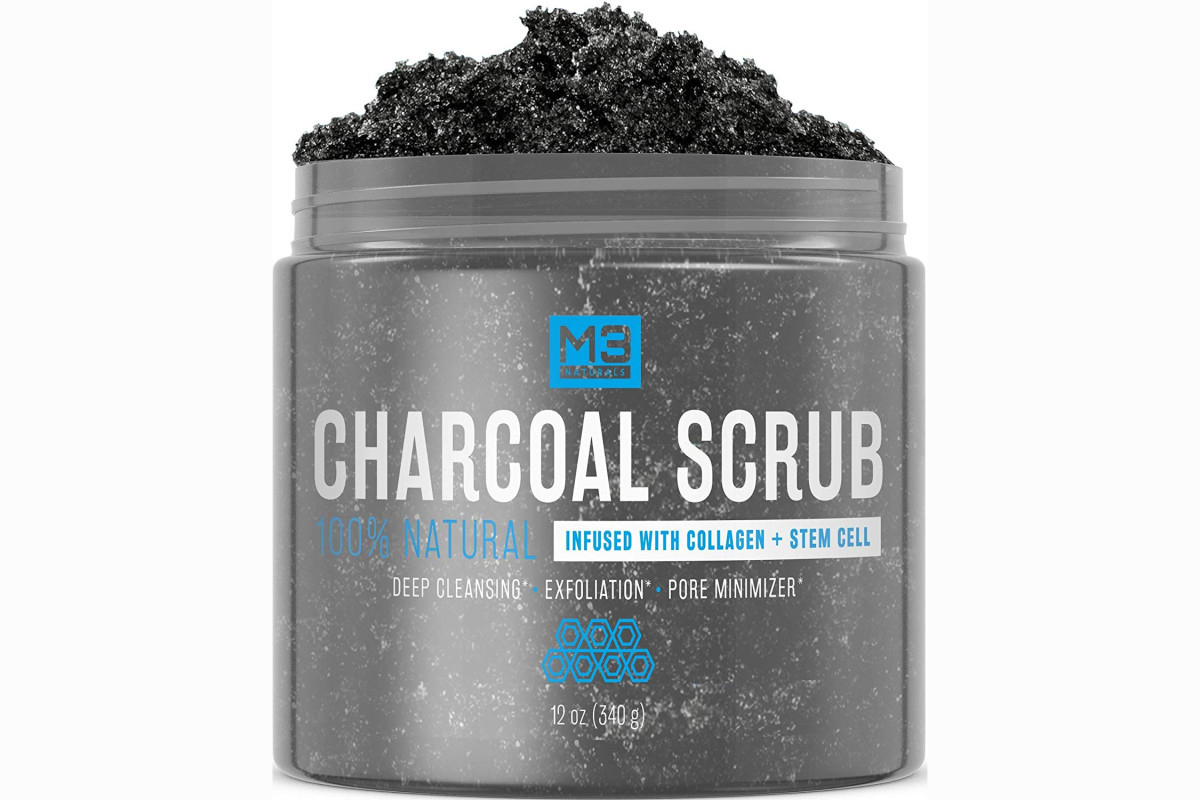 Infused with stem cells and collagen, it works in synergy with your body to fight acne and detoxify skin by removing harmful pollutants and bacteria. It leaves your skin refreshed and moisturized, minimizing pores and clearing out oil and impurities. Say goodbye to acne blemishes and blackheads.
Activated charcoal is widely known as a natural impurity-fighter. Combined with sea salts, it traps chemicals and pollutants in your skin (and even in your teeth!) and flushes them away, preventing their absorption in the body. It's like a daily detox for your face.
Will It Really Help You Look Younger?
But it's much more than that. M3 Naturals is infused with stem cell technology via Malus Domestica Fruit Cell Culture Extract. These apple stem cells are rich in epigenetic factors and metabolites, ensuring the longevity of skin cells. Apple Stem Cells have also been shown to protect skin cells while also delaying the senescence of hair follicles. Meanwhile, hydrolized collagen repairs damaged skin tissue by increasing collagen production, and protecting the skin from free radicals. Working together, these age-defying advancements help rejuvenate your skin, for a real, noticeable anti-aging benefit.
Best of all, M3 Naturals offers a no-questions-asked, 60-day money-back guarantee. If you don't see real benefits to your face, just send it back and get your money back. More than 1,600 satisfied reviewers on Amazon give it an almost-perfect five star-rating. The time to try it is right now, in the summertime, when your face is at its oiliest.
So don't let the summer sweat wreak havoc on your complexion. Keep your pores clear, flush away impurities and bacteria, and give your face a daily detox with M3 Naturals Infused Charcoal Scrub. With the age-defying benefits of stem cell technology and collagen, you might even look younger and revitalized, and carry yourself with a bit more confidence.
GET IT!
Check out all the products and gear we've selected for Men's Journal readers.
SEE ALSO:
For access to exclusive gear videos, celebrity interviews, and more, subscribe on YouTube!