It's not like him. It isn't. He's usually humble, self-effacing, quick to list his shortcomings, his screwups, to laugh at himself. He'll tell you almost as soon as you meet for a morning round at Atlanta's Bobby Jones Golf Course that he can't believe he's here, physically and spiritually, anchoring The Walking Dead, the most popular show among American men that doesn't involve a football. Not what he expected, to become a middle-aged action star. But life is like that. You stay in the moment and who knows what can happen? 
Since teeing off, Lincoln has been stressing the existential beauty of golf, straying, by his own admission, dangerously close to sports-as-Zen metaphors, the seriousness of which cracks him up almost as soon as he says them. But he finds the game fascinating because he sees the parallel with his own career: Keep working, keep your head down, let the game of life come to you.
"We don't want to say Zen, so…flow, how about that?" He's entitled to a little exulting. A 10-handicap golfer, Lincoln is even par through five holes, every drive heat-seeking the middle of the fairway, every approach biting the green one putt from the cup.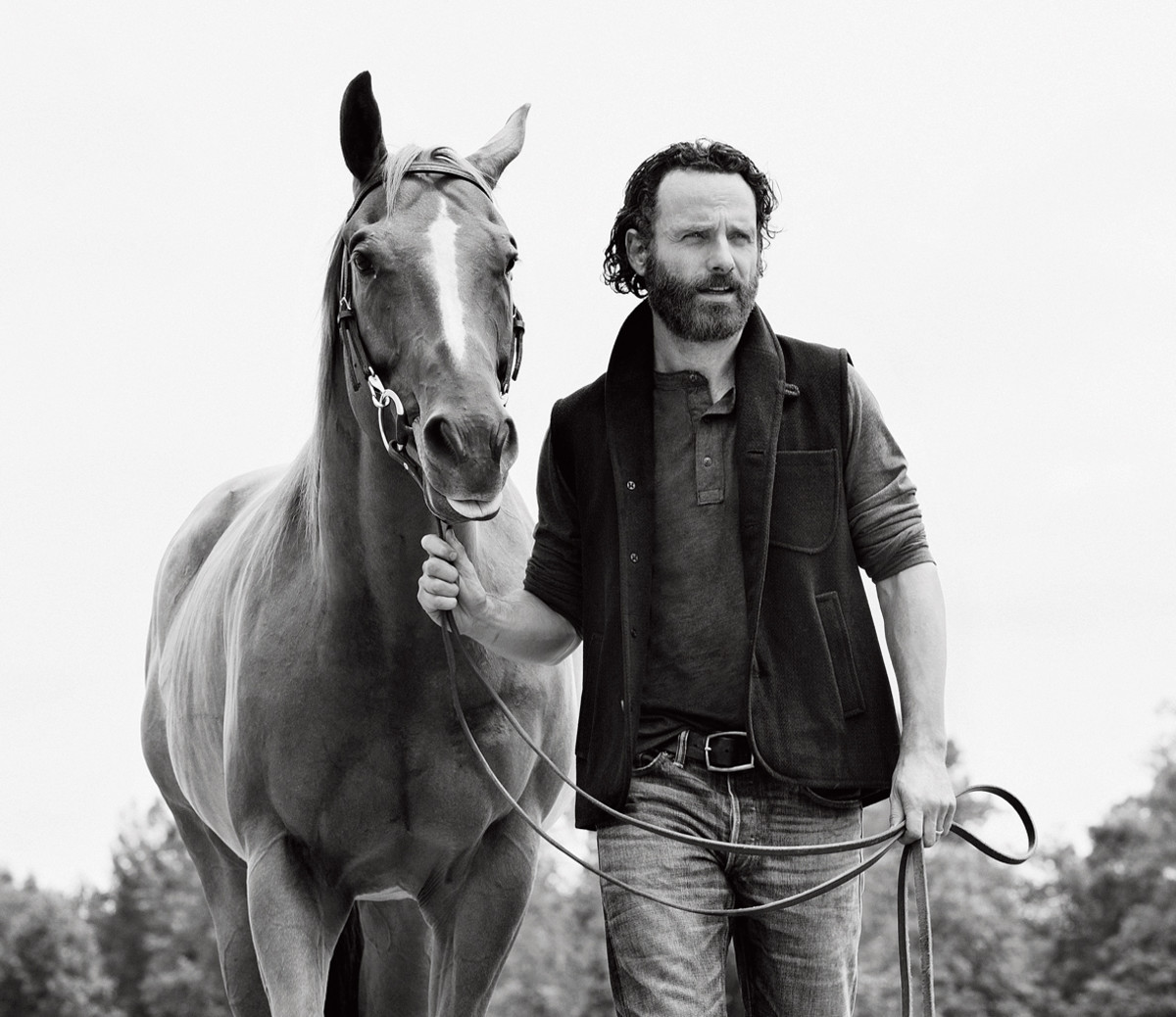 So it's totally uncharacteristic of Lincoln, as he's walking up to the sixth tee box, a long par 4, to turn and say, "I'd just like to note that I'm playing the best fucking golf of my life." 
Oh, no.
He sets his tee, takes a practice swing—he has a bluntly effective, wide-stanced, flat swing—then badly hooks the ball into a grove of young white ash trees about 90 yards ahead of the tee.
There are numerous ways a man can react to the shot that's ruined the best round of his life. He can curse. He can pound his driver into the turf. He can collapse in a heap. Lincoln simply shakes his head, nods, and laughs.
"I had to say that, didn't I?"
But he recovers, punching back onto the fairway, hitting the green with his third shot, then putting for par. Quietly, without saying a word, he wins the hole.
Andrew Lincoln has emerged as that most likely of American heroes: the unlikely kind. He was never supposed to be here, just as his character, sheriff's deputy Rick Grimes, was never supposed to wake up from a coma then try to save civilization from hordes of zombies. 
Yet it's what he does when he finds himself in the rough that makes Lincoln, and Grimes, such iconic figures. Rick Grimes, tormented perhaps more by betrayals and the loss of loved ones than by zombies, and driven to be a good father more than to drive spikes through the heads of the undead, has emerged as America's archetypal good guy. We're all, in one way or another, trying to stand firm in the face of the many impending apocalypses—financial, environmental, biological—and we hope we have the stolid pragmatism of Rick Grimes when it comes time to mount that horse and save the damn world…or at least pay the mortgage this month. "How do you be a single parent during the apocalypse?" Lincoln asks, voicing what he feels is one of the show's central themes. "That, to me, is more heroic and interesting than the badassery of it all."
"He's Clint Eastwood," says Greg Nicotero, an executive producer on The Walking Dead. "He's the sheriff, literally, riding into town on a white horse. Andy is in fact a natural leader—he leads the cast. He's this funny, happy, cheerful guy. He'll tackle you on the set."
Lincoln, sitting in the golf cart between holes, laughs again about his success and how improbable it is that a comedic, classically trained English actor—he attended London's Royal Academy of Dramatic Art, which counts Richard Attenborough and Peter O'Toole among its alumni— came to play an American icon and find himself, on the wrong side of 40, an action hero in the making.
"When they first came to me with The Walking Dead, I laughed and asked my agent, 'Are we really doing this?'"
At the time, Lincoln was a mainstay on British television, turning up in a succession of series during a career that started with his first big break—a job on a reality-style TV show, This Life, in 1996, a year out of RADA. He was perhaps best known in the U.S. for playing opposite Keira Knightley as the cue card–bearing would-be cuckolder in Love Actually; and while he'd played Hugh Collinson in the British Special Forces show Strike Back, which aired here on Cinemax, he seemed more likely to be a steadily working comedic and character actor as he aged gracefully into his middle years.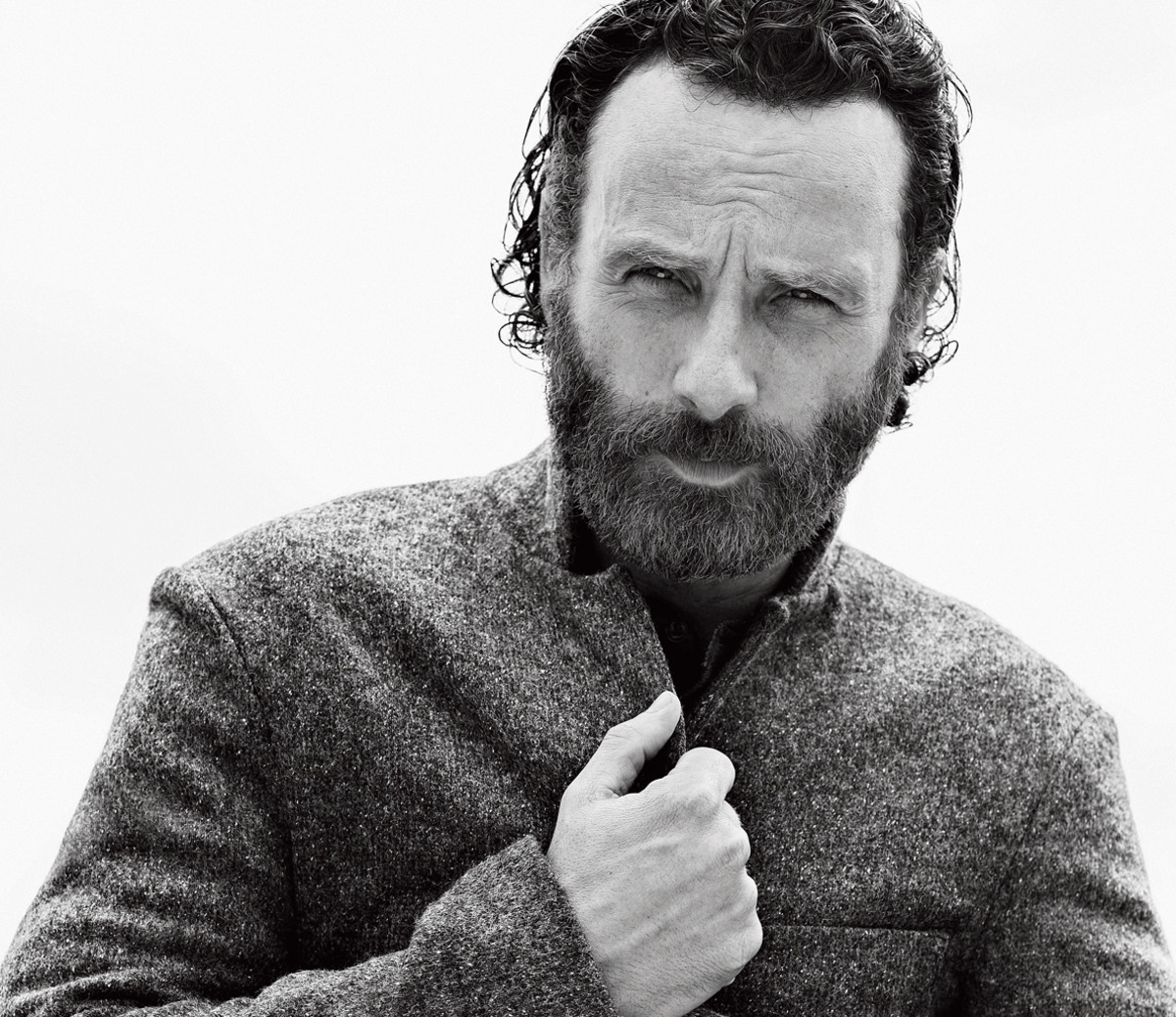 "Then I read the first script [for The Walking Dead], and it was the boldest, most beautiful, most ambitious—this daring thing. I'd never read anything like it," Lincoln says. "Also, you know what? There's a funny thing that happens when you do something that doesn't seem like your natural instinct to do. You're kind of loose about it. You don't have preconceptions about how you have to do this."
Now, as Lincoln removes a club and approaches the par-5 seventh hole, he shakes his head, wiggles his hips, and takes a practice swing. The driver head snicks the grass. "That's the astonishing thing about my career," he says. "I turned 40, my bones started aching, and it was the weirdest thing: I became a leading-man action hero."
He drives another one onto the fairway. He doesn't say a word.
Zombies have occupied a disproportionate amount of national fright-share since George Romero's classic 1968 Night of the Living Dead created the slow-walking, arms-extended, flesh-eating, implacable undead as an American horror archetype. The zombie-industrial complex has spawned dozens of films and books, including several more Romero films; cult hits like 28 Days Later; summer fare like World War Z; and comedies like Zombieland.
But it wasn't until the debut of The Walking Dead on AMC in 2010 that the genre found its true epic and audience. The 2013 season premiere was the highest-rated cable TV show ever, with more than 16.1 million viewers, and midseason the zombie thriller beat Sunday Night Football two weeks in a row in the coveted 18–49 demographic. But is it the zombies or Rick Grimes giving Peyton Manning a beating?
The answer is both. The Walking Dead has enough well-written characters with rich backstories to satisfy a generation coming of age in television's new golden era—AMC's sister shows Mad Men and Breaking Bad were already redefining narrative TV— while still providing plenty of gore for adrenaline junkies looking to unwind after a day of watching the NFL. But for all the show's bloody action, its continued success relies on the character-driven narrative: the personal odyssey of Rick Grimes, a man forever struggling, and failing, to create some semblance of civilization deep in a zombie-infested Georgia.
"Think about it: If we did five years of nothing but head smashing," says Lincoln, "do you think they'd still be watching? I doubt it. I think it's a kind of arrogance to assume that people who like head smashing don't deserve a story as well."
Lincoln's changed into a T-shirt, gray shorts, and a pair of sneakers and is driving his Ford Fusion Hybrid through the streets of Inman Park, not far from the Atlanta home he rents for the seven or eight months his family spends here each year. He professes to have been wary of Atlanta and the clichés of the South when he first started The Walking Dead, but has since come to love the city. He and his family still spend nearly half the year in rural England, not far from Bath, southwest of London, where he grew up.
The younger of two brothers, Lincoln took up golf and cricket as a young boy, yet demonstrated, he insists, no great athletic prowess. ("He's always saying he's not good or not playing well, but his not playing golf well is better than most people's playing well," says Nicotero.) He gravitated toward acting because, in his words, "drama was the best way to meet girls. Why else would you start something where you have to put on makeup?"
His father, a civil engineer, scoffed at the notion of Lincoln becoming an actor. But he told his son that if he could get into all five of England's elite drama schools, then he'd support his ambition. Lincoln accomplished that feat and settled on RADA, moving to London when he was 17. He met his wife, Gael Anderson, the daughter of Jethro Tull frontman Ian Anderson, on the set of the British show Teachers. She was a spiky-haired production assistant who refused to make him a cup of tea.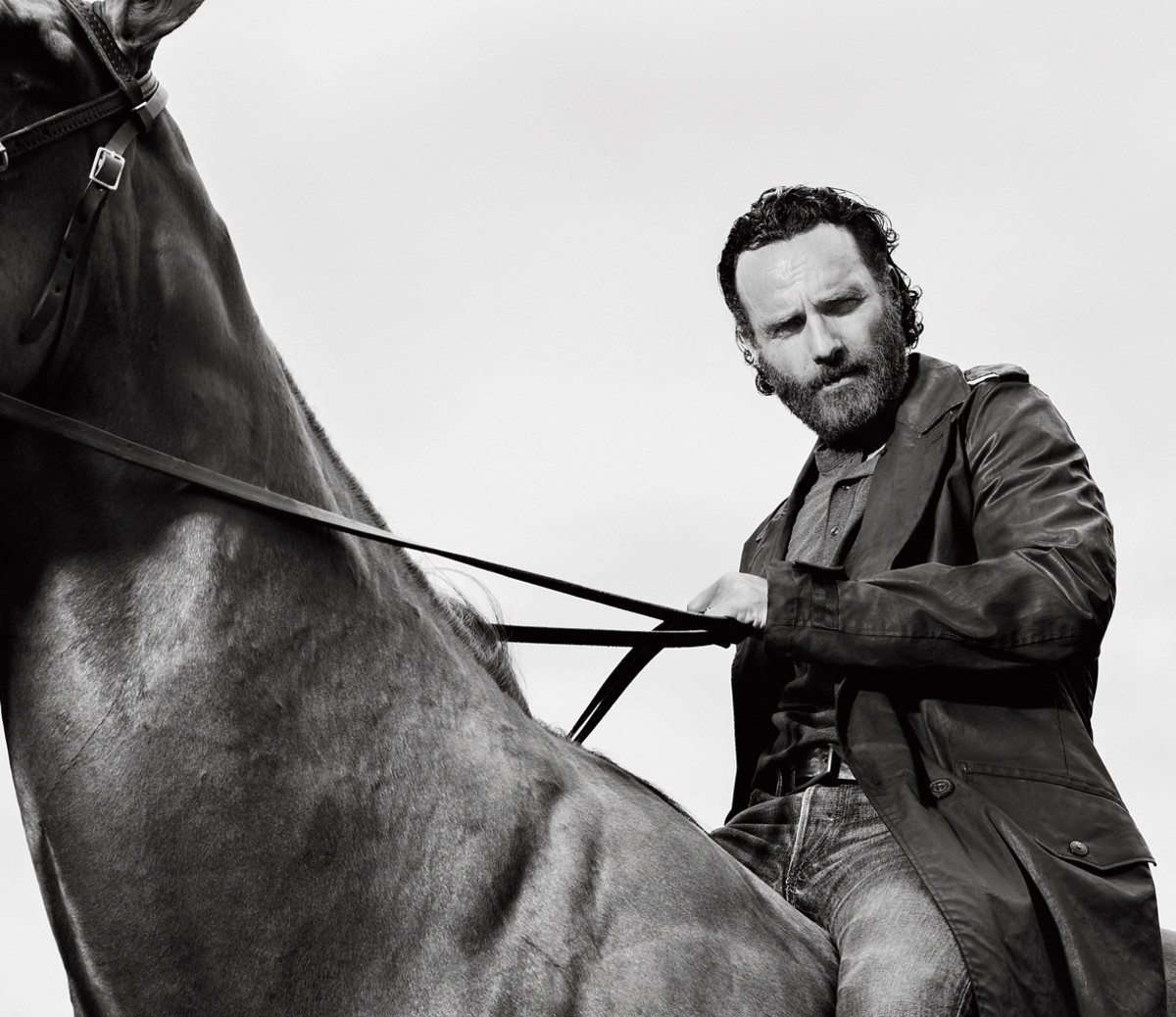 "I was like, 'This is bullshit.' But I couldn't get her out of my head." Two kids later, the marriage is going strong, and Lincoln can draw on his own experiences as a father to shape Rick Grimes' emotional life: "You always pull from you. I mean, it would be insane if you didn't pull from who you are." After he parks, he stands and stretches, twisting his shoulders and rotating his core. He's naturally lean, a classic ectomorph, and it's easy to see how he struggles to bulk up, as he did before Season 4. He's a natural distance runner who'll do five miles in the Georgia heat. But that year he hired a trainer, who ordered him to halt the distance running, add in rapid sets with free weights, and cut out carbohydrates and sugars. He hated the dietary routine. "Why would you do that to yourself, man?" he asks.
Shooting The Walking Dead is in itself a grueling workout, says Lincoln. There's the mud, the heat, the humidity, the bugs—and the cast stays on set for all of it. Fellow Dead actor Steven Yeun agrees. "We're working these hard hours in the sun. Everyone should be breaking down; we should have divas, these Hollywood clichés," says Yeun. "But no, there's Andy, and he's showing up and pushing it harder than anyone. He's the culture of the show. I mean, if your No. 1 guy isn't a diva, then who can be?"
We go to an Italian restaurant, where Lincoln scarfs down fried calamari and a salad, and sips a Diet Coke—he hasn't had a drink in five years—and speaks to the waitress in his Rick Grimes drawl. He shakes his head. "I know, it's weird. I feel like I'm betraying them if I don't speak as they know me. It's just the way I work. My wife and kids are like, 'You're going to be doing that for seven or eight months?'" It's also his way of keeping his dialect sharp. "I've got enough zombies to worry about, you know? There's an apocalypse to deal with." He starts laughing and takes another swig of his Coke.
The next season will take the characters into uncharted terrain, on a grueling cross-country trek for a zombie cure. Though Lincoln is loath to share plot details, he says it will be the "most frightening" story line to date. "You never know who's gonna die," he says, "And that's sure true this season. I mean, it's already pretty intense, and now it's moving into Heart of Darkness territory. Yeah! I may be gone this season." I stare at him. Could the hero really die?
He shrugs and smiles. You can already hear the fanboy outcry if it happens. Lincoln, meanwhile, isn't the type to dwell on it. He'll just tee it up and take another swing.
For access to exclusive gear videos, celebrity interviews, and more, subscribe on YouTube!