Jason Momoa's new film, The Bad Batch, is unlike any movie you've ever seen.
The thriller is a combination of a Western, a love story, a horror movie, and a dystopian look at the future—all wrapped into a desolate, sun-drenched desert world that evokes Game of Thrones by way of Mad Max: Fury Road.
The setting is a post-apocalyptic version of America where the "bad batch" of the population is banished to a dry, garbage-filled wasteland that's cut off from society. It's populated by cannibals (Momoa), hungry scavengers (Giovanni Ribisi), and a mysterious, mustachioed, robe-wearing cult-like leader named "The Dream" (former Men's Fitness cover star Keanu Reeves). The Dream runs a walled-off compound named "Comfort," where no one actually eats each other. But that doesn't mean it's completely safe.
This is Texas, not Westeros. There's no winter coming in this world.
Momoa plays Miami Man, a Cuban immigrant and former tattoo artist—carrying himself like a gangster version of his Game of Thrones character Khal Drogo—tattooed and without a shirt for the near-entirety of the movie. Miami Man is overseeing a horde of musclebound cannibals who stay in shape by working out in what has to be the weirdest gym in the world (see the below photo for proof). This territory is called "The Bridge," and isn't too far from the U.S. border, making newly tossed-aside members of the bad batch easy prey.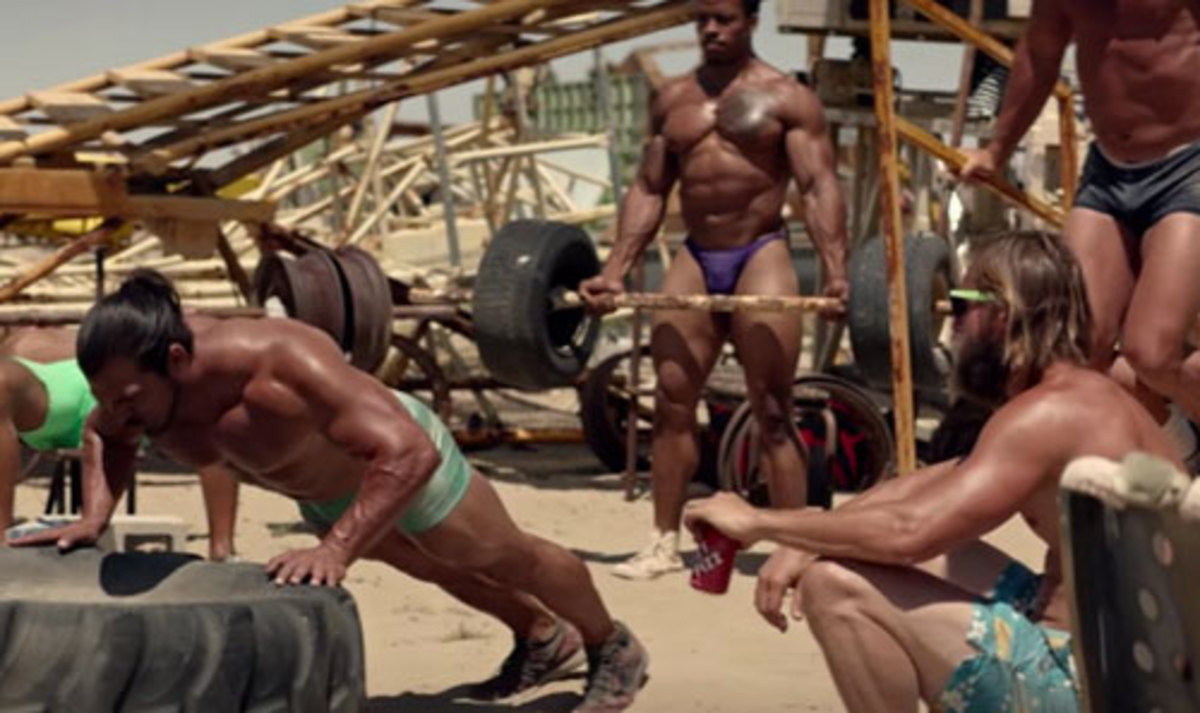 Annapurna Pictures / The Bad Batch / YouTube
Model-turned-actress Suki Waterhouse plays Arlen, an innocent-looking girl who quickly becomes one of these targets, getting an arm and a leg sawed off for someone's dinner before she can even find a place to rest. The entrance to this new world is jarring, but Arlen turns the tables on her captors and escapes in a nail-biting sequence—grabbing a leg brace and a skateboard, and pushing herself deeper into the desert. After nearly dying from exhaustion, Arlen's saved by the shopping-cart pushing "Hermit" (a near-unrecognizable Jim Carrey), who drops her off at Comfort, where food, water, electricity, and comfortable beds are (mostly) in good supply.
The story jumps a few months from there as Arlen decides to venture outside the walls of her new home, carrying a handgun in her shorts. She stumbles upon one of the cannibals from The Bridge and a young girl, who happens to be a ward of Momoa's Miami Man. In a twist of fate, Arlen brings the girl back to Comfort, but accidentally loses her to The Dream's all-female, all-pregnant, all-machine-gun-carrying bodyguards during what is basically an apocalyptic rave. (This Fury Road, it seems, has yet to find its Furiosa.) Yes, dystopia has a DJ, and he's supported by The Dream. When Arlen tries to get the girl back, she ends up back out of town and into the open desert once again.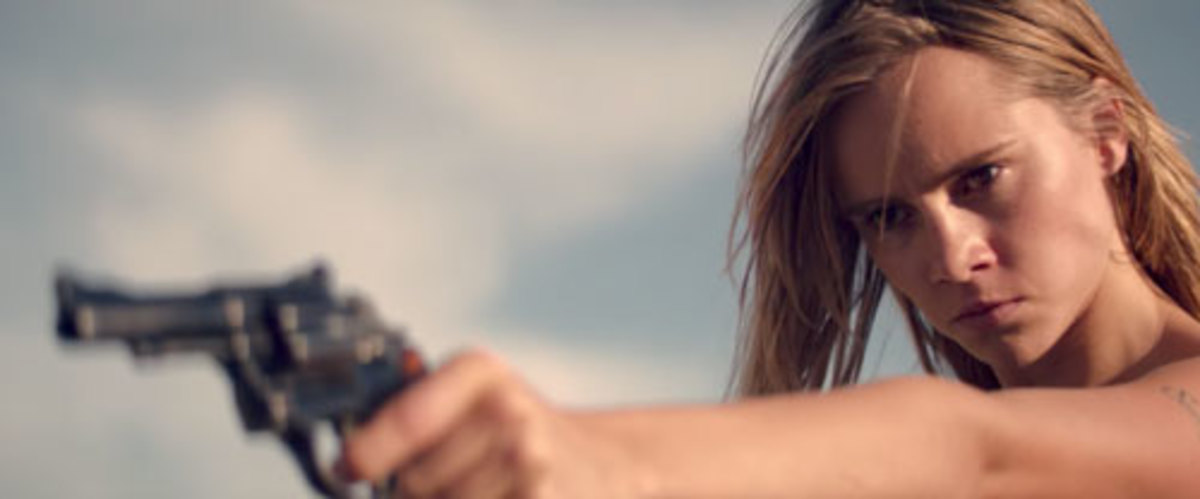 Annapurna Pictures / The Bad Batch / YouTube
It's here where Arlen crosses paths with Miami Man, who's been searching for the missing girl. As a cannibal from The Bridge, Momoa's character doesn't seem to have many shreds of humanity left, but director Ana Lily Amirpour has a sympathetic eye for Miami Man. He's a talented artist (he draws a portrait of Hermit as a trade for help in finding the girl), and serves as a sort of protector for Arlen when a hulking scavenger tries to take her away for himself.
For a movie about searching for humanity in desolation, The Bad Batch delivers brutality with just as much punch. Momoa gets to go full-on action hero in this scene, using a meat cleaver and a small knife to, ahem, stop the would-be kidnapper in his tracks.
The scenes between Momoa and Waterhouse have some of the most beautiful imagery in the film: There are absolutely stunning shots of the duo riding a motorcycle through the desert at sunset, evoking the warm-hued color palette of Mad Max: Fury Road. Amirpour actually went farther back for her inspiration, describing the film as "Mad Max 2: The Road Warrior meets Pretty in Pink with a dope soundtrack."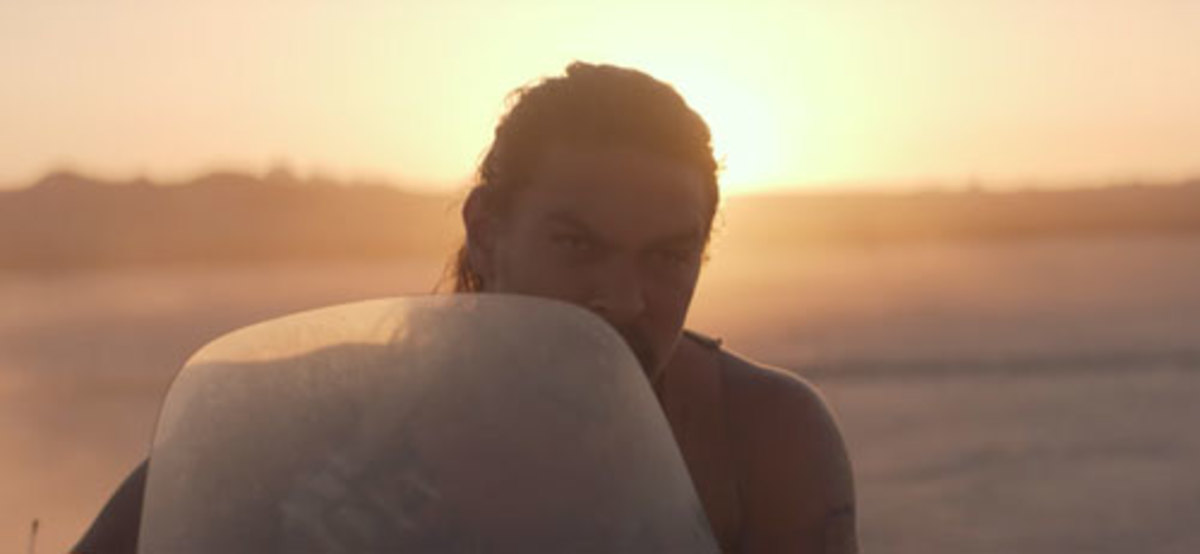 Annapurna Pictures / The Bad Batch / YouTube
Arlen's return to Comfort sets up the final confrontation between she and The Dream, who tries to offer her a place alongside him in his mansion. He tempts her with amenities that include an indoor pool, a near-infinite amount of drugs, luxurious beds, and museum-quality Roman-style sculptures, but it all comes at a price: The Dream's bodyguards are all pregnant, and Arlen would have to join in. (We won't spoil how it all turns out.)
Parts of the film move slowly and feel a bit meandering, but Amirpour leaves the audience with searingly memorable images, scenes, and character-driven moments. Waterhouse and Momoa have an easy chemistry; for all the bizarre dystopian scenery in this movie, the two leads are at their best when they're forced to weather a sandstorm under a sheet together.
It's not all indie-flick desert romance, of course: In one memorable scene, Momoa saws off the arm of a captive bad batch member while listening to Culture Club's "Karma Chameleon" on full volume, as Amirpour milks the moment's strange hilarity by hanging the camera on Momoa's glistening muscles.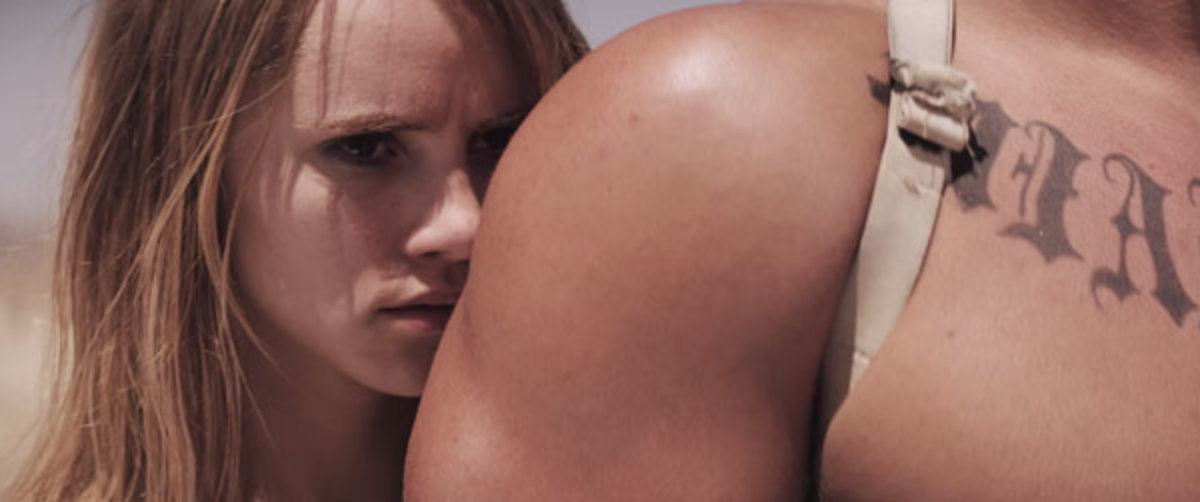 Annapurna Pictures / The Bad Batch / YouTube
For a film that features some pretty gory depictions of cannibalism, The Bad Batch isn't all grimdark, either. Its main "love" story, if you could call it that, stays intact. Amirpour never quite delves into the details of what happened that caused America to start throwing out the "bad" into this wasteland—she's far more interested in the individual characters, mood, and stunning visuals—but she does a fantastic job of world-building while also leaving enough mystery for the audience to want more.
It almost feels as though there's a ready-for-HBO TV show waiting to be made from this story—a Game of Thrones-style deep dive into the different characters and territories that inhabit this new world order. Momoa and Waterhouse find ways to bring humanity and life to two lost and lonely souls, stuck in a world where everyone else is a lost soul, too. Reeves gets to give one of his most unique performances ever, dishing philosophical questions and saying instantly quotable lines like, "Love is the dream."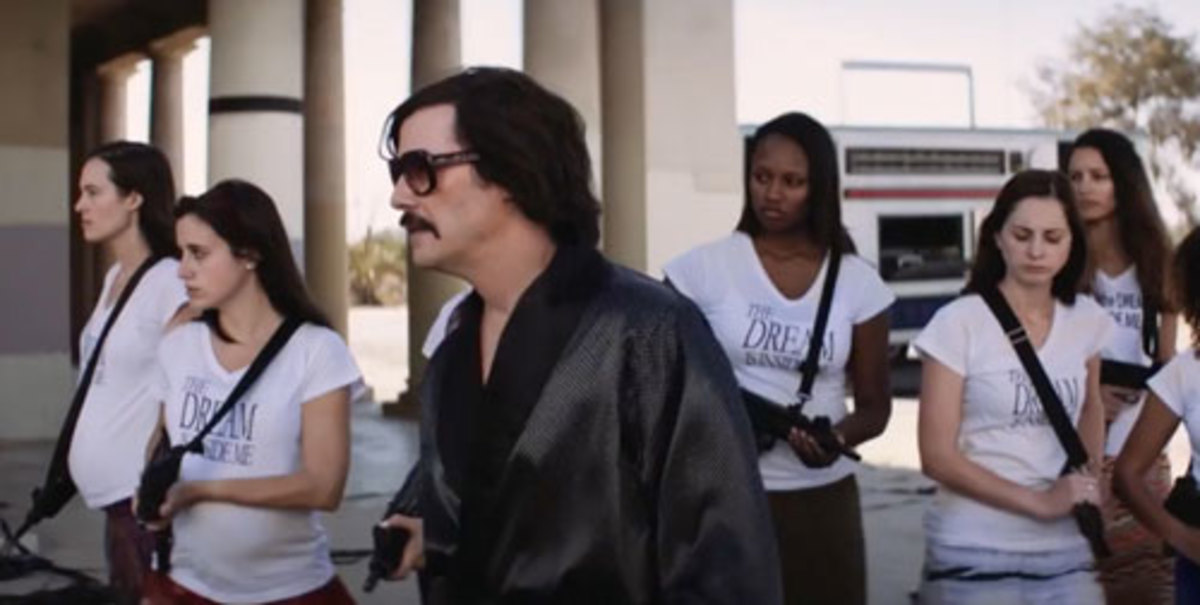 Annapurna Pictures / The Bad Batch / YouTube
Despite all that happens in The Bad Batch, the film is mostly plotless, which works to its advantage and disadvantage at times. Amirpour's focus on character is a major strength, but sometimes things slow down a bit, and the narrative tension can go slack. But these are minor issues, and don't take away anything from the film as a whole.
Amirpour's first film, A Girl Walks Home at Night, was another wholly unique tale that has been described as a "vampire spaghetti western"—which is to say: a one-of-a-kind movie. With The Bad Batch, Amirpour has created another genre-bending tale, one that will stick with you long after you leave the theater.
The Bad Batch hits theaters on June 23, 2017, and will also be available On Demand, on Amazon, and iTunes.
For access to exclusive gear videos, celebrity interviews, and more, subscribe on YouTube!