When you've never tried yoga, it can be intimidating, especially if you've been scoping the jaw-dropping, super bendy, pretzel-like poses your girlfriend practices each morning. But relax: It's actually the most basic postures—not the fancy positions—that provide you with the foundation of flexibility and strength every man needs.
With that said, there are a number of yoga styles, and finding the right one will help ensure you keep up your practice. For those who want a more fast-paced practice, consider power yoga. If you want to wipe yourself out and break a serious sweat (no joke), try Bikram (hot) yoga. Hatha yoga is good for beginners because of its slow pace and introductory poses. And Vinyasa focuses around the mind-breath connection and works the body with aggressive stretching. That's just a handful of different yoga variations designed to improve flexibility, athletic ability, mental clarity, and more.
Before we get into the basic poses, here's why you should practice yoga, in any variation.
7 reasons men should do yoga
1. Relieve stress
We all find ways to deal with stress. But Terrence Monte, a managing teacher at Pure Yoga, says, "going to amped up gyms or punching a punching bag can make you more aggressive or more tired." Yoga, on the other hand, employs a number of relaxation techniques, which, with regular practice, can make you calmer overall. Sadie Nardini, host of "Rock Your Yoga," adds: "Along with training your body, yoga trains your mind to see the bigger picture and act from integrity instead of freaking out. If you want to be more James Bond than Charlie Sheen, get yourself on the mat." Being forced to unplug from text, calls, and email for 60 to 90 minutes doesn't hurt either.
2. Get flexible
Most series of yoga asanas (physical postures) include one or more spinal twists to loosen the many joints that make up your spine. This can improve your tennis game and golf swing, as well as promote detoxification and good digestion. Yogi Cameron Alborizan, Ayurvedic healer, yoga guru, and author of The One Plan, says: "Think of the body as a sponge filled with dirty sink water. Gentle twists help to wring the sponge out and purge toxins."
3. Build more muscle
Yoga widens range of motion and increases access to more muscle fibers, allowing for more substantial hypertrophy in any given muscle group," says Kate Abate, a certified trainer and yoga teacher. Hypertrophy is when a muscle is enlarged because its cells are enlarged (it's basically muscle growth on a cellular level).
If you supplement your regular lifting routine with yoga classes, you'll be able to activate ignored sections of muscle. For example, take the serratus anterior or "boxer's muscle," which is located under your armpit and over the side of your ribs. This muscle provides stability for your shoulders and is a base for developing deltoids and pectorals. Making your serratus anterior pop will help your abs look ripped, and you can get at it with yoga.
4. Prevent workout injuries
Most yoga classes begin with a reminder to honor your body's particular needs and limits on that particular day. This basic ability to scan and assess yourself as you practice will help reduce the incidence of injury when running or playing other sports. Plus, flexible, well-stretched yoga muscles will heal and recover more quickly after working out or getting strained.
5. Have better sex
A study published in the Journal of Sexual Medicine found yoga to seriously enhance a woman's experience in the bedroom via greater lubrication, and more powerful orgasms as a result of strengthening the pelvic floor muscles. For guys, yoga helps reduce anxiety and increases body awareness and confidence; and it speeds the release of hormones that boost arousal and increase blood flow to the genital area, which is important for erections.
6. Calm your mind
In the midst of a jam-packed schedule, committing to the relaxed space of a yoga class might be the only way for some guys to slow down and breathe right. A 2013 review found that yoga relives mild clinical depression, even in people that didn't take antidepressants. The ancient Indian practice also was found to help better sleep better and longer. Furthermore, A study in the Journal of Physical Activity and Health found that 20 minutes of Hatha yoga stimulates brain function more than walking or jogging on the treadmill for the same amount of time.
7. Smell better
Seriously. Michael Hewitt, founder of Sarva Yoga Academy says yoga is very much about waste removal. "Pheremonally, regular practice is more effective than cologne," he says. Exhaling and sweating help get rid of toxins during class, so that afterward, your sweat really will smell sweeter. "After a class," says Hewett, "[your body is] cleaner, more confident and focused than when you walked in."
Now that you've found out why you regularly do yoga, it's time to lay down the mat and start opening up your hips (and every other joint too). But before you do that, remember these three beginner tips.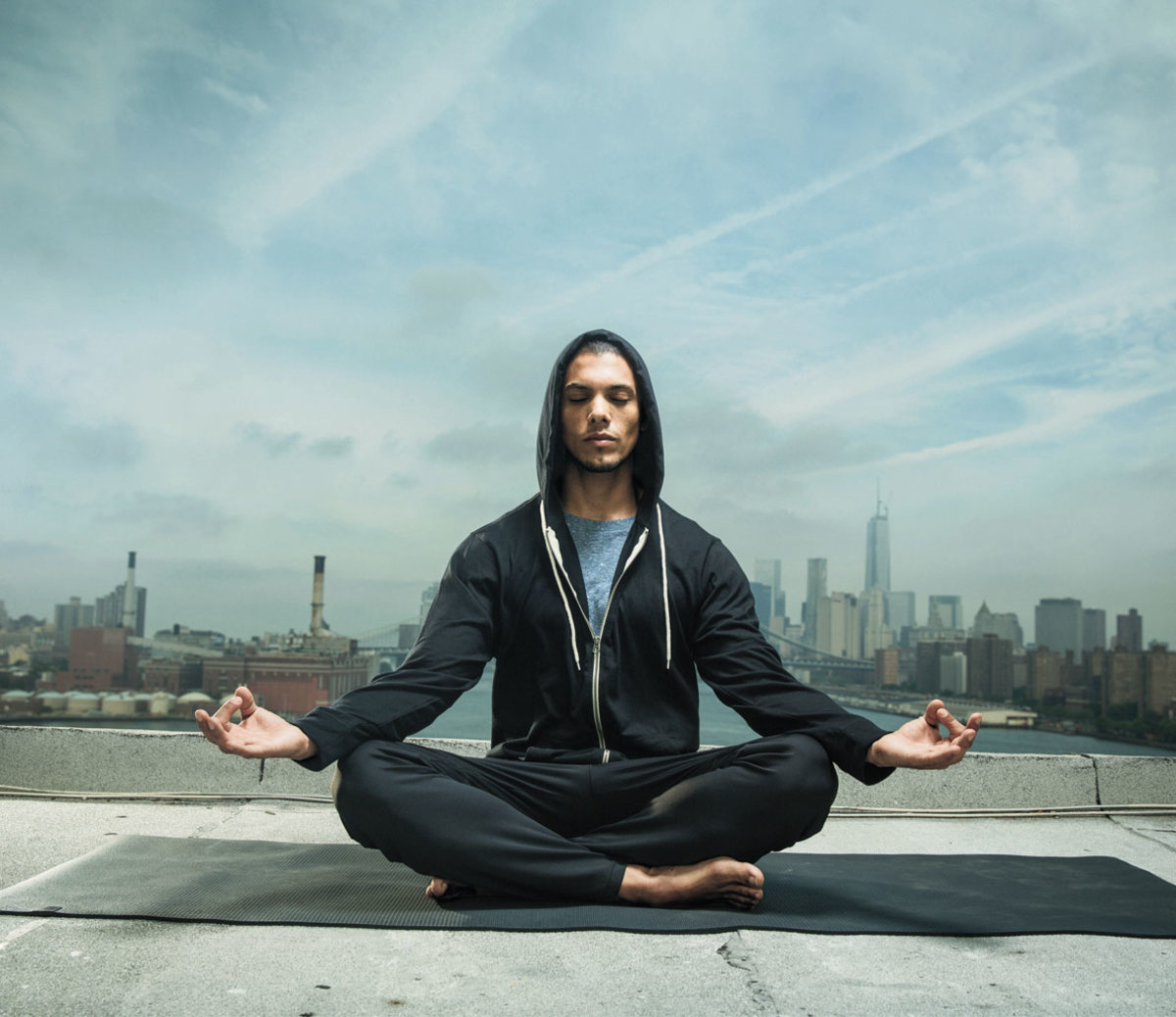 The 3 best yoga tips for beginners
1. Stay in the back row
For your first few visits, lay your mat down in the back row so you can see what the people around you are doing. This helps you learn, keeps your neck from straining to see what's going on, and provides you with an awesome view of your mostly female class.
2. Remain calm
Yoga is not easy. Don't freak out if your athletic build is getting in the way of some moves. Progress is supposed to be slow and steady, and the most challenging aspects are usually what your body needs the most.
3. Focus on your breathing
Deep abdominal breathing is a huge part of yoga, and it activates the parasympathetic nervous system. This lowers levels of cortisol, a hormone that forces your body to hold on to belly fat. Training yourself to breathe deeply through yoga can reduce stress and cortisol levels in your daily life.
Ready to feel a stretch like never before?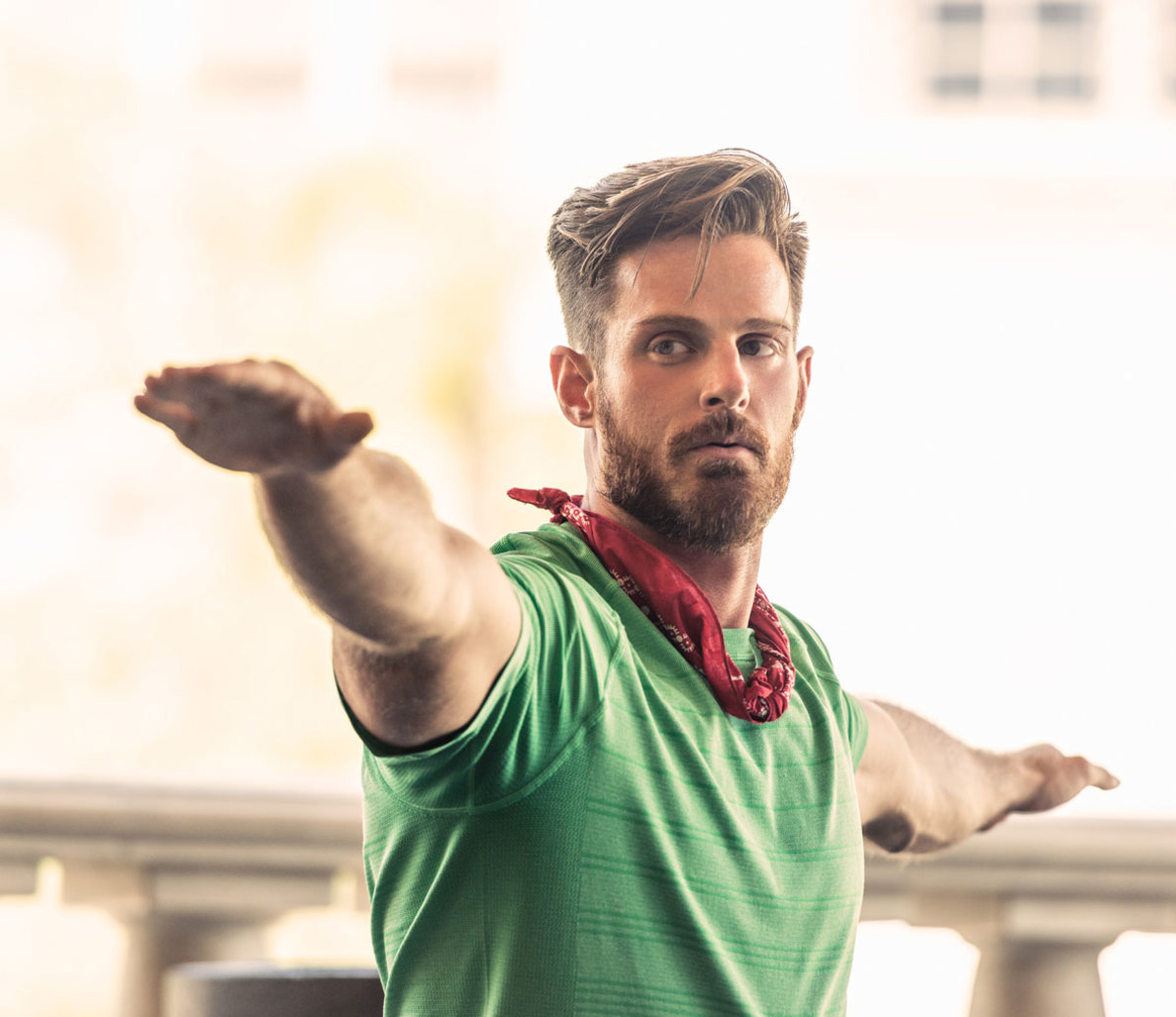 The 10 best beginner yoga poses for men
1. Mountain (Tadasana)
Why you should do it: Simple but effective, mountain pose builds a solid foundation for all other standing poses. It strengthens and returns flexibility to your feet, improves your posture, and works your thighs and core.
How to do it: Stand with your big toes touching and heels slightly apart. Balance the weight evenly on your feet and lift up the arches. Engage the thigh muscles slightly to lift up the kneecaps, but avoid locking your knees.
Pro tip: With every inhale, imagine lengthening your spine by stretching your head toward the ceiling. Keep your shoulders relaxed and your shoulder blades drawing down your back.
2. Tree (Vrksasana)
Why you should do it: Like other standing balance poses, tree pose will improve your focus while strengthening the muscles in your ankles, calves and thighs. It also stretches the inner thigh and groin muscles on the bent leg.
How to do it: Shift your weight onto your right foot, pressing it firmly onto the floor. Bend the leftt leg at the knee and place the sole of the left foot on your inner right thigh. Point the toes toward the floor. If this is difficult, you can also place the sole of the foot on the inner calf or ankle (but avoid the knee). Bring your palms together in front of your chest and keep your weight centered over the left foot. Press the right knee back to open the groin while keeping your hips parallel to the front of the room. Release the foot and repeat on the other side.
Pro tip: To improve your balance, keep your attention on the floor a few feet in front of you.
3. Standing Forward Bend (Uttanasana)
Why you should do it: Standing forward bend can calm your mind, while also stretching the hamstrings and muscles of the spine.
How to do it: Start in mountain pose with your hands on your hips, then exhale, tucking your chin slightly toward your chest and bending forward at the hips. (As you fold forward, lengthen the front of your torso to avoid curling the spine.) Relax your head, neck and shoulders and let your arms hang loosely. Place your palms or fingertips on the floor beside or slightly in front of your feet. (If you can't touch the floor, cross your forearms and grab your elbows.) To come out of the pose, bring your hands to your hips and lift up on an inhale. Keep your chin tucked and lengthen the front of your torso as you come back up.
Pro tip: If your hamstrings are very tight, bend your knees slightly to let the spine stretch toward the floor. Avoid pulling yourself down with your hands—let gravity do the work.
4. Warrior I (Virabhadrasana I)
Why you should do it: Warrior I is often encountered during the Sun Salutation sequence. In addition to improving your balance, this pose stretches and strengthens the ankles, calves and thighs. It also stretches the chest, lungs, shoulders and groin.
How to do it: From mountain pose, step your right foot forward and lift your arms overhead. Turn your left foot 45 to 60 degrees to the left. Bend your right knee until it is over the ankle. Bring the hips parallel to the front of the room. Arch your upper back slightly, lifting your chest up toward the ceiling. Press your palms together, if possible, or keep your hands shoulder width apart with your palms facing each other. Look forward or up at your thumbs. When done, step the right foot back into mountain pose. Repeat on the other side.
Pro tip: The most challenging part of this pose is lining up the front heel with the arch of the back foot. If you feel unbalanced, widen your stance.
5. Downward-Facing Dog (Adho Mukha Svanasana)
Why you should do it: Downward-facing dog, another pose found in the Sun Salutation sequence, strengthens the legs and arms, while stretching the calves, hamstrings, shoulders, hands and wrists.
How to do it: Start on your hands and knees, with your hands just in front of your shoulders and your knees directly below your hips. Press your hands firmly onto the floor, with index fingers pointing forward. As you exhale, lift your knees off the floor, keeping the knees slightly bent. Stretch your tailbone toward the ceiling to lengthen your spine. Press your heels down toward the floor and your thighs back to straighten your legs. Keep pressing the base of your index fingers into the floor and lift along your arms from your hands to your shoulders. Draw your shoulder blades against your back and down toward your tailbone. When done, drop your knees to the floor.
Pro tip: It's okay to keep the knees slightly bent in this pose—focus more on lengthening your spine. Use your triceps to straighten your arms, but keep the shoulders from moving toward your ears.
6. High Lunge (Crescent Lunge)
Why you should do it: Also known as crescent lunge, this is similar to Warrior I, except with the back heel lifted and the feet about hip width apart. In this position, you may find it easier to keep your hips parallel to the front of the room, but your leg muscles will work harder to maintain your balance. High lunge will also strengthen the arms and stretch the muscles of the groin.
How to do it: Start in downward-facing dog. As you exhale, step your left foot forward between your hands, keeping your left knee over the ankle and your feet hip-width apart. As you inhale, lift your torso upright and bring your arms out to the side and overhead. If possible, bring your palms together—or keep the hands shoulder width apart with the palms facing each other. Press back through your right heel and lift up through the torso. To come out of the pose, bring your hands to the floor as you exhale and step back to downward-facing dog. Repeat on the other side.
Pro tip: Don't lean forward—keep the torso directly over the hips, and think about sinking your hips straight downward while engaging the back thigh to keep the back leg straight. Don't let the front knee move ahead of the ankle. To give your legs a rest, drop the back knee onto a mat or folded blanket, and focus on the stretch in your groin.
7. Boat (Navasana)
Why you should do it: While often known for its ab-busting potential, boat pose also works the deep hip flexors, as well as the spine. When you add in the arms, even your shoulders will get stronger.
How to do it: Start seated with your legs extended in front of you. Press your hands into the floor just behind the hips, pointing your fingers forward. Lean back slightly and lift up through your chest, to keep your back from rounding. As you exhale, bend your knees and lift your feet off the floor until your thighs are at a 45-degree angle from the floor. Straighten your legs slowly. When you feel stable, lift your arms off the floor and bring them out in front of you, parallel to the floor with the palms facing each other. To come out of the pose, lower your legs and arms as you exhale.
Pro tip: If your hamstrings are tight, keep the knees bent so you can maintain the neutral shape of the spine—similar to as if you were sitting in a chair. For a more intense workout, lift your arms overhead.
8. Locust (Salabhasana)
Why you should do it: Locust pose is a great way to slowly strengthen your back and prepare you for more challenging backbends. In addition to working the muscles of the spine, locust strengthens the buttocks and the muscles on the back side of the arms and legs. It will also stretch the chest, shoulders and thighs.
How to do it: Lie on your belly with your forehead on the floor and your hands by your hips, palms facing up. Point your big toes toward each other slightly to roll your thighs inward. As you exhale, lift your head, chest, arms and legs off the floor. Rest your weight on your belly, lower ribs and pelvis. As you inhale, lengthen your spine by stretching your head forward and your legs backward. Stretch back through your fingertips while keeping your arms parallel to the floor. Look down or slightly forward to avoid crunching your neck backward. Lower down on an exhale.
Pro tip: As you hold the pose, think about lengthening your spine on every inhale and lifting the chest and legs slightly higher on each exhale. If you feel pinching in the back, lower the chest and legs slightly.
9. Bridge (Setu Bandha Sarvangasana)
Why you should do it: A deeper backbend than locust, bridge pose stretches the front side of the body, as well as the spine and the rib cage.
How to do it: Lie on your back with your arms by your side. Bend your knees and bring your heels close to your buttocks, with the feet about hip width apart. As you exhale, push your feet and arms into the floor and lift your hips toward the ceiling. Keep your thighs parallel as your lift. Interlace your fingers beneath your pelvis and stretch your arms toward your feet. To come out of the pose, release the hands and lower your hips slowly to the floor on an exhale.
Pro tip: In the beginning, you may not be able to lift your hips very high. Instead of forcing it, focus on keeping the thighs parallel and stretching your tailbone toward your knees to lengthen the spine. With each inhale, lift a little higher. To keep the knees from spreading outward, hold a yoga block between your thighs while in the pose.
10. Reclining Big Toe Pose (Supta Padangusthasana)
Why you should do it: One of the best yoga poses for stretching the hamstrings, it also stretches the hips, groin, and calves. Done properly, it will even strengthen the knees.
How to do it: Lie on your back. As you exhale, bend the left knee and pull it toward your chest. Keep the other leg pressed firmly onto the floor while pushing the right heel away from you. Hold a strap in both hands and loop it around the middle of your left foot. As you inhale, straighten your left leg slowly toward the ceiling. Move your hands up the strap until your arms are straight, while pressing your shoulders into the floor. Once your left leg is straight, engage the left thigh slightly and pull the foot toward your head to increase the stretch. Stay here for 1 to 3 minutes. Then lower the left leg slowly toward the ground, keeping the right thigh pressed into the floor. Continue until the left leg is a few inches off the floor. Work the foot forward until it is in line with your shoulders. Inhale your leg back to vertical. Lower the leg and repeat on the other side.
Pro tip: When you extend the leg upwards, press the heel toward the ceiling. Once the leg is straight, engage the thigh slightly and lift up through the ball of the foot.
If you're a really quick learner and breezed through those 10 poses, try these three challenging yoga poses to really release tension everywhere.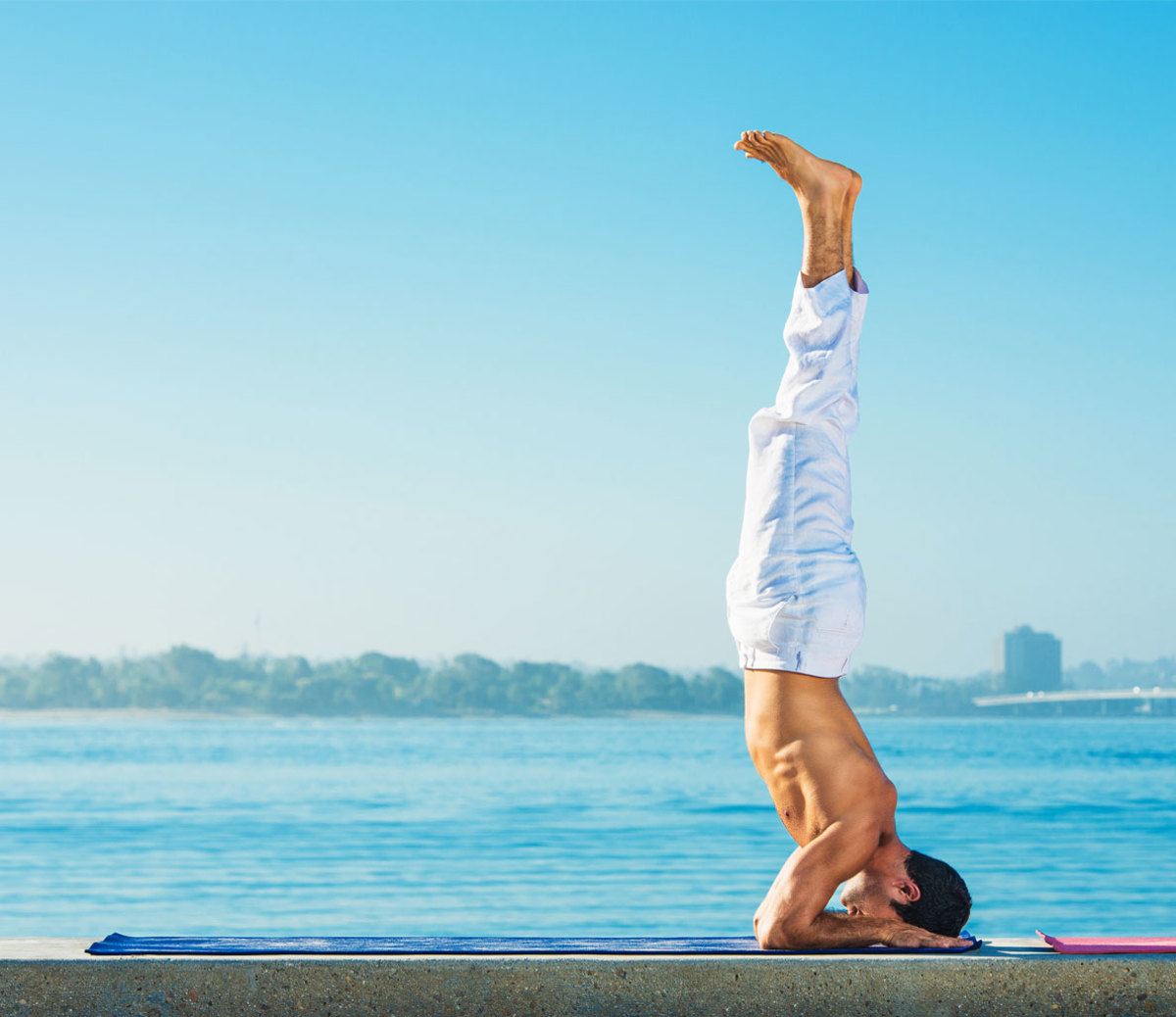 3 challenging yoga poses for men
1. Wheel
Why you should do it: According to Stiles, the wheel pose will open up the spine, shoulders and quad muscles resulting in improved flexibility and safeguard you from injury.
How to do it: To achieve the pose, sometimes called a "Bridge," Stiles explains, "Lie down on your back and press your feet into the ground next to your hips. Press your palms on the ground beside your ears, elbows up. Press down with your hands and feet and lift up in your chest and abdomen. Only raise yourself to where you can breathe easily. Stay for 10 long deep breaths and lower slowly."
Pro tip: Practice three sets in a row with rest in between for three days every week.
2. Handstand
Why you should do it: Stiles recommends taking on the challenge of the handstand for strengthening the back, shoulders and core. Similarly to the headstand, this pose also improves athletic balance and focus.
How to do it: Stiles advises starting in the "Warrior 3" position (with one foot placed in front of the other, lift your back leg up and raise your arms straight out in front of you so your body forms a "T"). "Press palms on the ground with arms straight. Gently rock forward and back (inhale forward, exhale back) until you feel steady enough to lift both legs off the ground. Hang with the legs in an 'L' shape. If you are steady there bring the second leg up."
Pro tip: Trying the handstand up against the wall will help improve your knowledge and feel of the pose with less fear of falling.
3. Crow Pose
Why you should do it: When it comes to building strength, increasing body mechanics and coordination, this is Stiles' pick. A strong core is pivotal in fitness, and it will take most of the brunt along with the shoulders, biceps, triceps and forearms.
How to do it: "Come into a squat. Press your hands on the ground and place your arms inside your knees with your knee propped onto the back of your upper arms or triceps. When stabilized, lift up in your hips and belly until your feet come off the ground and your hands are the only things touching the ground."
Pro tip: To master this pose, Stiles recommends practicing slowly lifting yourself rather than "jumping" into the pose. She says, "It's harder to lift up, but you'll stay focused and be able to stay in the pose longer than if you launch yourself."
If you're just starting out or move past these basic poses, you should check out Yoga International. It's a wonderful site that will allow you to stream hundreds of classes directly to your computer.
Get it!
For access to exclusive gear videos, celebrity interviews, and more, subscribe on YouTube!