Men's Journal aims to feature only the best products and services. We update when possible, but deals expire and prices can change. If you buy something via one of our links, we may earn a commission. Questions? Reach us at shop@mensjournal.com. Sponsored content
Whether you've been sticking to your New Year's resolution or haven't managed to stay totally on top of it the past few months, here's an easy, delicious way to zap your body and mind either back on course (or keep it there). We're talking about a juice cleanse. And right now, you can get 25 percent off one of our favorites.
Let's be clear: we're definitely not talking about one of those lemon juice/apple cider/cayenne pepper cleanses that flush your body from the inside out and leave you feeling like you've been wrung out like yesterday's washcloth. This is way easier than that. We're talking about an all-natural, delicious juice cleanse that gets delivered right to your door, pre-made and pre-portioned. All you've got to do is commit—and even that part is far easier than it sounds.
Are You Ready to Cleanse?
JÙS by Julie has several awesome juice cleanses designed to fit into anyone's schedule and satisfy most any dietary need or lifestyle. What makes JÙS by Julie so special? Instead of cold-pressing the juices (like many competitors do) each JÙS by Julie is blended, to ensure each serving has 100 percent of the fruits and veggies you need. That means plenty of antioxidants, fiber, and live enzymes, which play a vital role in absorbing toxins getting them out of your body. As well as providing the fuel we need to operate to our fullest potential.
No matter if you're trying a cleanse for the first time, just need a quick perk-up, or need a full week of course-correcting detox after a long layoff from your regimen, JÙS by Julie has a juice cleanse that's just right for you. You can even buy the juices a la carte—which we highly recommend, since they're so darned good.
There are five cleanses in total: a one day, a two-day, a three-day, and a five-day. You get six smoothies for each day of cleansing. The assortment is the same, regardless of the cleanse you choose. The One-Day Cleanse ($50) is a quick, easy way to restart your body and get back on track. The Two-Day Cleanse ($69 with code 2DAYSHOT; was $95) provides a bit more detox. The 3-Day Cleanse ($99 with code 3DAYSHOT; was $140) includes a healthy afternoon dessert smoothie, so you're satisfied all day. If you're hale enough to try the 5-Day Cleanse ($225), you're guaranteed to see at least a few of the positive effects of a juice cleanse, such as suddenly baggy pants.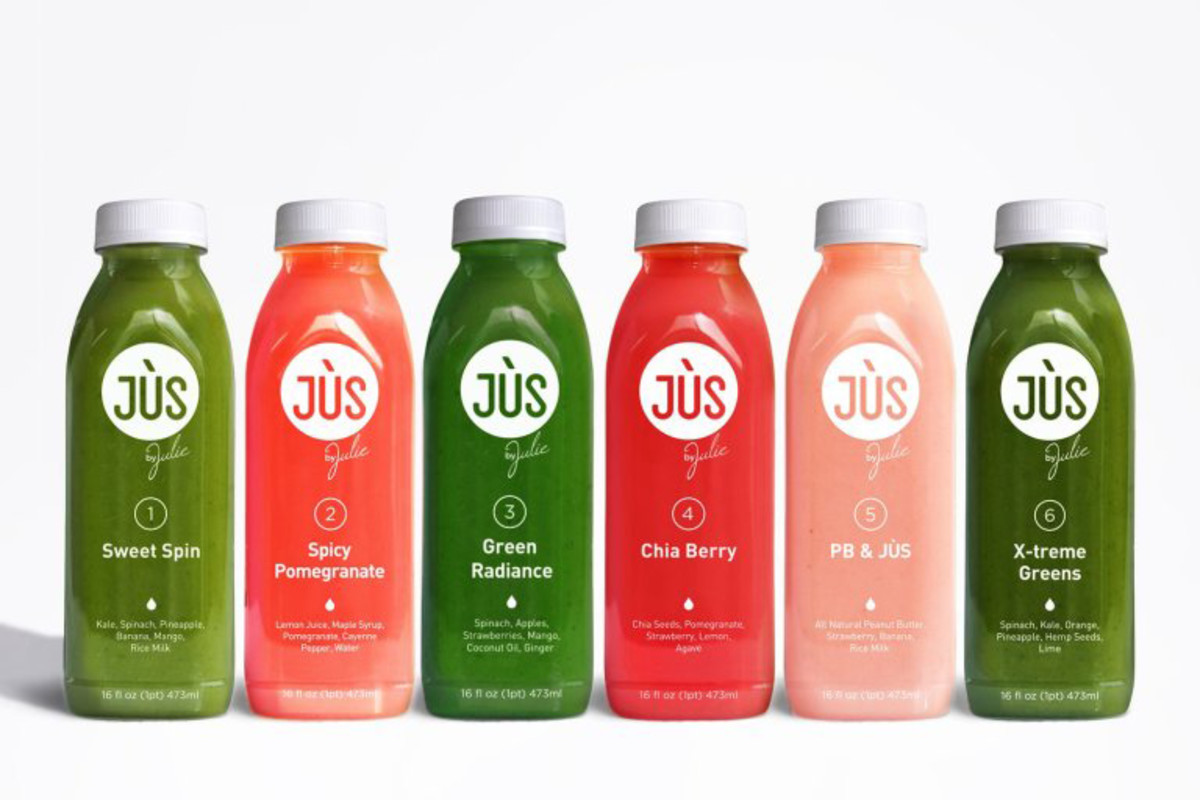 How Does It Taste?
All cleanses include Sweet Spin, a kale-spinach juice that's jam-packed with vitamins A and C and has pineapple, banana, and mango. Spicy Lemon and Spicy Pomegranate employ cayenne pepper for a little kick. Green Radiance puts a tropical spin on a traditional green drink, with apples, strawberries, mangoes and coconut oil to balance out the spinach. X-Treme Greens has a deeper flavor than Sweet Spin, with orange and pineapple plus protein from hemp seeds. Plan on working out during the cleanse? Chia Berry is great to keep in a gym bag. Plus, it's delicious, with blended chia seeds, pomegranate, strawberry and lemon, plus agave for a bit of extra sweetness.
Each cleanse also comes with a Choco-nana, Watermelon Wizard, or a PB and JUS cleanse. Choco-nana has cocoa, banana, strawberry, pomegranate, and coconut milk. Watermelon Wizard contains watermelon, pineapple, strawberries, lemon juice, Maqui Berry powder, and rosemary, perfect for a hydrating kick! PB & Jus has a simple (but delicious) blend of peanut butter, strawberry and banana, plus rice milk, for a perfect, healthy spin on a classic PB&J.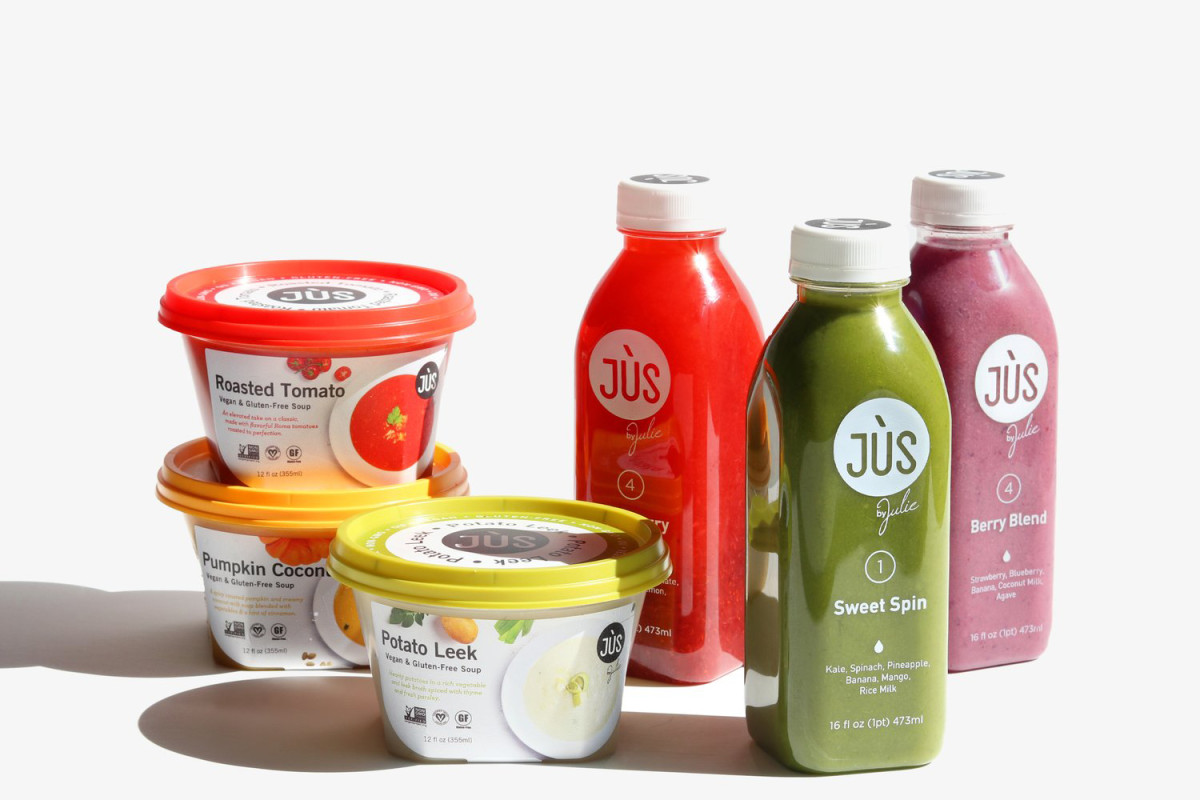 For even more options, JÙS by Julie offers a 3-Day Soup and JÙS Cleanse ($125). A three-day detox program, you'll enjoy a smoothie in the morning, afternoon, and evening, plus a variety of three blended soups loaded with protein, vegetables, and vitamins to satiate you throughout the day. The 5-Day JÙS 'Til Dinner Cleanse ($165) offers four juices to drink during the day, then you're on your own for a healthy dinner at night. This is a perfect options for athletes and those who perform high-intensity workouts most every day.
Order a 2 Day Cleanse from JÙS by Julie and get 4 Shots plus free shipping for just $69 with code 2DAYSHOT, or get a 3 Day Cleanse with 6 shots plus free shipping for $99 with code 3DAYSHOT.
GET IT: Get back on track with a juice cleanse from JÙS by Julie today.
Check out all the products and gear we've selected for Men's Journal readers here
See Also:
For access to exclusive gear videos, celebrity interviews, and more, subscribe on YouTube!