This is sponsored content. Men's Journal is not endorsing the websites or products set forth below.
You're searching for the best nitric oxide booster because these types of supplements can help get more blood, energy, and nutrients to the cells.
That means they come with a set of benefits, which include help improve exercise performance, blood flow, and muscle pumps.
But, it's important to know that there are just several scientifically backed ingredients available that help with increasing nitric oxide (N.O) levels.
That means that finding the right nitric oxide booster can get challenging if you don't know what to look for.
Don't worry. We've done our research, and our team has spent the past few months putting the most popular nitric oxide formulas to the test.
This article isn't just about showing you the best options; we're also going to tell you everything you need to know about these supplements.
The 7 Best Nitric Oxide Boosters On The Market In 2022
Before we dive further into this article, it's essential to know that Nitric Oxide supplements don't contain Nitric Oxide – they contain ingredients that stimulate your body's own production.
That means that the ingredients are what determine the effectiveness of a product. It's something we've closely looked at when choosing these products.
You're looking to experience the full potential of these supplements, meaning you're looking to get the best of the best there is.
Not only have we thoroughly researched nitric oxide boosters, but we've also tested a lot of them to feel the effects first-hand.
Out of all the different products we've tested, we managed to bring it down to the 7 best nitric oxide supplements. These are the products we found most compelling:
Magnify
Pump Serum
BeetMode
Vintage Burst
O. Pro
Blood Flow-7
SuperBeets
We haven't just randomly picked these seven products. A lot of time and effort has gone into testing and researching these options.
We looked at ingredients, effectiveness, dosages, prices, and user reviews during this process. Keep reading as we show you what these top-rated products have to offer.
#1. Magnify
After trying dozens and dozens of different products, we've concluded that Magnify by Huge Supplements is the best nitric oxide supplement you can get your hands on.
It takes the first spot because it's a highly potent product that works fast, and the effects are long-lasting.
Magnify is unique because it packs a wide variety of science-backed ingredients that ort h boost N.O. levels. It combines 7 powerful ingredients, which include L-Citrulline, L-Arginine (AAKG), S7™, VASO6, and several more.
Every compound in the product helps raise nitric oxide one way or another, meaning you won't find any useless ingredients or fillers.
Once you take Magnify, you'll start to notice the effects extremely fast. Most users will notice it kicking in after about one hour.
It's also important to point out that Magnify has hundreds of positive reviews backing up the products' effectiveness. As of right now, it's rated 4.8 out of 5 stars by users.
If you're looking ort h excellent product that helps you increase blood flow, performance, and more, Magnify is the product you need.
Pros:
Rapidly increases Nitric Oxide (N.O) levels
Get more blood and nutrients to the muscles
Increased vascularity and conditioning
Boosts exercise performance
Skin-tearing and intense muscle pumps
Uses scientifically-backed ingredients
Optimally dosed for optimal effects
Effects are noticed within an hour
Cons:
Pricing slightly above average
You have to swallow six capsules
Price & Where To Buy:
One bottle of Magnify holds a massive 180 capsules, which will last you an entire month at six capsules per serving. Some of you may even get away with taking half the serving size and still getting good effects. In that case, a bottle will last you even longer.
It costs $44,95 per bottle, but if you sign up for the companies' newsletter, you get 10% off on your first order, reducing the price.
There are just two places you can buy Magnify from. Those two places are the official Huge Supplements website and Amazon. The official site adds free samples to every order and dispatches orders within 24 hours.
#2. Pump Serum
Coming in second behind Magnify, we have another excellent nitric oxide supplement called Pump Serum. It's different from Magnify because it comes in a powder form
We found Pump Serum to be outstanding for ramping up our nitric oxide levels. We weren't surprised – when you look at Pump Serums' ingredient panel, you'll be blown away by the massive number of ingredients and dosages.
It combines 13 high-quality ingredients, which make up for a 31-gram serving size. To give you an idea, one scoop packs 8 grams of L-Citrulline, which is an enormous dose.
Compare that to similar products, and you'll notice that this nitric oxide supplement contains much more.
Pump Serum is also a tremendous stimulant-free pre workout that can significantly enhance your workout performance and intensity. Believe us when we say that this product will live up to your expectations.
Pros:
Powerful Nitric Oxide Supplement
Supercharges training performance & intensity
Improves cognitive functions (focus)
Boosts pumps and vascularity
Total of 13 potent ingredients
All ingredients are dosed properly
Tastes excellent
Cons:
Limited flavor options
Only available online
Price & Where To Buy:
One tub of Pump Serum holds 25 servings and costs $49.95. That price may seem steep, but it's worth every penny ort h the product containing a massive number of ingredients.
Pump Serum can be purchased directly from Huge Supplement or through Amazon, whichever has your preference.
Signing up for the newsletter gets you 10% off, bringing the cost down to about $44.95 for a container. Note, you're only able to get that discount on the official website.
#3. BeetMode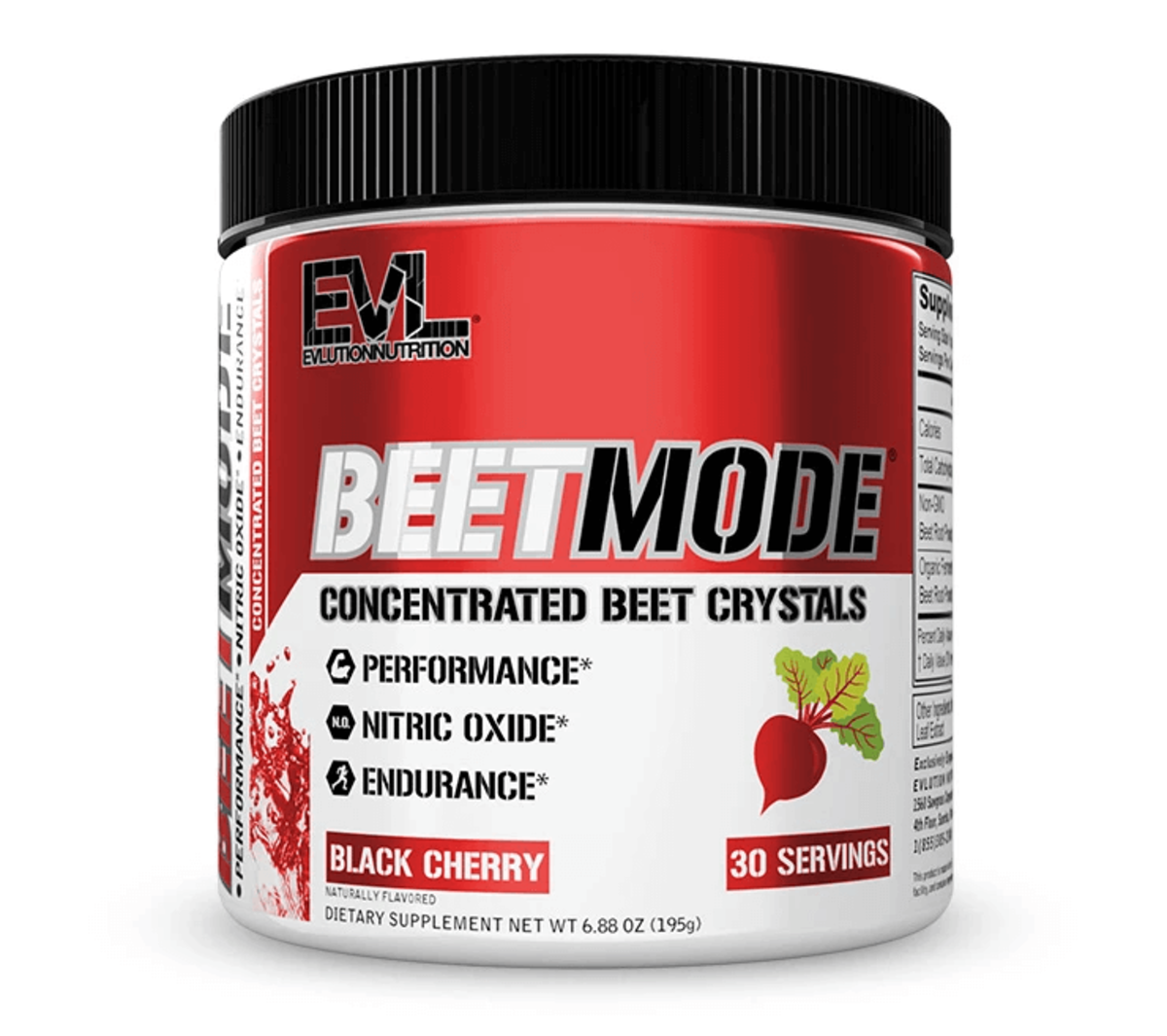 Coming in third is BeetMode by Evlution Nutrition, a product that uses the power of one single yet effective ingredient.
The name says it all, BeetMode uses the concentrated power of beets to supercharge nitric oxide levels in the body.
Since beets are rich in nitrates, they're incredibly effective at naturally ramping up N.O. production. But that's not all; they can also positively impact your recovery and stamina.
Pros:
Boosts nitric oxide production
Uses concentrated beet powder
Improves blood flow
It contains no artificial ingredients
No calories or added sugar
Taste is above average
Cons:
You're getting just one ingredient
It comes in just one flavor
Quite expensive at $39.99 per bottle
Price & Where To Buy
Evlution Nutrition's Beetmode comes in a 30-serving container and is sold for $39.99. This is quite expensive, but it's a fair price since you're getting a high-quality source of beets.
Several places have BeetMode for sale; the most popular options are Evlution Nutrition's website, Amazon, and iHerb.
#4. Vintage Burst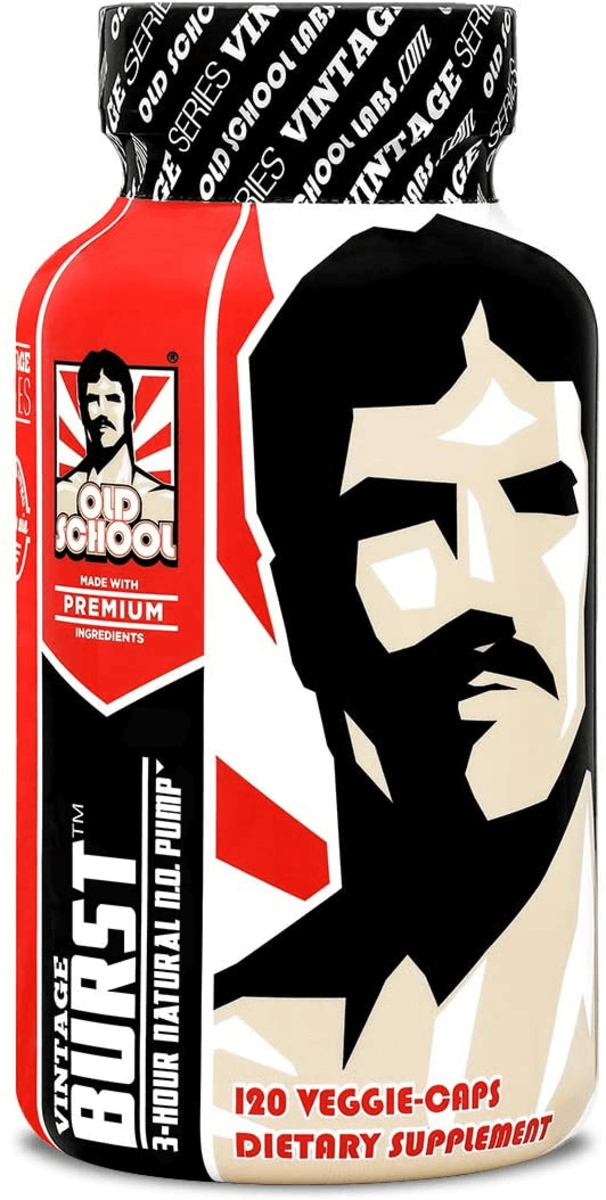 Next up is Vintage Burst by Oldschool Labs, a loaded nitric oxide booster designed for athletes.
For its nitric oxide boosting properties, Vintage Burst relies on five different ingredients. Some of the highlights in this formula are L-Arginine and S7, both great ingredients with scientific data supporting their benefits.
It also helps you maximize your workout performance, allowing you to take your intensity to the next level and break through plateaus.
Pros:
Provides a long-lasting increase in nitric oxide (N.O)
It helps enhance exercise tolerance
Gives you better muscle pumps
Increase stamina and endurance
Dozens of positive user reviews
Non-GMO
Cons:
We think it's missing key ingredients
Pricing is steep
It contains caffeine
Price & Where To Buy
Each bottle of Vintage Burst holds 120 veggie capsules, meaning you'll have enough for 40 servings.
It's available for $39.99 per bottle and sold on the official old school labs site and Amazon.
#5. N.O Pro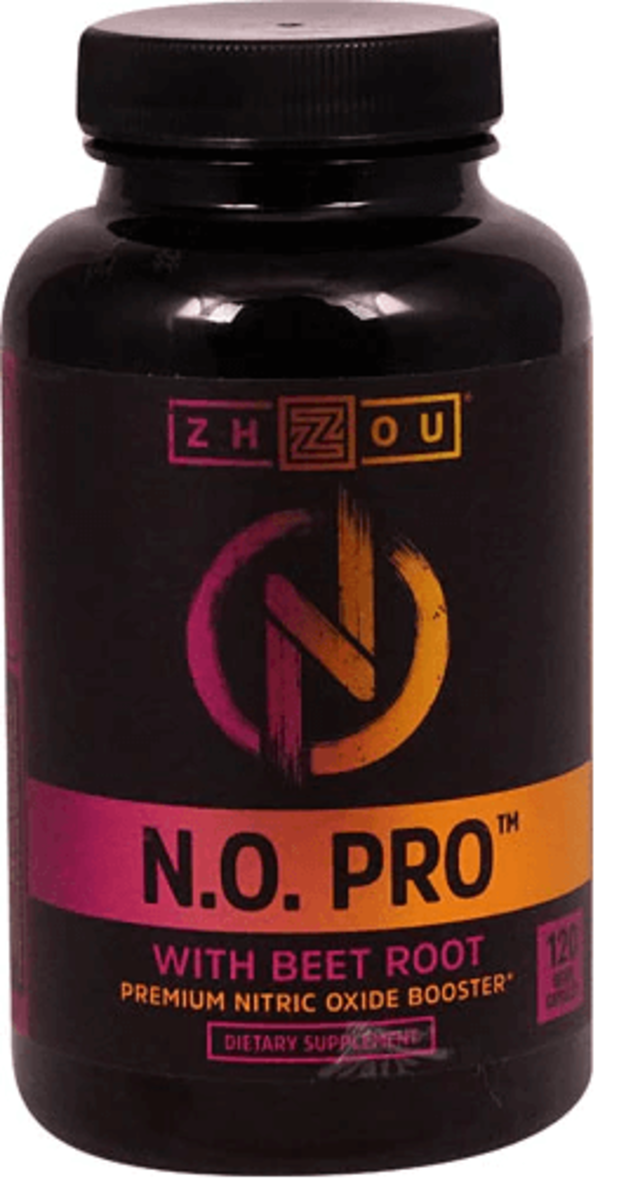 The fifth supplement on our list is N.O. Pro by Zhou Nutrition. This nitric oxide booster has been formulated to maximize performance, energy, strength, and stamina.
N.O Pro features a total of 4 different ingredients, with the highest dosed being L-Arginine. That ingredient is going to help the blood vessels relax and will improve blood circulation.
It might not contain as many ingredients compared to the other products we've shown you, but it's still a reliable product that'll deliver results.
Pros:
Effective nitric oxide support
It contains L-Arginine at a good dosage
It also helps with muscle recovery, strength & stamina
Supports healthy blood flow
Gluten-free formula
Cons:
We think some ingredients are dosed too low
You have to take four capsules
Limited availability
Price & Where To Buy
N.O Pro holds a total of 120 capsules, and at 4-capsules per serving, you'll have a supply that lasts for 30 days. Depending on where you buy it from, you're looking at roughly $25.99 per bottle.
You can purchase this product from Zhou Nutrition's official website or on Amazon – whichever has your preference for shopping.
#6. Blood Flow 7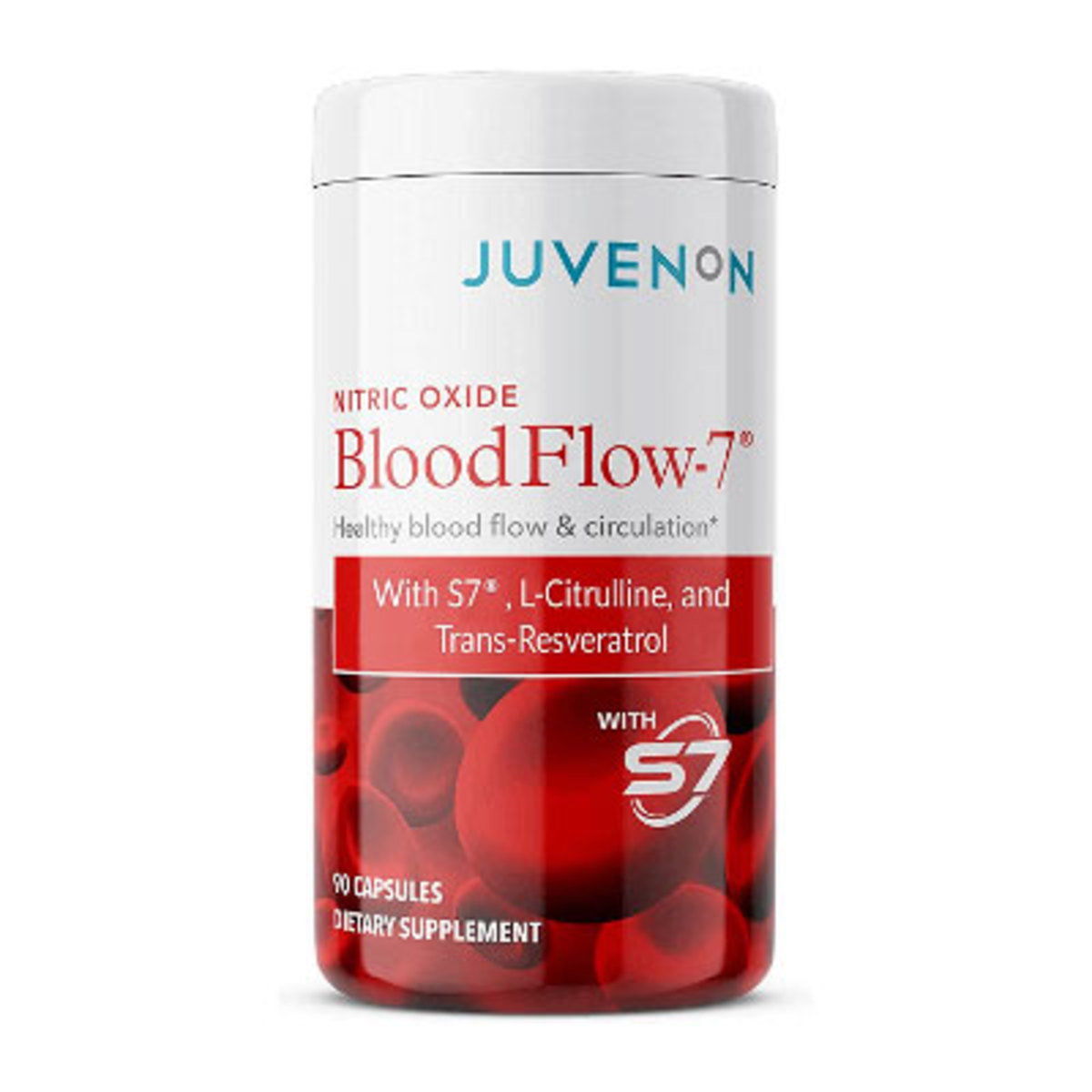 CLICK HERE & SHOP BLOOD FLOW-7
Flow-7 is a nitric oxide supplement brought to you by Juvenon, a company that focuses on healthy aging products.
With Juvenons' Flow-7, you can notice increased blood flow and circulation. That's the result of the ingredients in this product helping you raise N.O. levels.
Having more nutrients and oxygen reach your cells will make you feel much better, and you'll notice this in your day-to-day life.
If you're looking for a solid product that'll improve your nitric oxide levels, but not too drastically, this is a reliable option.
Pros:
Uses proper natural ingredients to raise N.O.
Helps with blood flow and circulation
Flow-7 is backed by positive user experiences
Easy and convenient to take
Cons:
It's priced above average at $39.00 per container
It uses a proprietary blend
Price & Where To Buy:
You can get yourself a 90-capsule container of Juvenon's Flow-7 for $39.00. Each day, you'll consume 3 capsules, which means the container will last you a whole month.
It's worth mentioning that you get a slight bulk discount if you end up buying multiple packs. Most customers purchase Flow-7 from Juvenon's official website or visit Amazon to pick it up.
#7. Superbeets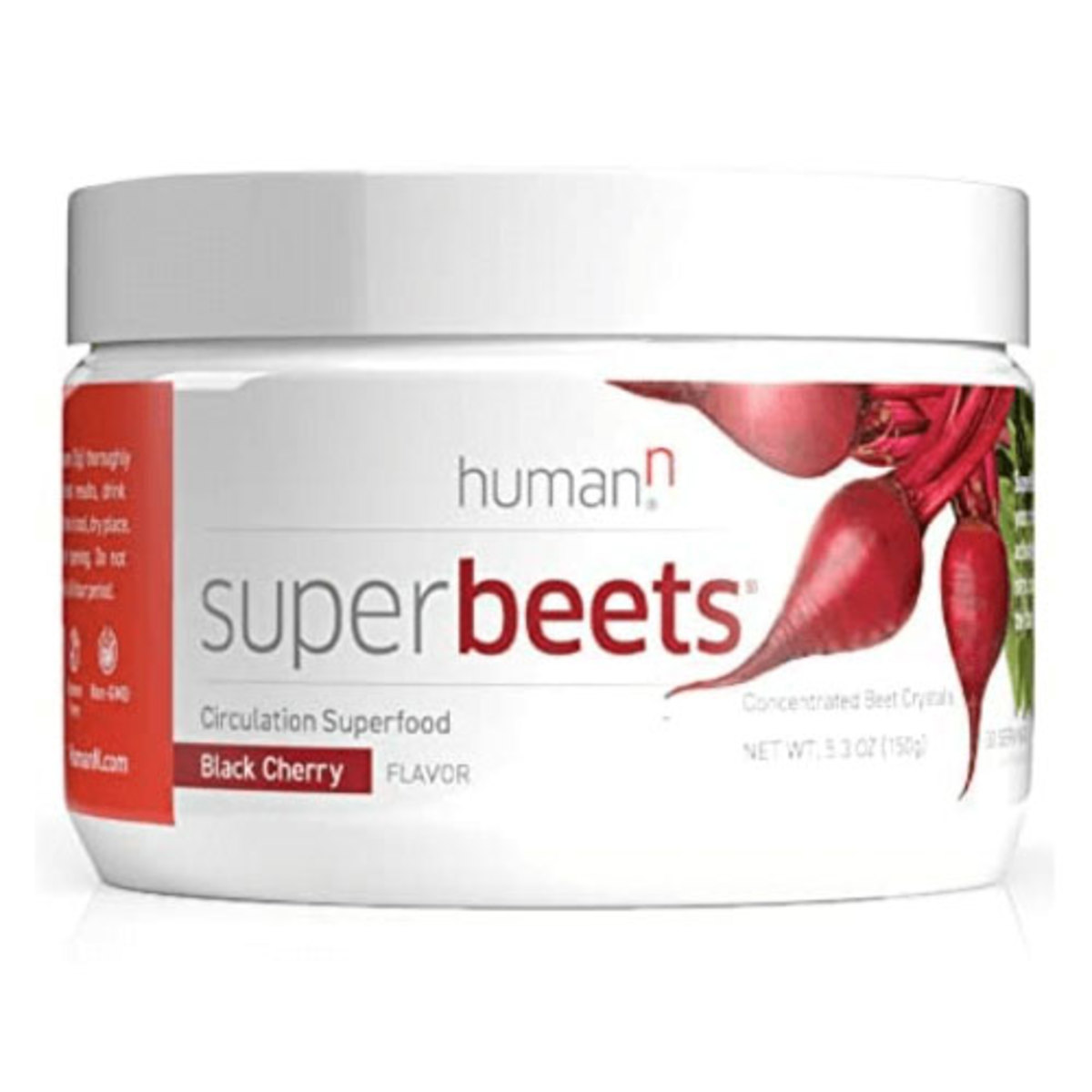 Last but not least on our list of best nitric oxide supplements is HumanN's Superbeets product.
You've probably already guessed it – the main ingredient in this product is concentrated beet crystals. We love seeing this ingredient because beets are rich in nitrates, which are known to boost nitric oxide significantly.
Getting in your nitrates can lead to numerous benefits. You may notice more energy, improved blood pressure levels, and an overall better feeling.
We recommend HumanN's superbeets to everyone looking for a simple, straightforward nitric oxide supplement. Besides being effective, the product tastes surprisingly good too!
Pros:
Superbeets taste amazing!
It uses clinically backed, plant-based ingredients
This product has collected nearly 25000 reviews
Dairy and soy-free
Suited for vegans
Cons:
It only comes in two flavors
It only consists of one main ingredient
Price & Where To Buy:
If the above has caught your attention, you'll want to know how much a container of Superbeets costs and where to buy it. As of right now, you can get 30 servings for $37.95, which we find to be an acceptable price.
As with most of the products featured on our list, Humann's Superbeets can be purchased from the well-known Amazon. If you order it from Amazon, shipping is free, and you'll receive it within days.
And now for additional words from our sponsor. 
The Benefits Of Nitric Oxide Supplements
Nitric oxide supplements have become very popular because they come with various benefits. These benefits result from more blood, oxygen, and nutrients reaching your body's cells.
These benefits can have a massive impact on your day-to-day life. For those who don't know what to expect, allow us to go over the benefits of nitric oxide supplements.
Reduce Blood Pressure
One of the most impressive benefits of nitric oxide is its ability to reduce blood pressure levels.
As we've said before, nitric oxide helps relax and widen the blood vessels. Because of this, you may notice an improved circulation of blood in the body.
It could also lead to a decrease in both systolic and diastolic levels. Research shows that one can notice the blood pressure-reducing effects of a nitric oxide supplement after just half an hour.
Improve Exercise Performance
As your blood vessels widen, more nutrients and oxygen are able to reach your muscle cells.
Getting more nutrients and oxygen to your muscles is extremely useful, leading to a significant increase in exercise performance. You'll notice the ability to push on for longer, getting the most out of your training sessions.
It's also worth mentioning that you'll notice better and more intense muscle pumps when working out, as your muscles will themselves with more blood.
Help With Erectile Dysfunction
Nitric oxide supplements can also be beneficial if you're experiencing erectile dysfunction (ED). The penis is a muscle, and to get an erection, it must be filled with blood.
Nitric oxide is a vasodilator and helps the muscles relax to get more blood to reach the cells. That means it'll help get more blood to the penis, thus resulting in firmer erections.
It's good to know that L-Citrulline, an ingredient found in many N.O. boosters, has been scientifically proven to help increase erection hardness.
What's In Your Nitric Oxide Booster Supplement?
As we've mentioned earlier in this article, it would be optimal to have a supplement that contains ingredients supported by scientific and clinical data.
That's because those are the compounds that have been proven effective, meaning they will undoubtedly help increase nitric oxide (N.O).
Let's take a look at the most effective and promising ingredients.
L-Arginine
One of the staple ingredients found in nitric oxide boosters is L-Arginine.
It's a natural amino acid that converts into N.O. when it enters your body, meaning it will help widen the blood vessels rapidly.
But, it's also good to know that it comes with other benefits such as boosting the immune system and speeding up recovery.
Because of L-Arginine's unique mechanism, we find that it should be included in the product you're looking to purchase.
L-Citrulline
Another key ingredient is L-Citrulline, a non-essential amino acid. Once it's ingested, L-Citrulline converts into L-Arginine, meaning you will experience a significant increase in nitric oxide levels.
That means that this ingredient helps deliver more blood and oxygen to the cells, leading to numerous benefits.
Some of those benefits are increased athletic performance and exercise capacity. That's why it's often included in other supplements such as pre workouts.
S7™
S7 is a patented ingredient that packs a lot of power, as clinical data shows it could increase Nitric Oxide levels by 230%.
It's made up of 7 different plant extracts: Green coffee bean, Green tea, Turmeric, Tart cherry, Blueberry, Broccoli, and Kale.
It triggers your body to increase the amount of N.O. that is produced. Due to its effectiveness, we found it to be one of the best ingredients out there.
Pomegranate Extract
We all know what a Pomegranate is, but many don't know that it's got several unique benefits.
Pomegranates are filled with both antioxidants and nitrates, which can help increase vasodilation.
This makes it an excellent nitric oxide boosting ingredient, and therefore, it's often added to these types of supplements.
Beet Root
Beet Root extract is another high-quality and effective ingredient capable of boosting nitric oxide levels.
Beets are rich in nitrates, and these nitrates convert to N.O. in the body. That means they're beneficial for increasing vasodilation.
But it doesn't stop there; it's got plenty of other uses. It can help with fighting inflammation, improve digestion, and keeping blood pressure in check.
Nitric Oxide Supplements Side Effects
We often get asked is, "do nitric oxide supplements have side effects?"
The answer to that question is no; they don't cause side effects if you use them correctly. You won't have to worry about your health while taking the products we've shown you.
But what's extremely important when taking a nitric oxide supplement is that you stick to the dosage guidelines. 
Exceeding the daily serving size use of a product may result in side effects, which you want to avoid.
So if the product you plan to use has a four capsule serving size, that's the amount you take – not a capsule more.
If you use your product the right way, you won't have anything to worry about, and you will not experience side effects.
If you have a preexisting medical condition, you must discuss the use of nitric oxide supplements with your doctor first.
Frequently Asked Questions
1. What does nitric oxide do for your body?
Nitric oxide is a crucial molecule that is produced naturally by your body.
It plays a role in blood vessel health. It's responsible for helping the blood vessels relax so that blood flow and circulation are optimal.
When N.O. increases, more blood, oxygen, and nutrients will be able to reach your cells.
2. Can you increase nitric oxide naturally?
Yes, it's possible to increase nitric oxide levels through natural ways. The most effective way would be through diet.
It would be best if you tried to eat foods that are rich in nitrates and antioxidants. A few good examples are beets, spinach, carrots, and broccoli.
Of course, it's always a good idea to add a supplement on top of that. Nitric oxide boosters often contain many of these ingredients, which are challenging to get through diet.
3. How soon will I see results?
Once you've taken a nitric oxide supplement, you're going to see the effects rather quickly. Generally speaking, you'll start to notice the impact within just a few hours. Some people like stack it with other supplements like BCAA's to optimize results.
Keep in mind that the potency of your product will play a massive role in how soon you'll feel results. If you're looking for fast results, we recommend going with Magnify.
4. Are nitric oxide supplements safe?
Nitric oxide supplements shouldn't cause any side effects in healthy individuals. It's important to remember that they're filled with natural ingredients, meaning they won't cause any harm.
Please note that it's essential to stick to dosage guidelines. Do not exceed the manufacturer's recommended serving size.
If you're currently having any medical issues or have a pre-existing condition, you shouldn't take a nitric oxide booster until you've discussed it with your medical expert.
5. How often should I take my nitric oxide supplement?
For optimal effects and results, you're going to want to take your nitric oxide supplement every day. By doing so, the ingredients can gradually build up in your system.
The Final Verdict
Nitric oxide booster supplements come with many benefits, but the main reason people take these products is to help them widen blood vessels and increasing blood flow.
You can get your hands on an effective product by choosing one of the seven products shown in this article.
Here's a recap of the best N.O. supplements:
Magnify
Pump Serum
BeetMode
Vintage Burst
O. Pro
Blood Flow-7
Superbeets
All these products combine high-quality and science-backed ingredients to help you boost N.O. naturally. Due to their advanced formulas, we found them
For access to exclusive gear videos, celebrity interviews, and more, subscribe on YouTube!