This is sponsored content. Men's Journal is not endorsing the websites or products set forth below.
We all want to make sure we're getting the most out of our workouts. Not only is it satisfying, but it's also essential to make sure your stimulating muscle growth, strength, and even hormones.
Pre workout supplements are a specific type of supplement designed to help its user take their exercise performance and intensity to the next level.
Of course, not every pre workout is going to deliver the desired results. That's because each supplement contains a different set of ingredients and dosages.
That means if you're someone who doesn't know a lot about these kinds of products or the ingredients, buying the right one will be challenging.
But don't worry just yet; we're going to point you in the right direction.
Our team has tried over a hundred different pre workouts, including the most popular options and those new to the market.
We didn't stop there, as we've also closely researched all the various ingredients found in them.
With this experience and knowledge, we can provide you with what we believe are the 12 best pre workouts for boosting your exercise performance.
The Top 12 Best Pre Workouts Available In 2022
If you're reading this, you've probably already scoured the web to find the best pre workout supplements out there.
Yet, as you probably know, there are hundreds, if not thousands of available products.
To help you narrow your search, we've carefully tested dozens of different brands looking for what we can confidently call the best pre workout supplements in the world.
Each brand has been qualified based on its quality ingredients, effects, flavor, and value. So, if you're ready to work out longer and harder, let's kick it off by looking at the products that scored the highest overall.
1.    Huge Supplements Wrecked

After testing a seemingly endless list of products, we can confirm that Wrecked, from Huge Supplements, is hands-down the best pre workout we could find.
What makes it superior to the many products we tried is that it packs a massive amount of ingredients. In total, Wrecked contains 17 different potent ingredients that help you stay energized, focused, pumped, and motivated as you train intensively.
Each of its 17 ingredients is dosed at a higher-than-average volume to ensure you perform optimally during your workouts. Because Wrecked is so stacked, you'll find it to be highly effective compared to other pre workouts you've used in the past.
If you don't take our word for it, listen to what others who regularly take Wrecked have to say. With nearly 3,500 positive reviews, averaging a 4.8 out of 5.0, Wrecked is one of the highest-rated pre-workout supplements in the world, and its fans can't get over its unique effects, delicious flavor, and potency.
You can't go wrong with this product. Check it out and learn more by heading to the official Huge Supplements website, which you can find by clicking here. Or, you can also go to Amazon to purchase your first tub of Wrecked.
As of right now, it's available in the following flavors: Rainbow Burst, Peach Rings, Bomb Popsicle, Mango Madness, and Raspberry Mojito!
2: Pump Serum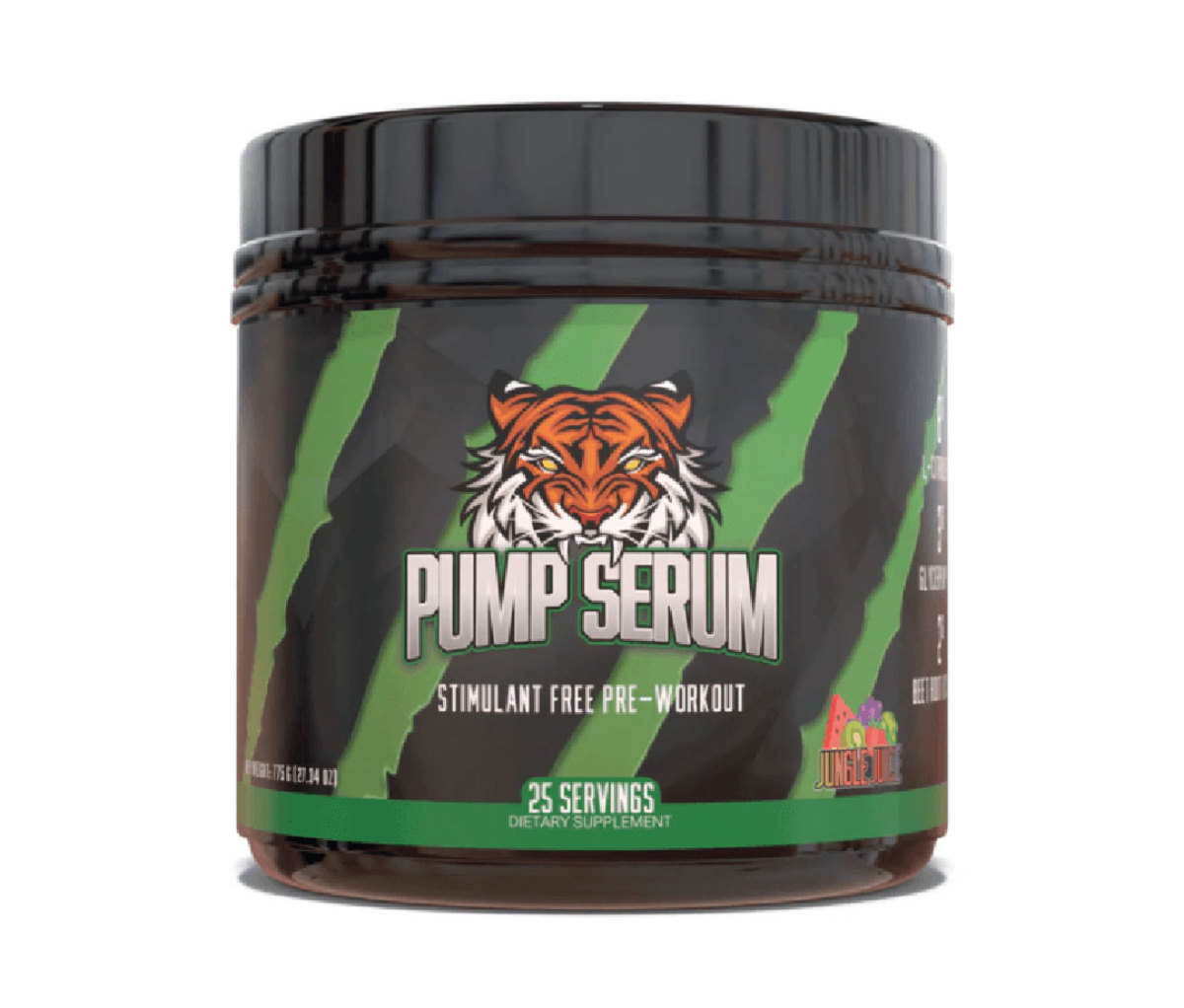 For anyone who can't consume stimulants or prefers not to, we highly recommend checking out Pump Serum, brought to you by Huge Supplements.
Unlike their stimulant-heavy Wrecked, Pump Serum is entirely caffeine-free, making it an ideal choice for those that want to avoid caffeine and other stimulants.
The reason why Pump Serum is so high up on our list is because of the product's formula. There's a total of 13 different, highly effective ingredients found in this stimulant free pre workout.
Huge Supplements made sure to add potent compounds to compensate for not having any stimulants. Every scoop contains L-Citrulline, Agmatine Sulfate, Nitrosigine, and Huperzine A.
Although these ingredients represent just a small portion of the total formula, you can easily see that Huge Supplements spared no expense regarding product quality.
Each and every one of these ingredients works together to deliver an unforgettable workout experience. You'll experience skin-tearing muscle pumps, laser focus, and a much better workout.
Thanks to their potent power, you'll feel ready and energized to take on even the most challenging workouts. After exercising, you'll be prepared to conquer the rest of your day and wake up ready to go again.
Like with Wrecked, Pump Serum is backed by many positive reviews. In total, already more than 1000 people have shared their positive experience with this product which you can read by clicking here.
To get your hands on the popular Pump Serum, we advise heading directly to Huge Supplements or Amazon. It comes in four flavors: Jungle Juice, Cherry Berry, Island Dream, and Strawberry Mojito.
3. Transparent Labs PreSeries Bulk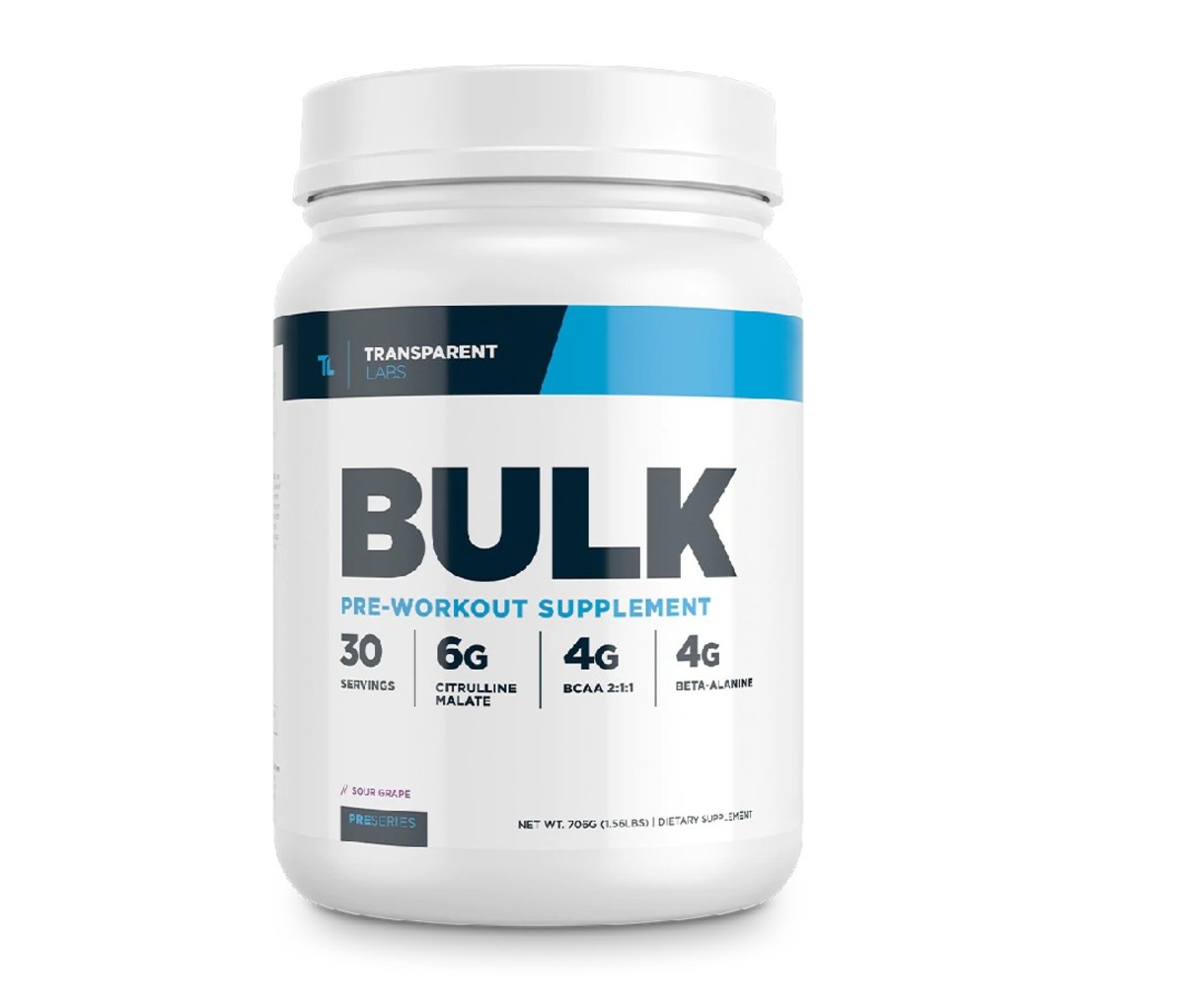 CLICK HERE TO SHOP PRESERIES BULK
If you're looking for something a little higher-end, we recommend PreSeries Bulk from Transparent Labs.
Compared to other pre-workout supplements, PreSeries Bulk offers a wider range of vitamins and complexes designed to naturally lift your mood and energy levels rather than relying on potent stimulants such as caffeine or taurine.
This makes it a top choice for anyone looking to balance a healthy lifestyle with pre-workouts.
Many of the potent compounds found in PreSeries Bulk make up the basis of a healthy diet—vitamins, minerals, and even BCAAs.
These ingredients provide your body with the necessary building blocks to create stronger muscles while also giving you the energy to make it through an intense workout.
You can find out more about the ingredients and complexes used in PreSeries Bulk by heading to the official Transparent Labs website.
It's available in seven delicious flavors, including Orange, Green Apple, Blue Raspberry, Tropical Punch, Sour Grape, Watermelon, and Strawberry Lemonade.
4.    NutraBio Pre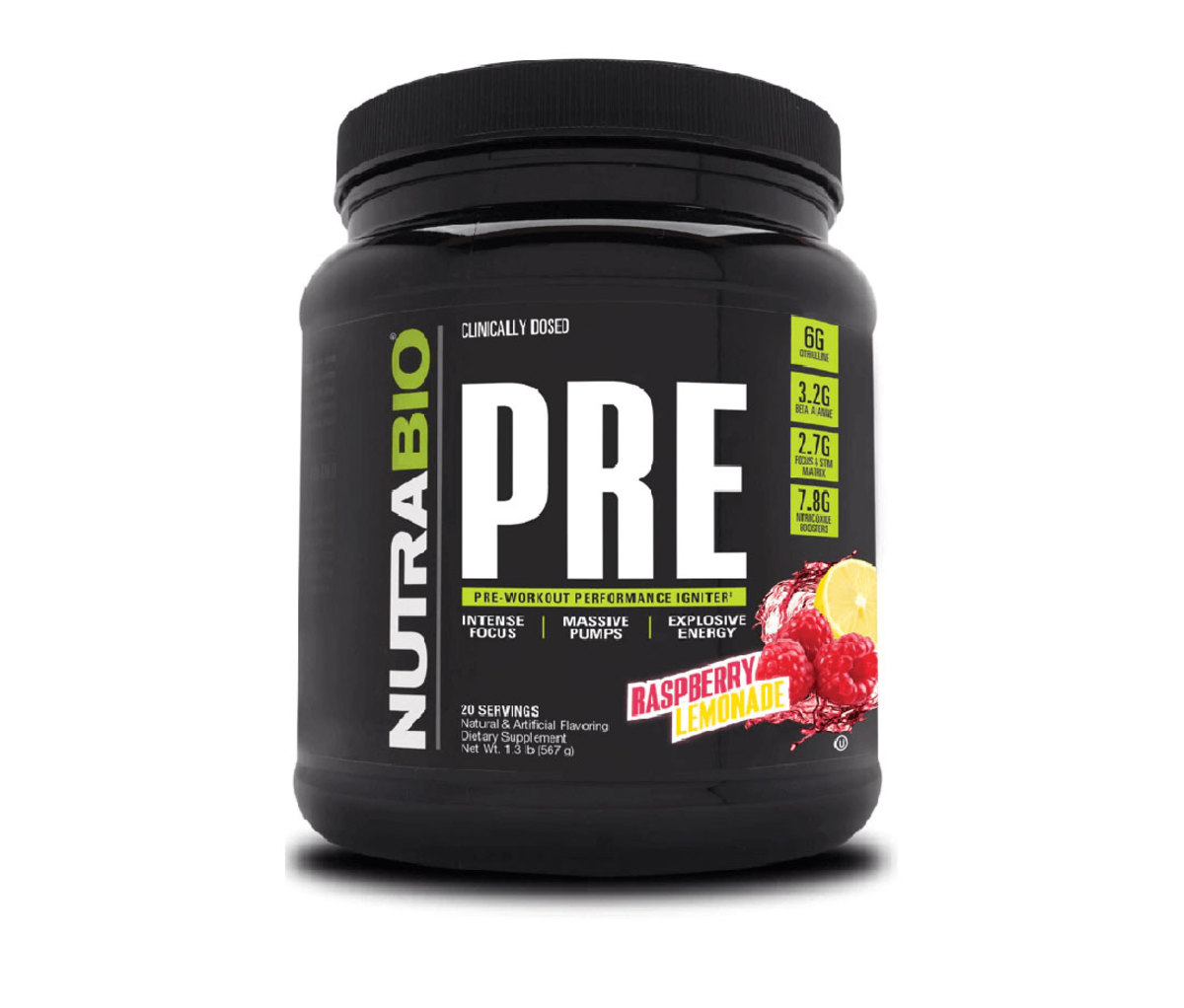 CLICK HERE TO SHOP NUTRABIO PRE
The vast world of workout supplements owes a lot to NutraBio. When the company set out to produce the first-ever non-proprietary pre-workout blend in 2002, it shook the industry and started a trend of 100% transparent pre-workout products.
Since then, NutraBio has improved on the original formula, and today, NutraBio Pre remains one of the top products on the market.
NutraBio Pre contains a long list of active ingredients, including vitamins, minerals, amino acids, and stimulants. However, at its core, it aims to not only boost energy levels but also help with recovery after an intense workout.
This way you can get back into the gym and start pumping new muscles in no time. Every serving contains potent doses of amino acids, nitric oxide boosters and nootropics.
Combined together, these ingredients help offset the burn and fatigue of intense exercise during and after your workout.
You can purchase a tub of NutraBio off Amazon. It's currently available in the following flavors—Watermelon, Grape Berry Crush, Blue Raspberry, Cherry Limeade, Dragon Fruit Candy, Raspberry Lemonade, Strawberry Lemon Bomb.
5.    Pre JYM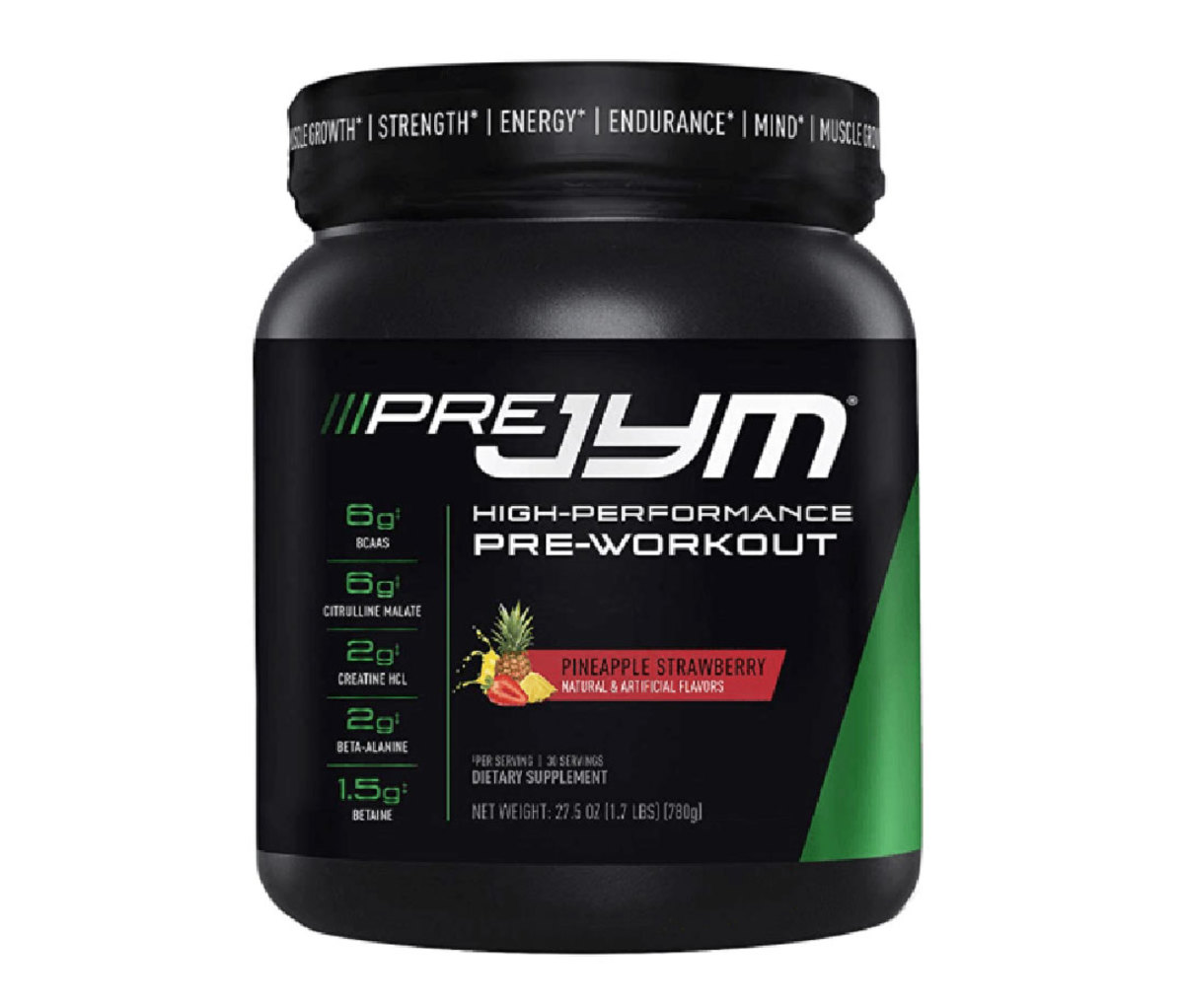 A lot of pre-workout supplements are designed to pack as many stimulants as possible into a tiny dose. While this approach might leave you feeling energized in the short term, it won't benefit your health in the long run.
With Pre JYM, though, you can trust that you're taking a safe and healthy product since it was formulated by a professional nutritionist—Dr. Jym Stoppani.
Don't let a medically backed formula lead you into thinking that Pre JYM is just another health supplement, though.
On the contrary, it's a powerful pre-workout formulated around the very components used to produce proteins—amino acids. When you take a dose of Pre JYM, you'll benefit from the six following ingredients:
Betaine
Beta-alanine
N-Acetyl L-Cysteine
Creatine HCL
Alpha GPC
Citrulline malate
Many of these ingredients, such as creatine, are directly broken down within your muscles to help you overcome muscular fatigue during a heavy lift. Others, such as beta-alanine, help offset the intramuscular acidity that causes your muscles to tire out during exercise.
It is currently available in the following flavors and should be taken 30 minutes before you start a workout—Grape Candy, Refreshing Melon, Black Cherry, Strawberry, Pink Lemonade, Pineapple Strawberry, Rainbow Sherbet.
6.    Legion Athletics Pulse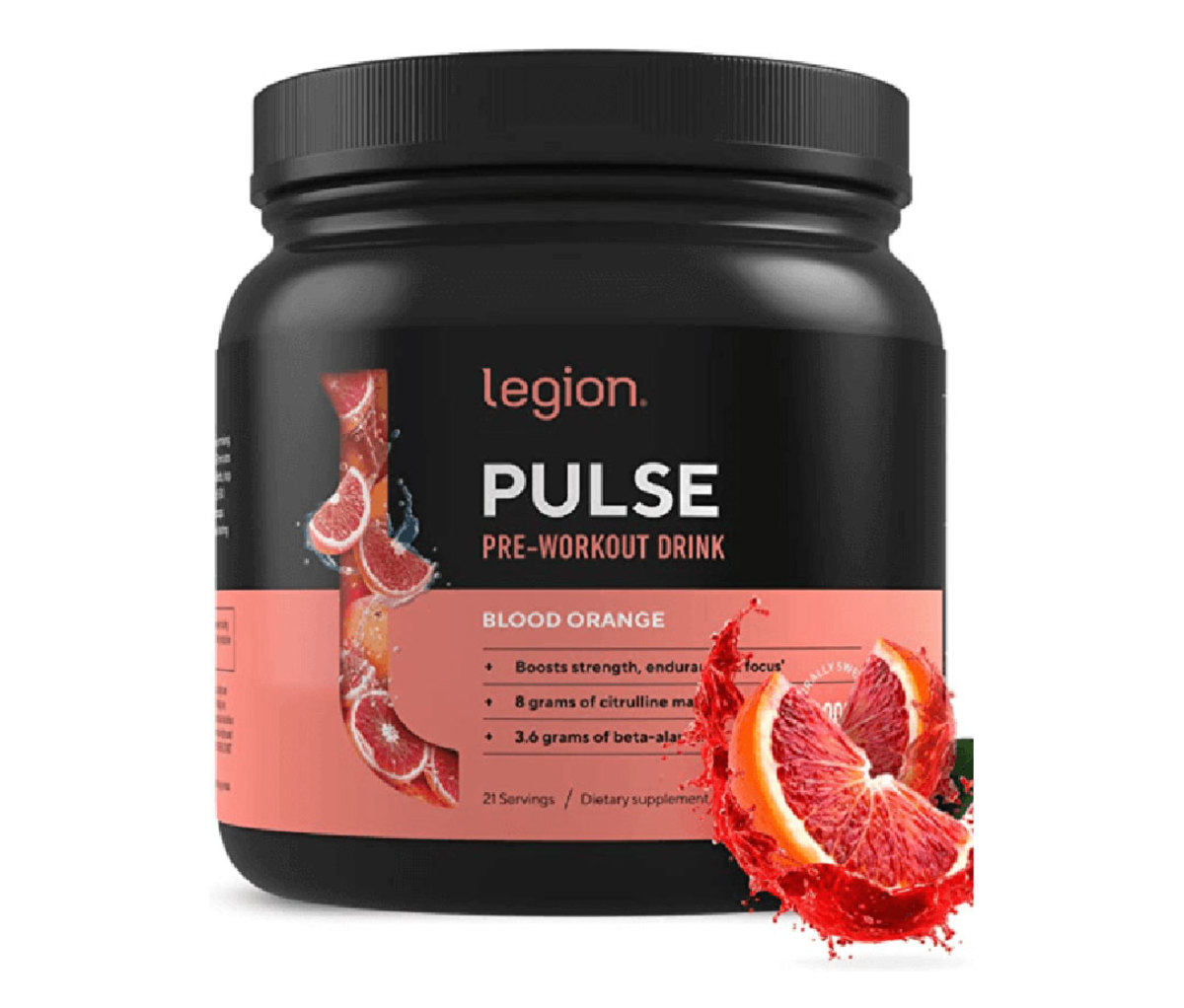 CLICK HERE TO SHOP LEGION PULSE
Legion Athletics Pulse is another high-quality, effective product. Besides being great at what it does, it's also priced competitively.
Let's start by saying that Legions' Pulse pre-workout only consists of natural, clean ingredients. They've made sure that all compounds are dosed above average to give you a fantastic workout experience.
Pulse does pack quite a high amount of caffeine, 350mg per scoop, to be exact. That may be high for some of you, which is why we advise starting with half a serving of this product.
But Legion Pulse doesn't just contain caffeine; it also packs a lot of other valuable and effective ingredients. One serving includes Alpha GPC, Beta Alanine, and Betaine Anhydrous.
It's available in unique flavors such as Watermelon and Green Apple. We've tried them, and we were blown away by the taste!
7.    Pre-Kaged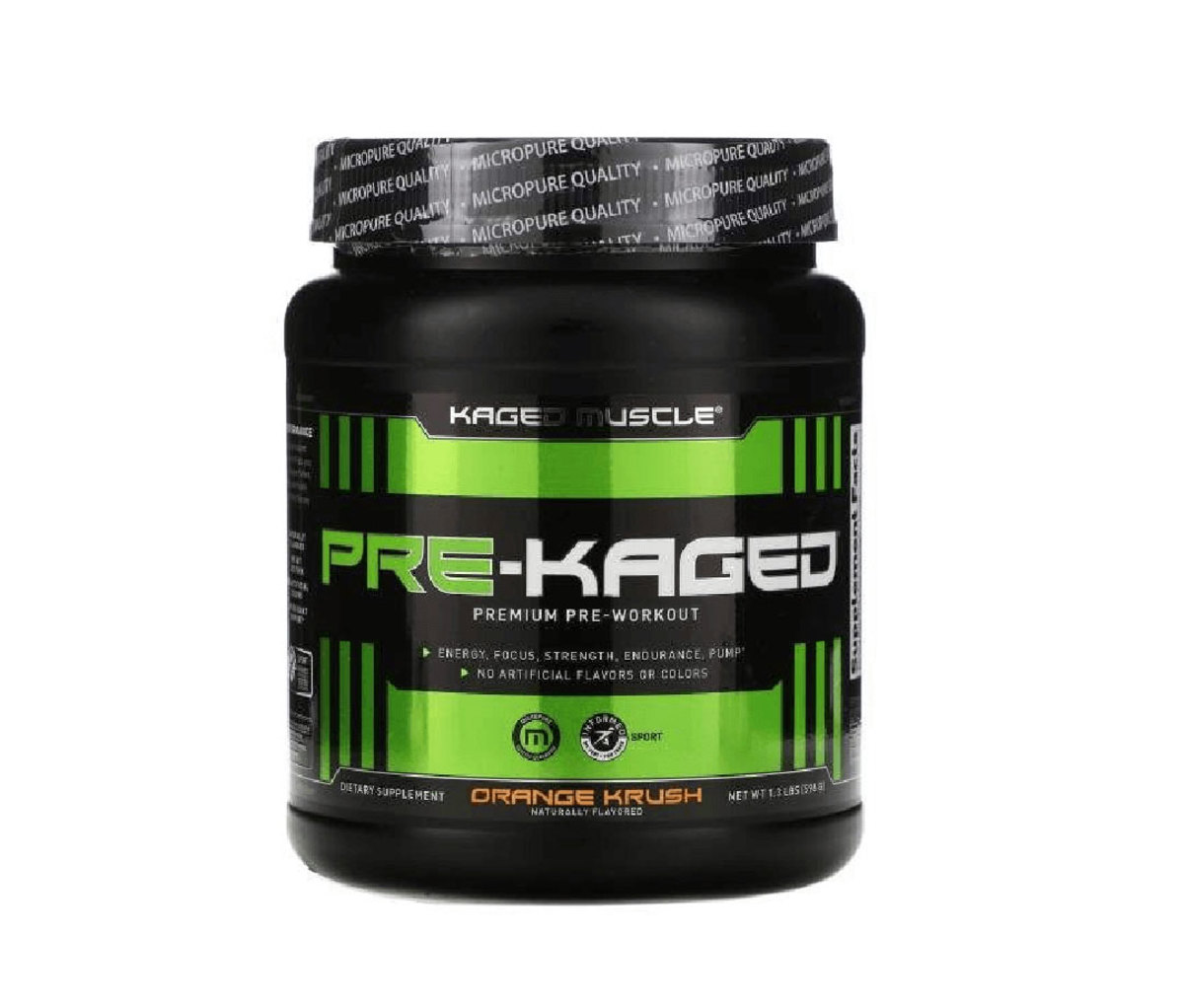 Pre-Kaged takes the best elements of many other pre-workouts and combines them into a single product. By relying heavily on the health benefits of vegetables and veggie extracts, Pre-Kaged somehow exists somewhere between a pre-workout supplement and a multivitamin.
Therefore, if you're looking for something more than a health supplement but less than a stim-heavy pre-workout, we highly recommend Pre-Kaged.
Every dose of Pre-Kaged pre-workout combines the effects of amino acids, vitamins, and amino acids, plus some standard creatine and caffeine. Yet, with so many active compounds in a single dose, you may be disappointed with the lower-than-average dosages of each ingredient.
Nevertheless, Pre-Kaged is still a top-quality product with some of the most effective complexes you'll find, including:
Creatine
Citrulline
Betaine
Caffeine
Beta-alanine
Vitamin B6
Vitamin B12
Magnesium
Sodium
You can learn more about Pre-Kaged or pick up your first tub of pre-workout by clicking on the link here. It's currently available in five delicious flavors, including Berry Blast, Grape, Fruit Punch, Krisp Apple, and Pink Lemonade.
8.    Bucked Up
As we compiled our list of pre-workouts, we wanted to include something for everyone. We understand that not all of our readers have experience taking these types of products and, therefore, wanted to share something to get you started without much prior knowledge.
At first glance, Bucked Up may seem like a reasonably ordinary product, with a similar formula to what you'd find in any other pre-workout supplement.
Still, we had to include it in our list simply for the high quality of its ingredients. In every dose, you'll find the following compounds:
Beta-Alanine
Caffeine Anhydrous
Taurine
Deer Antler Velvet Extract
Himalayan Rock Salt
Citrulline Malate
Yet, what makes this such an excellent product for someone new to pre-workout is its low dose of caffeine. With only 200 milligrams of caffeine in every serving, you can safely start taking pre-workout without worrying about a crash once it wears off.
Instead, you'll enjoy a subtle lift and benefit from added energy during your workout.
You can purchase a tub of Bucked Up from Amazon, or the official Bucked Up website. It comes in many different flavors, with our favorite being the Blood Raz.
9.    Beyond Raw LIT AF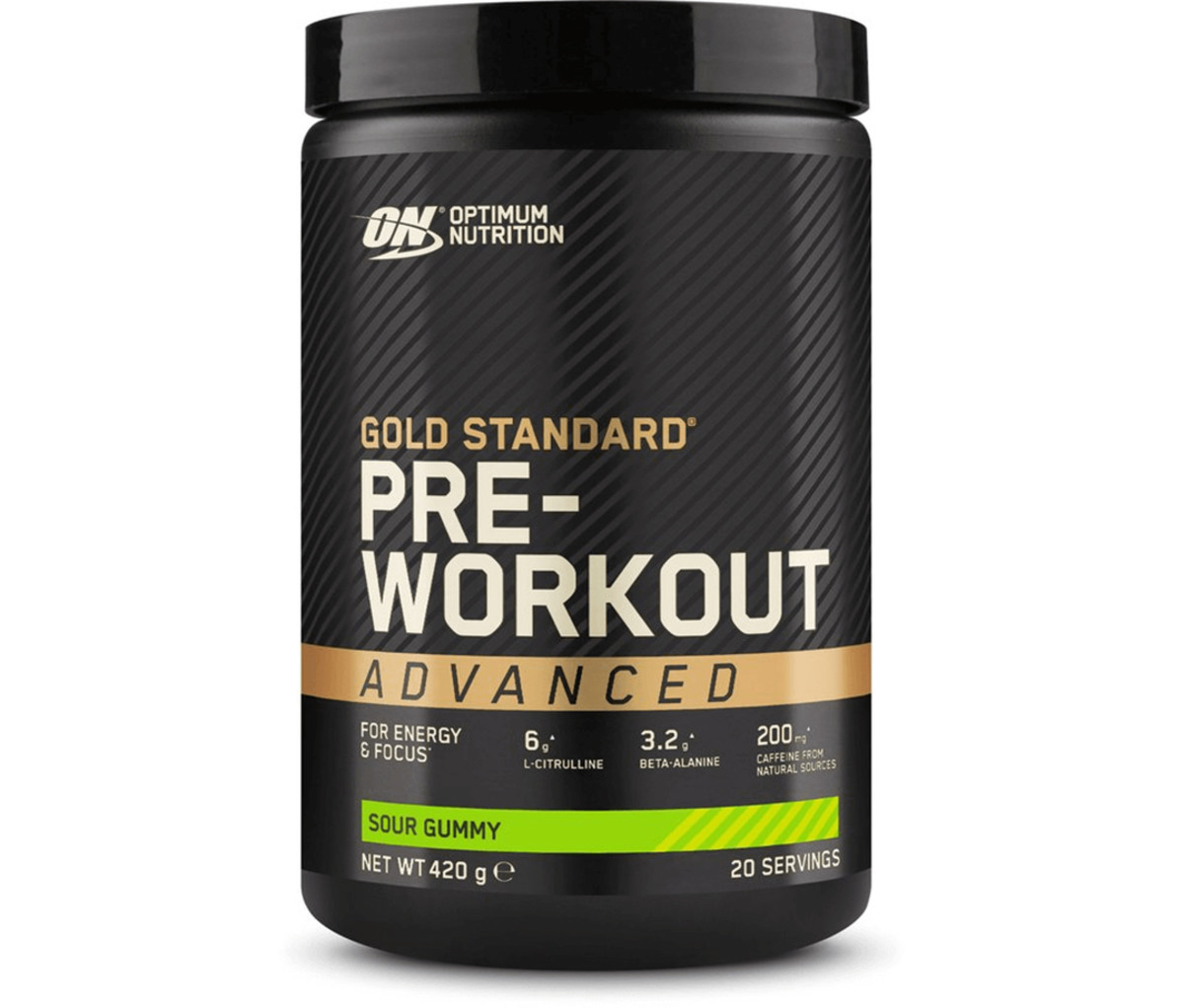 If you're purchasing a workout supplement, you're bound to know the name GNC. As one of the largest supplement stores in the world, its name is synonymous with quality products, and that's exactly what LIT AF is.
As GNC's very own pre-workout supplement, you can take the product and know you're getting the best results.
Beyond Raw LIT AF offers comprehensive muscle and energy support by combing the potent effects of caffeine, creatine, and several other ingredients.
Although some of the ingredients may be dosed slightly lower than some of the other products we've featured, it's still a good and effective product to carry you through intensive workouts.
You can purchase LIT AF directly from GNC, or you can pick up a bottle from Amazon – whichever has your preference.
Some of the best-selling flavors include Watermelon Jolly Rancher, Blue Raspberry Jolly Rancher, and Gummy Worms.
10.    Alani NU
Alani NU isn't your standard workout supplement brand. Rather than relying on ripped athletic men, bold and explosive letters, or masculine color palettes, Alani NU presents itself as a health and wellness company that serves the wider community.
Their pre-workout supplement, which carries the same brand name, carries through with this approach by relying on a simple, five-ingredient formula.
It packs caffeine, citrulline malate, beta-alanine, l-tyrosine, and L-theanine.
Although it's a relatively simple formula, we wanted to include the product on our list for anyone looking for toned-down products guaranteed to provide more energy, heightened focus, and motivation without relying on long lists of active compounds.
To purchase your first tub of Alani NU Pre-workout, head over to the manufacturer's official site or get it from Amazon. They have a lot of exciting flavors, and the Hawaiian Shaved Ice is definitely an excellent choice!
11.    Ghost Legend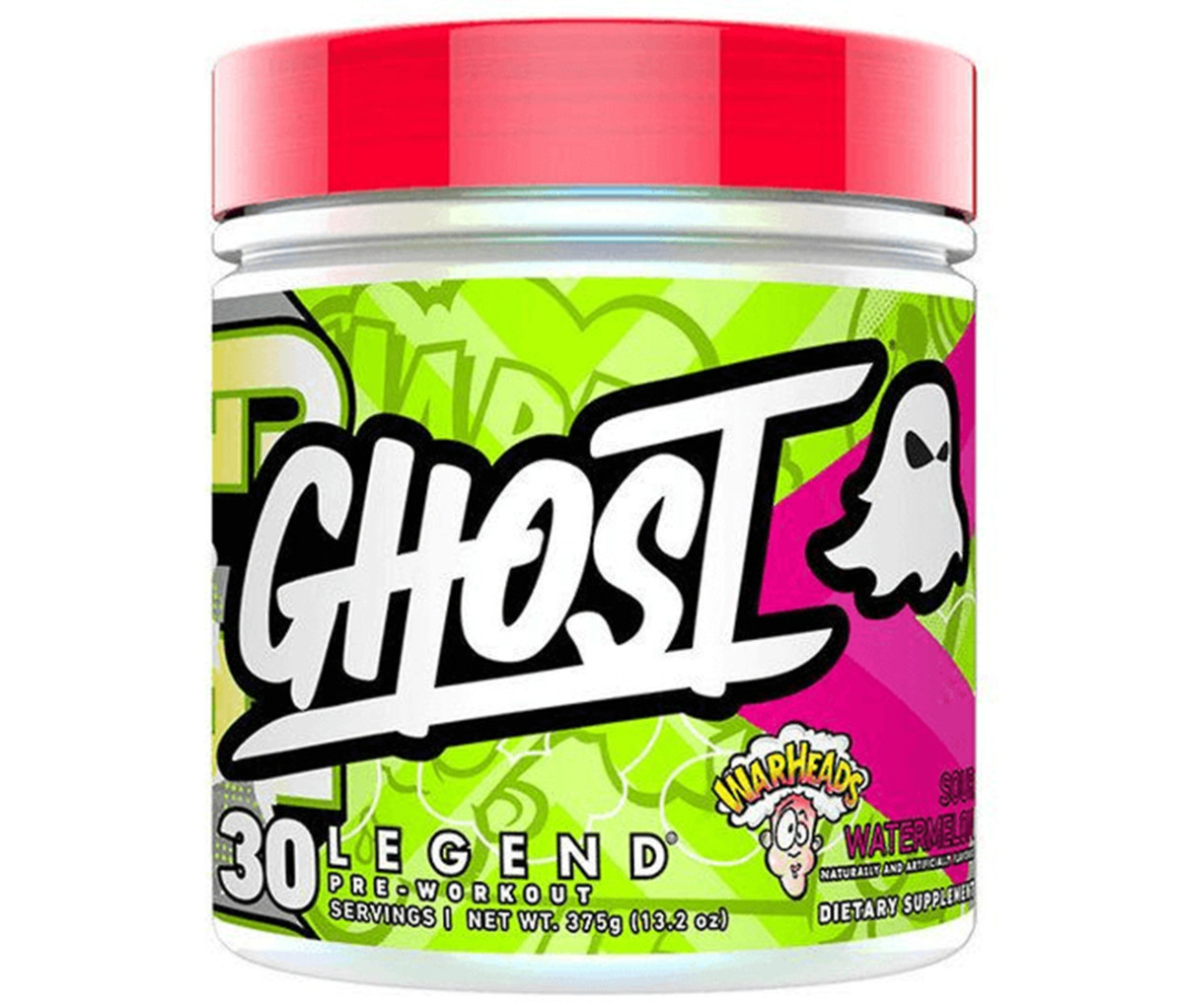 CLICK HERE TO SHOP GHOST LEGEND
Another one of the pre workouts we love to use is Ghosts' Legend, a great well-balanced product that hits all angles of your workout.
While this option doesn't give you as much energy as some of the alternatives on this list, it's still going to help you get in a good workout session.
You'll mainly notice improvements in pumps, focus, and a bit of energy. There's no crash or strange feeling once it wears off, which is usually after an hour or two.
It's also good to know that with this pre workout, you know exactly what you're getting. Each ingredient and dosage is fully disclosed, which is very important.
Plus, for those of you that are vegan, Ghost Legend is formulated with vegan-friendly ingredients! If this product has caught your eye, we advise picking it up from Ghost directly or Amazon.
It's available in many mouth-watering, unique flavors, such as Warheads and Swedish fish. You won't find those anywhere else.
12. Gold Standard Pre Advanced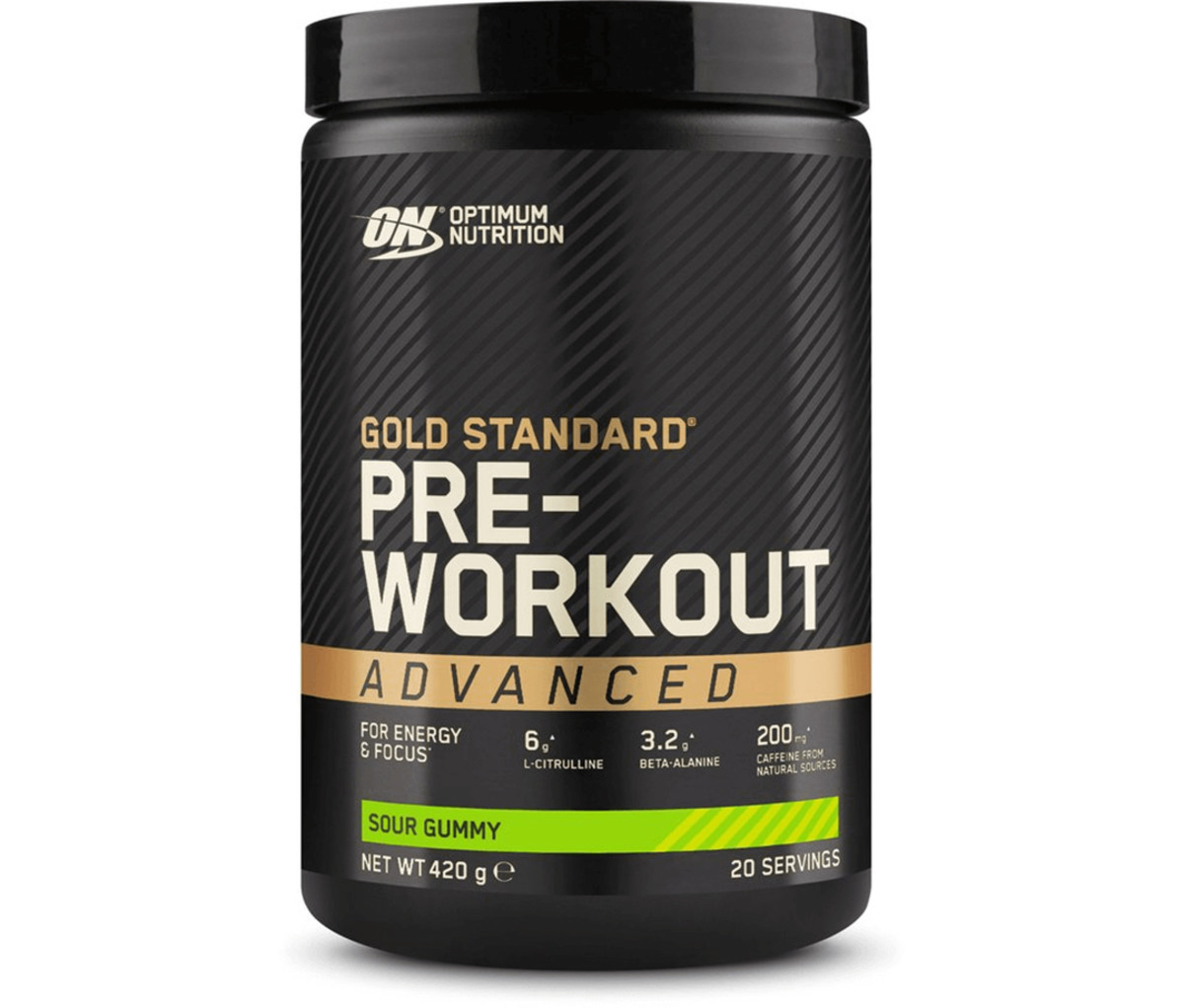 CLICK HERE TO SHOP PRE ADVANCED
Last but not least, we're looking at Gold Standard Pre Advanced, brought to you by the popular Optimum Nutrition.
As the name already reveals, it's formulated for advanced pre workout users that want to take their workouts to the next level. There's a significant amount of Caffeine in this product, about 300mg per serving. You'll notice a massive boost in energy and focus.
Of course, caffeine isn't the only ingredient you'll find. This product has all the essentials to help you perform optimally in the gym.
It's also good to see that Optimum Nutrition included a clinical dose of Creatine Monohydrate in this pre workout. Creatine will help you gain lean muscle and strength, so it's nice to see it included.
All in all, the Gold standard Pre Advanced is an excellent product. If you're looking for a pre workout that emphasizes a bit more on energy and focus, check this one out.
You can find it on Amazon or Optimum Nutrition's official site.
And now for additional words from our sponsor.
How We Picked the Best Pre-Workout Supplements
When we set out to make this list, we knew it wouldn't be easy. With such a saturated market, there were so many products to test and review that it seemed nearly impossible to do so.
Yet, after investing quite a lot of time, money, and effort, we were able to distinguish the truly incredible pre-workout supplements from the inferior products.
To give more insight into our process, we've shared a few of the main criteria by which we judged each product.
As you go through our list of top supplements, use these same criteria to make your final choice.
Ingredients & Dosages
Above all else, the most important factors in our ranking process were the quality of ingredients as well as the dosages of each active compound in every formula.
Without the right ingredients, a pre-workout simply cannot work as advertised. Therefore, we carefully looked for products formulated from proven ingredients, dosed at the appropriate volumes.
Every product listed here, such as Wrecked and Pump Serum, contains long lists of ingredients that are backed by research and nutritional science.
Therefore, we're confident in saying that all 12 pre-workout supplements can help you push through even the hardest of workouts with more energy, sharper focus, and crystal-clear motivation.
We'll go into further detail about the ingredients we specifically looked for below and recommend that you also keep an eye out for the same quality ingredients as you begin your search for a top pre-workout supplement.
Effectiveness
After narrowing our long list of possible products based on their ingredients, we then individually tested each pre-workout supplement to gauge just how effective it really was.
It should go without saying but the effectiveness of a product matters above all else.
There's no point in taking a pre-workout supplement if it doesn't boost your energy levels, help you focus, or drive you to finish your workout.
If we found that any product under sold or failed to produce the results it advertised, we immediately struck it from the list. This helped us to quickly narrow down to just a handful of premium brands that outperformed their competition.
We specifically looked for the following results:
Higher Energy
Improved Motivation
Increased Endurance
Longer-Lasting Pumps
Stronger Performance
Once we were sure that a product could create at least a few of these effects, we then moved on to judge it by the following criteria.
Flavor Options & Taste
Flavor options and the taste of a product might not seem that important but, at the end of the day, you have to enjoy drinking the supplement.
99% of all pre-workout supplements come as a powder that you mix with water to create a drinkable solution. So, if you can't get it down, what's the point of buying the product?
We looked for brands that offered a range of flavor options for all personalities and preferences. From there, we carefully tested each brand and threw away any powders that tasted chalky or left a foul, bitter aftertaste.
After all, just because a supplement contains plenty of nutrients and active compounds doesn't mean it has to taste like death.
Take a second to go back through the top 12 pre-workout supplements listed above and you'll see that they're all offered in a range of exciting flavors—from Tropical Punch to Strawberry Lemonade and even Mojito.
Price & Value
We know firsthand just how expensive workout supplements can be. Therefore, we had to guarantee that any product on our final list lived up to its price tag.
This meant comparing each product's price to the overall quality of its ingredients and effects. If we felt that you weren't getting your money's worth, we immediately threw it out.
All of the products listed above are packed with quality ingredients and, in our honest opinion, are worth every single cent. Outside of a few outliers, all of the products shared here cost around $50, although some drop as low as $30.
At these prices, you can comfortably invest in a pre-workout powder without breaking the bank.
Label Transparency
As far as we're concerned, transparency is key. Anything labeled as a "proprietary blend" was immediately thrown out and deemed unworthy of consideration.
Brands often hide ineffective filler ingredients behind the guise of a secret formula but we know that truly trustworthy supplements label their ingredients in plain sight for all to see.
This is particularly important for pre-workout supplements that regularly pack stimulants into their formulas. If you can't tell how much caffeine you're taking, you're liable to get hurt.
As you begin searching for other pre-workout supplements, keep this advice in mind. If you don't know what you're taking, steer clear of it and find something else.
Product Safety
Last but not least, we had to guarantee that all of the products on our list are safe to use. We've carefully tested them all and analyzed their ingredients to rule out anything suspicious or unverifiable.
Just because you can buy pre-workout supplements over-the-counter doesn't mean they're not potent compounds.
Be careful taking any workout supplement and always check the dosages. Many products contain high amounts of caffeine, which can lead to heart palpitations if you're sensitive to stimulants.
Start with lower-than-recommended servings and build up once you know your tolerance.
Ingredients You'll Find in Your Pre-Workout
With so many different pre-workout powders available online, it's nearly impossible to find two supplements with the exact same formulas.
So, with that in mind, we wanted to introduce you to some of the most common ingredients used in these products. Each ingredient has its own unique set of benefits and we'll go over the most effective.
Caffeine
Most pre-workout powders contain some amount of caffeine, whether in an anhydrous form or malate form. This caffeine is the very same stimulant that you'll find naturally occurring in coffee, tea, and chocolate.
Caffeine is most commonly used to improve mental alertness, but it also has physical effects, such as increasing the heart rate.
There is also some evidence that caffeine can improve endurance and heighten performance while exercising by increasing the amount of fat that's burned as fuel.
However, be careful to experiment with different amounts of caffeine to see how it affects your performance. Too much caffeine can cause negative effects, so it is important to find the right amount for your body.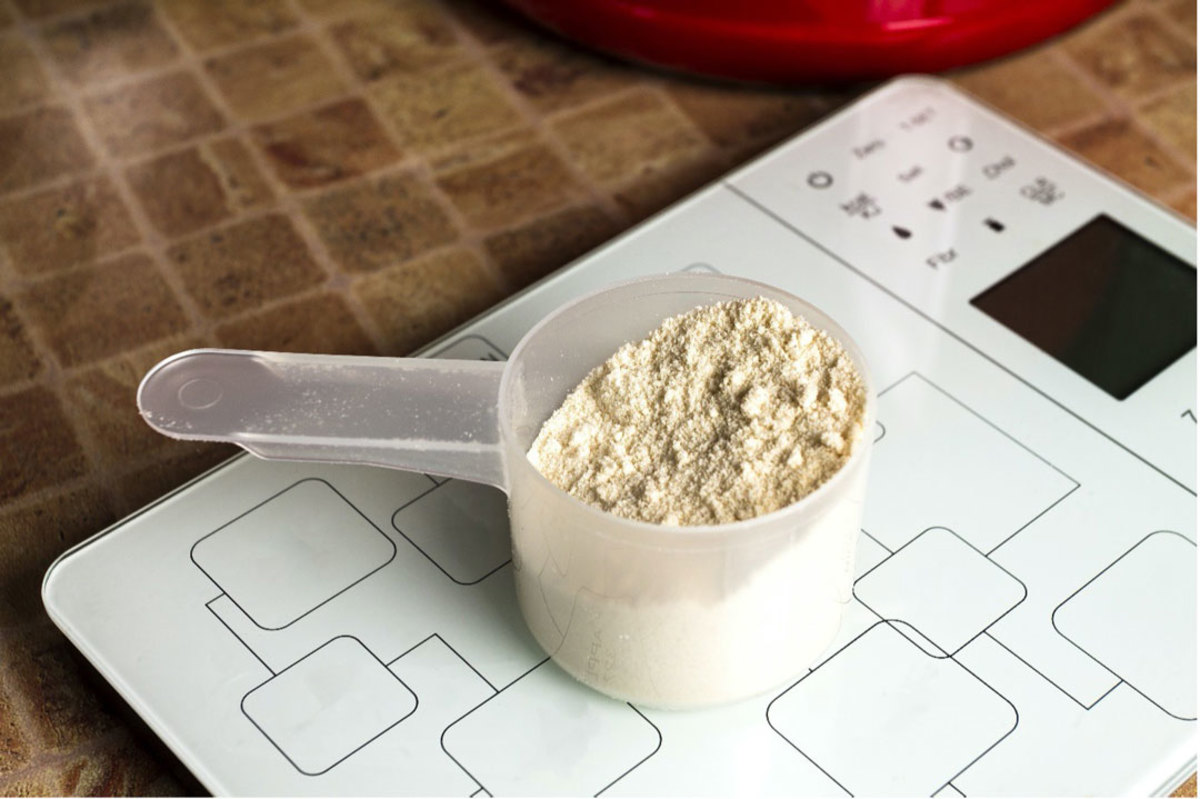 L-Citrulline
L-citrulline is another common ingredient in many pre-workout powders because it acts a precursor to L-arginine. L-arginine is the body's natural precursor to nitric oxide. As nitric oxide levels increase throughout the body, they help to widen your blood vessels and improve circulation.
L-citrulline is often included in pre-workout supplements because it is thought to improve performance and endurance.
Some research suggests that L-citrulline may help improve muscle function and reduce fatigue by increasing the volume of oxygen and nutrients delivered into the muscles. With L-Citrulline being an effective nitric oxide booster, it must be included in the product you're looking to buy.
Betaine Anhydrous
Betaine anhydrous is an organic compound commonly found in plants and animals. It is most commonly found in beets, which is where it gets its name.
Betaine anhydrous is added to pre-workouts because it is a methyl donor. This means that it can donate methyl groups to other compounds in the body. Methyl groups are important for many processes in the body, including protein synthesis and energy production.
Betaine anhydrous is believed to help with muscle growth, fat loss, and performance. There is some evidence that betaine anhydrous may even help improve athletic performance, but more research is needed.
Alpha GPC
Alpha GPC is a choline compound that is known to improve cognitive function and help protect the brain from age-related damage. It is often added to pre-workout formulas because it has been shown to improve focus and energy levels.
Compared to other ingredients, Alpha GPC is exactly what you need to boost your motivation and focus during a workout.
Whenever you're feeling a lack of motivation or think that you can't focus enough to finish a workout, Alpha GPC can help sharpen your mind and overcome your mental blocks.
After all, so much of working out is a mental game focused on fighting through your own mental inhibitions. Once you have the confidence to power through, you'll be able to complete anything.
Beta-Alanine
Beta-alanine is a naturally occurring amino acid found in meat and fish. It is processed in the human body and used to make carnosine.
Carnosine is a dipeptide stored in muscle cells that helps buffer the build-up of lactic acid—a by-product of muscle metabolism that can cause muscle fatigue.
Beta-alanine is commonly added to pre-workout supplements because it's thought to play a role in muscular endurance. By increasing the amount of carnosine in your muscle tissue, beta-alanine may help delay the onset of fatigue, allowing you to push through difficult workouts.
We've dedicated an entire article about Beta Alanine – check it out.
Theobromine
Theobromine is an alkaloid found in cacao plants and chocolate. It's comparable to caffeine and is also considered a stimulant.
The reason why Theobromine is often added to pre workouts is that it comes with numerous benefits. It helps improve energy and cognitive functions and can even contribute to healthy blood circulation.
Combining Theobromine with Caffeine can create a synergetic effect, allowing you to perform optimally during intense workouts.
L-Tyrosine
L-Tyrosine is another excellent ingredient found in many of the best pre workouts. What makes it such an effective ingredient is that it is involved in the production of neurotransmitters.
These neurotransmitters play an essential role in the human body, and they're involved in processes such as your mood and muscle movement.
That means that L-Tyrosine can help boost your cognitive functions, such as focus and alertness, while training. This is a massive benefit, as training isn't just physically challenging but also mentally.
We consider L-Tyrosine to be a must-have, so make sure to check your pre workouts label to see if it's included!
Are Pre-Workout Supplements Safe?
Pre-workout supplements are some of the most commonly used workout supplements in the world. They're well researched and shown to be safe as long as you follow the manufacturer's instructions.
If you're particularly sensitive to stimulants, use caution and follow these safety tips to maintain your health:
Start with a lower dose – If you're new to pre-workout supplements, start with a lower dose than recommended on the label to see how you react. This will help you avoid any adverse effects, such as feeling jittery or anxious.
Take breaks – If you're feeling overly stimulated, take a break during your workout. This will help you avoid any potential negative effects and allow your body to recover.
Drink plenty of fluids – The caffeine in pre-workout supplements can cause dehydration, so be sure to drink plenty of fluids before, during, and after your workout.
Following these tips will keep you healthy and safe while taking a pre-workout supplement. Be careful to avoid consuming other caffeinated beverages or opt for a stim-free brand to avoid possible heart problems.
If you ever experience chest pains or an irregular heart rhythm after taking a supplement, immediately contact your physician and request a consultation.
Who are Pre-Workouts For?
Pre-workout supplements aren't just for gym rats. They're for anyone who wants to maximize his or her athletic performance. No matter if you work out in a gym, run around a track, or play on a field or court, you can benefit from taking a pre-workout supplement.
These products help boost athletic performance and can be used much more safely than any anabolic performance enhancer.
Nearly all of the ingredients found in pre-workout formulas come from natural plant-based sources and have been researched and proven to be effective.
So, if you want to get the most out of your athletic training, pre-workout is perfect for you.
Frequently Asked Questions About Pre-Workouts
Do you still have questions about pre-workout supplements? We may have an answer for you.
Keep reading to find some of the most commonly asked questions that we hear from our readers.
We've compiled a set of short answers to help clarify any queries.
How Long Does It Take for Pre-Workout to Kick In?
It all depends on which product you are taking but most pre-workout supplements kick into full effect within 30 minutes. Products with more caffeine or other stimulants will start working sooner than others but it can take time for other ingredients to start working.
Ingredients such as vitamins often don't start working until after your workout as they speed up your recovery.
How Much Pre-Workout Should I Take?
Again, it all depends on the product you are taking. Always take time to check the label and read the manufacturer's instructions before taking a product.
Every powder is dosed differently and come with their own individual scoops. Some powders may recommend taking a couple of scoops whereas others will recommend a single scoop. Whatever the recommended dose, don't go above it.
What Makes You Tingle in Pre-Workout?
The beta-alanine in pre-workout powders can sometimes make your muscles tingle because it causes a temporary increase in the production of a chemical called carnosine.
Carnosine helps to buffer the build-up of lactic acid, which is produced when the muscles work hard. Lactic acid can cause muscle fatigue and soreness.
Some people find the tingling sensation caused by beta-alanine to be unpleasant. If this happens to you, you may be tempted to stop taking the supplement but rest assured that it's a normal physical response. The tingling should disappear within 20 to 30 minutes, or by the time you finish your workout.
How Often Can I Take Pre-Workout Supplements?
Avoid taking more than 1 dose of pre-workout a day. According to the Mayo Clinic, adults should avoid consuming more than 400 mg of caffeine a day (the equivalent of about four cups of coffee).
Many pre-workout products contain roughly half of this amount, if not more, so taking more than a single dose of a supplement could have negative effects on your heart and health.
How Long Will Pre-Workout Last?
This answer depends on the product you're taking but most pre-workout supplements wear off within 3 to 4 hours.
If your pre-workout contains more caffeine, it will take longer for your body to process the compounds but, if it's fairly mild, it may wear off within a couple of hours. Ideally, it's best to take pre-workout just before a workout to get the full effect.
How Much Caffeine is in Pre-Workout?
Every brand contains a different amount of caffeine. Some brands pack as much caffeine as possible, with volumes reaching as high as 350 or 400 mg in every dose. Others go easy on the stimulants, adding 150-200 mg in every serving. There are also stim-free varieties that contain absolutely no caffeine. Depending on your personal preferences, you can easily find pre-workouts of all types.
What is Dry Scooping Pre-Workout?
Dry scooping is a way to take pre-workout supplements without adding water. Rather than drinking the powder as intended, you simply throw it into your mouth and swallow it dry.
Dry scooping has become increasingly popular in recent years thanks to TikTok influencers but we don't recommend the trend. It can be dangerous and lead to sudden heart palpitations. As we've said, always follow the manufacturer's recommendations.
What is the Best Time to Take My Pre-Workout?
No matter which brand you're taking, we recommend taking your pre-workout supplements 20 to 30 minutes before a workout.
This should give enough time for the compounds to dissolve and absorb into your bloodstream. If you're taking the powder on an empty stomach, it could even kick in faster. However, if you've recently eaten, it may take longer to kick into effect.
Plan accordingly and take your pre-workout with enough time for it to kick into effect before you start exercising. Again, most powders last for around 3 hours so you'll have plenty of time to make the most of it.
Our Final Thoughts On The Best Pre Workouts
Pre-workout supplements can be a great way to increase your energy and performance in the gym, but it's important to do your research before purchasing one.
Not all pre-workout supplements are created equal, and some may even be dangerous. Be sure to read the ingredients list and reviews before buying a pre-workout supplement to make sure it's right for you.
We recommend finding pre-workouts that are made with high-quality ingredients. Some ingredients to look out for in a quality pre-workout are caffeine, beta-alanine, and citrulline malate.
Be sure that you can easily locate the ingredients on the product label and avoid anything listed as a "proprietary blend". A proprietary blend is just another way of saying "filler ingredients".
Additionally, always use caution when taking pre-workout supplements. Consuming too much caffeine can lead to heart problems and many products contain high volumes of stimulants.
Take a single dose a day and always follow the manufacturer's instructions. Also, avoid silly trends, such as dry scooping, that can put you at added risk.
Instead, stick with verified brands that have been tested and shown to be effective. We highly recommend trying Huge Wrecked for a caffeine-based pre-workout or Huge Pump Serum for a stim-free variety.
Both products contain a long list of active ingredients that can help you feel more energized, focused, and capable of powering through a difficult workout.
If you're looking for other supplements that can help you reach your goals sooner, check out our best protein powders for men.
For access to exclusive gear videos, celebrity interviews, and more, subscribe on YouTube!