This is sponsored content, Men's Journal is not endorsing the products listed below.
You probably recall all the talk about Resveratrol and wine in all the big health magazines and journals a few years ago. Resveratrol is classified as a polyphenol, a type of chemical. They're thought to act as antioxidants, protecting the body from damage that can increase your risk of cancer and heart disease.
It's most known for its presence in red wine and other red grape-based products, but it's also produced in small amounts by various plants to combat bacterial and fungal infections. Taking a pill with a concentrated form of this chemical is a simple method to benefit from resveratrol's antioxidant qualities. 
But with so many supplements brands available on the market, selecting the correct one can be difficult. As a result, we've compiled a list of resveratrol supplement companies that offer the best Resveratrol supplement on the market. To understand more about these companies, keep reading.
Top Picks For The Best Resveratrol Supplement (2022 Review)
Cymbiotika NMN: Popular Resveratrol Supplement Brand On The Market
#1. Nuzena Resveratrol Rapid +: Overall Best Resveratrol Supplement, Editor's Choice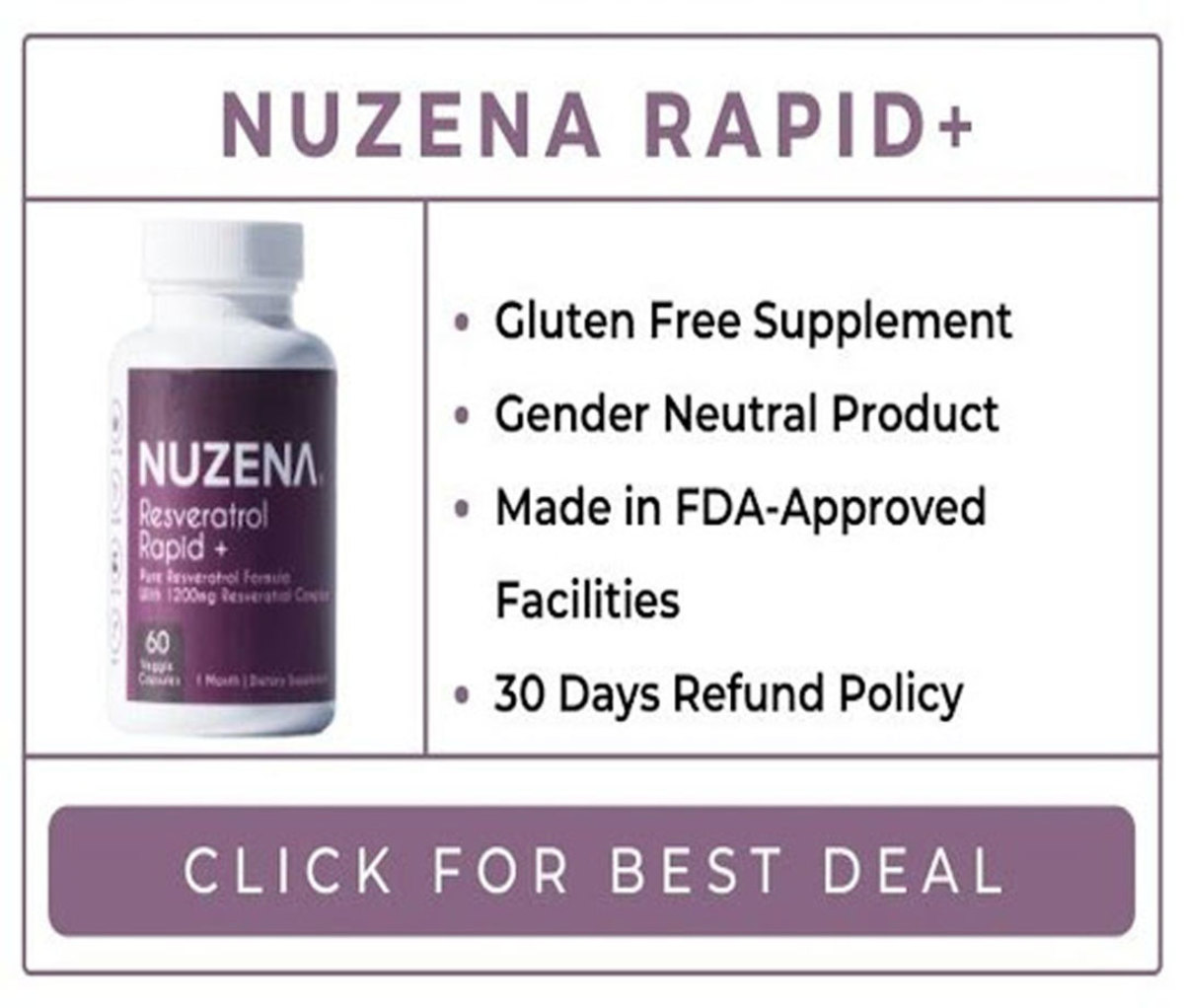 Nuzena's objective is to help all of its customers reach their health goals by providing all-natural supplements formulated with high-quality, clinically-backed components. Resveratrol Rapid + by Nuzena is a Resveratrol supplement that is more cost-effective than the majority of the other Resveratrol supplements on our list. 
The formula, according to Nuzena, can help maintain good blood pressure, insulin sensitivity, and antioxidant effects for anti-aging and lifespan. Resveratrol Rapid + contains 1,200mg of Resveratrol each pill. You should expect to pay roughly $35 for the supplement. 
You should take two capsules of this dietary supplement every day. Take 20-30 minutes before a meal for optimal benefits or as prescribed by your healthcare provider. All orders are completed within 2-3 business days, and you have 30 days to get a refund.
Features
Nuzena's products are subjected to third-party microbiology testing to guarantee efficacy and the absence of allergies, heavy metals, and dangerous microbes. Customers may track all test results in real-time using an API built by the company, ensuring that the batch they got has been tested and verified.
Nuzena works closely with its consumers to help them improve their entire health, lifestyle, and nutrition. Nuzena's team delivers a free consultation to its customers, including a total health and wellness assessment, individualized nutritional and lifestyle recommendations, and information and tools to help them improve their health and wellness.
Pros
Resveratrol Rapid is scientifically backed, third-party tested, pure resveratrol, and transparent

Adequate amounts of natural, powerful components

Gluten-free, non-GMO, and sugar-free

Capsules are small and easy to take

A fantastic price-to-quality ratio

There is a free consultation with a health expert accessible

Customers can make payments in installments
Cons
Retail outlets do not provide it

Some drugs may react with each other
Customer Experience
Nuzena believes that supplementation has a long-term impact on your appearance, health, and enjoyment. This company operates closely with its clients to make the best decisions about which goods to use and how to improve their overall health in the long term. 
Nuzena's supplements get a lot of positive feedback on the internet. It's no secret that people love the look of the Nuzena supplements' packaging.
=> Click here to visit the official website of Nuzena Resveratrol
With this powerful supplement, Life Extension harnesses the benefits of the natural antioxidant Resveratrol to enhance cellular and overall health. This one-of-a-kind mix contains Resveratrol, an antioxidant found naturally in red wine and grapes. Every capsule provides a wide range of health benefits, including blood pressure support, longevity, brain cell protection, and joint pain relief. 
Every Optimized Resveratrol pill is made with all-natural, vegetarian-friendly components to give you wholesome, healthful support you can rely on. Optimized Resveratrol is a Resveratrol supplement that contains 250 mg of Resveratrol and other beneficial plant ingredients. 
These components work together to enhance the expression of genes linked to healthy aging. Each day, you need one Optimized Resveratrol pill to give your body optimal support and antioxidant advantages. Each container comes with 60 vegetarian capsules and costs $33.95.
Features
Protects from Damaging Free Radicals
Each Optimized Resveratrol pill gives your body the support it needs to protect itself from free radical damage. Free radicals are unstable atoms usually prevalent throughout the body but can harm healthy cells if not adequately supported. 
Premature aging, sickness, and oxidative stress are all possible side effects of this damage. This Life Extension supplement contains a healthy amount of this potent antioxidant to give your body the protection it needs from free radical aging.
Supports Cardiovascular Health and Function
Resveratrol boosts your complete body's health in addition to its remarkable anti-aging and anti-free radical properties. Each pill contains the maximum amount of antioxidants to help maintain healthy blood pressure, support heart health, improve cardiovascular function, and extend life. 
These antioxidants play an essential part in cellular rejuvenation by protecting cells from damage, resulting in overall health and optimal function of the body's organs and systems.
Pros
Assists in the reduction of the effects of aging

Aids in the maintenance of healthy blood pressure and brain cells

This supplement aids longevity and overall health

Combination of all-natural ingredients

One capsule every day is enough to provide robust support
Cons
There isn't a lot of information on refund policies
Customer Experience
In the supplement market, Life Extension is a well-known brand that has won numerous honors over the years. It is constantly attempting to enhance their supplements over time, and they have done an outstanding job so far.
Customers have expressed complete faith in Life Extension supplements. Optimized Resveratrol has received rave ratings from clients on the internet. You may get all of these benefits while also encouraging anti-aging effects by taking Optimized Resveratrol daily.
=> Click here to visit the official website of Life Extension
#3. Cymbiotika NMN: Popular Resveratrol Supplement Brand On The Market
Cymbiotika is a supplement company that distributes a variety of natural formulae to help people achieve their health and wellness goals. It was created in California in 2018 and offered a variety of individual supplements and bundles aimed at specific health goals.
Quality, bioavailable, organic, wildcrafted components and a delightful taste distinguish Cymbiotika's formulations. The brand recognizes itself from the competition by employing cutting-edge Micelle technology for optimal absorption and distribution.
NMN is one of the products offered by the firm on its website. NMN is a Resveratrol supplement that boosts NAD+ levels in the body, which has anti-aging properties. The supplement contains 400mg of nicotinamide mononucleotide and 100mg of Resveratrol. 
These ingredients act together to deliver various health benefits, such as better cognitive health and a lower risk of cardiovascular disease. As recommended by the manufacturer, two capsules of this medication should be taken twice a day. NMN is one of the most expensive supplements on the list, with a $77 per bottle price tag and a 60-day money-back guarantee.
Features
Cymbiotika goes above and beyond with its lab tests by offering certifications in analysis. You can check the contents of each Cymbiotika product by downloading the company's certificates of analysis. We don't receive that degree of confidence from many other supplement businesses.
Made and Grown in the United States
Cymbiotika makes a big fuss about their supplements being manufactured in America. When feasible, the company uses American ingredients, and all of its goods are created in the United States. Many Cymbiotika's goods feature a unique China-free emblem to ensure they don't contain any Chinese ingredients.
Pros
Formulas that are highly bioavailable and simple to use daily

Improvements in energy, mood, and other aspects are noticeable

It's great on its own or with a variety of different foods and beverages, and making it is a breeze

Improves cognitive performance

Ingredients, doses, and lab testing results are all transparent
Cons
Cymbiotika NMN is the most expensive option on the list
Customer Experience
Cymbiotika has a solid reputation in the supplement industry. The brand is known for its high-quality ingredients, high bioavailability, and dedication to transparency and customer service. 
It's worth noting that Cymbiotika's developers have a sizable online following for sharing in-depth knowledge about health problems and how to adopt a holistic approach to being the most excellent version of yourself. Although not all Cymbiotika products are suitable for everyone, most consumers agree that the supplements function as stated to provide various benefits.
=> Click here to visit the official website of Cymbiotika NMN
#4. Reserveage Resveratrol 500 mg
The premier name in Resveratrol, Reserveage Nutrition, offers a potent mix that provides a slow, constant release of antioxidants. Each supplement is created to give you the best possible nutrition while also being kind to the environment, resulting in organic supplements that help you live a longer, healthier, and more youthful life.
Each serving of Reserveage Resveratrol contains a total of 500 milligrams of Resveratrol. It works to promote better cellular aging, weight loss, and cardiovascular health. The recipe, a proprietary blend of Japanese knotweed extract, red wine grape extract, and whole red grapes, is contained in vegetable capsules.
The majority of customers see an improvement in their health after using the product regularly. It comes in two distinct sizes, with 30 and 60 pills, respectively. The bottle containing 30 capsules costs $38.99, while the bottle containing 60 capsules costs $70.82. 
A $5.95 shipping and handling fee will be added to each order at the time of checkout. For orders of $75 or more, this cost is waived.
Features
Even the best supplements in the world won't work if they aren't bioavailable. Cymbiotika places a strong emphasis on bioavailability, working hard to ensure that your body quickly absorbs every product. The company utilizes a combination of active chemicals and fats to increase absorption significantly. This implies your body will absorb more active chemicals.
No Artificial Ingredients
All supplements from Reserveage are guaranteed to be free of chemicals and genetically modified components. Reserveage Cymbiotika supplements are superior to those offered by other supplement firms. Reserveage backs up its promises with transparent labels, fair advertising, and third-party lab testing, among other things.
Pros
For 4 hours, this innovative age-defying compound helps protect cells from oxidation

Healthy heart function is promoted

With the antioxidant advantages of red wine, it aids in the activation of the longevity gene

Ensures that the body retains its youthful appearance

It helps to maintain a healthy immune system
Cons
It can take a while to see the results
Customer Experience
This active wellness product, which contains a triple blend of standardized trans-Resveratrol, prevents excessive oxidation and maintains youthfulness in the body. Customers have commended the product and its quality. 
They claimed that 500 mg boosts their power and energy. Customers can also contact the company's customer care department by email or dialing the phone number shown on their website.
=> Click here to visit the official website of Reserveage 
#5. Thorne ResveraCel
Thorne is an online wellness company that sells daily supplements as well as at-home tests. The firm keeps a high standard of quality and efficacy for both average consumers and professional athletes. Thorne ResveraCel is the best Resveratrol supplement for longevity and good health. 
It effectively boosts the latter by combining Resveratrol and nicotinamide riboside. It also claims to support the nervous system and helps promote cardiovascular health. Nicotinamide riboside is responsible for many of its advantages. This ingredient has been clinically proven to boost NAD+, a crucial coenzyme for our metabolism. 
When it comes to pricing, it's a little on the pricey side, with a container of 60 capsules costing $48. The company also suggests taking two capsules per day. The brand standx behind its products, offering a 60-day money-back guarantee to its customers. We couldn't find much information about the company's shipping policies.
Features
Thorne generates health insight and guidance for diet, physical exercise, and supplements using the Omegevity Health Intelligence platform, which is AI-driven. Data sets and current scientific research are used to create these recommendations. Thorne supplements can be purchased one-time or as part of a subscription after the health tests are completed.
Thorne explains why they chose some types of a component over others based on current research for each ingredient contained in their products. To focus on active substances, fillers, lubricants, and binders are used as little as feasible. 
For brand transparency, all components are mentioned on the product label. Thorne also boasts the most comprehensive NSF Certified for Sport supplement range of any one firm.
Pros
Provides several product lines to address significant health issues

Promotes a healthy aging process

Boosts energy and boosts metabolism

There is NSF Certification available for sports-oriented products

Participation in clinical trials for supplements
Cons
Each serving contains only 150mg of Resveratrol
Customers Experience
When seeking a company that provides individualized vitamins and advice, Thorne products appear to be a suitable alternative.
Every Thorne product is manufactured with the finest possible components, and the fact that champions and 100+ professional teams choose and trust Thorne demonstrates how excellent the product is. It's a beautiful touch that the brand provides a professional health directory where customers can consult with practitioners familiar with the company.
=> Click here to visit the official website of Thorne ResveraCel
Thing We Considered While Making This List
Every Resveratrol supplement on the market claims to help you fight oxidative damage and maintain overall health. However, not all supplements created are alike in providing effects, i.e., they are not all of the same quality or effectiveness.
When it comes to separating the most excellent products from the worst, everything matters, from the product's manufacturer's reputation to the nutritional worth of the supplement. To rank the best Resveratrol supplements on the market in 2021, we examined the following criteria:
Resveratrol Dosage
When it comes to the product's effectiveness, the amount of Resveratrol in the supplement matters the most. When producing the list, the first thing we evaluated was the dosage of Resveratrol. 
The more antioxidants your body receives from Resveratrol, the more it can protect itself from free radicals and other hazardous elements. The majority of the supplements on our list provide 200 to 500 mg of Resveratrol each capsule. On the other hand, some accessories have a low but adequate amount of 10mg to 40mg.
Secondary Ingredients
Resveratrol isn't the only ingredient in a Resveratrol supplement. It also contains several other components that work with Resveratrol to boost immune function and overall body health. Some complementing ingredients in Resveratrol supplements are included for further advantages, while others are added to speed up Resveratrol absorption in your bloodstream.
Some Resveratrol supplements include other antioxidants from the polyphenols class. We analyzed the nutritional benefits of complementary substances in the supplements when compiling the list.
Ingredient Transparency & Labelling
When it comes to the ingredients in nutritional supplements, transparency is crucial. The concentration of their core and secondary ingredients and their sources and origins are all disclosed in high-quality products. We were skeptical of items that disguised ingredients and doses behind proprietary mixes or ambiguous labeling while compiling the list.
Price & Value
When it comes to purchasing nutritional supplements, not everyone has the same budget. Some people may afford to spend up to $100 per month on dietary supplements, while others just cannot. 
As a result, a variety of products in various price ranges makes up our collection. We've included items for numerous budgets, stressing quality at all price points to ensure you get the most bang for your dollars.
Honesty in Advertising
Because the supplement market is flooded with Resveratrol products, certain companies may promote Resveratrol supplements as a therapy for specific conditions. Although Resveratrol aids in the treatment of numerous ailments, it is not intended to diagnose, treat, or cure any disease. 
Resveratrol and other dietary supplements are only supposed to support your health. Supplements that claim to cure a specific disease should be avoided. We ignored all brands that made false promises, such as marketing Resveratrol as a cancer cure or guaranteeing instant weight loss while preparing the list.
Manufacturer Reputation
When it comes to determining the product's quality and safety, the maker's reputation is crucial. Compliance with GMPs, production in an FDA-approved facility, transparency, and other factors contribute to the manufacturer's trust. 
This list only contains supplements from well-known brands that are known for their safe, high-quality products and upfront labeling. However, we were not prejudiced against new businesses that had recently launched their effects on the market. While compiling the list, we considered all of the characteristics mentioned above, not only the company's age.
Factors to Consider When Choosing Resveratrol Supplement
Source
Nutritional supplements containing Resveratrol are made from a wide range of plants. Users can find the compound in grapes, berries, and peanuts. Considering the source of the supplement is essential before buying it.
Concentration Level
The Resveratrol nutritional supplement's purity must be close to 100 percent. Before you choose one, make sure to check the concentration levels on the label. It's also critical that you don't fall for low-quality supplements that contain additives.
Cost
When choosing a Resveratrol dietary supplement, keep your budget in mind. It's also critical that you don't cut corners on quality.
Benefits of Resveratrol
Decreases Risk Factors For Heart Disease
One of the most critical areas where Resveratrol can help is heart health. Resveratrol has been associated with improvements in various indicators directly linked to your risk of cardiovascular disease. High doses of Resveratrol may help lower systolic blood pressure or the pressure put on artery walls as the heart beats.
Protects Against Diabetes
Insulin resistance is a crucial factor in the development of diabetes. Insulin resistance is a physiological disease that impairs the body's ability to respond to insulin, the hormone responsible for lowering blood sugar levels. 
Studies have shown Resveratrol helps prevent insulin resistance and preserves the body's natural capacity to lower blood sugar levels. Insulin regulation aids the body in combating the daily stresses that contribute to premature aging.
Protects The Nerve Cells
When nerve cells in the brain form plaque, degenerative neurological illnesses such as Alzheimer's disease emerge, this causes long-term damage, disrupts brain functioning, and can spread quickly. Beta-amyloid proteins induce plaque buildup on brain cells, and Resveratrol prevents these proteins from forming. 
Resveratrol may avoid the formation of nerve cell plaque, hence lowering the risk of Alzheimer's disease. Though it's too soon to call it an Alzheimer's cure, it's a terrific way to start protecting yourself now for the future.
Can Reduce Systemic Inflammation
Many scientists believe that the health benefits of Resveratrol are due in part to its anti-inflammatory properties, in addition to its antioxidant properties. 
Other well-known antioxidants, such as green tea extract, have anti-inflammatory properties. Resveratrol has been shown to reduce systemic inflammation. There has also been some research in rabbits that suggests Resveratrol may prevent inflammation-related damage in osteoarthritis.
Eases Pain In The Joints
The nutritional supplement Resveratrol has been shown to benefit those with joint discomfort. It also aids in preventing future cartilage degeneration surrounding those joints. You can also reduce inflammation around those joints by using Resveratrol dietary supplements.
Frequently Asked Questions
What is Resveratrol?
Resveratrol is an antioxidant that is classified as a polyphenol. Because of its role in defending plants from diseases, it is categorized as a plant toxin in botany. However, it has a beneficial effect on several organs in the human body, including the heart and the brain.
It may also help with insulin resistance, which is a significant factor in developing type 2 diabetes. Resveratrol can decrease fasting insulin levels, enhance blood sugar control, and prevent diabetes by increasing insulin sensitivity.
What are the Resveratrol sources?
Resveratrol is most commonly found in wine, although it can also be found in the skins of grapes used to make red wine.
Other sources of Resveratrol are:
Pistachios

Blueberries

Raspberries

Peanuts

Cocoa

Cranberries

Plums
How does Resveratrol work?
Due to its extensive hepatic degradation, Resveratrol has strong absorption but limited bioavailability. Only 0.5 percent of the chemical makes it into the bloodstream. Despite its limited bioavailability, Resveratrol impacts cellular targets relevant to glucose transport and mitochondrial activity, the cell's powerhouse.
This antioxidant is thought to promote mitochondrial function and boost glucose absorption while also reducing fat buildup.
How can Resveratrol protect against oxidative damage?
Resveratrol is a member of the stilbenoids category of polyphenols. An ethylene bridge joins two phenol rings in stilbenoid molecules. Plants naturally create phytoalexins, which are a sort of defensive antibiotic. UV rays, fungal attacks, exposure to dangerous microorganisms, and other stressful environmental stimuli cause plants to secrete these defensive chemicals.
Do Resveratrol and trans-Resveratrol have any significant differences?
In the body, trans-resveratrol is more bioactive. Resveratrol retains some bioactivity throughout digestion. However, it does not have the same effect. That is why a large number of organizations now utilize trans-resveratrol in its place.
Will Resveratrol break your intermittent fasting?
Resveratrol will not break your fast if you practice intermittent fasting. It may contribute to the success of your brief. Sirtuins are genes that regulate the rate at which we age. They respond to hunger and activity, as well as sickness and degradation, to safeguard the body. Fasting stimulates the production of certain sirtuins, while NMN and Resveratrol can also produce them.
Is Resveratrol effective in lowering blood pressure?
The antioxidant resveratrol, which is contained in red wine, has been associated with a drop in blood pressure. Polyphenols, which are included in red wine, may also be advantageous to your heart health.
However, the link has only been observed in mice, and no human clinical studies have been conducted. According to the American Heart Association, the outcomes of this research would be comparable in humans because Resveratrol acts similarly on a molecular level.
Will Resveratrol keep you awake?
Resveratrol isn't always utilized to improve alertness; research shows that it can help strengthen both the sleep and waking cycles. It's been reported that Resveratrol pills can aid those with chronic pain, improve their mood, and get a better night's sleep. Individuals will be able to feel more rested and awake during the day as a result of this. 
How can you tell if Resveratrol is the right supplement for me?
There are numerous claims about Resveratrol supplements, ranging from weight loss to blood pressure reduction and cancer prevention. If you've recently undergone surgery, you shouldn't use Resveratrol supplements because they can make you bleed more.
You should consider using this supplement if you are not already taking any other medications or supplements with which Resveratrol may interact. If you are not allergic to naturally occurring Resveratrol in foods, talk to your doctor about the dosage and whether it is good for you.
When should you take resveratrol?
There is no ideal time to take resveratrol, and users can take it on an empty or full stomach. Because it is fat-soluble, some evidence suggests that it is best taken with a fatty meal. If you're a sportsperson, taking Resveratrol or other antioxidant supplements before an exercise can help you lose weight and improve your insulin sensitivity.
What is the recommended dose of resveratrol?
We've made it easy for you by correctly stating the number of servings in each product and the amount of Resveratrol in each serving.
The typical dose is between 250 and 500 mg per day. However, some experts recommend 100 to 500 mg per day. You should talk to your doctor about whether you should take Resveratrol and what dosage is correct for you.
Is Resveratrol effective in the treatment of infertility?
There are numerous claims that Resveratrol can aid women suffering from ovarian dysfunction, infertility, PCOS, and endometriosis. There has only been one little clinical experiment on women receiving in vitro fertilization, similar to the study of women with PCOS. Still, the conclusion was favorable and gave room for more research in the future.
Conclusion
In terms of overall health and lifespan, Resveratrol is indeed one of the most promising resveratrol nutritional supplements. You might be able to enjoy the resveratrol benefits of everything described above in this article by taking a Resveratrol pill daily.
There are many possibilities when selecting the best resveratrol nutritional supplements, but there is no doubt that the finest Resveratrol supplement is found on this list.
Before taking any supplement, we always recommend consulting a doctor. A doctor will first decide whether a Resveratrol supplement can help you meet your goals and desires. Second, a medical professional will assist you in selecting a dosage that is both safe and effective.
For access to exclusive gear videos, celebrity interviews, and more, subscribe on YouTube!