At 5:45 a.m. on Saturday, three of the most talented runners on the planet toed the line of a race track in Monza, Italy.
Precisely 2 hours, 25 seconds later, Kipchoge narrowly missed going sub-2. The attempt wouldn't have been an official world record, even though the course is IAAF certified. This was more of an experiment, as Nike scientists controlled the environment, pacing strategy, and hydration.
In short: The 1:59:59 marathon mark survives another day as one of the most daunting milestones in human endurance. But Kipchoge did beat the previous marathon record of 2:02:57, set by Dennis Kimetto of Kenya on Sept. 28, 2014 at the Berlin Marathon.
Zersenay Tadese fell off once they split 59:49 for the half marathon, running a personal best of 2:06:51. And Lelisa Desisa struggled and fell from the pack slightly after the 15K mark, hitting a time of 2:14. 
The monumental attempt was the brainchild of Nike, which dubbed the effort Breaking2. To some, the venture was on par with America's first endeavour into space: a little preposterous, highly publicized, and fiercely competitive. (Adidas entered the arms—well, legs—race with their own sub2 program not long after Nike, and likewise rolled out carefully engineered marathon shoes designed to wring every second of efficiency out of a runner's stride.) To others, Nike's combination of no-holds-barred strategy and scientific innovation smacked of unfairness, if not heavy-handed corporate intervention. And to even the most optimistic distance running fans, the sub-two-hour attempt was an athletic Hail Mary.
Here's a look at the all-star athletes and buzzy innovations that almost made it possible:
The elite Breaking2 runners
Kipchoge: A 32-year-old from Kenya who took home gold at the 2016 Rio Olympics in the men's marathon. Considered one of the best marathoners today (third fastest time), he's clutched seven first-place finishes in eight career marathons. His personal best (marathon): 2:03:05.
Desisa: A 27-year-old from Ethiopia who made a name for himself cruising through his debut race—the 2013 Dubai Marathon at a time of 2:04:45. He's also won the Boston Marathon twice, back in 2013 and 2015. His personal best half-marathon: 59:30
Tadese: A 34-year-old from Eritrea who's a four-time Olympian with five World Half-Marathon Championships under his belt. His personal best half-marathon: 58:23.
​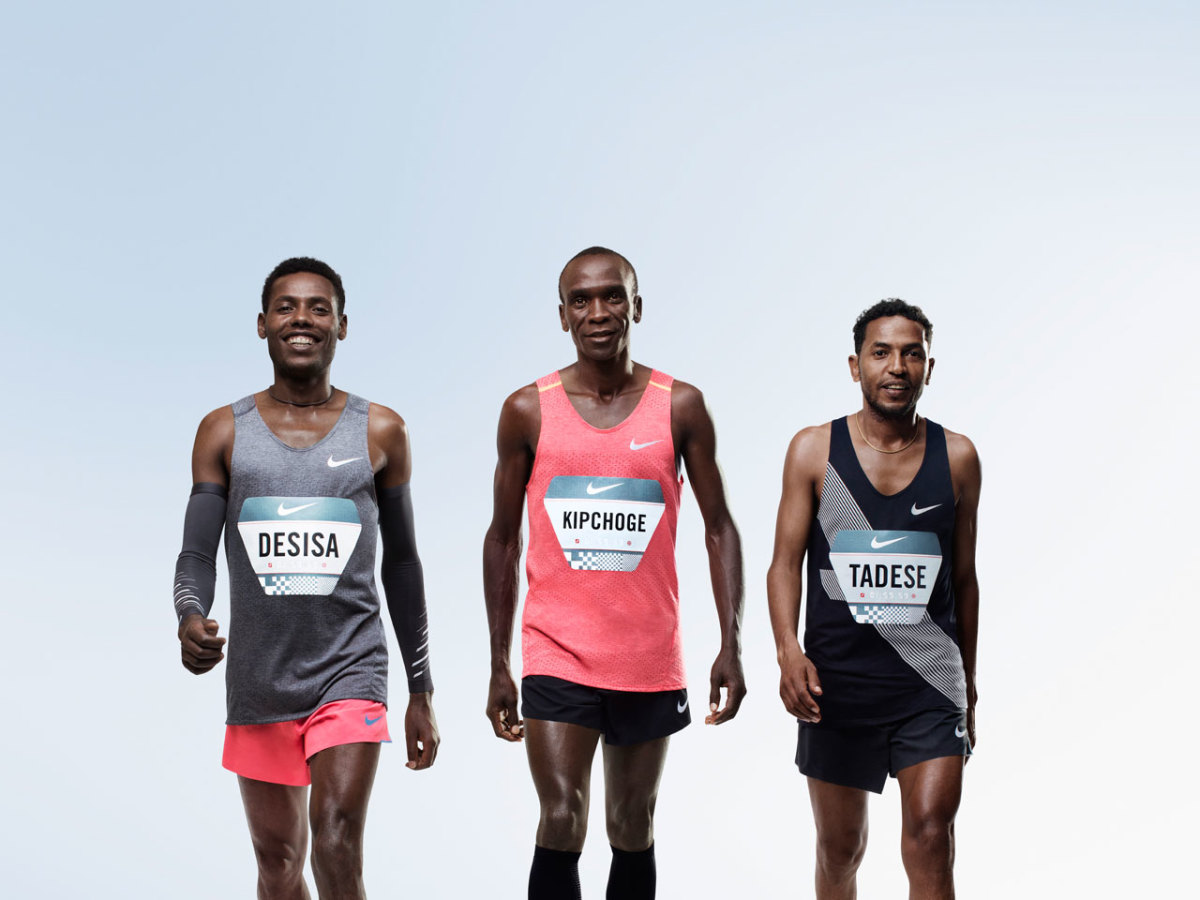 The ground- and record-breaking shoe
All three athletes wore custom versions of Nike's Zoom Vaporfly Elite, an ultra-light but still impressively cushioned racing shoe designed specifically for the Breaking2 attempt. A curved carbon fiber plate running along the length of the shoes was adapted to each athlete's preference for stiffness. Unlike comparatively stiff racing flats, the Zoom Vaporfly Elites were optimized to not only improve running economy (by up to 4%) but also prevent fatigue and strain over the long haul.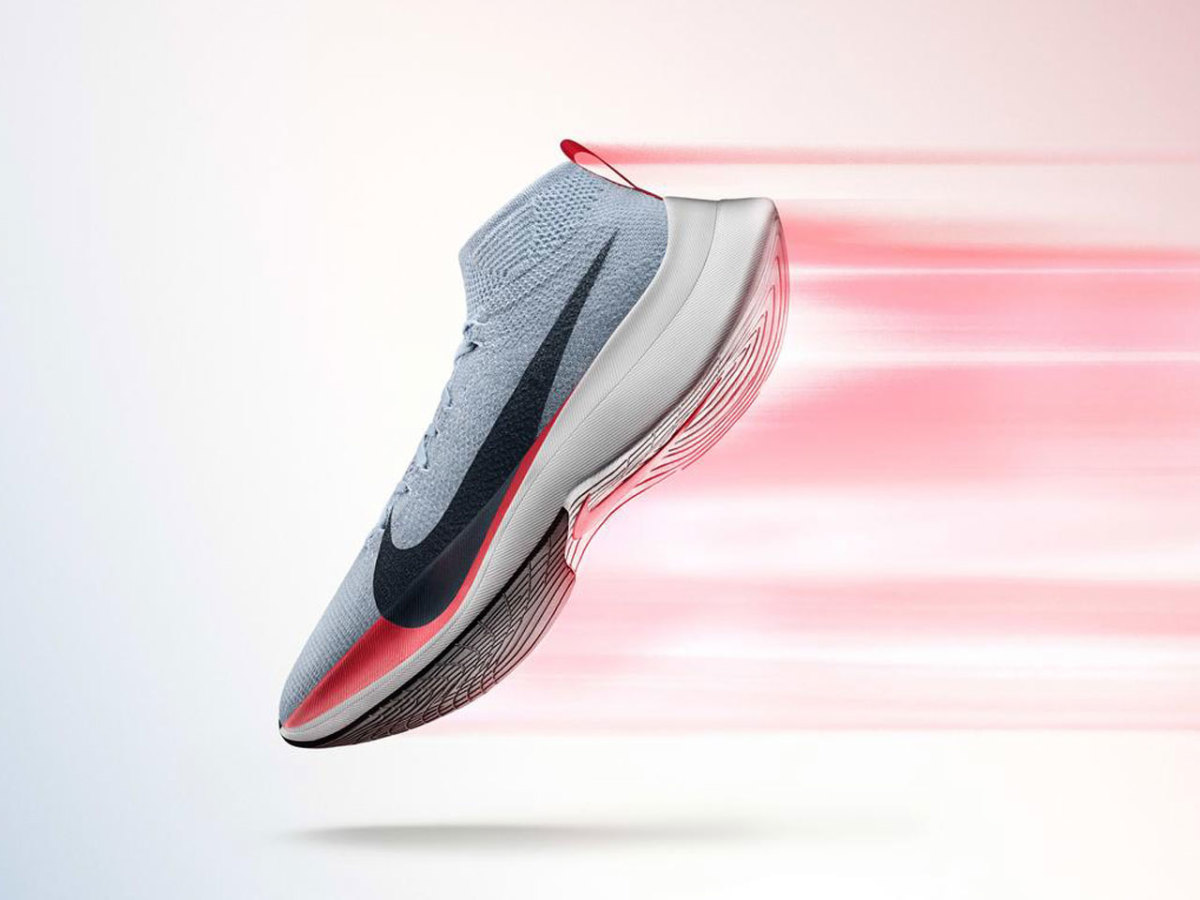 How Nike's runners attempted to break the sub 2-hour marathon
Kipchoge ran 59:17 during Nike's half-marathon test run in March, according to Runner's World, putting himself on track to break a sub-two-hour marathon.
But even with that blisteringly fast time in the books, the two-hour marathon attempt was vulnerable to a number of factors—environmental, psychological, gastrointestinal. Even a casual runner knows the monumental difference between a half-marathon and a full 26.2 miles.
During the test run, the athletes shadowed a specialty Tesla driven by a Formula One test driver as a clock fixed to the back showed splits, projected finish time, and elapsed time. Pacers—who swapped in and out—also helped keep the runnners on track for their sub-two finished. Tadese finished the time trial in 59:40, Runner's World reported. But Desisa fell off pace less than halfway through, finishing in 62:55. So the time trial was fairly close to the real deal.
What scientists theorized it would take to break the world record of 2:02:57 wasn't far off the mark. On race day, the three principle runners stayed in a line one in front of the other, staying behind a cluster of pacers who minimized drag and wind resistance. New pacers were rotated in every so many kilometers. There were also hydration zones. 
In the wake of the sub-two effort, the race continues, as two more attempts—one sponsored by Adidas, and another dubbed sub2hrs—once more attempt to turn the sub-two-mile marathon into reality.
For access to exclusive gear videos, celebrity interviews, and more, subscribe on YouTube!