This piece was produced with support from our friends at Merrell.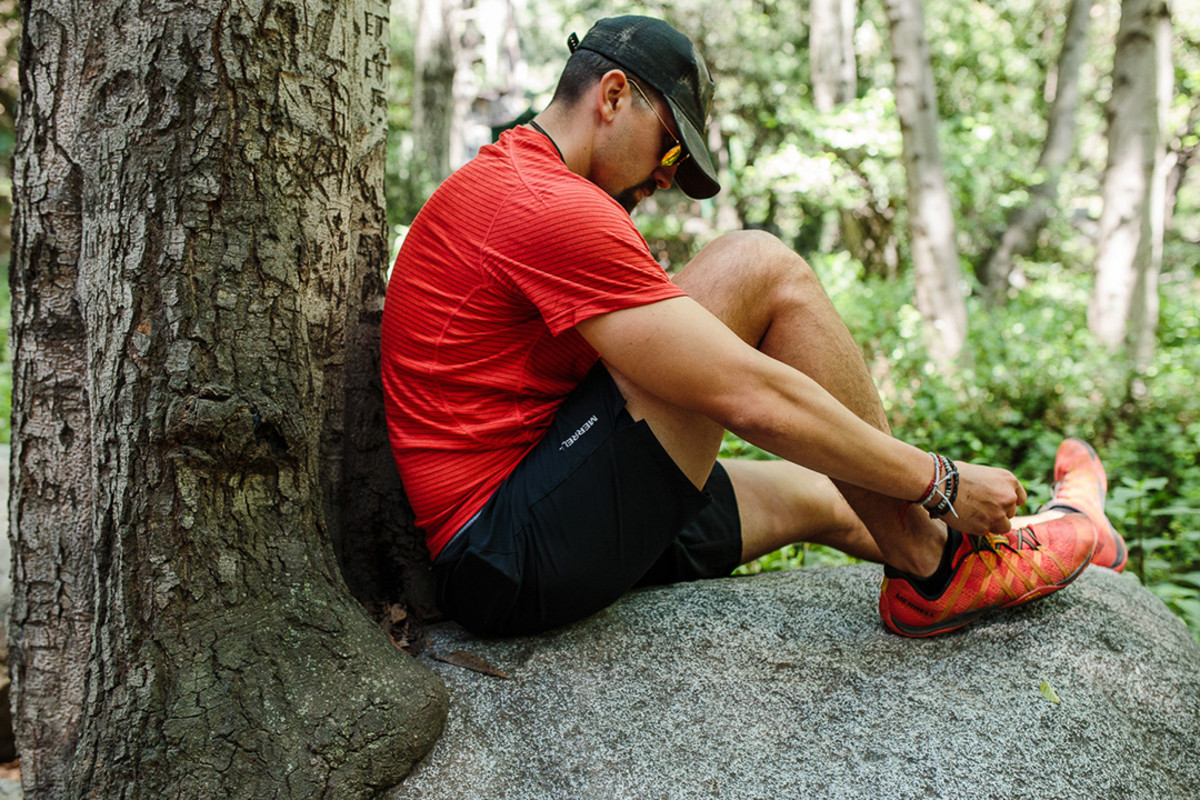 Carlos Flores cuts an impressive figure. The 29-year-old runs ultramarathons for fun, knows his way around heavy machinery, is qualified to zap your heart back to beating in an emergency and is generally the guy you want on your team when the zombie apocalypse hits. Honestly, it's tempting to call him a hotshot.
And he wouldn't mind if you did. Technically, it's his job title.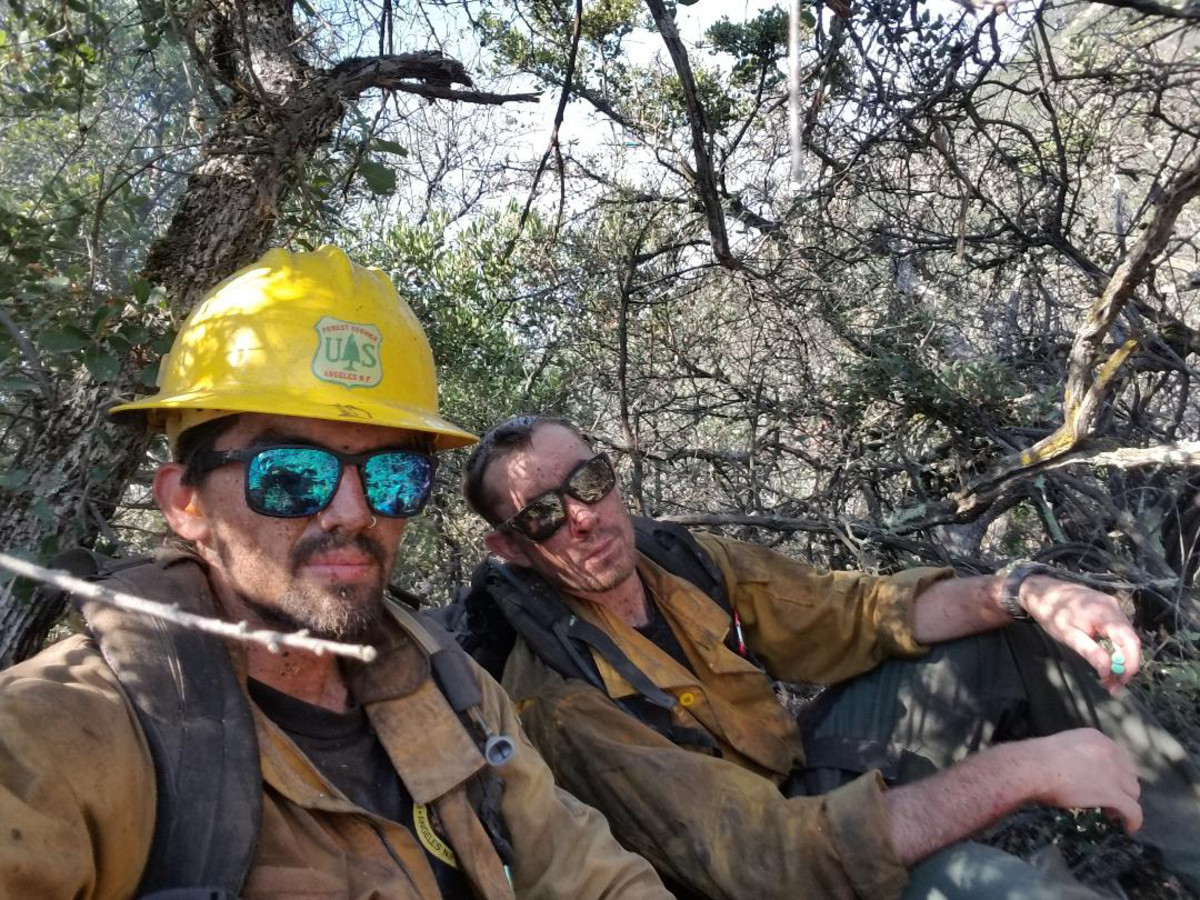 Flores is a wildland firefighter for Rio Hondo Roadrunners Fire Crew 77, a partnership between Southern California's Angeles National Forest and Rio Hondo College's Wildland Fire Academy (WFA). Since 2011, Flores has been part of the Type II hand crew (read: boots on the ground) that has helped to quell some of the West's most notoriously destructive blazes – including the 2017 Thomas Fire, one of the largest in California history.
And he's not just another body working the fire line, though he is Crew 77's leader. He's also the lead physical training instructor for the WFA, responsible for getting 50 to 60 cadets a year fit enough to answer the call not just during peak fire months (typically May through November), but also in the off-season.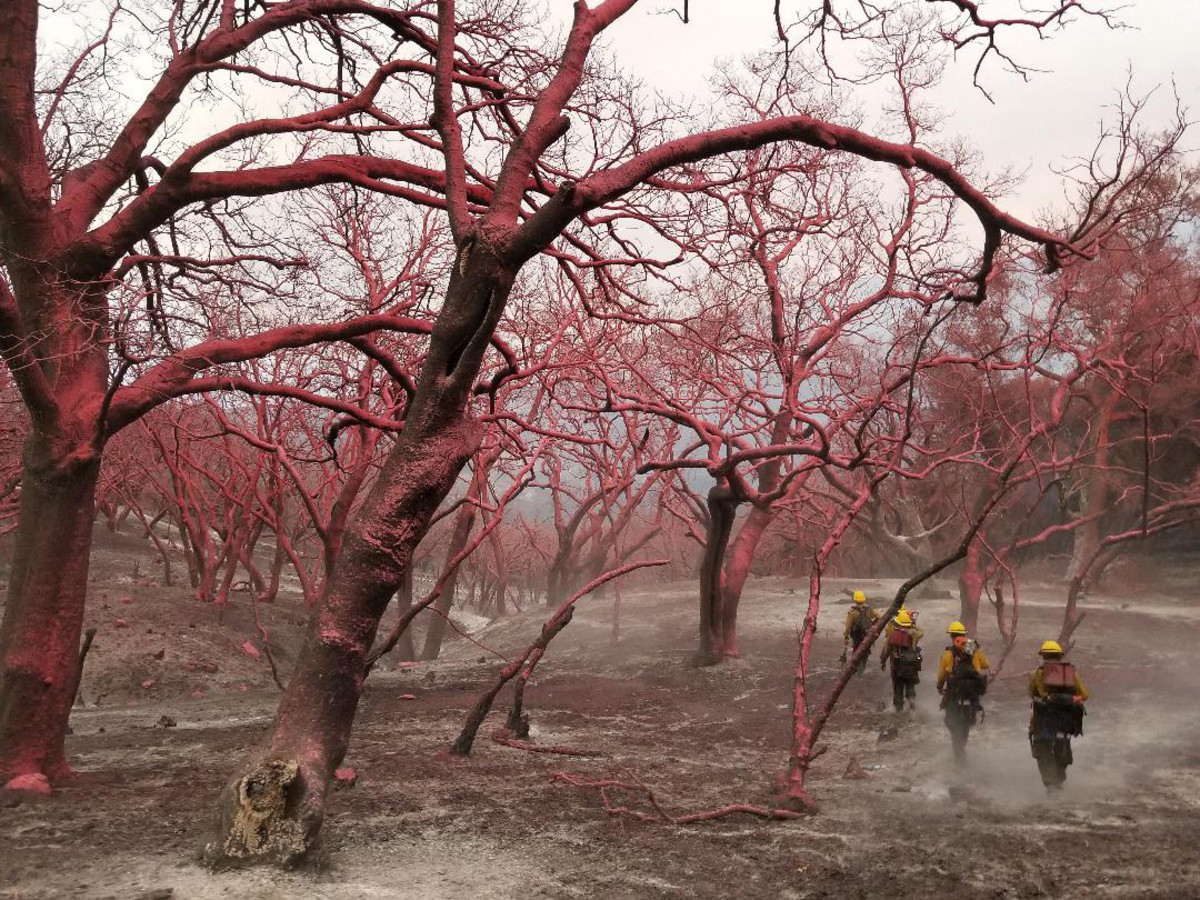 Flores says of his career choice, "I've always been a people person. I've always liked to help people out, and public safety has always been a career that I've shown interest in — being able to help out others when they're in need. Ever since, I've just been taking courses in that realm, trying to follow what works best for me. We don't do it for the thanks, but we try to do it more just to help out people."
So what does it take to stay in the game as a sawyer – an S212-certified firefighter who walks into battle with a 30-pound chainsaw and stares down a Goliath inferno?
Flores' primary training goal is to maintain focus and power while performing aggressively physical maneuvers in temperatures that can soar above 200 degrees. For Flores, withstanding triple-digit Fahrenheit is part of his job description.
For 16 hours a day, every day, for two to three weeks at a time. While carrying 100 pounds of gear. Navigating uphill, on unpredictable terrain that borders on rock climbing. In a haze of smoke so thick and surrounded by noise so loud and chaotic, it can make seeing, hearing and talking nearly impossible.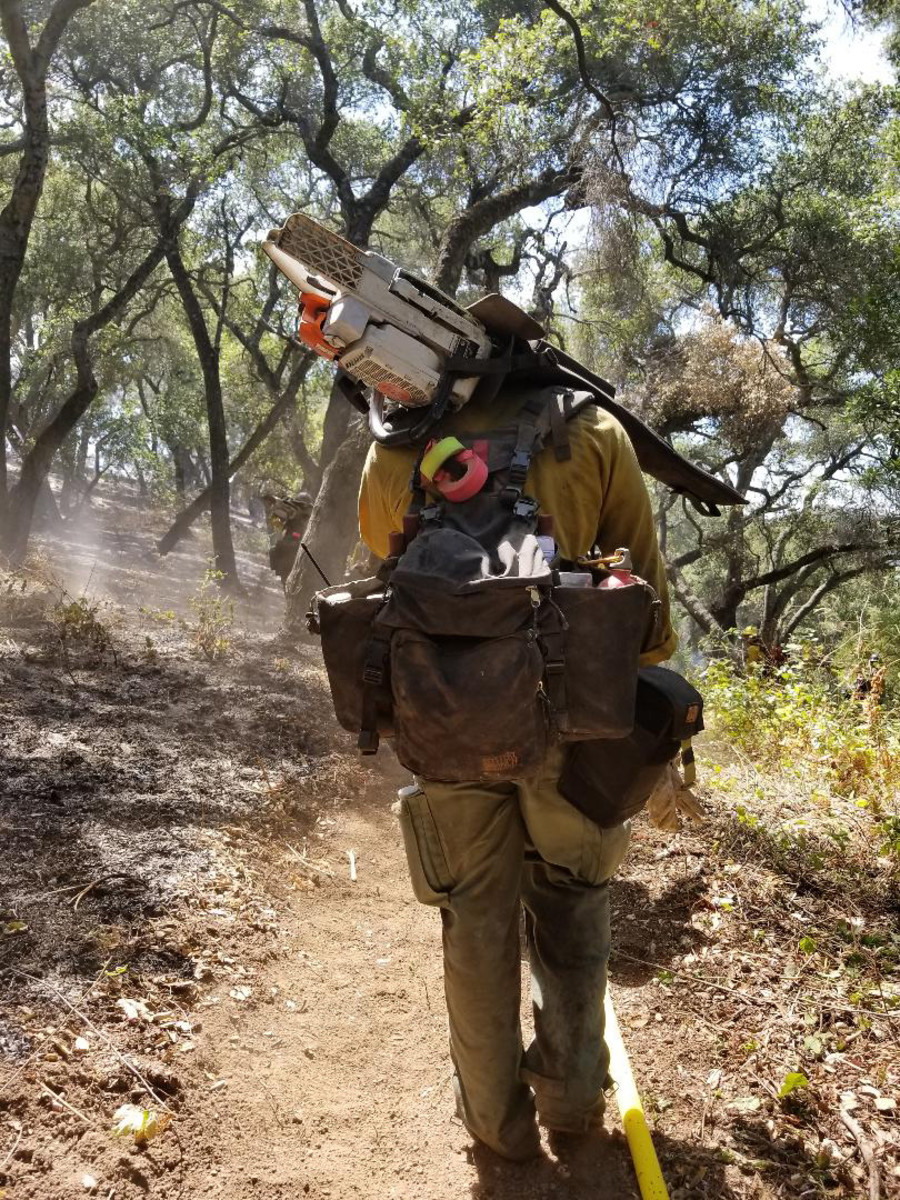 And despite the dazzlingly swole bodies you see on fantasy firehouse calendars, bulk isn't an advantage when it comes to quashing a disaster thousands of acres large. It stands to reason that the more you have to move, the slower you'll typically go. To outrun a wall of flame that could grow to several stories tall, you want leaner lines; the more compact and efficient your mass, the faster you can sprint to safety. Speed is key.
That means year-round aerobic conditioning, outdoors, with weighted packs. "No. 1 over anything is cardio endurance. Being able to hike with a large amount of weight is the other thing, and after that, any kind of upper body strength," Flores says. "There's been instances where firefighters have lost their lives within a minute – if they could have run a little bit faster for a whole minute just to get over the ridgeline, it would have saved their lives."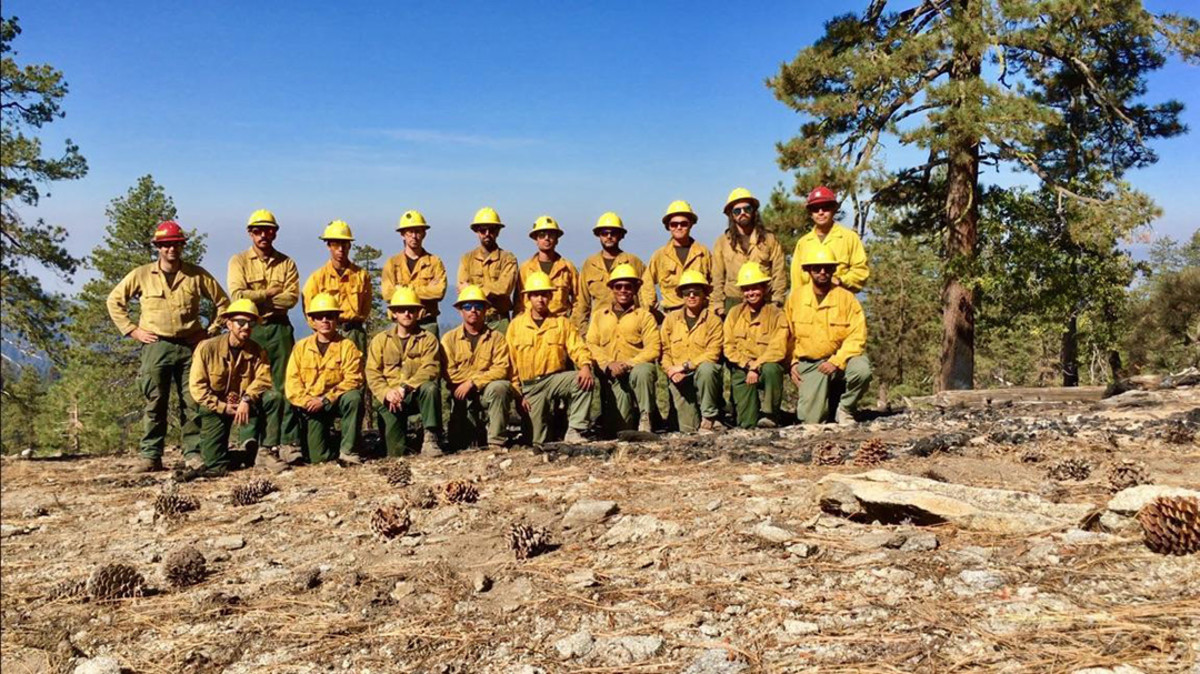 Heading into the summer sluggish can be deadly, and when conditions suddenly change on the ground, you need to dig into a deep reserve of fitness and stamina to make it out unscathed. In 2016, says Flores, Crew 77 was on the Soberanes Fire in Los Padres National Forest when a nightmarish scenario unfolded.
"We needed to hike up a hill to get back to our vehicles to leave from the fire that was coming our way," he recalls. "Since [a team member] wasn't able to carry their own gear and they were slowing down dramatically behind the pack, I had to pick up their gear on top of my gear. Luckily, I was able to dump out some of their water — but not all of it, just in case we still needed it – and then hike [with] their gear behind them trying to motivate them to finish so we could get to our vehicles and get out of there."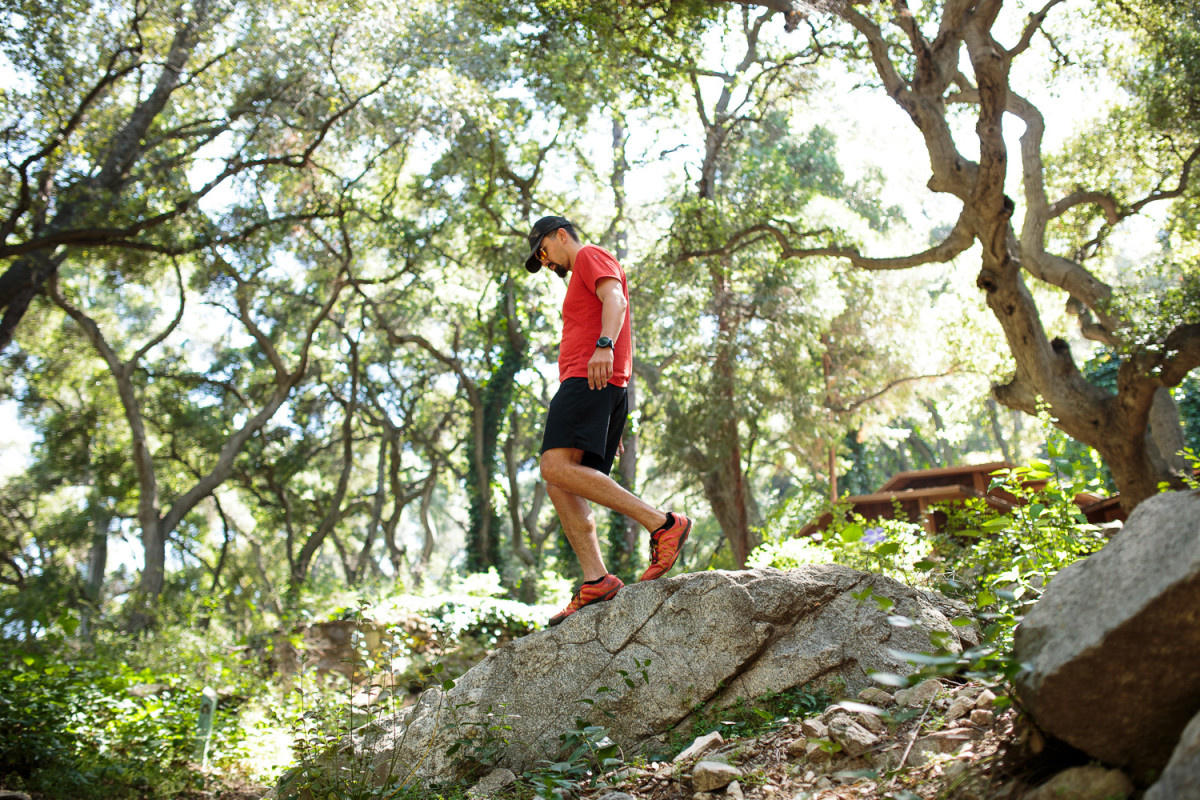 Clearly, "Run hills, not treadmills" isn't just some pithy quote in Flores' Instagram bio. It's a mantra and a lifestyle. During the WFA academic year, a vigorous high-angle, hour-long hike with 1,500 feet of elevation gain – in full kit – is how he begins a typical PT field day for the cadets. To work as a USFS wildland firefighter, you must be able to walk 3 miles briskly with a 45-pound pack in under 45 minutes. Once hired, you have to pass this test every year to remain employed.
At the top of the peak, Flores leads his team through a series of dynamic situational movements that mirror what will be required of them at go time. "We'll end up doing what is called line construction drills," he says. "We would cut the fuels down to bare mineral soil and act like there was a fire right there. We would do that anywhere from four or five hours, and then from that we'd hike back down and continue with our day." That involves changing into standard workout gear and heading out for a 3- to 5-mile run.
How well students are able to do all of this is evaluated via an Interagency Hotshot Crew test. "That's being able to run a mile and a half under 10 minutes and 35 seconds," Flores explains, "and doing more than seven pull-ups and 25 push-ups in one minute, and 45 sit-ups in under one minute." Come diploma time in April, Flores and his cadets celebrate their hard-earned stamina – by participating in a 13.1-mile trot they've dubbed the Pride Run.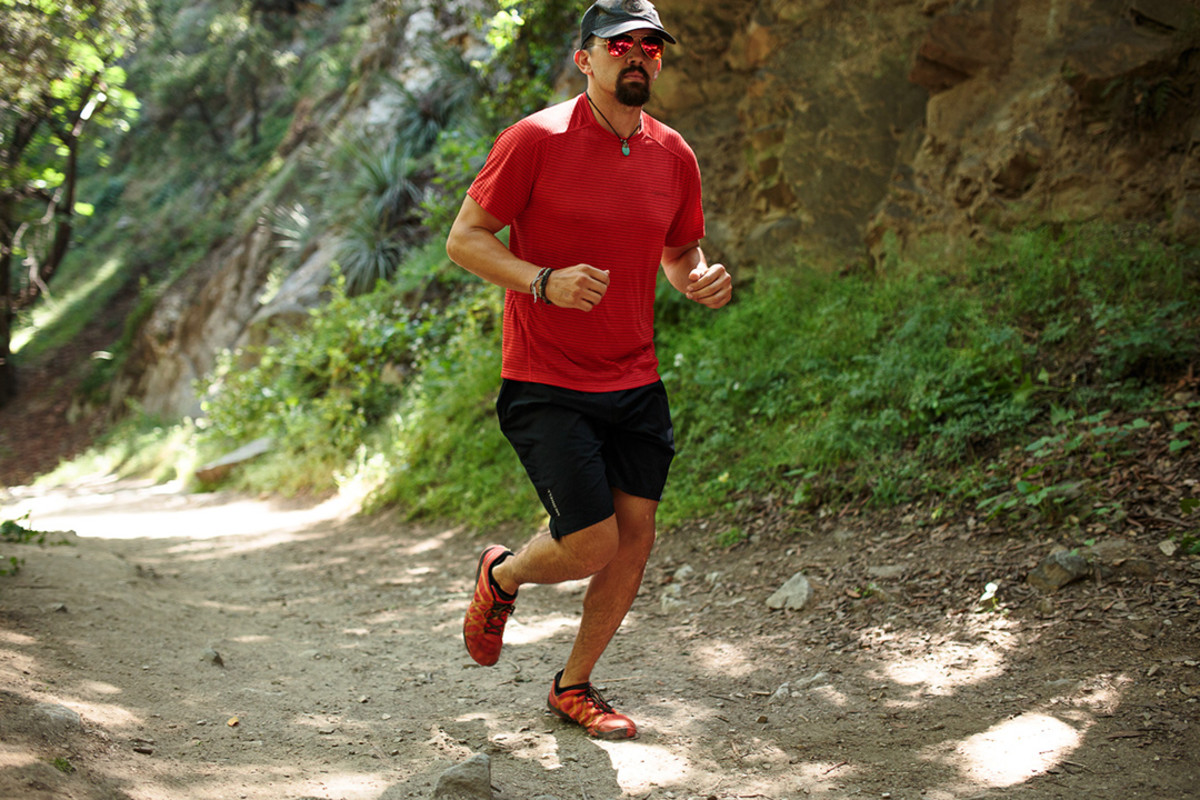 Flores' weekends look a lot like his work days – only way less structured. "To tell you the truth," he admits, "I don't even have a routine. … I try to hike at least three times a week, run at least two to three times a week and [road] bike at least twice a week, and that's all."
This is, of course, a modest account. When pressed, Flores estimates his average cycling miles per session at 15 to 25 "if I'm going to have fun," but he's no stranger to a longer day in the saddle – or to being humbled by a fitter rider. "I know I've cruised to Long Beach [from Azusa] and I think that's an 89-mile to-and-from," he says of a trip he made when he was still a relative beginner to the sport. "On the way back, I made the mistake of going with a [triathlete]. He kicked my butt. … I know how some of the slower cadets feel in the academy because I literally had to tell the guy on the way back uphill to Azusa … to stop for me, like, three times. I was like, 'Dude, I'm cramping up. I've never felt like this before. You've got to stop for me.' And I'm usually in fairly good shape."
His runs are "anywhere from 5 to 6 miles, but those miles are all elevation-gaining miles. There's a run that we do at the Academy and it's called Nike Hill, and the 1.5 miles that it is, you gain 800-something feet of elevation."
Flores' definition of fitness certainly isn't "fun," and it far outstrips what trainers and athletes call "functional" these days. There's no squat rack, no truck tires to flip, no Tabata training or goat yoga or locker-room selfie opportunities. This is real boot camp. This is survival – his, his crew's and maybe even yours.
For access to exclusive gear videos, celebrity interviews, and more, subscribe on YouTube!